Rumor

Harry Potter round-up for December 20

As we fast approach the five-month mark(!) until the Wizarding World of Harry Potter – Diagon Alley opens, information is starting to bubble up from all directions at an ever-increasing pace. Given that it's been two weeks since last we did a Rumor Round-Up proper (you should definitely hit up our Special Report from last Thursday, detailing CityWalk's imminent expansion, if you haven't already), we figured we'd present the recent smorgasbord of Harry goodness for you on a nice silver platter.

Ready to dive in?

First up is Theme Park Insider's recent peek from inside Diagon Alley, which is the first (smuggled) picture from within the new land.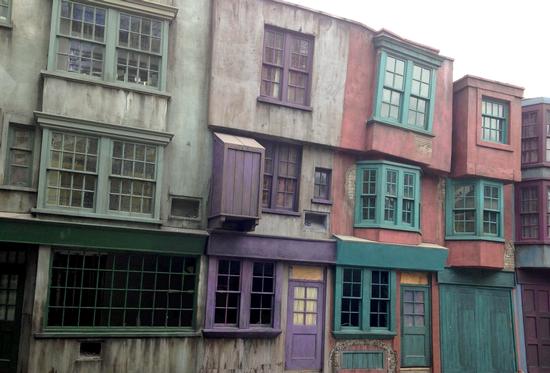 As great as that little glimpse is, what's more tantalizing, for my Muggle money, is the information that Robert Niles provides with it: most of Diagon Alley will be under cover – of roofs or "train tracks" or what-have-you – including the majority of Knockturn Alley (presumably to make it as dark and mysterious as possible). "The experience," Niles says, "will be both intricate and intimate."
(An interesting side note: Niles says the picture was sent to him by a "friend" of the site. It's been suggested that his friend is none other than Universal Creative itself. After all, Theme Park Insider somehow broke incredible Gringotts coaster details a year-and-a-half before Universal publicly acknowledged the project, and managed to get a photo inside Gringotts last May [the original photo is now buried half way down this page], all while his site is fully supported by Universal's PR wing. Interesting indeed!)
Over on Orlando United, they just recently started up their very own weekly podcast. A small smattering of Wizarding World details usually accompanies each episode, providing us with several tidbits. The program has suggested, for instance, that not only is J.K. Rowling working on a ream of brand-new material for the expansion – to help solidify its backstory and, quite possibly, the narratives of its attractions – she's also okayed the inclusion of several walk-around characters who will function very much like the Conductor over at Hogsmeade, making them part photo op and part trivia challenge. (Remember, Rowling refuses to allow the main characters to be represented by anyone other than the movie actors, for continuity's sake.)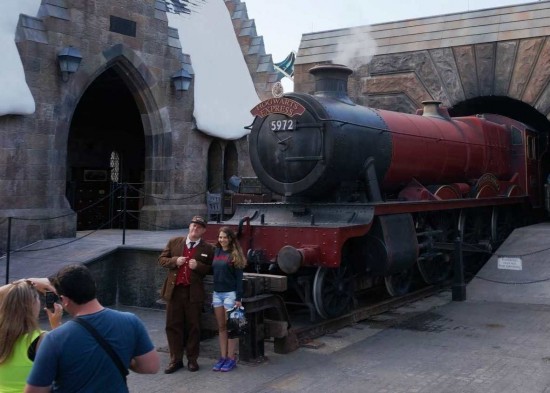 Furthermore, the queue of Gringotts – which we helped flesh out ourselves just recently – will include the Wizarding World's first-ever use of audio-animatronic figures (which will more than likely be the bank's goblin employees) as well as one live actor, who will sell some sort of unique, exclusive merchandise that guests can pick up in the gift shop after the ride. The podcast hasn't say what, exactly, this will be, but when a listener guessed at the possibility of buying certificates of bank deposits in Gringotts's legendary vaults, they said it wasn't too far off. Outside of the Gringotts show building, meanwhile, tellers will "exchange" Muggle money for wizarding galleons and the like – which would only be good as souvenirs, not as actual currency inside of Diagon Alley. (If true, will Universal keep the current exchange rate of $10.17 per gold-galleon? Or will Orlando inflation be taken into account?)
Finally, the Orlando United gang has just this week reported that Harry Potter and the Forbidden Journey over at Hogsmeade will be getting yet another ride profile (that is to say, the intensity and range of motion of a ride) in the second week of January. Expect yet another taming down of the KUKA benches' movement, to help prepare the ride for all the new tourists who will be descending upon the resort this summer for Diagon Alley's grand opening – tourists who, presumably, will fall outside of the typical thrill-seeking demographic. And the promised upgrade of the ride's video projectors is currently scheduled for the spring, which will be undertaken in order to keep Forbidden Journey's video quality consistent with that of Transformers and the revamped Amazing Adventures of Spider-Man.
Last but certainly not least is Universal itself, which officially kicked off the countdown to Diagon Alley's grand reveal on January 23 a few days ago. Head on over to Gringotts Vault Key and type in the code of "722" (the project number Universal gave to the expansion) to see the video teaser for yourself.
Or see the video right here, because Universal uploaded it to YouTube at the same time they sent the new website and code to their media contacts:
[youtube_video]hW0qehuBwWw[/youtube_video]
It appears that the "exclusive webcast" to be held on January 23 will also be open to the public, so long as you sign up on this new page.
If one teaser just isn't enough for you, how about two more?
Universal's graced us all with a second and third release just within the last 24 hours. The second one is more of an abstract concept that doesn't feature any shots of the new land itself, though it is still rather "catchy" and absolutely well-done. Check it out:
[youtube_video]80ZQUMsBKQ8[/youtube_video]
And number three does contain a few nice shots of Diagon's shops and of Gringotts Bank, but we're fairly certain here at OI HQ that they're all recycled from the films. Not that it really matters – the short does an exceedingly good job of capturing the magic (no pun intended) that the new Wizarding World is set to shortly unleash:
[youtube_video]9e7pNiZNi3M[/youtube_video]
Getting revved up yet? Now that the marketing push has officially started, expect to see a lot more of these popping up in the months to come. It looks like Universal is really taking it right to Disney's face this time 'round…
Remember that, in our weekly RRU columns, we present a summary of the latest Diagon Alley news (when available). For those who may just be hearing about these developments, please visit the Harry Potter expansion page in the OI Universal Center for a complete project overview and many construction updates.
The FIRST HHN 24 rumors
Is it too early to start talking about Halloween Horror Nights 24? Let's hope not, as a new website offering insider scoops, Theme Park Insite, has stepped forward and started whispering sweet nothings into our ear – three sweet nothings, in fact, which constitute the very first rumors for next year's HHN.
It's not weird to start getting scared before Christmas…
1) The first new haunted house for next year's event is none other than Insidious, which was such a success at Hollywood's HHN event this year, Orlando is keen on bringing it over. We're hearing that the house will be expanded from its original West Coast version, with scenes from both the first film (2011) and its sequel, Chapter 2 (2013), being included.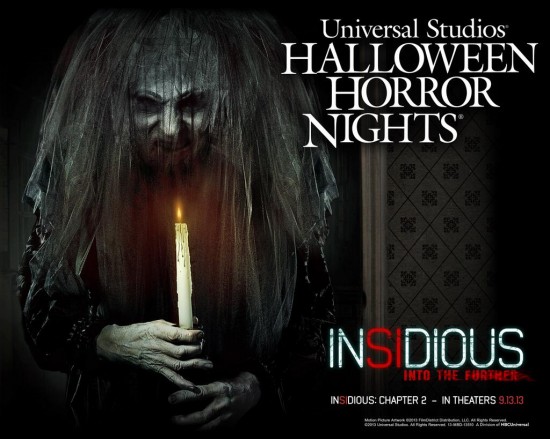 2) The first new IP up for consideration, meanwhile, is the critically acclaimed anthology series American Horror Story, which will be just entering its fourth season on FX by the time Halloween Horror Nights starts up. According to our intel, Universal Creative has already started talking to the show's producers, and they're pumped at the possibility of being featured. Nothing has been locked down as of yet, however.
3) And, finally, the juiciest one of them all: Jack C. Schmidt, better known to the HHN faithful as Jack the Clown, is scheduled to make his triumphant return next year. Jack was the icon of Horror Nights for its 10th and 16th installments and has appeared in a number of houses and shows in several other years, with his last sighting being 2009's "Shadows from the Past" scare zone and last year's Cabin in the Wood haunted house. What will his role be for 2014? His very own show (perhaps a reprise of "Jacked Up" from HHN 10?), which the actor who's currently portraying the Grinch for Islands of Adventure's Grinchmas has already signed a contract for.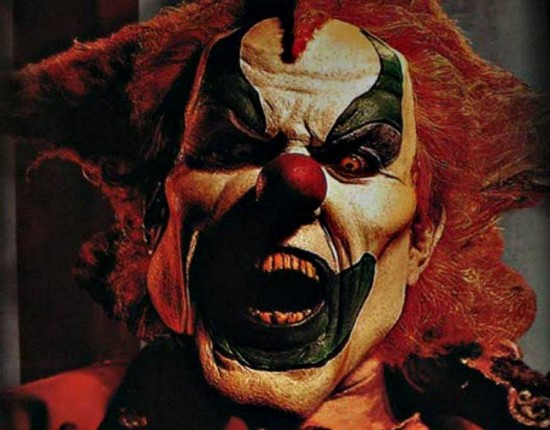 Now, considering that it's only been one-and-a-half months since HHN 23 closed down – and a full nine months before HHN 24 opens up – it is, of course, extremely early in the process, and the likelihood that things will change, regardless of their current veracity, is incredibly high. Still, Theme Park Insite has claimed that multiple sources it uses have provided the information to them and that, moreover, their track records are "solid."
To quote the Merovingian from The Matrix, let us find out where this goes…
Twentieth Century Fox World tries to impact the theme park world
Earlier this year, I reported on Twentieth Century Fox opening up its very own theme park in Malaysia sometime in 2016. Screamscape now tells us that ground has broken on the project, that its price tag has doubled – going from $158 million to $300 million – and that it now has an official name: Twentieth Century Fox World.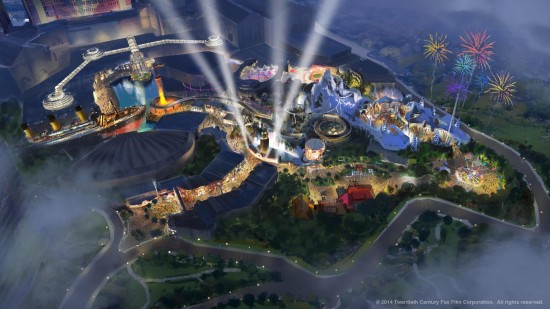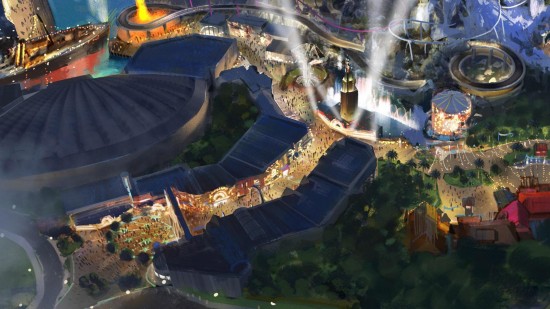 What the park lacks in titular originality is more than made up for by the scope contained in its just-released concept art. According to its December 17 press release, it will feature 25 rides (one per acre of land!), which look to be anchored by a recreation of the Titanic, an Alien rollercoaster dominated by the crashed Space Jockey ship (the basis for the Prometheus prequel/spinoff), and Ice Age Mountain. (Other film properties to be mined for attractions include Planet of the Apes, Night at the Museum, Rio, and Alien vs. Predator.)
Why does this matter to us Orlando-obsessed folk? As we've talked about before here at Rumor Round-Up, the only Disney resort that has failed to have heavy investments in new attractions over the past few years is Walt Disney World, which is also, perhaps not coincidentally, the biggest themed resort the entire globe over. While Disneyland Resort has seen a $1 billion expansion, resulting in the likes of Cars Land, Disney World has seen the same amount of money be tied up in the NextGen infrastructure project – which, according to rumors, hasn't exactly gone according to plan.
Add onto this the fact that Hong Kong Disneyland hasn't been performing as well as Disney would like – it's much closer to Disneyland Paris's dismal stats than to Tokyo Disneyland's stellar numbers – and that the company is already starting to get some negative feedback on the soon-to-open Shanghai Disneyland, and you can see how building international pressure will be added to the ever-growing competition here in Florida, with the likes of Diagon Alley and the just-renamed Orlando Eye.
Should the Titanic and Alien rides at Twentieth Century Fox World end up pushing the Imagineering envelope in ways either great or small, it just may be the final snowflake to launch the biggest avalanche Disney World has seen since its debut 42 years ago, unleashing a great new wave of rides, attractions, and experiences that Orlando-lovers haven't seen in many a year.
Well, one can only hope, at least.
NOTE FROM THE EDITOR
The propose of our weekly rumor column is to provide a window into what might be happening by collecting the latest speculation from sources across the internet (which we always link to). We take that speculation and condense it into one weekly post as a service to our readers, so you don't have to spend hours tracking down all the stories yourself.
We rarely claim to be the source for our stories. In reality, anyone can do what we do: Google "Orlando theme park rumors" and see what the darker corners of the theme park community are chatting about. But we know you don't have hours of free time to seek out this stuff — plus, Marc is really good at analyzing it — so we do the heavy lifting for you. Overall, this is a simple premise, and we're happy to have been executing it every week for more than a year (this is our 92nd rumor post).
View all of our Rumor Round-Ups
[sws_author_bio user="msunyata@yahoo.com" size="105″ authorposts="More OI posts by Marc" name_format="About the author"] [/sws_author_bio]