What should replace Lost Continent? The answer may surprise you…
Let's update Islands of Adventure, shall we?
With Universal Studios Florida getting a bevy of new attractions – Transformers, Springfield, Diagon Alley – it's only right to balance out the equation and give Islands of Adventure its first park-wide facelift since it opened all the way back in 1999. And, indeed, we've already covered Toon Lagoon possibly being replaced and both Jurassic Park and Seuss Landing getting expansions in previous installments of Rumor Round-Up. That just leaves Marvel Super Hero Island and Lost Continent; the former can't be altered due to contractual stipulations with Marvel/Disney, and the later has been rumored to be replaced by one license or another ever since Harry Potter literally broke Lost Continent in half for Hogsmeade.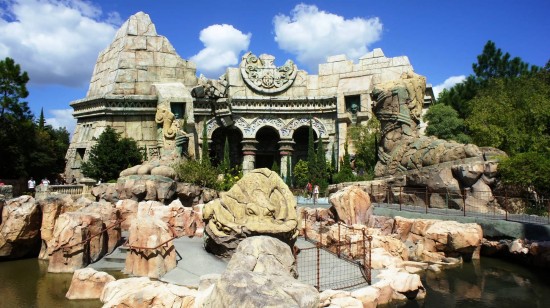 This biggest, hot-off-the-presses rumor of what will be taking over Lost Continent, though, takes the cake: Charlie and the Chocolate Factory.
The Orlando United forums are abuzz with Universal Creative's current round of planning for the "island," which is still reportedly in the blue sky phase. Expect to see Willy Wonka's Chocolate Factory dominating most of the area, with a small British village surrounding it and acting as something of a buffer zone. Inside, there will be several attractions, ranging from the chocolate river ferry to the fizzy lifting drink lab to, of course, the glass elevator.
If this all seems too, well, weird to be true, the rationale is said to go something this: it's a "family-friendly, literary-based IP with a built-in food and beverage component" – exactly the sort of thing that Universal is on the hunt for since the unquestionable success of the Wizarding World (not to mention the growing traction around Springfield).
Don't get too excited (or disappointed!) just yet, though – according to the reports, this would take a backseat to the imminent Woody Woodpecker's KidZone overhaul at USF and the expansion work at Seuss Landing and Jurassic Park. We shouldn't expect construction to begin until late 2015, at the earliest.
Walking the CityWalk walk
Did you happen to stop by Orlando Informer's Flickr page this week and see all those construction walls starting to pop up at CityWalk? And are you perhaps curious as to what, exactly, Universal has planned now?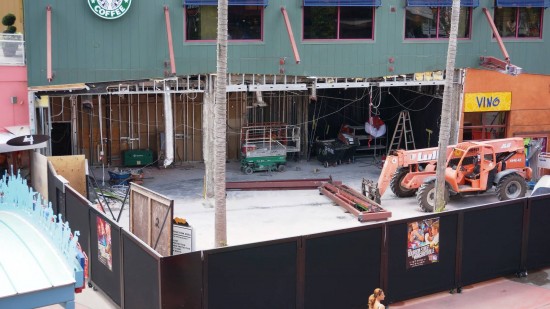 Well, faithful readers of RRU will already have a head's up about what's going on, but it turns out Park Rumors has a lot more (concrete) info on what's going down, as well. It turns out that Universal filed the first of several CityWalk-related permits back on June 12, which was for the "interior remodel of existing venue in Space 294 in CityWalk." That space is, of course, currently home to Pastamore Marketplace, but it'll soon be called Woodfire Pizza, according to the document. (Note that the full-service section of Pastamore is still open for business.)
The other changes? Project 102 calls for the "demolition of interior and exterior construction in existing venue," which – surprise! – is for Latin Quarter. What's interesting to note here is that there's no mention of a remodel – just a straight demolition job, which means that whatever new restaurant (supposedly a Don Quixote) moves into this lot will have to start from the ground up. Last but not least is none other than "PRJ IOA STARBUCKS 208," which we now know (thanks, in part, to one our of lovely OI readers, DestroyTheMouse) to be a two-fer: Starbucks moving into the lower level of CityWalk as well as taking over Cinnabon's location in Islands of Adventure…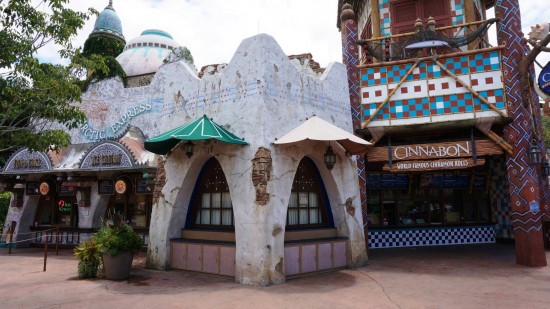 As for why all of these construction projects are being started now, at the tail end of the summer season, we've been hearing from multiple sources and on multiple sites that Universal wants everything to be done before the holiday season kicks off, which is typically the very busiest part of the vacation year.
But what's perhaps most interesting about this recent development is simply just how spot-on the inside sources at Universal are: we reported back in June that Latin Quarter would be going down in August, and here we are, right on the dot. When combined with the leaks about Diagon Alley, Transformers, and Springfield, it seems that Universal isn't able to keep a secret for very long – which is terrific for us rumor mongers and theme park enthusiasts.
HHN 23 is starting to ramp up
Are you ready to declare your fealty to one particular faction or another of Halloween Horror Nights? Wait no longer – Universal now has Legendary Truth and Horror Unearthed merchandise available for purchase. Items currently up consist of caps, beanies, and, in the case of Legendary Truth, t-shirts, but there's plenty of "coming soon" teases at the site for more offerings. The six legions – Baccanoid, Cerebin, Kerezan, Maschorian, Morphan, and Strengoit – are all carry-overs from last year's HHN, which more than likely means that we can see a similar in-park game, replete with an RFID card for each player, pop up again in the weeks to come.
If horror shopping actually gets you in the mood for some scares, the next two mazes for Horror Nights have been whispered into the cyberspace ether… but only for Universal Studios Hollywood. First up is Black Sabbath: 13-3D, which will feature "horrifying" graveyards, madhouses, and battlefields and which will also incorporate a 3D video that contains elements from the band's recent album, 13. Universal is promising that this will be the only haunted house to feature 3D elements of this kind, so take that for what it's worth.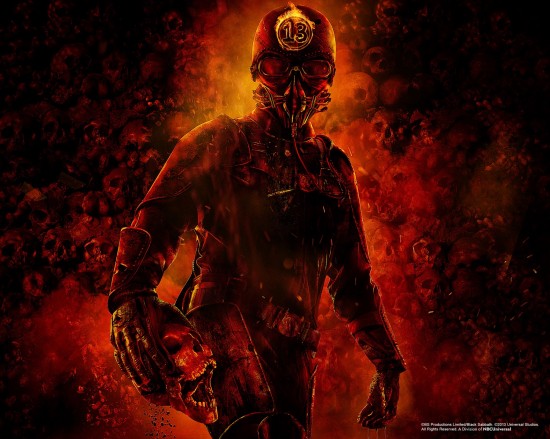 And the second one? That'll be based off of Insidious, the 2010 movie produced by the creator of the Paranormal Activity series. Scare Zone was actually the first to break this story early last month, and now other sources are backing them up, with an official reveal slated for this weekend.
Finally, if you want a HHN fix right this instant, you can always follow its official Twitter feed, which was just taken over by the assistant director of creative development for Universal Orlando's Art and Design Department, Mike Aiello. Behind the Thrills has a brief but loving write-up of the man, who started off as a part-time employee at Universal Studios Florida (even working HHN himself!) and who is now posting computer mock-ups of the mazes and even some Walking Dead designs.
Until next week…
DISCLAIMER FROM THE EDITOR
It is tough to imagine that we need to put a disclaimer at the bottom of a blog post called Rumor Round-Up, but the growing popularity of our articles seems to have raised concern in some camps that our rumor reporting is not a 100% accurate forecast of things to come. So here goes nothing: Please remember when viewing this post that a rumor is a piece of unverified information of uncertain origin; a statement whose veracity is not quickly or ever confirmed.
For those who wish we'd only write about "true" rumors, I simply don't know how to articulate a sensible reply to that request. But I can say, if you possess an algorithm for determining these, you ought to be making millions selling true rumors to sites like TMZ — or the government.
Thanks to Marc for researching the latest rumor buzz from sources across the Internet and condensing it down into a single post for us each and every week!
[sws_author_bio user="msunyata@yahoo.com" size="105″ authorposts="More OI posts by Marc" name_format="About the author"] [/sws_author_bio]