Randomly Soarin' over the randomized world
Just to follow up on our recent Soarin' news: Screamscape has swooped in with a juicy new report regarding Soarin' over the Horizon, the rumored replacement for the current iteration of the ride that is slated to open in 2016.
Thanks to the brand-new digital projector that it will be switching over to (instead of the older IMAX format), and thanks to a little borrowed tech from Star Tours, the new attraction will be able to randomize which areas guests soar over on each ride, providing, potentially, for a great number of different flight plans. (Star Tours: The Adventures Continue has eleven different segments that are randomly selected, allowing for a whopping 54 different possible ride experiences.) In this way, the site notes, Imagineers will be able to squeeze many, many different locations from across the globe in while still keeping everything at five or six minutes – and will greatly increase the "replay value" of the attraction.
Not that Soarin' needs any help in the popularity department, though.
Universal's next big thing: Silly Swirly?
Universal has filed a trademark application for something called "Silly Swirly," Theme Park Insider tells us. While new filings are almost always exciting affairs since they provide some elusive sneak peeks into what the theme park companies don't want us knowing about just yet, this one is just plain… weird.
Why? Well, there's the name itself, of course, but there's also the little fact that we simply don't know what this could possibly be. Robert Niles, Theme Park Insider's EIC, hypothesizes that we could be looking at something being put into place over at Universal Studios Hollywood: with the Adventures of Curious George closing down to make room for USH's Harry Potter addition, a new kids' play area is being built around Despicable Me Minion Mayhem, called Super Silly Fun Land. Could the Silly Swirly be a new ride being installed there?
If not, there's no shortage of other possibilities: a new flat ride, like Kang and Kodos's Twirl 'n Hurl; a new dish or drink, a la the ever-popular butterbeer; or, even, a new street parade.
Quick hits: Springfield, Disney construction, NBCUniversal spending
Bring the walls down! Well, most of them, at any rate. The Simpsons Springfield waterfront area — home to Lard Lad Donuts, Duff Gardens, Bumblebee Man's Taco Truck and more — opened yesterday. To see all the Simpsons greatness, check out the 75 full resolution images of the new waterfront area on the Orlando Informer Flickr page (August 2 photoset). Once you've seen the images, learn more about the whole project on our Springfield page.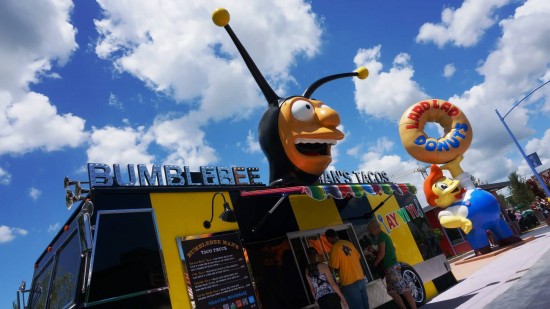 Note that the only Simpsons expansion feature not open yet is Kang & Kodos' Twirl 'n' Hurl.
Also on the Orlando Informer Flickr page, Dan has added a July 31 photoset from his special trip to Walt Disney World. The new set includes construction shots of the Villas at Grand Floridian (DVC), Seven Dwarfs Mine Train (should be opening sometime next spring), and Spice Road Table at Epcot's Morocco Pavilion (scheduled to open by the end of this year).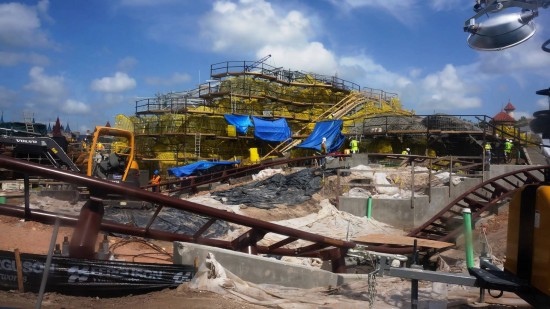 Michael Angelakis, Comcast's CFO, recently dropped something of a quiet bombshell in the company's latest quarterly earnings call: NBCUniversal will be spending even more cash than it already has been over the past year-and-a-half to stuff its theme parks with even more rides and activities. "We are now accelerating NBCU's capital investment plan," he said, "primarily driven by the theme parks' investments in new attractions, such as Transformers [and] an expansion of Harry Potter in Orlando as well as Despicable Me in Hollywood."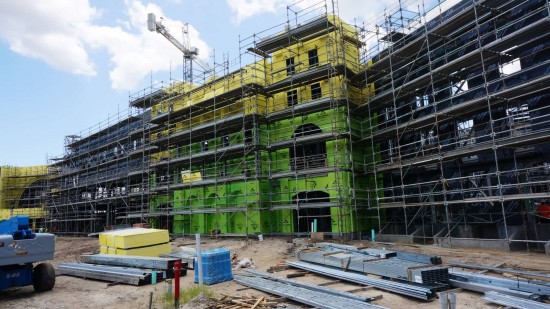 As The Hollywood Reporter notes, that means the company's capital expenditures for 2013 will be bumped up to $1.1 billion – a 50 percent increase from last year.
Whispers…
Sometimes, while surfing the net and stalking Imagineers at night, you hear things. These are little snippets that you just can't pin down to a particular news story or website, but they're still tantalizing enough to report on, even in their half-formed state. Call these proto-rumors – the whispers that will eventually lead to a real breakthrough somewhere, sometime.
So what do these whispers have to say? First of all, Epcot's Imagination pavilion just might be closing not for a replacement, but for a simple refurbishment – which just maybe, just might include the re-introduction of the Dreamfinder into the Journey into Imagination with Figment ride (just as Figment was put back into the attraction due to sustained public demand). It might also be getting an upgrade into Disney's much-ballyhooed NextGen initiative with the addition of an interactive queue, just like Haunted Mansion and Dumbo have already received. We first spoke about Imagination closing in last week's RRU.
Meanwhile, over at Jurassic Park in Islands of Adventure, stories are starting to swirl (Silly Swirl?) around the possibility that maybe the rumor mill has the new construction near River Adventure wrong and that, instead of getting new midway games, we'll be getting that oft-mentioned and long-delayed new ride, possibly to coincide with the release of Jurassic Park 4 in 2015. It seems like a long shot, particularly given Universal's penchant for shorter construction times, but – hey – the whisperers keep whisperin'…
DISCLAIMER FROM THE EDITOR
It is tough to imagine that we need to put a disclaimer at the bottom of a blog post called Rumor Round-Up, but the growing popularity of our articles seems to have raised concern in some camps that our rumor reporting is not a 100% accurate forecast of things to come. So here goes nothing: Please remember when viewing this post that a rumor is a piece of unverified information of uncertain origin; a statement whose veracity is not quickly or ever confirmed.
For those who wish we'd only write about "true" rumors, I simply don't know how to articulate a sensible reply to that request. But I can say, if you possess an algorithm for determining these, you ought to be making millions selling true rumors to sites like TMZ — or the government.
Thanks to Marc for researching the latest rumor buzz from sources across the Internet and condensing it down into a single post for us each and every week!
[sws_author_bio user="msunyata@yahoo.com" size="105″ authorposts="More OI posts by Marc" name_format="About the author"] [/sws_author_bio]