Fleshing out Diagon Alley… a little
Robert Niles, the editor-in-chief of Theme Park Insider, knows a thing or two about the upcoming Wizarding World of Harry Potter – Diagon Alley. He was the one, after all, who initially broke the story over a year-and-a-half ago, well before Universal officially made the announcement. Now Robert has a new podcast, and he devotes the entirety of last week's episode to all three Wizarding Worlds Universal is currently building across the globe.
Most of what he has to say is actually recap on all three fronts, but given that Universal has only hinted at what attractions await us inside Diagon Alley, it's still nice to be able to go over everything again. And that's exactly what we're going to do for you here, in distilled form, so you don't have to spend 30 minutes listening to his sonorous voice if podcasts aren't quite your thing.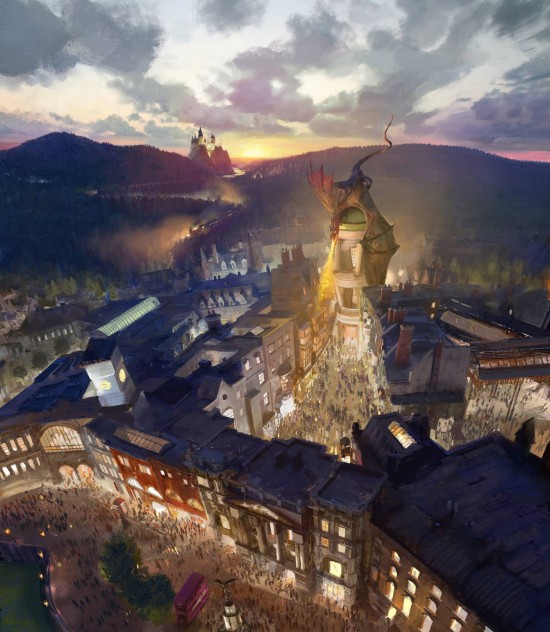 First up: Diagon Alley is at least slightly larger than Hogsmeade over in Islands of Adventure, and of this area, Knockturn Alley will comprise roughly one-third. As of right now, word is that the Knight Bus will be permanently parked outside the new Wizarding World and will feature interactive talking heads (as featured in the third film, Harry Potter and the Prisoner of Azkaban), which should help to siphon out the crowds a bit.
Niles says that the current roster of shops inside the land hasn't changed: Weasleys' Wizard Wheezes, Madam Malkin's Robes for All Occasions, and Wiseacre's Wizarding Equipment, which doubles as Gringotts Bank's gift shop. For food, there will actually be two options instead of Hogsmeade's one: the Leaky Cauldron, of course, and Florean Fortescue's Ice Cream Parlor. And, finally, there is going to be the main location of Ollivander's Wand Shop, which will house multiple "theaters" for the wand-choosing show, to again help manage crowd levels a little better.
Universal's plan is still to unleash a brand new wave of souvenir wands that contain an RFID chip inside of them, to allow guests to interact with certain elements of Diagon Alley, but Robert isn't quite certain what the exact game plan is here. Inside sources indicate that the technology in the wands will be more complicated than just a simple radio-frequency chip, and that they'll still be able to perform some "magic" once they've been taken back home (maybe by producing lights and sounds). Given all this, Uni is scrambling to get everything on track for opening day, but don't be surprised if the product launch gets pushed back by several months.
Expect the new wands to only be one element of interactivity or animation in the new land; suits of armor that fall apart and reconstitute themselves and self-stirring cauldrons are just two more examples of what Universal Creative hopes will make a living, breathing world. For even more ideas on what to expect, Rob says to re-watch Harry Potter and the Half-Blood Prince and pay close, close attention to the Weasleys' Wheezes scene.
As for the Hogwarts Express, a ticket booth is definitely going inside the ride's queue, to allow those guests who only purchased a base ticket to add on park-to-park access. Even more, Niles fully expects a price increase right before the new Wizarding World opens, suggesting that a one-day single-park ticket will go up from $92 to at least $99; whether Universal wants to be the first theme park operator to cross the $100 threshold is unknown, but it's also certainly possible (and inevitable?).
Finally, the podcast wraps up with two tantalizing tidbits: contractors are scheduled to work on Diagon Alley until mid-June 2014, suggesting an opening date of July, and a somewhat extreme theory on how Harry Potter can be squeezed into Universal Studios Singapore, the only location on the planet to not feature Hogwarts Castle. Along with a heavily detailed, scene-by-scene description of the Gringotts ride, it all makes for a highly entertaining listen.
To learn more about this project and track the construction, visit the Diagon Alley page in the OI Universal Center
HHN Reveal Week
In case you missed it Universal unleashed Halloween Horror Nights Reveal Week all of last week. Nearly every day at midnight the resort announced four of the final five haunted houses of this year's lineup, including its highly anticipated original entries. And the results so far seem to be rather intriguing and (mostly) well-received, if fan reaction online is any indication.

Just what's on the list? Here it is, in all its gruesome glory:
Urban Legends: La Llorona – "Feel her pain and suffering as you succumb to her legend of tragedy… Enter the watery realm of La Llorona in this all-new haunted house."
A beautiful Mexican woman named Maria falls in love with a wealthy man, but he refuses to be with her due to the inconvenient fact that she has children. In desperation, she drowns them, but that just creeps the guy out, and he still spurns her. When she drowns herself, she finds that heaven doesn't want her, either, until she can account for her missing kids… so she returns as a watery spirit on Earth, on the prowl for fresh babies to claim as her own.
This is actually a lift from Universal Studios Hollywood (it appeared in both 2011 and '12), but one that will be reworked to make it new and exclusive to Orlando. And most intriguingly of all, the "Urban Legends" moniker will be used for a whole series of mazes in the future.
After Life: Death's Vengeance – "Witness the brutal vengeance of his victims as they turn his afterlife into an inescapable hell… This fall, 2,000 volts of electricity are going to send serial killer Bobby 'The Blade' Galleta into a horrific realm of suffering in this new, original haunted house."
This year's 3D maze – a trend which started in '11 and continued last year with Penn and Teller Nuk'd Las Vegas – this one seems to be a much darker take than its predecessors (Universal itself notes that Johnny Cash was a direct inspiration, so there ya go). It'll be interesting to contrast this with USH's 3D maze, Black Sabbath: 13-3D, to see just how "dark" it really is.
Havoc: Derailed – "Warning: in this all-new, original house, the train convoy has derailed and the bloodthirsty maniacs are loose. Escaping them this time will be a hard feat…the 'Dogs of War' return to HHN in this sequel house, Havoc 2: Derailed."
In Havoc: Dogs of War from 2010's HHN, super soldiers were created by the government to be unleashed on the battlefield, but in typical horror movie fashion, they ended up turning on their creators and claiming Shadow Creek base for themselves. In this follow-up, which is set six weeks after the original's events, the "Dogs of War" (sorry, Shakespeare) have managed to escape once more, and they're none too happy about being carted off into the middle of nowhere.
An American Werewolf in London – "As the full moon rises, you will learn to fear the beast. Based on the John Landis horror classic, you'll come face-to-face with the bloody chaos of werewolf attacks in this horrifying house."
A perennial part of the Horror Make-Up Show, it's neat that Universal is finally bringing the source material to life, even though this isn't the first time that either werewolves or London has been the subject of a haunted house. The titular American werewolf will be realized by "completely articulated" puppets and will use vintage audio files from the 1981 film to make sure everything sounds "authentic." Early word already has this one pegged as one of, if not the, flagship experiences of this year's HHN.
These four newly revealed mazes join the Cabin in the Woods, Evil Dead, and the Walking Dead. The eighth and final haunted house was expected by many to be announced last Friday night, but all we got was a post on the Facebook page thanking us for our involvement and bidding us to stay tuned for the last reveal… on the 29th.
As you can imagine, there's been quite a bit of confusion and gnashing of teeth from the fan community over this. It'll be interesting to see how Universal Creative's Mike Aiello handles it – but, in the meantime, the nearly 100 responses on the Facebook page are pure comedy gold and are certainly worth a look-through. Tell 'em Rumor Round-Up sent ya.
By the way, if you think you can do better with Universal's Facebook and Twitter accounts, you'll be happy to know they're hiring a new Social Media Director — APPLY NOW.
To learn more about Halloween Horror Nights, visit OI's complete insider's guide.
D23 Expo: Short on reveals, big on teases
Every year Disney's official fan club, D23, holds its own intra-company version of the San Diego Comic-Con or the Electronic Entertainment Expo. Typically the Parks and Resorts division has a substantial presence at these expos, revealing new attractions or hinting at upcoming experiences, but the Imagineers took this year off, resulting in an event that has left many fans decidedly cold.
Still, this year's show – which was held August 9th through the 11th – contained a simple walkthrough exhibit that should catch the interest of even the most disappointed theme park junkie. Concentrating on Imagineering's three biggest new developments in the immediate future ("immediate" meaning the next six years, of course, in Disney-speak), attendees got to peruse a scale model of Disney Springs, which will replace Downtown Disney in Orlando, before moving on to an "office" that was filled with various artifacts from a recent "research trip" to Avatar's central planet, Pandora. (Imagineers stuck to this story all throughout the expo, sometimes to comedic effect, as when recounting their interactions with the Na'vi and their local fauna to reporters.)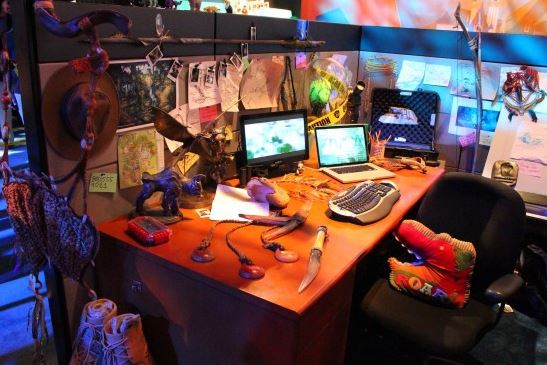 Finally, there was the big one: Star Wars – or, at least, R2-D2, standing in front of a pile of crates labeled "Orange Harvest: Speculation beyond Imagination" (a play off of the codename used during Episode VI: Return of the Jedi's shooting, "Blue Harvest," and its accompanying tagline, "Horror beyond imagination…") While, obviously, nothing was announced, this does serve as the first official indication that Star Wars Land is, indeed, coming.
For a really good rundown of everything that was – and wasn't – at D23 this year, head on over to /Film.
And Inside the Magic has a nice little write-up about one little surprise Disney had for attendees: an unexpected Dreamfinder and Figment appearance on-stage during a Disney Legends segment, followed by an unannounced character meet-and-greet – the first time in some years that Disney has trotted the characters out as a pair to interact with fans.
[youtube_video]AgLgjXnnecM[/youtube_video]
The real news here, though, is what Disney CEO Bob Iger had to say about the funky little purple guy. "I don't think Figment is going anywhere anytime soon," he told the crowd. "I promise." This should be of great reassurance to those who were upset at the rumors of Journey into Imagination's imminent closure.
Quick Hits: California Grill, Asgard, and… Polynesian Village?
Are you saddened that you can't drop a load of money on a fancy dinner while at the Contemporary Resort at Walt Disney World? Fret no longer – the famed California Grill is set to re-open on September 9th after a major makeover. And to honor the occasion, the official Disney Parks blog has some nice pictures of what to expect on your plate.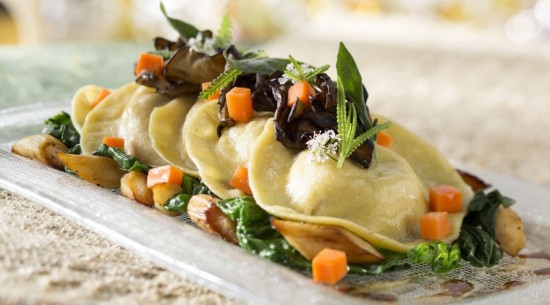 It looks like all those rumors of the next Disney Vacation Club villas coming to one of Disney World's most prestigious (and expensive!) resorts, the Polynesian, are true. What we didn't quite expect, though, was just how substantial of an addition this is going to be: Screamscape has managed to cobble together many facts, pictures, and reference material to paint a pretty thorough picture of how the Polynesian Resort will soon be renamed the Polynesian Village and will feature a series of water bungalow rooms built right out over the Seven Seas Lagoon (we first mentioned these back on April 5). It will cost an arm and a leg, yes, but – boy – will it be the most beautiful place to stay in any theme park the world over.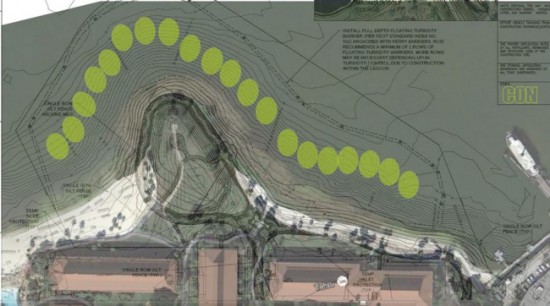 And though this is only for Anaheim and not Orlando, we at RRU thought this was too cool to pass up: the realm of Asgard, replete with a Thor meet-n-greet, will be coming to Disneyland right before Thor: The Dark World hits theaters on November 8, 2013 (one day after my birthday!). No specifics are officially released as of yet, but it's likely the company will replicate its Iron Man 3 tie-in: "Iron Man Tech, Presented by Stark Industries" took place in Innovations, showing off seven costumes from the film(s) from April through September of this year.
And just for you die-hard Thor fans out there, you can see his hammer – along with a bunch of other Marvel movie props and Captain America himself – at the Avengers Academy experience on Disney's cruise ships.
[youtube_video]ziQdvh_bncg[/youtube_video]
DISCLAIMER FROM THE EDITOR
It is tough to imagine that we need to put a disclaimer at the bottom of a blog post called Rumor Round-Up, but the growing popularity of our articles seems to have raised concern in some camps that our rumor reporting is not a 100% accurate forecast of things to come. So here goes nothing: Please remember when viewing this post that a rumor is a piece of unverified information of uncertain origin; a statement whose veracity is not quickly or ever confirmed.
For those who wish we'd only write about "true" rumors, I simply don't know how to articulate a sensible reply to that request. But I can say, if you possess an algorithm for determining these, you ought to be making millions selling true rumors to sites like TMZ — or the government.
Thanks to Marc for researching the latest rumor buzz from sources across the Internet and condensing it down into a single post for us each and every week!
[sws_author_bio user="msunyata@yahoo.com" size="105″ authorposts="More OI posts by Marc" name_format="About the author"] [/sws_author_bio]