We are avid theme park fans but my family also loves to cruise.  Since we are still relatively new to cruising, we like to choose our cruises based on the ports the ship will visit. We recently took a cruise with Royal Caribbean on their ship Independence of the Seas out of Ft. Lauderdale.  This was our fourth cruise and it was a six-night trip with stops in the Caribbean islands of Grand Cayman, Jamaica and Haiti.
[wptouch target="non-mobile"]Remember, you can click any image to view it full-screen. And don't miss the complete photo gallery with over 100 images at the bottom of the post!
[/wptouch]
The Independence of the Seas was beautifully decorated and included an ice skating rink, a two story theater, a promenade deck with a three story atrium, various dining rooms and specialty restaurants, many bars, several live bands, a casino, spa and fitness center, several hot tubs and pools, a rock climbing wall, the FlowRider (a surf simulator), a basketball court and a mini-golf course.  Although the ship had more than 3,000 passengers, it did not seem crowded at all.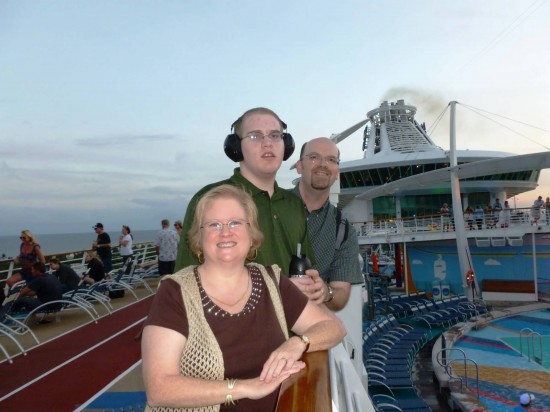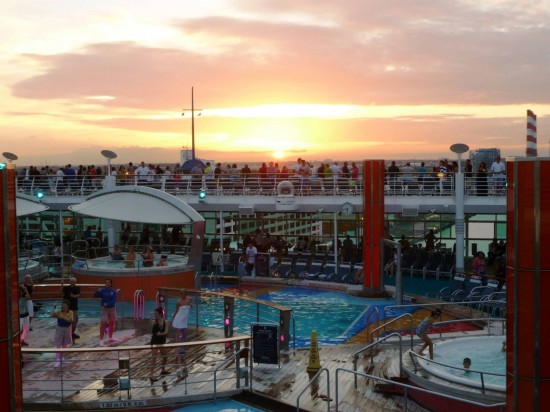 Throughout our six night cruise, food on the ship was readily available, and my husband and I felt it tasted the best on this cruise in comparison to the other three cruises we've been on. Breakfast from the Windjammer café, afternoon pizza on the promenade, chips and spinach dip from room service, ice cream by the pool and dinner in an elegant atmosphere were all a part of our daily eating routine. The dining room staff, especially our waiter, assistant waiter, and every staff member we encountered on our cruise was friendly, provided superb service and were extremely accommodating for our son who has autism.
The weather was absolutely fabulous throughout our cruise, with the exception of one very windy day. With temperatures in the mid to upper 80's in January, even we Florida residents were happy and enjoyed the sun.
We left Ft. Lauderdale on a Monday and were at sea all that evening and all of Tuesday. While at sea, we toured the ship, shopped in the promenade stores, went to a fabulous ice skating show, ate wonderful meals and snacks, relaxed outside on deck 4 (our favorite hideaway), attempted to climb the rock wall and slept well in our interior cabin. Tuesday night was formal night so our group dressed up and had several photos taken by Royal Caribbean photographers prior to eating dinner.  After dinner, we went to the theater to enjoy the Broadway-style show.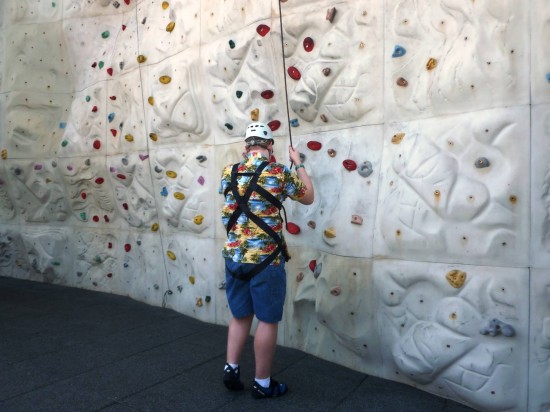 Wednesday our ship arrived in Georgetown, Grand Cayman. We tendered (boarded a smaller boat) that took us from our ship to the port. Our excursion in Georgetown was an historic tour of the island, including a town called Hell, and ended up at a beach resort. It was a fun time for all of us and the views from the beach were incredible. After we got back on the ship, we ate dinner with our group and then went to the stage show in the theater.
On Thursday, we docked (no tendering needed) in Falmouth, Jamaica. Our excursion that day was a trip via tour bus over to Ochio Rios (about an hour away) to the Dunns River Falls. My son, husband and friends of ours climbed the steep falls while I walked the stairs alongside and took pictures and video of their adventure. It was a fun experience and great accomplishment for those who climbed the falls. That evening our group met at dinner and exchanged stories about our adventures for the day.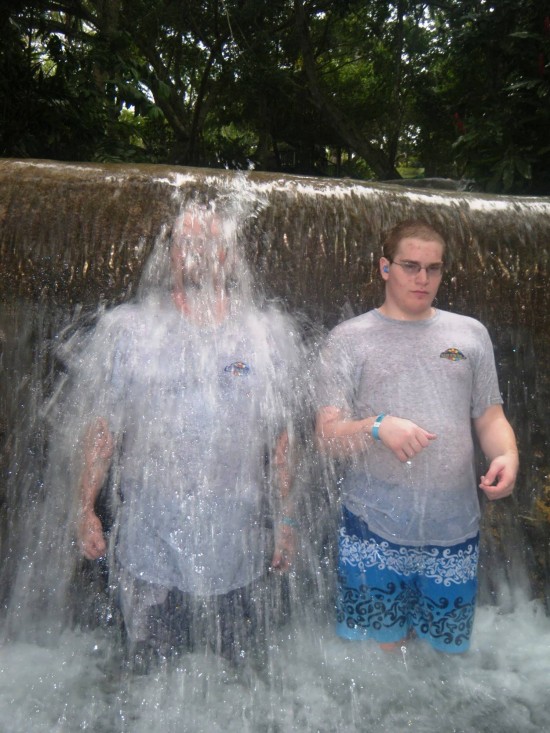 We docked in Labadee, Haiti, on Friday. Labadee is a section of land on the northern tip of Haiti that Royal Caribbean leases and has developed as a day resort for their cruise line guests.  There were several beaches, various water activities, a bobsled coaster, plenty of food and drink, and shopping for locally made goods. I booked an excursion on one of the world's longest zip-lines, the Dragon's Breath Flight Line. Unfortunately it was canceled due to high winds that day. However, we did take a 2 hour boat tour of the Haiti coastline and the views were breathtaking.
After we reluctantly boarded our ship, we dressed up for dinner as it was the second formal night of the cruise.  My husband, son and I posed for professional pictures together prior to eating dinner.
Our ship left Haiti Friday evening and we were at sea all day on Saturday. Throughout the day on Saturday we shopped, enjoyed our hideaway on deck 4, played bingo, participated in the one mile fun walk for the Make A Wish foundation, ate lunch in the dining room and enjoyed the last night show in the theater. We also packed all but one suitcase to be placed outside our cabin that night. The Royal Caribbean staff took the luggage and stored below decks in order to quickly unload it at the dock early the next day.
Early Sunday morning we found ourselves back in Ft. Lauderdale. After breakfast we waited for our number to be called and sadly disembarked the ship. Soon we were back at our car, driving home to central Florida. The week had gone by so fast. We wished we could spend another six nights sailing the Caribbean.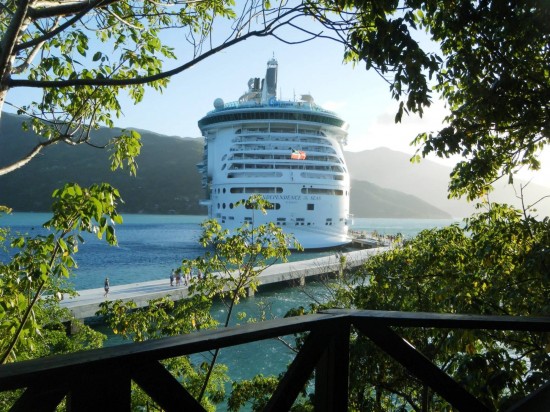 Meanwhile, we will have to settle for visiting Universal Orlando, Walt Disney World and SeaWorld until we can embark on our next cruise — and that ain't so bad!
Royal Caribbean cruises recently announced a promotion with Universal Orlando Resort. This promotion is a great idea since cruising is a logical combination to vacationing in Orlando. Cruising is also a great way to see different travel destinations daily without having to pack, unpack and re-pack suitcases or check in and out of hotel rooms. Port Canaveral is only an hour away from Orlando. Since you have made the investment to travel to Orlando for its theme parks, you might as well get your money's worth and enjoy a cruise after you've enjoyed the theme parks.
Learn more about the Royal Caribbean / Universal Orlando promotion
When you're done reading this post, be sure to check out my companion article: Sail the happy seas: My very best tips for your next cruise vacation.
Independence of the Seas cruise trip report – photo gallery
Click any image to view it full-screen. When the full-screen image is open, click to the right or use the right arrow on your keyboard to advance through the gallery. If several thumbnails are missing, try reloading this page in your browser.
[sws_author_bio user="MaureenDeal" size="105″ authorposts="More OI posts by Maureen" name_format="About the author"] [/sws_author_bio]