Margaritaville Cafe Orlando at Universal CityWalk has a completely revamped menu, and this week we had the honor of sampling a large variety of the new choices on behalf of Orlando Informer.
Jimmy Buffett's music career spans four decades. His fans, known as Parrotheads, are loyal and have a strong sense of what truly is a Margaritaville state of mind. So when a major change like this comes along, it is important that the enhancements are true to the brand. It must be authentic, or we — yes, I'm a proud Parrothead! — will be none too pleased.
Menu overview
I am here to tell you that Chef Dan Murray has stayed true to the Margaritaville state of mind while bringing the menu completely up to date. For some diehard Jimmy fans, it may be difficult to let go of the menu we've known and loved for the past decade, but lots of exciting things have happened in the culinary world in that decade.
The new menu blends contemporary and classic. Much of the cocktail menu has remained the same, cheers to that! But, there is a little influence from the mixologist trend, such as the Blueberry Pomegranate Margarita, new tequila cocktails, and the Margarita flight (which is a fantastic choice if you can't make up your mind).
New movements in the food world like tapas and small bites are featured, while classic beach-style cuisine still reigns supreme. The menu is comprised of seven sections. Like a pirate ready to plunder a new port, I am on a mission to try a taste from each section.
Appetizers
Much like going to your first Jimmy Buffett concert, starting your visit to Margaritaville Cafe with an appetizer is the best way to get hooked. A fair amount of favorites, like the incredible Volcano Nachos and the flavorful Key West Quesadillas, are here to stay. New tastes include the White Cheddar Cheese Curds (a nice feature for Jimmy's Midwestern fans) and "Drunken" Shrimp Skillet.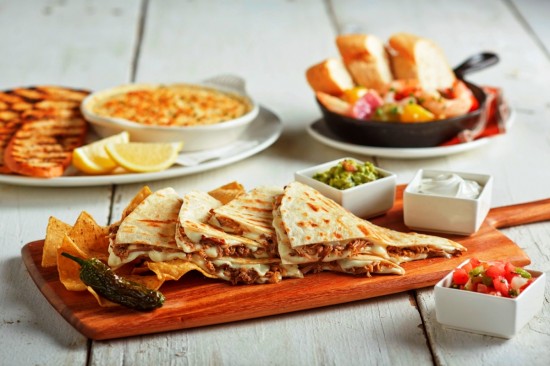 My two favorites from the appetizer line up would have to be the Key West Quesadillas and the Boneless Chicken Bites, because of the nice buffalo flavor that pairs well with a Landshark Lager.
Bites
Of all the changes to the menu, the new "Bites" selections are my absolute favorite! Inspired by the tapas and small bites movement that continues to gain popularity each year, these samplings are great for sharing, mix and matching, or just to have a small bite. Priced as single servings, it is easy to create your own small bite platter. I love popping into Margaritaville when visiting the Universal Orlando parks to grab a frosty cold margarita or Landshark and pair it with a Beach Taco or two.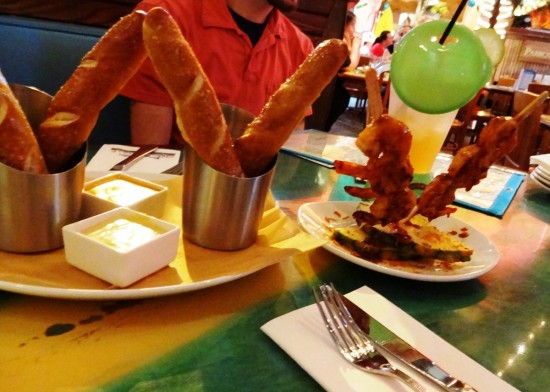 In fact, as simple as it may seem, I think my favorite new dish is actually the Beach Tacos. They're fresh, vibrant, and seem to fit the Margaritaville vibe the best. There are three flavors from which to choose, my favorite being the Braised Pork Carnitas. My party also enjoyed the warm, soft Pretzel Sticks served with two delicious dipping sauces. The Grilled Shrimp Skewers, bursting with island flavor, were a big hit as well.
Salads
I admit, I judge restaurants by their salad selections. It may sound odd, but it to me it is not that hard to make a unique, substantial salad — you just have to get a little creative. There are four entrée salads from which to choose, and they are heavy hitters. The new hit is the Shrimp Louis Wedge Salad. It looks and sounds awesome, featuring a paradise island dressing, shrimp skewers, and crisp veggies. The drawback, in my opinion, is that all four of the salads are sure to be high in calories and fat.
I am very sad to see the Caribbean Fruit and Chicken Salad has flown the coop. But, if you are looking for big flavor and a big, satisfying salad then paradise found with these new choices!
Entrees
For me, this portion of the menu has always been uncharted territory. When at Margaritaville I am usually an appetizer, salad, or Cheeseburger in Paradise kinda girl. But, I have found two new favorites. The Landshark Lager Fish & Chips plate can easily be passed off as pub grub at first glance, but I have to say it is gourmet all the way. The fish is hearty, firm, yet flaky, and the Landshark Lager batter is icing on the cake. The jalapeño tartar sauce and cilantro lime coleslaw elevate the whole plate. Plus, try it with sweet potato fries for a whole new twist! I loved the Landshark Lager fried fish so much that on a return visit I tried the Fish Tacos. Maybe I am a closeted taco freak, but these Fish Tacos are cravable. The toppings, like fresh avocado and key lime crema, are enough to get my hips swaying and a grin on my face.
The night of the media event, a member of my party ordered the Seafood Mac & Cheese. With shrimp and lump crab meat and Boursin cream cheese sauce, this is pure sinful temptation. We each tried a nibble; the pasta was al dente, and the sauce was velvety smooth. I just longed for a little more seafood in my bite or perhaps a hint of seafood stock in the sauce.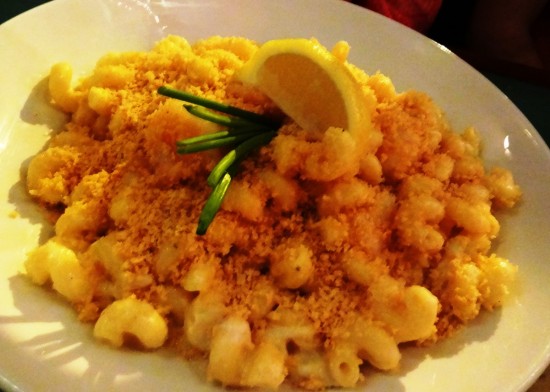 Classics like Jimmy's Jammin' Jambalaya and Crispy Coconut Shrimp are jammin' on, but have been updated with some bright and bold flavors. Buttermilk Fried Chicken and an indulgent Shrimp Trio round out the entree selections.
Beach Grill
If the Bites portion of the menu is my favorite, then Beach Grill is a very close second. Can't you just hear the steel drums when you read "Beach Grill?"
If you are looking for a satisfying entree without a lot of guilt, then set your sails here. The Black Grouper is a generous portion of grilled filet topped with your choice of mango salsa or cilantro lime butter. I had a hard time choosing and was offered both on the side. Keep in mind, had I ordered the butter, it would have melted nicely on the fish, whereas on the side it obviously did not. I preferred the vibrant mango salsa. The island rice, which is also served with the Grilled Chicken Breast, is a brilliant side.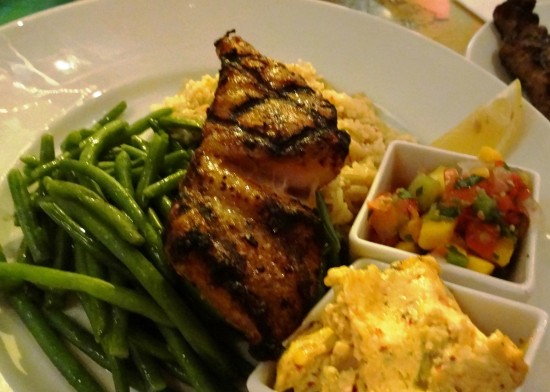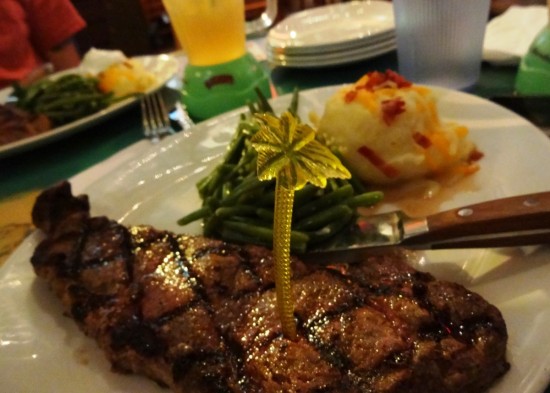 The men in my party could not resist the New York Strip Steak, and I snuck a taste. The steak has a unique seasoning that it sensational, and it was cooked perfectly: very juicy at medium temperature. The accompanying Yukon Gold loaded mashed potatoes were enough to make us grunt like Neanderthals.
Burgers in Paradise
How can you not think of the song "Cheeseburger in Paradise" when you are at Margaritaville? There are five choices on the new menu, and each can be substituted with a turkey or veggie patty if you like. The Cheeseburger in Paradise has always been my husband and mine's go to entree, now topped with the island sauce.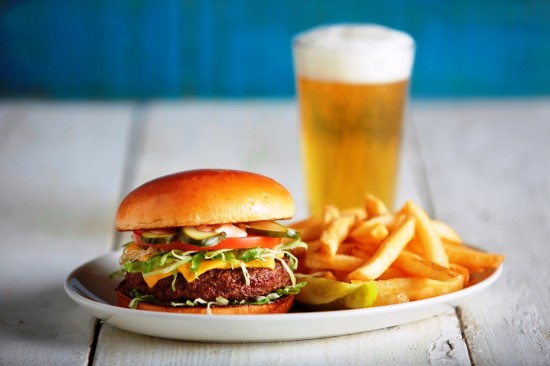 Additional selections, like the Volcano Burger and the Rancho Deluxe, are equally mouthwatering.
Sandwiches
Though I have not had the pleasure of trying any of the sandwiches yet, I am quite tempted by the Key West Fish Sandwich and the Gulf Coast Panini. Grouper is an absolute staple here in Florida — I believe you aren't a true Floridian if you don't love a Grouper sandwich.
The Gulf Coast Panini starts with a buttered baguette topped with sliced ham, grilled Andouille sausage, cheese, pickles, and a Creole mustard. Jimmy grew up on the Gulf Coast, and I just have to imagine he would love this creation.
Desserts
The Chocolate Hurricane blew us away: vanilla bean ice cream served with brownies, Kit Kat, and Heath bars, pirouette and mini shortbread cookies, sliced banana, whipped cream, and chopped macadamia nuts, then swirled tableside with chocolate and caramel sauces! We loved it, and the new dessert is perfect for a special occasion.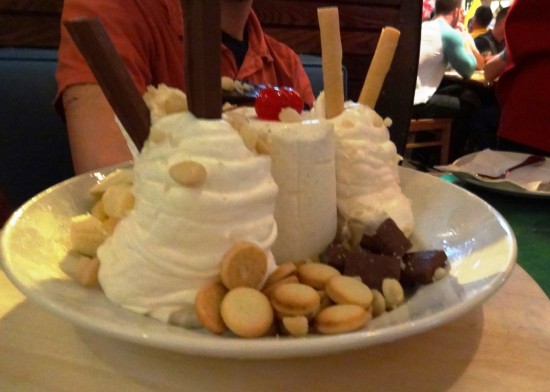 Key lime pie is a big deal in our household. Here at Margaritaville, we found the filling to have the perfect level of sweet and tart, and it had great texture — I love the key lime peel shavings! The crust was great at just the right amount.
Overall, I know change can be tough, but these changes in latitude do bring changes in attitude. I was already been a big advocate of the new menu, and after attending this even for Orlando Informer, I might as well be an evangelist!
I did get to quickly meet and chat with Chef Dan, who grew up in Florida (let's hear it for the Natives!). He told me it took a lot of thought and consideration to make sure each selection made sense for Margaritaville. Chef Dan will now journey to other Margaritaville Cafes as they begin to roll out the newly refreshed menu.
I raise my Landshark Lager to Chef Dan Murray and his team, cheers to a FIN-tastic new menu!
Margaritaville Orlando – map & links
Click any marker to display the attraction or venue name. To scroll or zoom, use the controls on the top-left of the map. You may also switch to different map views by using the buttons on the top-right of the map.

View OI's map of Universal CityWalk in a larger map
Official website: MargaritavilleOrlando.com
Refreshed menu at Margaritaville Orlando – photo gallery
Click any image to view it full-screen. When the full-screen image is open, click to the right or use the right arrow on your keyboard to advance through the gallery.
[sws_author_bio user="danidennison" size="105″ authorposts="More OI posts by Dani" name_format="About the author"] [/sws_author_bio]