Over the summer we introduced a new site feature that allows our readers to share reviews of the attractions and restaurants inside Universal Orlando's theme parks. I want to say how much I appreciate all the incredible reviews that have been submitted so far (over 600!).
Since I enjoy reading your reviews so much — and learning even more tips and tricks about Universal – I wanted to share some of our newest submissions that came in during the Review & Win Weekend we just hosted.
And if you wrote one of the first three listed, you've won a prize!
Two IMPORTANT notes: All the links in this post will open in a new window for your convenience, and please remember that guest reviews may contain spoilers.
Revenge of the Mummy
"Not even the Medjai" can save you now | Submitted by Amber C
My last trip to Universal Orlando was for Halloween Horror nights. That said, I still made the Mummy a top priority. From the moment you set foot inside the waiting queue, you are transported to ancient Egypt. The guest-activated scares in line are fun to try for yourself, and even more fun to watch (in my opinion.) The waiting area is cold, dark, and really does give the impression of being in an underground tomb of ancient artifacts. And let's not forget about the cast members lurking in the shadowy parts, all too willing to drum up extra scares and feed off the fears of the people in line. More than once I've witnessed people jump as a cast member popped up from seemingly out of nowhere with a well-placed growl!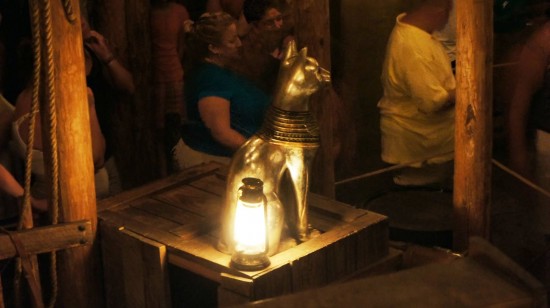 Once you make it to the ride's loading platform, the ride attendant locks you in and sends you on your way… with a thumbs up that quickly morphs into a thumbs down. there's no turning back at this point- you're on your way through the tombs of Imhotep. I'm sure most people know of this by now, but be sure to keep an eye out in the second room- on the left hand side there is a small statue you'll enjoy searching for- especially if you miss the building's previous tenant. The ride continues to build excitement with fire, a 'crash' wall, and an awesome part in the middle that helps you identify the people who have never experienced the wrath of the Mummy (they start clapping around this part).
The excitement wraps with a bit of sarcasm from Brendan Fraser… and a not so nice surprise for him as well. In my opinion, the front row gives you the best bang for your buck in my opinion, but the very back can be enjoyable as well, because you feel like you're being dragged to the bottom when the car makes its final descent into the fog. Overall, this is one ride that is NOT to be missed. It brings so much to the table, and it's one of the rides I make it a goal to visit as many times as possible when I'm in the area.
Learn more about this attraction or share your own review
Congratulations, Amber, your review was our top pick in our Review & Win contest — you've won a $50 Universal gift card from Orlando Informer! Please visit the inbox of the email you used when submitting this review and look for a message from us.
Transformers: The Ride 3D
Stunning  |  Submitted by Matthew Walton
Let me begin by saying I am not a fan of the Transformers films. I was able to sit through part of the first one and that is about it. Do not judge this ride based on the films. Please, please, please do yourself a favor and realize that this incredible ride can be thoroughly enjoyed without any prior knowledge of the Transformers universe.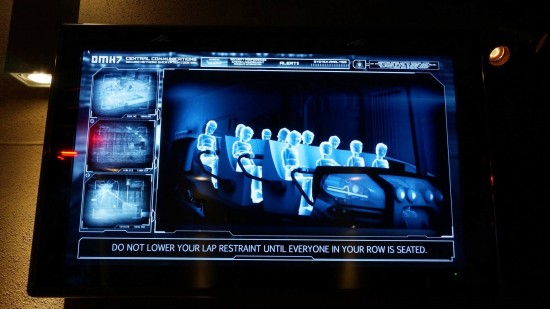 I consider myself someone who enjoys theme parks, especially innovative ride experiences. I like it when a park goes above and beyond in creating an all new type of experience. I heard that Universal had done something special with this ride and so I wanted to see it for myself. I brought two of the toughest critics I know with me to experience this new ride for the first time: my older brother and my wife. My older brother can be described as someone with a healthy skepticism of all things popular. My wife is not particularly a fan of roller coasters or Transformers.
What did we think? We were blown away. We were speechless. All three of us were giddy with joy as we exited the ride vehicle, still trying to process what we had just experienced. Words cannot do justice to the masterpiece Universal has put together in this ride experience. None of us had ever experienced anything like it before.
So what did we do? We got back in line.
Learn more about this attraction or share your own review
Congratulations, Matthew, your review was our second pick in our Review & Win contest — you've won a free Orlando Informer t-shirt! Please visit the inbox of the email you used when submitting this review and look for a message from us.
Ollivander's Wand Shop
Loved it, but can cause some tears  |  Submitted by Nikki Matschullat
I absolutely loved this attraction, however, you may want to read on if you have children that will be experiencing this with you. A group of 25 – 27 people enter a small wand shop. One person (usually a child) is chosen to be measured and test out wands until the right wand chooses that child. The first time through my son was not picked, but it was very cool to watch the reenactment of that scene from Harry Potter with the child that was chosen. When it was done, my son was disappointed that he wasn't chosen, but agreed that it was fun to watch, and he spent time in the actual shop finding just the right wand for himself.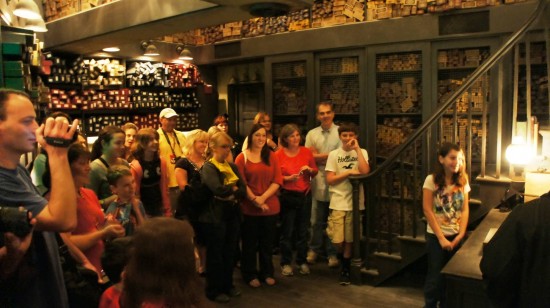 The reason I say it may cause tears and gave the attraction 4 out of 5 stars is because, if you have a child who will be upset if they are not chosen, it could put a damper on your vacation (should you have to console him/her for some time because they wanted to be "the one"). You could wait in line for quite a while only to face disappointment if you have a child who may react like this. In that case I suggest you enter the wand shop through a different door and look at all the wands available and skip the show, which is only about 4 1/2 minutes long.
Overall this was one of my favorite attractions, especially on our second time through when my son was chosen and I watched him up there with his birthday button getting his special wand for his 11th birthday. It truly was magical. When we return we will go through it again I'm sure.
Nikki was kind enough to send a photo of her son along with her review, showing his wand and Universal Orlando birthday button: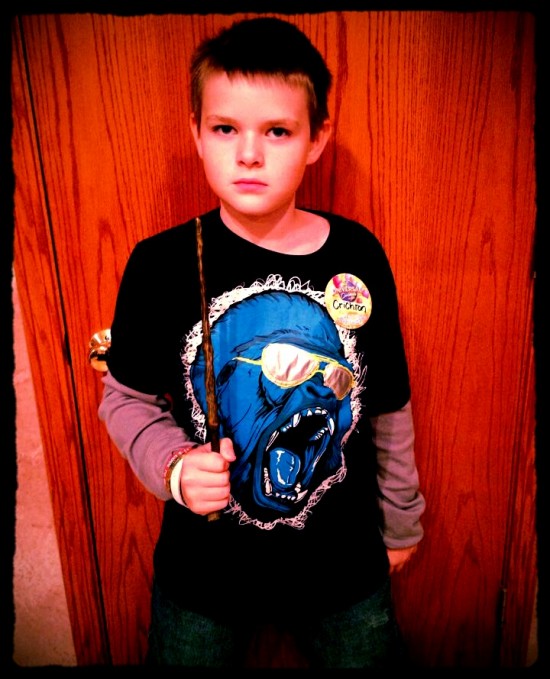 You can learn more about Ollivander's, or you can learn more about Universal's birthday & celebration buttons.
Congratulations, Nikki, your review was our third pick in our Review & Win contest — you've won a free Orlando Informer t-shirt! Please visit the inbox of the email you used when submitting this review and look for a message from us.
That's it for winners in our latest Review & Win contest. Thanks so much to everyone who entered. Here are a few more recent submissions that we also wanted to share with all of our readers…
Confisco Grille
pleasant surprise | Submitted by Josh Smith
My wife and I went to Orlando for our honeymoon and stayed 8 nights at the Loews Royal Pacific resort on the Universal Studios property. Being on-site has some major advantages, but we flew in and did not have a car, so one of the major disadvantages is that it can be difficult to find affordable places to eat. Another down side is that many of the parks' quick serve restaurants have lots of the same menu items, so you find yourself eating the same things over and over again across the course of the week if you eat inside the parks a lot.
Several times throughout the week we walked past the Confisco Grille and checked out the menu. It seemed to have a good variety of food options and surprisingly reasonable prices. They are only open from 11:30am – 4:00pm, however, so there is a pretty brief window of opportunity to eat here each day.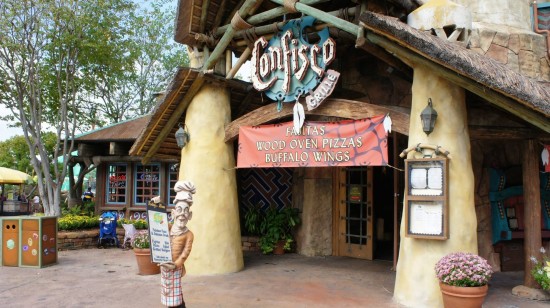 On the day that we went, we were the first two in the door when they opened at 11:30. We were seated right away, and our server was friendly and courteous. She got drinks out to us quickly and we ordered our food. I had the French Dip sandwich with french fries and Au Jus. My wife selected the 1/2 club sandwich and a cup of the soup of the day, which was the minestrone soup. Between both of our meals, drinks, and tip, we ate for under $30 at a full service restaurant, which was very reasonable. Our entrees were not more expensive than we would have paid at a similar restaurant back home, which was a pleasant surprise.
The other pleasant surprise was the quality of food and portion size. We both had terrific food, and they gave us plenty of it. The portion of fries and the size of the sandwich were perfect for a lunchtime meal, and it tasted delicious!
I definitely recommend eating lunch in the Confisco Grille at Islands of Adventure, just make sure you plan accordingly to be there while they are open!!
Learn more about this venue or share your own review
By the way, did you know that you can book reservations for almost every full-service restaurant at Universal Orlando (including CityWalk and the on-site hotels) via OpenTable? We've got everything you need on our Dining reservations page.
Despicable Me Minion Mayhem
I Felt Like a Minion!  |  Submitted by Kristen
I was pleasantly surprised with this ride. Although it was definitely on my list of what I wanted to ride, I expected it to be less of a thrill factor because it was geared toward the younger kid crowd. However, I'm a big Despicable Me fan because of my kids, so I was excited for it nonetheless.
This is a simulation ride using 3D glasses, but instead of being in a singular pod car like Spider-Man or Transformers, every pod car shares one big screen. I wasn't sure how good the effects would be with the ride set up this way, but I have to say it was AWESOME! It had the feel of a roller coaster, and you get to enjoy all the Minion antics throughout.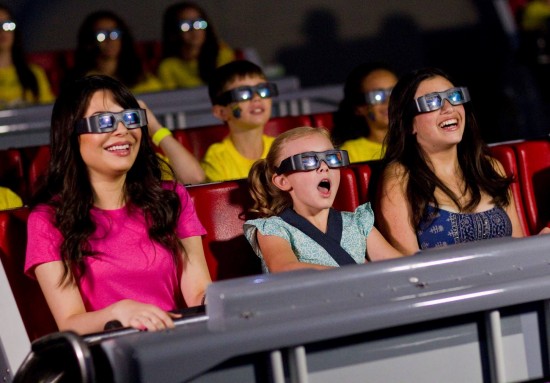 One of the coolest features this ride has is that it has a stationary row in the front that doesn't move but you can still enjoy the 3D effects of the screen, which makes this option ideal for those with young children or those who are prone to motion sickness.
This ride gets extremely long standby times, so I recommend you head to this one first thing in the morning and, if you're able to, make sure you have an Express Pass. We had an Express Pass and we still waited for about 30 minutes before we got to the inside waiting area.
Learn more about this attraction or share your own review
MEN IN BLACK Alien Attack
A tradition like no other!  |  Submitted by Robert
This may sound quite strange, but this ride is a tradition for my mother and I. My mom is not a fan of coasters and some other thrill rides so we don't get to go on much together. The first time I went on this, I have to say the queue blew me away — it was just like the movie!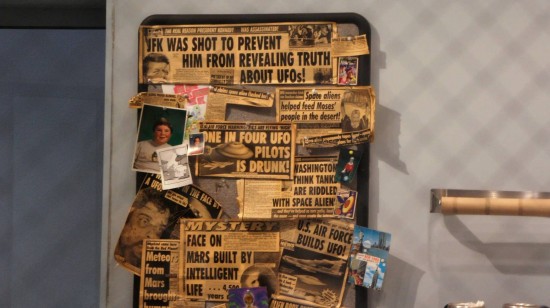 My mom grabbed her gun and was ready to go.
Our scores were pretty pitiful, but we loved the ride so much that on our next trip (6 weeks later) we rode it AT LEAST 25 times, each time finding a new alien too shoot at and increase our score. Now, no matter the wait time or weather, when we are at universal the first ride we run to is MIB.
I myself love thrill rides, and even though MIB is not that "thrilling", it is something no one should skip. Nowadays my mom and I usually max out (get a score of 999,999), and we love it when we see our suit being fitted at the end. MIB is an amazing experience, and when I hear someone say "oh I skipped it", I tell them they need to do it first!
Another thing is the workers there are very kind. We went to Universal for my mom's birthday, and when she sat down they sang happy birthday to my mom over the loud-speaker — that just made her day.
Enjoy zapping those bugs, and don't push the red button! (Okay, do it!)
Learn more about this attraction or share your own review
Thanks again to everyone who has submitted Universal attraction and restaurant reviews on our site! They help Orlando Informer become an even stronger vacation planning resource, and reviews are a fun way for all of us to experience the parks from a new perspective.
To read more reviews of the attractions and restaurants inside Universal's theme parks, or to submit your own reviews, click here.