Recently Orlando Informer introduced a new site feature that allows our readers to share reviews of the attractions and restaurants inside Universal Orlando's theme parks. I want to say how much I appreciate all the incredible reviews that have been submitted so far (over 500!).
Since I enjoy reading your reviews so much — and learning even more tips and tricks about Universal — I thought it would be cool to have a way to share new submissions with everyone. So I've created this blog post series to highlight some of the most helpful and entertaining reviews submitted by our fans.
In no particular order, here are a few of the awesome "real guest reviews" submitted over the weekend for our Review & Win contest. The winners are the first three listed below.
Two IMPORTANT notes: All the links will open in a new window for your convenience, and please remember that guest reviews may contain spoilers!
Camp Jurassic
A hidden gem for kids and adults alike! | Submitted by Natalie
I'm an annual passholder. I come to the parks very, very often. And Camp Jurassic is one of the can't miss things on my trips. It's full of all sorts of fun areas to explores, and is one of my favorite memory building spots.
A few highlights!
The Caves: Inside the cavern area are some walking paths that lead by some geysers and water features. It's nice and cool inside, which is alone a great reason to visit on a hot day. But the best part is a rope bridge over the largest geyser. I always had fun waiting for the geyser to blow – you don't get as wet as you'd think, but it's still fun!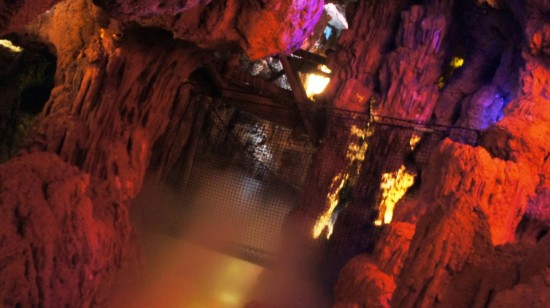 The Echo Cavern: When you first get into the camp, go down the stairs to your right, and you'll find a small little nook with a sign. It's designed so that if you speak into the tunnel, you get an absolutely flawless echo of everything you say. I have wasted countless hours shouting silly things in there. "Shut up! No you shut up! No you!" is a perennial favorite.
The Water Guns: This is my absolute favorite part. There are two water gun areas in the camp. The first is past the echo caverns behind a containment gate. There are four of the infamous spitting dino, Dilophosaurus, and yes, they do spit a quite impressive burst of water. These have limited left to right motion, but the dinos' crests make a great shield. The second area is upstairs, and predictably looks down on the dinosaur containment area. The guns here move both left to right and up and down, but have a complete lack of shielding.
As you might expect, there is a constant war between the two levels. In my experience, the lower level usually has the advantage. Shielding helps a lot, and kids will appreciate not having to aim as carefully. Think of it as the easy mode, and the upper level as a challenge mode.
Also of note: on some days, the water doesn't flow properly to the upper guns, and the pressure only allows one gun at a time to fire. While this sounds like a major disadvantage, it actually created a new strategy that worked to our advantage up top. We took turns firing, thus changing the targets for our adversaries down below, and giving us precious seconds to squirt them before we were blinded by water and had to pass it on.
Overall, Camp Jurassic is well worth a visit if you've got the time for it, especially with kids. It's a great place to make new friends (and enemies, at least for the round!), and get away from the crowds and heat.
Learn more about this attraction or share your own review
Congratulations, Natalie, your review was our top pick in our Review & Win contest — you've won a $50 Universal gift card from Orlando Informer! Please visit the inbox of the email you used when submitting this review and look for a message from us.
E.T. Adventure
"I'll Believe in You All my Life…"  |  Submitted by Ann
E.T. was a blockbuster when I was a very young girl. As a girl, I remember being entranced by the story of the friendly little alien who visited Earth and impacted the lives of everyone he met. As a little girl, I loved geraniums, named my first pet "Gertie," had an E.T. cake for my 4th birthday (yes, I remember!), wished for a Speak-and-Spell, and loyally suffered through the Atari nightmare that is this movie's namesake. My love of this story continued into my adult life. One of the best first dates I ever had was with a gentleman who knew of my love for the movie and thought it would be fun to attend the re-release in 2002, just so I could see it on the big screen once more.
All that said, when my husband and I went to Universal Orlando on our honeymoon, the bar was set extraordinarily high. My husband even gently warned me that I may be disappointed as we waited in the queue for this attraction.
I wasn't. Not by a long shot.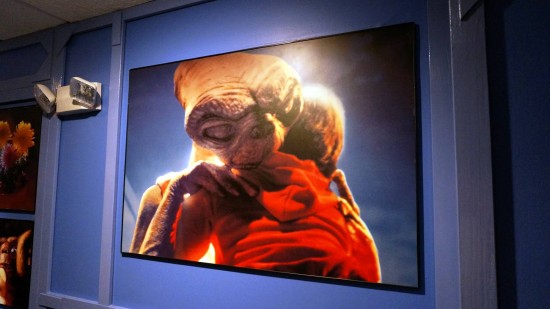 I understand that many feel this ride is outdated, boring, and needs to be updated or replaced. I respectfully disagree. As a little girl who was entranced by E.T. and Elliott riding the flying bike in the light of the moon, you can imagine how excited I was to see that our "ride" was one of these bikes. I didn't think it was possible to feel like a little girl again as a grown-up in my 30's… but I did. Especially when E.T. popped up to fly with us! Universal does a wonderful job of recapturing the magic and fun that makes E.T. such a timeless and iconic classic. The end is also wonderful, with E.T. acknowledging you by name as he bids you farewell.
Universal works incredibly hard to create memorable moments for folks who visit their parks. For me, riding a flying bicycle with E.T. WAS that moment. I literally cannot think of that day without a smile coming to my face. As a new parent, I sincerely hope this attraction will still be around for me to share with my daughter when we take her to Universal Orlando. I cannot think of a better gift to pass to my daughter.
Learn more about this attraction or share your own review
Congratulations, Ann, your review was our second pick in our Review & Win contest — you've won a free Orlando Informer t-shirt! Please visit the inbox of the email you used when submitting this review and look for a message from us.
Harry Potter and the Forbidden Journey
Magic Really Does Exist!  |  Submitted by Jessa Garrett
For 4 struggling college students from California a trip to the most magical place in the world seemed impossible. We thought we'd never go, but after 4 months of rice and chicken for every meal we had finally saved enough.
Upon arriving to The Islands of Adventure we nearly ran to get to The Wizarding World of Harry Potter, and what we saw was nothing short of amazing. Everything was more amazing than what we imagined, especially Hogwarts Castle. We can honestly say that we actually wanted the wait times for the ride to be longer because not once was it long enough of a wait to see everything in the castle. Everything was so detailed and amazing that we really felt like we were in Hogwarts.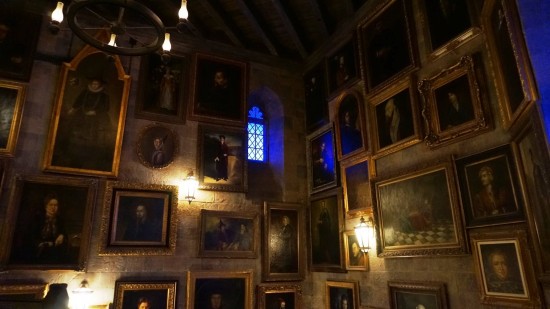 After a breathtaking walk through the castle we were seated onto The Forbidden Journey. The next few minutes were spent in an entirely different world, we flew on a broom, survived a dementor attack and got scared by the spiders. It was one of the most unforgettable experiences of our lives.
We lost count of the amount of times we rode The Forbidden Journey, but, unfortunately, after 4 days in The Wizarding World of Harry Potter we had to go home. We enjoyed it so much that we're saving up again so we can go back to the most magical experience that we've ever had.
Learn more about this attraction or share your own review
Congratulations, Jessa, your review was our third pick in our Review & Win contest — you've won a free Orlando Informer t-shirt! Please visit the inbox of the email you used when submitting this review and look for a message from us.
That's it for winners in our latest Review & Win contest. Thanks so much to everyone who entered. Here are a few more recent submissions that we also wanted to share with all of our readers…
Storm Force Accelatron
Tea Cups – X-man Style  |  Submitted by David Palio
Ok, I have been on the tea cups at XXX. I loved them. I thought how cool a similar ride here, NOT. While watching them I was excited and ready to go. I was riding with 2 young kids who could not go on the Hulk (yeah me). Please note, I rarely get motion sickness. Well I found the ride that just got me there.
I did not realize that I have such force to spin so fast (I definitely think that Storm helped me). This ride seems to go on much longer then other rides there and you are exhausted after you get off from twirling.
[youtube_video]OUPb6F0yiBc[/youtube_video]
The kids loved it, me while I have to admit I did love it, I was glad that we 1. did not eat before and 2. had no plans to eat after.
We managed to make it on 3 times while the rest of our party was waiting for the Hulk. This is an easily overlooked ride but do not overlook the fun you can have.
Excited to go on alone next time (maybe I can keep it down to a decent twirl).
P.S. The Kids and I will be going again in early September, any victims (er, volunteers) to spin the kids I would gladly watch from my own car going 1/2 the speed they want.
Learn more about this attraction or share your own review
Fear Factor Live
Mom shows her kids she can do anything!  |  Submitted by Diana Weiss
Being picked for Fear Factor was so exciting for me. I had just had my 3rd son and I was so happy to be able to enjoy life and be adventurous. I made it past the first task… hanging from a slanted bar waaay up high. I even beat a Marine!!!!!!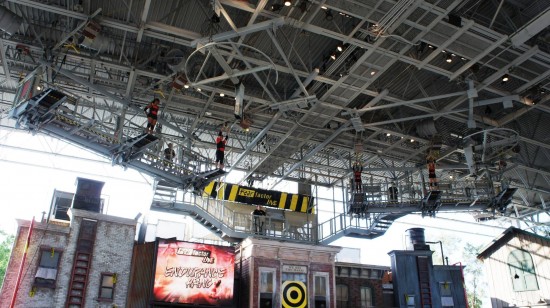 Well, the second task wasn't that difficult but an octopus got stuck in my shirt so we lost:-( My sons were so proud of me. They often use that experience to cheer me up when I am down. Thanks, Universal, for choosing me and giving me and my family an incredible memory!!!!!
Learn more about this attraction or share your own review
Moe's Tavern
Moes tavern, felt like I entered toon town !!  |  Submitted by RJ Prusa
So I was in town for the weekend, and had swung in to eat a krusty burger and have a flaming moe with the family a few weeks back when the blvd opened, and we didn't get a chance to sit in moes, much less try a duff beer. So this was my chance! Swing in just before closing, get in line at Cletus chicken shack and get a chicken and waffle sandwich. Was pretty awesome( get extra sauce) but the real reason for the visit, to pony up to the bar like homer had done countless evenings on my television. Bartender was over quickly, and all I had to say was "gimme a duff" and moments later- I was Homer! I opted for the disposable plastic cup, as I figured I'd be walking around with it after. Good beer- not too heavy – and had a good flavor. The bartender mentioned that a Florida microbrewer made the beer, and I enjoyed hearing that, as I sort of expected one of the big corporate brewery's to have had their hands in it.
It was so good once it hit your lips- and went pretty well with the chicken sandwich – before I knew it I was ordering a duff light. It wasn't that I didn't like the regular duff, I just thought "well I might as well try the other one". It showed up promptly – plastic serving vessel just as the previous one. Now I began taking in the finer points of the bar. It was painted in sharply in the purple – to look just like the show. The love meter machine was flashing over to my right, an the TV behind the bar was rolling Bart Simpson prank calls. Honest to goodness it felt like I had entered the cartoon. About that time the duff light was getting low and the bartender offered a suggestion " wanna go for the trifecta?"
"What's that?"
"Do you wanna try the duff dry and round it out?"
"I suppose that would be the responsible thing to do!" Was my obvious answer.
Now the dry was out of a bottle – not on draught as the standard and light were. Probably the most heavy of the bunch – also was the most flavorful.
I took one last lap through the bar with my Duff Dry and went outside to catch the nighttime spectacular. Couldn't think of a better way to conclude the evening. I'd suggest stopping in late in the evening for maximum effect as it is absolutely crawling with people- many of whom are kids. I felt like with only 3-4 others in the place late evening, like I was actually at Moes.
Sadly – you can't get a flaming moe (adult version ) as they don't have liquor- just beer.
Next visit I hope to hang out at duff gardens in the afternoon and see what that experience is like. Until then, I give moes a 2 thumbs up and will return in the evenings when back in the park.
Learn more about this venue or share your own review
One Fish, Two Fish, Red Fish, Blue Fish
Oh the Fun you will Have!  |  Submitted by Sandra
We've been visiting Universal on and off since my son was 4. For those who think of that "other park" for little kids, they are missing some treats. The Seussland at IOA and the area at USO which includes "E.T.", Barney, and the ever fun Curious George area don't know what they are missing.
My son adored the whole Seuss area at IOA, but One Fish, Two Fish was by far his favorite. You can control your "fish" — taking it up or down as you fly. There are water spouts which you can try to avoid or aim for, depending on your preference. The preference of a boy is to hit as many as possible!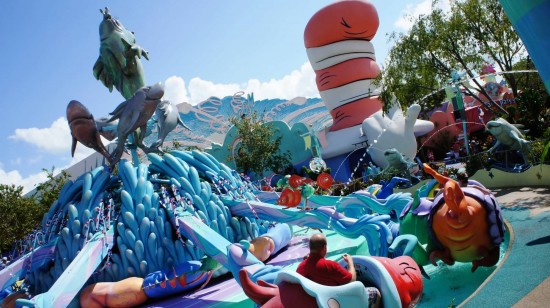 There is music which livens up the mood, too. The ride is a lot of fun, whatever your age — but we built up a lot of happy memories on that ride and it remains one of my favorites for the little ones. We preferred it to the other rides in Seussland — and that is saying something as this is a colorful, fun filled area of IOA.
Learn more about this attraction or share your own review
Revenge of the Mummy
Surprise! It's a rollercoaster!  |  Submitted by Kim Gleed
The first thing we did when we landed….jumped in a cab, dumped the bags, changed into a some more holiday appropriate clothes – coming from rainy, cold England to 30 degrees in Florida we needed a lot less layers!
We stopped on International Drive, so we walked to Universal. My fiancé and his brother had been before, but for me and our friend Craig, this was our first visit. Seeing the rides on the skyline filled me with excitement…but filled Craig with fear….he had never set foot on a roller coaster, and was adamant he wouldn't be doing so that day….or the next..!
He liked the look of Despicable Me, Shrek, The Terminator – basically anything inside that didn't look "scary" so the other two suggested getting on The Mummy first as it had the shortest wait time, and was inside too…so wouldn't be "too scary" for Craig. (Obviously he hadn't checked out Orlando Informer before hand as he agreed and got in the queue.)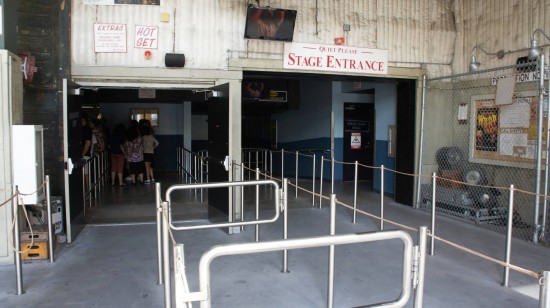 We didn't wait long to get on, but the queue system is really good, interactive parts and plenty to look at so even if you were waiting a while you wouldn't get bored!
So we got in the cart, and although it was a bit evil – it was the best way to get him over his fear of rides – because guess what! He loved it, as did I! I love rides in the dark, especially when you aren't sure what's going to happen next, and the added effects of the fire, the heat and going backwards makes it even better. It was definitely the best way to cure someone's fear (or make them hate you for the rest of your holiday!) by throwing them in at the deep end with an exciting indoor coaster as they just don't know what to expect!
Learn more about this attraction or share your own review
Twister… Ride It Out
Surviving an F5  |  Submitted by Dana H.
This is an awesome experience that everyone must have. The wind and all the visual stuff going on during the simulation is right from the movie. There's the drive-in with the movie screen and the snack bar. When there is an explosion the heat on your face is amazing. We really like it when the cow flies around in front of us, and that tornado that they create right in front of us is so awesome. It makes me want to reach out and touch it.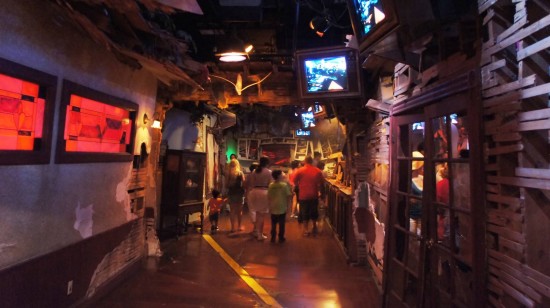 The entire experience is always great. It is always on our list of things to do when we are there. People say that this ride needs to go away, but I hope it stays for a long, long time. This ride has sentimental value to me and my family. We live in Oklahoma City and that is right around the middle of Tornado Alley. We have seen many tornados and have had a very close call once. The last one was about a mile from our house and it was an F5. One the scariest moments of my life.
Learn more about this attraction or share your own review
Hollywood Rip Ride Rockit
Worth the wait  |  Submitted by Mack Clark
I remember looking at the concept art for Rockit in 2008, and I could not have been more excited for a ride ever. I would go online everyday to see photo updates on the construction, and by the time the ride opened I told myself, "I gotta go now!"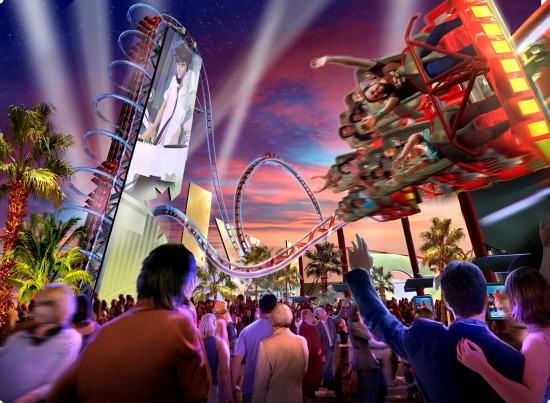 It took three years to get back to Universal (thanks to Spiderman and Portofino Bay). Along the way I heard a lot about rough rides, valleying, lack of theming, and constant breakdowns. It was as if this ride was one of the worst rides ever created! I hoped it wasn't true, and boy was I right.
After using the complementary Early Park Admission to go on the Hulk and on Harry Potter and the Forbidden Journey, I ran to Universal Studios Florida with my multi-park ticket to go on Rockit. The time had finally come to go on this ride. I use the Single Riders line to get on it in 5 minutes, and even though the touch pad wouldn't let me pick my music, the ride was awesome!
The customized tune used (Busy Child by The Crystal Child) fits right into the character of the ride, A one-of-a-kind high tech roller coaster. The lift was a surprise, and the drop was thrilling. It was also a really fast ride, and all of those break runs didn't completely kill the ride!
It was so good that I had to try it again, though my 5 minute Single rider line wait turned into a never ending half-hour wait. I was at the front of the line for a good 20 minutes. That time I was able to pick a song (Rollin' by Limp Bizket).
After three, long years of waiting, the wait paid off. Next time I go on this coaster, I will try a hidden soundtrack. Until then, I have nothing but great things to say about this ride. Not a bad ride on my three rides in that vacation.
And it also has a great view of Hogwarts if you look to your left on the first break run!
Learn more about this attraction or share your own review
Thanks again to everyone who has submitted Universal attraction and restaurant reviews on our site! They help Orlando Informer become an even strong vacation planning resource, and reviews are a fun way for all of us to experience the parks from a new perspective.
To read more reviews of the attractions and restaurants inside Universal's theme parks, or to submit your own reviews, click here.