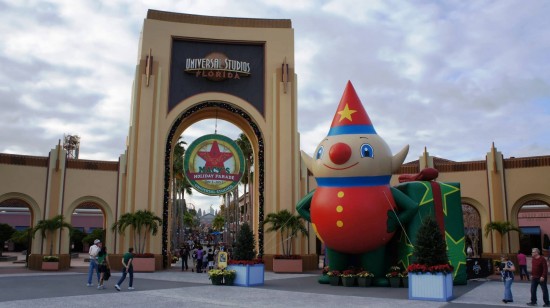 Each season of the year offers unique and fun happenings at Universal Orlando Resort. In this week's poll, let's find out which one is your favorite!
Spring at Universal means it's time to kick back with a drink, enjoy the tastes of New Orleans and dance the night away at Universal's Mardi Gras celebration. The event's biggest highlight: the boisterous parade featuring beautiful, handcrafted floats, party music, and best of all, so many beads! After the parade, some of the best known bands in the country take to the Universal Music Plaza stage — and the Mardi Gras concerts are included with admission. Spring also means that families are celebrating Spring Break, which can be very busy but also very exciting.
Beginning in June, Universal kicks off summer with their Summer Concert Series, featuring even more of the biggest names in music. The summer season is also when new attractions usually debut. In 2012 Universal introduced us to The Superstar Parade, Cinematic Spectacular, and Despicable Me Minion Mayhem. Then in 2013, we were asked to "prepare for the greatest battle you'll ever ride" when Transformers: The Ride 3D officially opened on June 20. Next year, rumors point to June again for Diagon Alley's grand opening.
The fall season at Universal Orlando is best known for the award-winning, absolutely terrifying Halloween Horror Nights. From the gory details of the haunted houses, to the elaborate outdoor scare zones and all-around immersive atmosphere, this event does not disappoint. Fall also brings with it lighter crowds and lower temperatures, providing some of the most beautiful weather for touring Universal's theme parks.
During the holiday season, guests are dazzled by the Macy's Holiday Parade and filled with cheer by Mannheim Steamroller live in concert at Universal Studios Florida. Over at Islands of Adventure, Seuss Landing becomes Whoville as the park celebrates Grinchmas, complete with a charming stage production of How The Grinch Stole Christmas. And don't forget to come back on New Year's Eve, when Universal CityWalk throws one of Orlando's biggest end-of-the-year parties!
There is one more theme park "season" we need to mention: the time in between major events and holidays, when kids are in school and the crowd levels at the parks are very low. We'll call this the slow season, and it happens several times each year: parts of January and February, the lull between Spring Break and summer, most of September and November — like we said, basically whenever kids are in school. Low crowd levels may mean shorter park hours, but when you only have to wait 20 minutes instead of two hours for Despicable Me, the shorter park hours don't seem so bad.
And now the moment of truth…
[socialpoll id="2171281″]
Note: You don't have to sign into a social network to vote, that is just a feature offered. If you prefer to vote anonymously, click your selection in the poll and when you see the pop up, click "Keep vote anonymous".
Learn more about these topics:
Free 12-month Universal Orlando crowd calendar
Universal Orlando's annual events
Biggest thrill this Halloween season: Win a $500 Universal gift card
Universal Snapshot: See everything that's happening right now
Last week's poll: If you could, which closed USF attraction would you bring back? With 236 out of 624 votes (37.8%), JAWS the ride & Amity win. Back to the Future was second with 178 votes (28.5%). View all of our reader polls