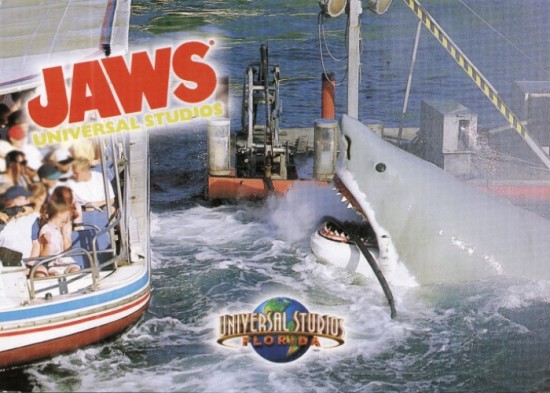 Universal Orlando is recognized around the world for their collection of first-class attractions. Unfortunately, as we all know, to make room for new attractions sometimes old ones have to be replaced. Over the years we've seen attractions that we hold near to our hearts disappear from Universal Studios Florida, the original theme park at Universal Orlando. In this week's poll we take a look at the most popular lost attractions:
JAWS and the Amity backlot of Universal Studios Florida is the most recent area to close. Jaws gave it's last voyage on January 2, 2012 to make room for the new Wizarding World of Harry Potter – Diagon Alley expansion. On the JAWS ride, guests would hop aboard a ship with the world-famous skippers to explore the wonderful Amity Island. But things took a turn for the worst when JAWS makes his presence known and its kill or be killed! This attraction thrilled guests until its closing, a true classic among park goers.
Alfred Hitchcock: The Art of Making Movies was a mix of a 3-D movie and live action show. Anthony Perkins, who played Norman Bates in Psycho, was the narrator. During the show guests experienced scenes from Alfred Hitchcock's The Birds and other movies. The classic shower scene from Psycho was a key point in this attraction. In January 2004 Alfred Hitchcock: The Art of Making Movies gave it's last scream to make way for Shrek 4D.
Kongfrontation gave guests an eye-to-eye encounter with a massive King Kong animatronic. Riders climbed aboard an ariel tram and went above the streets of New York City on the run from King Kong. There was plenty of destruction to see, courtesy of Kong, as riders tried to escape his path. Thankfully guests eventually made their way to safety and out of the city, where they were given the opportunity for a King Kong photo op. Kongfrontation closed in September of 2002 and was replaced by Revenge of the Mummy.
Back to the Future: The Ride was a simulator attraction based on the Back to the Future film franchise. Park guests were asked by Doc Brown to be volunteers as part of a time travel experiment. Riders boarded a DeLorean ride vehicle and soon found themselves in a crazy adventure across time, in hopes of capturing the movie's villain, Biff. Back to the Future's last time travel adventure was in March of 2007; it was replaced by The Simpsons Ride, which opened in May 2008.
Nickelodeon Studios was both a family attraction and working production studios that was with Universal from the beginning. Double Dare, GUTS and All That are just a few of the classic Nickelodeon shows that were filmed on-site. Sometimes guests were allowed inside to be a part of these show's studio audience. There was a 40-minute behind the scenes tour that took park guests through various Nickelodeon sets and offered a look into the different production areas — and if you were lucky, you sometimes got a glimpse of your favorite Nick stars! Nickelodeon Studios permanently closed in 2005 and is now home to Blue Man Group.
We all have our favorite memories of past attractions, so now we want to know: if you had the power…
[socialpoll id="15097″]
Upset your favorite wasn't available as an option? Please tell us in the comments!
And after you've voted, here are a few fun blog posts to check out:
Remembering Universal history through memorabilia (plus, how to find the best stuff)
Nickelodeon Studios: A cherished history & our hope for its return
Rumor round-up: King Kong returns to USF & more
View all of our blog posts tagged with "UOR history"
Last week's poll: The best place to party in Orlando? With 46 out of 73 votes, Universal CityWalk wins. I guess we should have expected that! View all of our reader polls