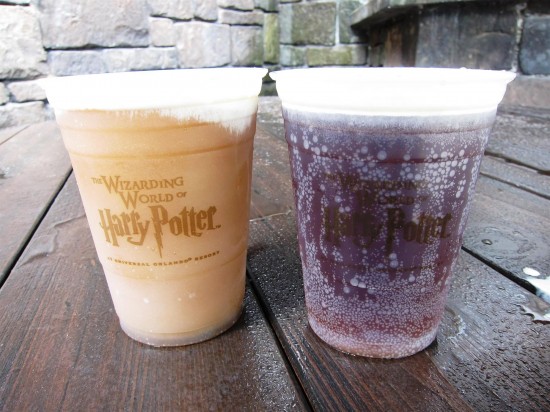 There are so many reasons why we love Universal Orlando Resort! Not only do you get to ride out your favorite movies and mingle with your favorite characters, but you also get to indulge in delectable treats and beverages that you've always wanted to try. That's because the resort has taken some of the most popular drinks from our favorite movies, books and TV shows and turned them into a reality for park guests to enjoy.
Ever dreamt of Moose Juice? Or how about Goose Juice! You can try them both at Islands of Adventure's "Moose Juice Goose Juice" stand in Seuss Landing. Moose Juice is a green sour apple juice and Goose Juice is orange tangerine. Both served fresh or frozen.
Continuing our journey through Islands of Adventure, there is another drink that is served both frozen and unfrozen: butterbeer! For years Harry Potter fans have always wondered what a real butterbeer would taste like — and thanks to the amazing team at Universal Orlando, now guests can indulge in the sweet and delicious taste of this creamy butterscotch beverage. Butterbeer stands can be found throughout the Wizarding World of Harry Potter, and the drink is also sold inside Three Broomsticks & Hogs Head.
Also located in the Wizarding World of Harry Potter is Pumpkin Juice. If you enjoy the flavors of the fall season, this beverage will not disappoint! Pumpkin Juice is available in a cool collectors bottle sold in the outside carts and Honeydukes. Inside Three Broomsticks & Hogs Head, carbonation can be added when ordering to create Pumpkin Fizz.
Next we make our way over to Universal Studios Florida and the brand new Simpsons' Fast Food Boulevard. For decades we've watched the residents of Springfield enjoy Duff beer at Moe's Tavern, and now park guests can step into this same world and drink their very own Duff! And the kids aren't left out either, as they can try a non-alcoholic Flaming Moe with its surprisingly fun "flaming" effect.
So this week's reader poll asks…
[socialpoll id="10956″]