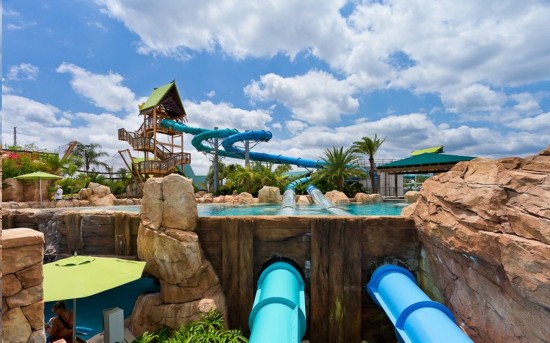 There are plenty of amazing theme parks in the Orlando area, but it is also home to many first-class water parks as well! In case you need a little help remembering their specific characteristics, here's a rundown of each one:
Aquatica – SeaWorld
At Aquatica, SeaWorld's water park, you're surrounded by pristine beaches, beautiful landscaping, great attractions for guests of all ages and of course, wild life! You can race with your family on the Taumata Racer mat slides, get a rush thru the speed river at Roa's Rapids, zoom down the tube slide that takes you right through the commerson dolphin pool or just sit back and relax on the beautiful white sand beaches. Keep an eye out for various animal interactions throughout the day too!
Wet 'n Wild – Universal Orlando
This water park for thrill seekers. Rides include Disco H20, a large funnel attraction that puts you into an actual disco complete with music and lights. The Black Hole is a two-person raft attraction that starts out in a space ship and takes you down a winding course in complete darkness. Mach 5 is an excellent collection of three mat slides with a length of over 1700 feet! And we can't forget about The Bomb Bay, a 76-foot near vertical slide that starts off by dropping you through a trap door! Wet 'n Wild has many other intense, and not-so intense attractions, that everyone can enjoy. While not on Universal Orlando property, Wet 'n Wild is owned by the resort and it seems like only a matter of time before Universal fully claims it as its own.
Typhoon Lagoon – Walt Disney World
This is the largest of the Disney waterparks. Along with all of the fun attractions that Typhoon Lagoon has to offer, they also feature a special area, the Shark Reef, where guests can snorkel with tropical fish and sharks! "According to Disney legend, Disney's Typhoon Lagoon was created by an epic storm. Surfboards were hurled into palm trees and boats were tossed around like toys.The typhoon made the storm-soaked Mount Mayday an ideal source for exhilarating waterslides. Surrounding the mountain, a 56-acre topsy-turvy tropical paradise was formed—full of waterways, rivers, rapids and slides."
Blizzard Beach – Walt Disney World
Blizzard Beach is where you can experience all the fun of a waterpark while being in a snowy atmosphere, complete with ski lifts and Christmas music – minus the cold temperatures! The story behind Blizzard Beach: "After a freak snow storm blanketed Florida in white, a ski resort sprang up with slalom courses, toboggan slides and iceberg walkways. When the weather shifted back to hot, the whole resort started to melt. What to do?An enterprising alligator saw an opportunity. Clad in a scarf and hat, the gator slid down the ski jump, shouting 'Yahoooo!' all the way. With a big splash he landed in a pool of melted snow below the mountain, and the slushy, slippery slopes became an exhilarating water park like no other in the world."
So, the moment of truth…
[socialpoll id="12651″]
See my in-depth review of Wet 'n Wild
See my in-depth review of Aquatica
Last week's poll: Which side of Dragon Challenge is better, Chinese Fireball vs. Hungarian Horntail? With 22 out of 39 votes (56%), Chinese Fireball wins! View all of our reader polls