Another day, another Harry Potter expansion rumor
Thanks to the boys over on the forum at OrlandoUnited.com, we've got a couple juicy rumors about a few more possible stores and experiences coming with the WWoHP expansion in Universal Studios Florida. In previous Rumor Round-Ups we've covered the talk behind a Borgin and Burkes dark magic walkthrough attraction and a Weasleys' Wizard Wheezes shop, but today comes two more stores taken directly from the Diagon Alley area of the Harry Potter book universe.
The first is Florean Fortescue's Ice Cream Parlour. As detailed as the Harry Potter movies are, anyone who has read the books knows how much of the world was cut out when they were brought to the sliver screen. One of those details ignored by the films was Diagon Alley's ice cream shop, which Harry himself sat at and was given free ice cream every half-hour by the owner. In the books Florean Fortescue was kidnapped by Death Eaters and JK Rowling has stated in interviews that he was killed. Rowling also stated that one of the subplots that never made it into the books involved Fortescue and the Elder Wand, a connection she hopes to make one day (possibly in the new supplemental material available in the Pottermore editions of the Harry Potter books).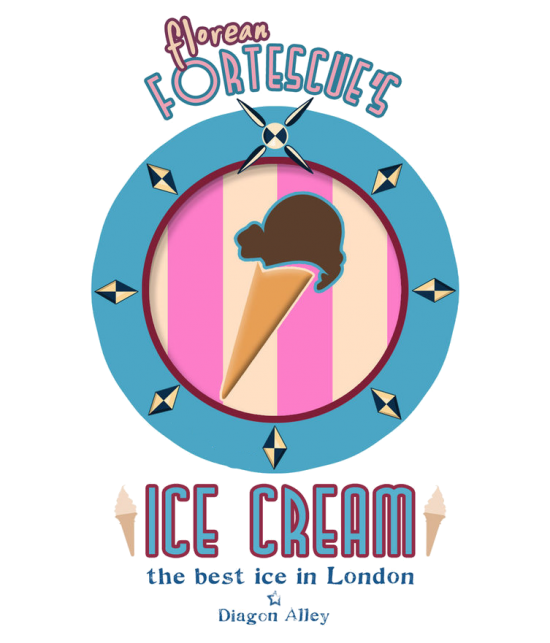 What does all this backstory have to do with having a delicious ice cream on a hot Florida day while at Universal? Nothing, but it does help understand the incredible wealth of story behind the Potter world and why it's so popular with its fans.
Another shop we could be seeing is Mr. Mulpepper's Apothecary, a store that sold potion ingredients. The Apothecary was located in Diagon Alley, but also had a sister store in Knocturn Alley, where Borgin and Burkes resided. Don't rule out the possibility that the expansion could very include both Fortescue's ice cream parlor and the apothecary, but as elaborately designed fake store fronts like the ones which populate Hogsmeade village in Islands of Adventure.
Learn more about the Wizarding World expansion
Oz the Great and Powerful Universal attraction?
This past week saw TNA Impact Wrestling announce it was taking its show on the road, after having taped in Soundstage 21 at Universal Studios since June of 2004. While TNA has occasionally left Orlando to tape events, it was on a limited basis and they always returned to the soundstage they had dubbed the Impact Zone. As of this writing, March 7th is the last scheduled wrestling show to be taped at Universal. This news has caused many rumors to immediately pop up regarding what Universal will do with the space. Some think it could be used as another "house" for the annual Halloween Horror Nights event, while others brought up the long-talked-about rumor of Broadway's Wicked permanently setting up a condensed show.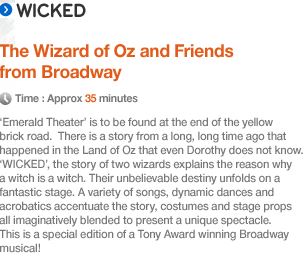 Odds are that Universal will just continue to lease out Soundstage 21 to companies for the purpose of filming various television and movie projects, but word of Wicked showing up within Universal is stronger than ever. One thing that may help this Universal attraction see the light of day is thanks to the Walt Disney company, who is putting its big marketing arm behind the upcoming Oz The Great and Powerful film opening on March 8, 2013. We certainly won't be hearing anything official on this project anytime soon, as the national touring company of Wicked will be at the Bob Carr Centre in Orlando from February 20th through March 10th. After that, all bets are off and if the opening week of Oz The Great and Powerful rivals that of Alice in Wonderland in 2010, we could be hearing the song "Defying Gravity" within Universal sooner than later. Then again, if Oz performs like Mars Needs Moms in 2011 or John Carter in 2012, a house from Kansas may fall from the sky on this rumor and squash it dead.
Now that TNA is gone, is the door open for WWE to come in?
With TNA Impact Wrestling out of the picture, many wrestling fans are convinced more than ever that the rumor of World Wrestling Entertainment (WWE) building a physical building for its Hall of Fame at Universal will come true. There's been talk of WWE putting a Hall of Fame in Orlando for years, with the latest buzz focusing on Universal. There are several positives to this idea including the amount of visitors who come to Orlando every year and how many of them are wrestling fans. WWE already has synergy with Universal's parent company Comcast, as WWE's flagship program RAW is the cornerstone behind Comcast's USA Network being able to boast itself as one of the top (if not the top) cable network based on ratings. It has been rumored that it was WWE's relationship with Comcast that led to TNA often being seen as the red headed stepchild of Universal, getting almost no support. In fact, it was years before the theme park maps even included where TNA taped its shows and even after eight-plus years there very little cross promotion or mention in the parks of the relatively successful wrestling promotion.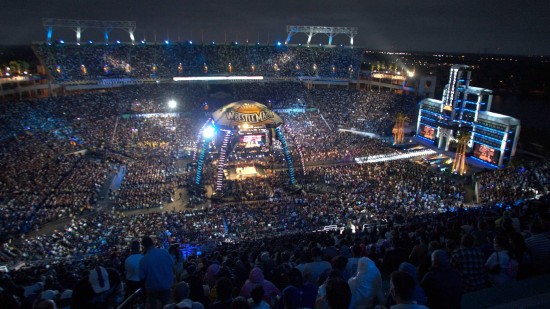 The road blocks to a WWE Hall of Fame being built include the fact that WWE has been on a downward spiral for several years now, with little attention being paid to turning around the ship on television ratings and pay per view buyrates. Having a movie star like The Rock as champion through WrestleMania season will give a short term boost to both television ratings and fan interest, but once Rock leaves, then what? RAW went to three hours in 2012 per the request of USA network, but history shows wrestling fans get burnt out by three hour shows and it overburdens the creative staff writing them. WCW Nitro, once the number one show on the TNT network, went to three hours in 1998 and by 2000 WCW had dropped the third hour and then went out of business in 2001.
WWE also has a long string of huge financial flops when it tries anything outside of its core wrestling business. A WWE restaurant in New York City lost close to $20 Million. Stephanie Music, named after WWE's chairman Vince McMahon's daughter Stephanie, was a music label that flopped. A planned WWE hotel/casino in Vegas was scrapped before it was even built. WWE Studios has spent many years producing movie flops and losing millions of dollars in the process. And lest we forget the XFL, Vince McMahon's counter to the NFL that cost both WWE and co-backer NBC over $35 Million each. All of this should be considered by anyone considering to host a Hall of Fame building for the WWE as the track record speaks for itself.
Wrestling fans love wrestling, but that's where their loyalty stops.
Agree, disagree, or have your own rumors? Leave a comment below. Or, check out all of our rumor posts.
[sws_author_bio user="derekburgan" size="105″ authorposts="More OI posts by Derek" name_format="About the author"] [/sws_author_bio]