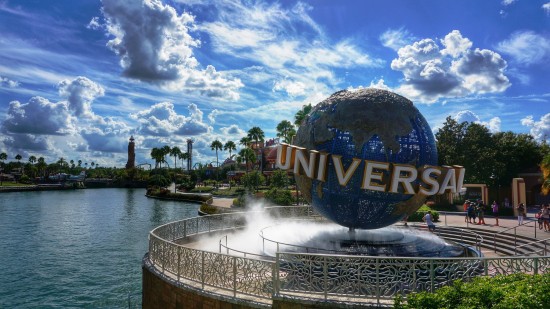 Looking back through our "year in review" for 2012, it really blows my mind how much growth Orlando Informer experienced in 2013. There is no doubt this is the year we landed, so to speak, and I thank our readers and fans for everything!
In this blog post, we'll take a look at the memorable moments of 2013 — both for our site and for Universal Orlando Resort — and find out why this was such a banner year for Orlando Informer. (By the way, would you believe that 2012 was our first full calendar year of operations? It's hard to believe how far we've come in such a short amount of time.)
For your convenience, all the links on this page
will open in a new window
Pageviews & unique visitors
On December 31, 2012, we celebrated 1.9 million pageviews generated by 600,000 unique visitors for the year.
Today, for 2013, those numbers have experienced a nearly 190% increase. As 2013 wraps up, we're proud to have served 5.5 million pageviews to over 1.7 million unique visitors. As WordPress (our site platform) kindly informed us earlier today, "about 1 million people visit the Seattle Space Needle every year. This site was viewed over 5 million times in 2013. If it were the Space Needle, it would take 5 years for that many people to see it."
Facebook
Our social media exposure also grew tremendously in 2013. On January 1, we were very pleased to have about 7,000 'likes' on our Facebook page. As of today, we just passed 45,000! That is a 400% increase.
Now let's look at a few of our memorable Facebook moments:
Our most shared post (on a related note)
Our favorite post (runner-up #1 and runner-up #2)
Twitter
We've also experienced significant growth on this social network. On January 1, we were delighted to have approximately 2,000 followers. As of today, that number has grown to just over 13,000 – a 550% increase!
We post so many updates to Twitter that it's difficult to trace back and find our most memorable moments. However, we do know which two tweets have been retweeted the most:
The @UniversalORL Music Plaza is already pretty full for @TreySongz pic.twitter.com/p1W85gW3YM — Orlando Informer (@OrlandoInformer) February 24, 2013
I wouldn't be too worried about it, I'm sure Santa is real #MacysHolidayParade @DM_Minions @UniversalORL pic.twitter.com/NpIHNzZQsL — Orlando Informer (@OrlandoInformer) December 7, 2013
Top five pages viewed on our site in 2013
Free 12-month Universal Orlando crowd calendar – 260,392 views (72% increase)
Harry Potter expansion / Diagon Alley – 254,592 views (new page)
Halloween Horror Nights 2013 overview – 189,386 views (76% increase over our 2012 HHN overview)
Transformers: The Ride 3D & archived construction coverage – 116,160 views (new page)
Guide to Universal Express Passes – 112,061 views (286% increase)
Springfield USA & archived construction coverage – 103,117 views (new page)
Top five new blog posts viewed on our site in 2013
Top blog post results may seem skewed because older posts have been published longer and therefore have more potential to be viewed.
Rumor SPOTLIGHT for November 27, 2013: How Disney lost the battle for 2017 by cancelling most of Star Wars Land
Celebrating your birthday or special occasion at Universal Orlando: Best tips for getting special attention & freebies
Rumor round-up for November 1, 2013: Gringotts Bank coaster video, Universal's theme park dominance, HP flame effects & JP midway games
Despicable Me themed Kids Suites debut October 1 at Portofino Bay Hotel; reservations now available
Rumor round-up for August 30, 2013: Hogwarts Express detailed, Universal's third park revealed, Jurassic Park expansion plotted, HHN houses exposed!
New site feature: Real guest reviews
Over the summer we rolled out a brand-new site feature aimed at making our free Universal Orlando vacation planning pages even stronger. As of August, our readers can now share their reviews of all the attractions and dining venues inside Universal's theme parks. This means a page like Despicable Me Minion Mayhem, which used to just include our summary information and photos, now provides our details in addition to more than 20 "real guest reviews" written by folks just like you.
This new site feature has been a great success, and we are proud to now host over 700 "real guest reviews" on our various pages in the OI Universal Center. If you'd like to learn more about this feature, click here.
New way of sharing photos: The OI Flickr account
As part of our strategy for being the world's best Universal Orlando vacation planning resource, we've been making weekly trips to Universal for over two years. Each time we make a trip, we cover it with live in-park photo updates posted to Twitter and Facebook. But we simply can't post every photo we take to those accounts, so, for a long time, the remainder of our photos simply got filed away on our computer hard drive.
That changed this summer, as we finally set up a Flickr account for Orlando Informer. Nowadays, we still share photo updates on Twitter and Facebook as we tour the parks, but in addition to our photo updates, we then upload all of our photos in full resolution to Flickr. We're rather proud to say, with our account only starting in June, we've already uploaded nearly 4,000 images!
If it isn't already, there's no doubt our Flickr page will soon be the world's largest archive of Universal Orlando photography. It's a great compliment to our website, which is the largest resource of Universal Orlando vacation planning.
Comparison images
We periodically assemble these comparison images showing the progress at Universal Orlando. Enjoy!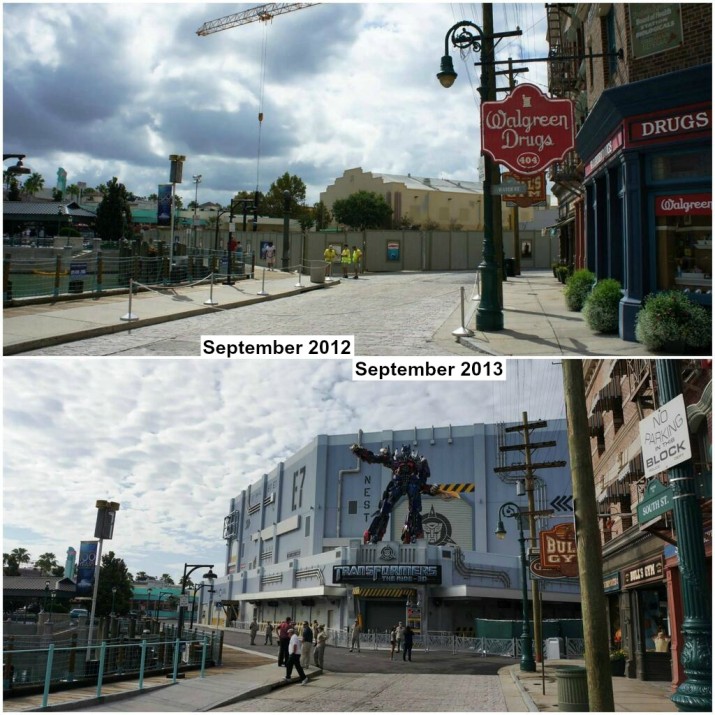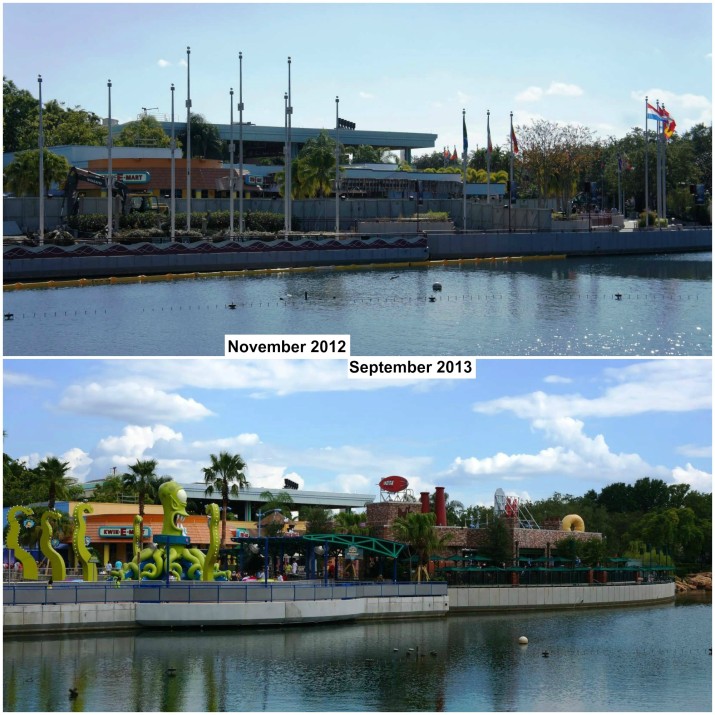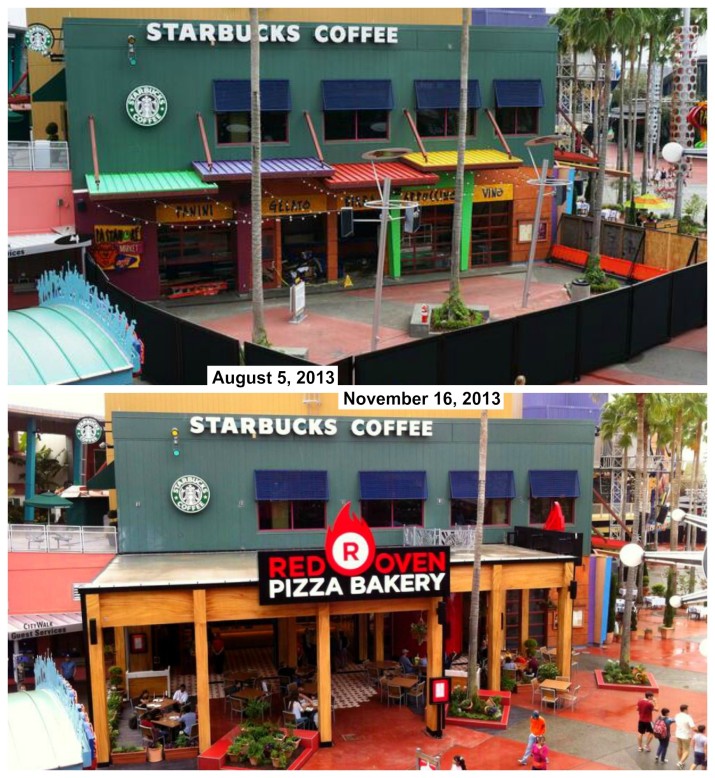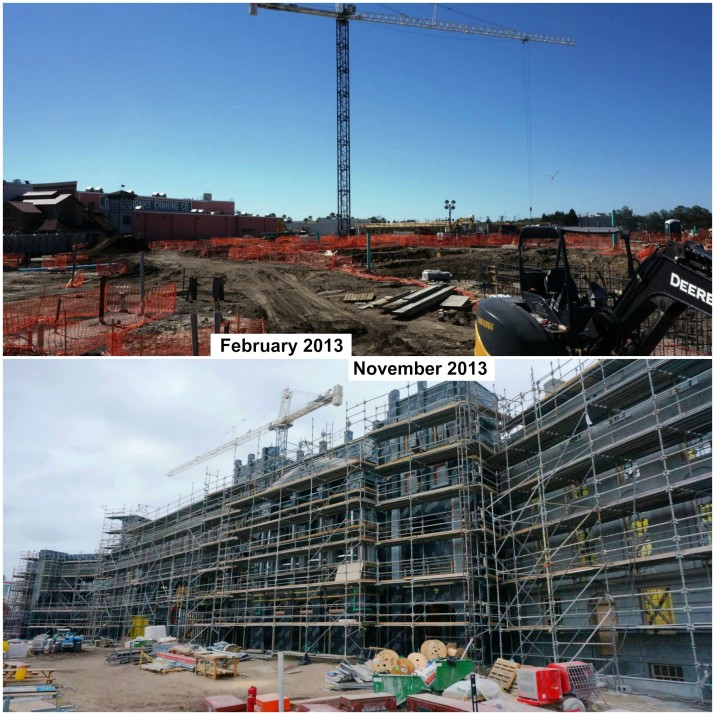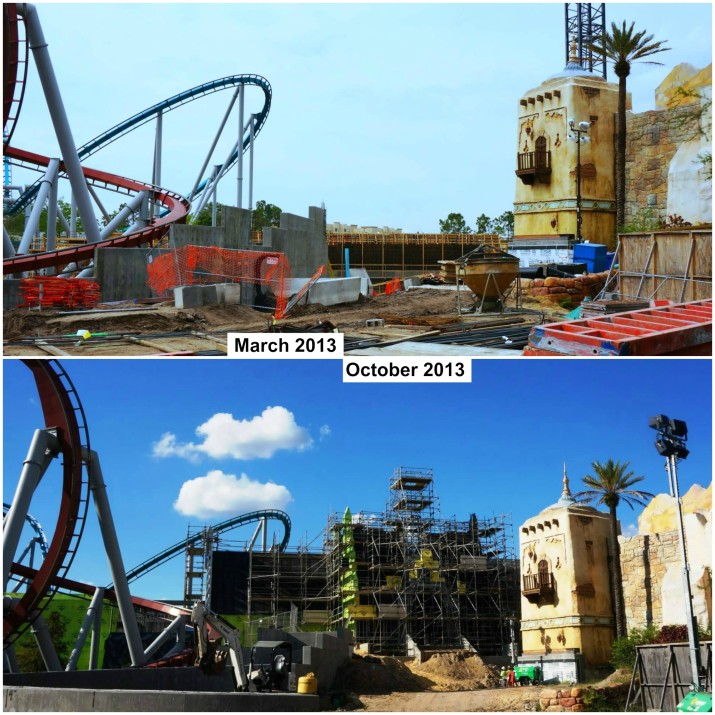 Memorable moments from our Universal Orlando Daily Updates
Our number one commitment to our readers is to deliver the very latest Universal news and vacation planning advice on a virtually-every-day basis. Nothing proves the strength of this commitment more than our Daily Updates page. In fact, this year we are proud to have posted over 600 daily updates for our readers. Now, let's take a look back at the most memorable ones from 2013:
(Okay, this first one isn't huge news, but many folks have been asking with Universal will announce the Mardi Gras 2014 lineup, so here's our update from 2013): 1/7 – The lineup for Mardi Gras 2013 at Universal Studios Florida has been announced: Steve Miller Band, Boys Like Girls, Montgomery Gentry, Matchbox Twenty, Pitbull, and seven other artist make up this year's list (two concert dates TBA). We have updated our Mardi Gras 2013 page with all the bands, plus we've added info about the new parade floats, parade route, Annual Passholder benefits, and more.
1/12 – Yesterday afternoon I was at Hard Rock Hotel researching questions for a subscriber. I'm so happy these questions were asked, because they became the basis for a whole new page in the OI Universal Center: On-site hotel discounts for Annual Passholders & the logistics of checking in. I guarantee, like so many of our pages, you will not find more detailed and up-to-date information regarding this topic from any other source.
1/15 – Yesterday Universal introduced their new 2013 marketing campaign: Vacation Like You Mean It. For a complete look at the new material, including information on their new family-of-four vacation giveaway, visit this OI Blog post.
1/30 – Earlier this month Universal increased the prices for their classic souvenir cups and popcorn buckets. The fan-favorite red cups were $7.99, now they are $8.99. The popcorn buckets were $4.99, now they are $5.49. Refills for each also increased from 89 cents to 99 cents. To view the world's most comprehensive guide to Universal's refill programs and everything you need to know about Coke Freestyle at the parks, click here.
2/1 – TNA IMPACT WRESTLING has been the only TV Show to film continuous at Universal Orlando for eight years. Unfortunately, as of March 2013, that run will end as IMPACT WRESTLING hits the road to bring their live shows to other cities. Your last chance to see it at Universal is February 28 and March 7. Read this OI Blog post to learn what it's like to see the show live or visit the official website for more info on attending. You can also View TNA's press release.
2/6 – We have begun our world-class coverage of Universal's newest on-site hotel, Cabana Bay Beach Resort. This property will feature 1,800 new guest rooms, half of which will be family suites — a first for Universal's on-site hotels. To view our new page with tons of info and a huge photo gallery of the construction site, click here. You'll also be happy to know we added a Loews on-site hotels section to our Universal Snapshot page.
2/12 – Did you know that a recent survey of 2,000 UK students revealed that, out of their top ten favorite books in 2012, Harry Potter still holds two spots: Prisoner of Azkaban at number 2 and Goblet of Fire at number 7. Did you also know that those books were published over a decade ago? Impressive, isn't it, and it explains in part why Universal is moving forward with an expansion of the Wizarding World at their resort.
2/19 – And in other news, Universal Orlando recently gave two of their guest restrooms inside Universal Studios Florida a stylish makeover. The restrooms near Mel's Drive-in reflect its location with the feel of a 1950s diner, and the restrooms near Louie's Italian Restaurant keep the New York theme with the look of a subway station from the 1930s. For obvious reasons, I think we'll pass on trying to get photos.
2/23 – We are very proud to announce a new partnership between DoubleTree and Orlando Informer! As many guests already know, DoubleTree may be the very best selection for those who truly want to stay within walking distance of Universal but also want to keep an eye on their budget. To learn more about this hotel and the exclusive OI discount for our readers, click here.
3/10 – The Transformers characters Optimus Prime and Bumblebee are now making regular appearances inside Universal Studios Florida from 10:00am to 4:00pm each day. To see how amazing these characters look (including images and HD video), visit our Transformers page.
3/18 – We recently discovered guests can purchase Universal's Photo Connect Star Card Package online in advance. I was hesitant about this possibility because the site actually offers the package for $10 less than the in-park price. But I've verified everything and it's legit. Learn all about Universal's photo service and find out how to per-purchase the package online by clicking here.
3/22 – This week Dan Hatfield (our site's Owner & Editor) was interviewed by the Orlando Business Journal to get his thoughts on Universal's Cabana Bay Beach Hotel. You can read the full interview by visiting this blog post.
3/23 – After three years and seven months, we are very pleased to announce that Hollywood Rip Ride Rockit inside Universal Studios Florida now offers Express Pass access! This affects quite a few of our pages, but because we are committed to providing the most up-to-date info about Universal, I'm also very pleased to announce that we have fully updated our Express Pass page as well as our OI touring plans, USF Priority List, and our Universal Snapshot page.
3/25 – Hollywood Rip Ride Rockit's banner was damaged in yesterday's storm, but I'm very happy to say that Universal got the ride back in operation before the park even closed for the evening. However, I can't say the news is as good for Incredible Hulk. While it only lost its safety net for catching loose items, at this time I don't know when that net will get replaced. Until then Hulk will be closed. UPDATE: Hulk is up and running today!
3/26 – I'm happy to report that breakfast at Three Broomstick is now open to all guests. For the first two years of the Wizarding World of Harry Potter, reservations through a Universal vacation package were required for this meal. But now walk-ins are gladly accepted. Just keep in mind that package guests still can make reservations, so on very busy days there is a small chance the restaurant will be sold out for breakfast. To learn more, visit our Three Broomsticks page. Or, get a complete insider's look at Universal vacation packages.
4/1 – Megatron has joined Optimus Prime and Bumblebee at Universal's Transformers meet-and-greet, building even more excitement for the attraction we hope will soft open by the end of this month (no April Fool's joke!). To learn more about meeting your favorite characters at Universal Orlando, click here.
4/10 – Here it is, the biggest announcement in our site's history: Starting today the OI Universal Center, home to the world's largest and most up-to-date resource for Universal Orlando vacation planning, becomes completely free for everyone to access — no subscription required. Learn much more
4/13 – In March I started a project to capture some of the most memorable and entertaining moments at Universal Studios Florida, Islands of Adventure, and across the resort. My new video series is aptly called "Universal moments" and it already has over 30 minutes of unique experiences you'll only find at Universal Orlando. See them all (and several hundred other uploads if you'd like) on our YouTube Channel.
4/17 – Portofino Bay Hotel, Universal's flagship on-site property, has just completed a $14 million renovation of all 750 of its guest rooms. The "fresh, new Mediterranean-inspired design" is truly luxurious, finely appointed, and exudes calm elegance. View images of the complete room makeovers and a time-lapse video of the renovation on our Portofino Bay Hotel: Rooms page.
4/18 – Starting this week Universal launched a partnership with Give Kids the World, a nonprofit "storybook" resort for children with life-threatening illnesses and their families. As part of this partnership, guests now have the opportunity to book a Universal vacation package that includes a four-hour volunteer shift at the Give Kids the World village. To learn more, visit our Insider's guide to Universal vacation packages.
4/23 – As of April 22, 2013, Universal has increased the price of Power Passes by $10 and Preferred/Premier Passes by $20. Here are the old and new prices:
Power Pass – was $189.99, now $199.99.
Preferred Pass – was $259.99, now $279.99.
Premier Pass – was $399.99, now $419.99.
Power Pass (FL resident) – was $164.99, now $174.99
Preferred Pass (FL resident) – was $224.99, now $244.99.
Premier Pass (FL resident) – was $349.99, now $369.99.
4/30 – An 80-foot tall Transformers ad has appeared in downtown Orlando (see our first glimpse). The ad is scheduled to be removed by May 3rd, so it would make sense that we'll get an official grand opening date announcement by the end of this week.
5/1 – Universal ScreenPlay, the new augmented reality entertainment app that Universal released about a month ago, is now available in the UK stores for Android and iPhone. And remember, Universal activated free public wifi in part of Universal Studios Florida to encourage you to use the app — visit this OI Blog post to learn more.
5/3 – Orlando Informer was invited by WESH News, our local NBC affiliate, to discuss Universal's plan to expand Harry Potter at their parks. While our phone interview was 15 minutes long, just a few quotes made it into the final piece. Nevertheless it is a great report, and we assume they got most of their info from our interview and our incredibly detailed page dedicated to the Harry Potter expansion at Universal!
5/18 – As of May 17, 2013, Universal has increases the prices on all their Base and Park-to-Park admission tickets. Here are the old and new prices (please note that these are online prices, not gate prices):
1-Day Base – was $89.00, now $92.00.
2-Day Base – was $120.00, now 125.99.
3-Day Base – was $135.99, now $140.99.
4-Day Base – was $145.99, now $150.99.
1-Day Park-to-Park – was $123.00, now $128.00.
2-Day Park-to-Park – was $139.99, now $146.99.
3-Day Park-to-Park – was $152.99, now $159.99.
4-Day Park-to-Park – was $159.99, now $167.99.
3-Park Unlimited – was $179.99, still $179.99.
5/16 – On Thursday, May 23, the TODAY Show will be filming live at Universal Studios Florida. Tickets to be a member of the audience are already gone. However, the general public will be allowed to enter USF at 7:00am and enjoy certain areas of the park (regular admission required). UPDATE: OI contributor debi has provided a blog post about the special event.
5/20 – New this summer, Royal Pacific Resort has introduced a character breakfast every Sunday, May 26 through September 1. Families can enjoy traditional breakfast favorites with an island twist at Jake's American Bar while Universal characters stop by for photos and unforgettable laughs. For pricing and reservations, call 407-503-DINE. Or you can learn more about Royal Pacific.
5/30 – The very first Transformers technical rehearsals opened to the public after the third shift of team member previews.
6/2 – We had such an amazing weekend at Universal with the opening of The Simpsons Fast Food Blvd and getting our first chance to ride Transformers. But more importantly, we got so many opportunities to interact with our fans — you guys are incredible.
6/7 – We have now published individual pages for all the venues inside The Simpsons Fast Food Blvd, including Krusty Burger, Cletus' Chicken Shack, and Moe's Tavern. This makes our guide to The Simpsons the world's largest and most organized! See it all and, if you've already visited, write your own reviews by clicking here.
6/10 – A little more Transformers information: Transformers & Rockit exclusive ride times for Annual Passholders are scheduled June 9 through June 16, 8:00am to 9:00am. Also starting this week, Passholders can show their allegiance to the Autobots by purchasing an AP 2013 Transformers decal for $7.95.
6/11 – Universal has increased their self parking rates: General self-parking is now $16 (up $1) and Preferred is now $22 (up $2). You can learn more on our Parking & transportation page.
6/12 – Krusty the Clown is now making character meet-and-greet appearances at Universal Studios Florida. Unfortunately, like many of the characters at USF, like the Transformers, there is no published schedule. Learn more
6/14 – We're proud to say that the world's largest guide to Transformers at Universal Orlando just got larger! We have now published a complete room by room photo tour of the Transformers queue. Our gallery also includes a full tour of the Express Pass & single rider queue, and a tour of the gift shop — over 200 full-screen images in all. Begin your exploration
6/19 – RECALIBRATION COMPLETE – thank you for your patience.
6/20 – Transformers: The Ride celebrated its grand opening today and is now officially part of normal park operations with its home in Production Central. To view our complete guide, expert advice, and a full photo tour of the queue, please visit our Transformers page.
6/26 – We just completed our own overhaul of the 'Universal Photo Connect & ride photos' page in the OI Universal Center. New information includes details about Transformers and Spider-Man photos ops, details about a little known prints-only version of the Star Card package, and clarification of how to get Forbidden Journey ride photos printed. It's one incredible page with comprehensive instructions you won't find from any other resource — check it out.
6/26 – The Halloween season just began! Tonight at midnight Universal will announce details for the first HHN 2013 house. Earlier they posted "Get ready – once the evil has been released, there's no turning back…", leading some fans to believe the house will be Evil Dead. But their new artwork suggests Cabin in the Woods too. Learn more
7/1 – The Universal Dining Plan, a new feature available for guests booking Universal vacation packages, starts today. Because the program is brand new, we don't yet have complete coverage of it on our site. However, you can check out this 'first look' blog post to see the basics. Keep in mind that the Universal Dining Plan is a separate program from the Universal Meal Deal, which is available to all guests, and for which we've already published a complete guide.
7/1 – The High in the sky Seuss Trolley Ride! at Universal's Islands of Adventure has increased its height requirement from 36 inches to 40 inches effective today. No official statement on why the height requirement was raised. Learn more about the ride
7/18 – We recently started using Flickr as a place to share our photos from our weekly Universal visits that don't necessarily get uploaded here on the main site. I'm happy to say all 96 of our photos from today's trip have now been uploaded, including two dozen of The Simpsons expansion area, the new Bumblebee Man's Taco truck, and construction for the Jurassic Park Midway. Check 'em out.
7/24 – We are proud to announce the newest page in the OI Universal Center: What to pack for your Universal Orlando vacation. In an effort to make our information even more comprehensive, we offer this new page with a free checklist, expert advice, and novel ideas to make sure your family has everything they need while traveling. It's a good one — check it out!
7/30 – We haven't had any major announcements about HHN 2013 yet this week, but there is one item of note: the official HHN Twitter handle has changed from @UORHHN to @HorrorNightsORL. In addition, the HHN 2013 Creative Director Mike Aiello has taken over the account. Visit our HHN 2013 pages to learn more.
8/2 – Universal CityWalk's Latin Quarter, which featured entrees from Latin American nations and a Churrascaria Brazilian steakhouse, has closed as of August 1. Universal hasn't officially announced its replacement, but we have heard some rumors. Check out this rumor round-up blog post for details.
8/3 – The Simpsons waterfront — home to Lard Lad Donuts, Duff Gardens, and more — opened Friday, August 2. Learn more
8/6 –The quick-service Pastamore Market, perhaps best known for serving breakfast to early arriving guests, is now closed for refurbishment. So far Universal hasn't announced what the refurbishments entail or when they're scheduled to be completed.
8/7 – We've just completed an overhaul of our Orlando weather page. I know this isn't the most exciting topic in the world, but we all know how much weather can impact a theme park vacation. You can view our updated Weather in Orlando page right now.
8/12 – Welcome to Springfield USA at Universal Studios Florida. As of Sunday, August 11, the entire Simpsons expansion project is now open to guests, including the final addition: Kang & Kodos Twirl 'n' Hurl spinner ride. We've got hundreds of photos and new video to show you. Visit our Springfield USA page to get started!
8/18 – At 10:04am, we met our newborn daughter Isla Bleu Hatfield (Isla is pronounced eye-la).
8/22 – Did you know the Garden of Allah Villas at Universal Studios Florida are based on a true Hollywood landmark demolished in 1959? The event is rumored to be the inspiration for Joni Mitchell's song Big Yellow Taxi. Learn so much more as OI contributor Dani takes us on a fascinating exploration of USF's Hollywood backlot on her new OI blog post (this is one post every Universal fan will love!).
8/26 – With several accounts from various sources now published, it seems certain that Universal Orlando's "real" Hogwarts Express is indeed on-site — or at least most of it. In addition, this comment was recently left on our site: "If you ride Rip Ride Rockit and look over in the back lot direct behind Blue Man, you can actually see the engine and multiple cars!" See our photo mashup, then visit our Diagon Alley page to learn more!
9/23 – Good news, Simpsons fans! The "couch gag" photo op is now open right across from The Simpsons Ride. Thanks to our fan Daniel Z, see what one version looks like by clicking here. Then, to learn more about souvenir photos and photo packages at Universal, visit our Photo Connect page.
10/10 – Many of you have likely heard the news that several riders got stuck on Hollywood Rip Ride Rockit for a few hours yesterday evening. All made it off the ride safely, and Rockit is already back in operation today. (It's worth mentioning that I consider this and all the attractions at Universal to be safe.) Learn more, read real guest reviews, or write your own review by visiting our Hollywood Rip Ride Rockit page.
10/11 – Universal has released new artwork for the Wizarding World of Harry Potter – Diagon Alley. Yes, it will soon be a reality — and if rumors are true, the first sections may be opening in less than six months. You can see the artwork on our Facebook page. When you're done, visit our Diagon Alley page to learn more, or check out this great Diagon Alley BIG 5 blog post.
10/21 – As of November 2 the traditional "Universal Meal Deal" will be discontinued and replaced by what the resort is calling their new "Universal Dining Plan – Quick Service". Not only is the name of the new program a mouthful, it will also swap unlimited quick-service meals for a point system. That's the bad news. The good news is that guests will be able to use the new UDP-QS at almost all quick-service restaurants and food & beverage carts (versus the classic Meal Deal's three restaurants per park). We now have a 'first look' at the UDP-QS details in the November 25 edition of our Rumor Round-Up.
10/23 – Guests with disabilities, there has been a rather significant change to Universal's Attraction Assistance program: Previously, when guests had a reservation time on their AAP, they couldn't go on any other attractions using the accelerated entrance without forfeiting that reservation. Universal has reversed that policy, so now, even if guests have an AAP reservation, they may also enjoy any other attraction using the accelerated entrance that has a wait time of 30 minutes or less — without forfeiting their current reservation. Visit our Attraction Assistance page to learn more.
10/25 – Just so we have an official record here on our Daily Updates page, yesterday afternoon Universal's Hogwarts Express was raised from the ground and set on the elevated tracks that cross between Universal Studios Florida and Islands of Adventure. Now many folks are starting to question how the train will turn around — it won't. When traveling from USF to IOA, it will face forwards; when traveling from IOA to USF, it will face backwards. We have an interesting discussion about this topic in the comments of this week's RRU.
11/5 – After taking their show on the road in March, TNA IMPACT Wrestling returns to the soundstages at Universal Orlando for three tapings on November 21, 22 & 23. Each event starts at 7:00pm; the guest line opens at 6:00pm. TNA is also launching a IMPACT365: Where the Action Never Stops campaign, which you can learn more about in this blog post. The tapings at Universal are free, no theme park admission required (although you'll have to pay for parking if you drive).
11/5 – Yesterday representatives from Universal Orlando held a press conference at the World Travel Market in London. As part of the meeting it was officially announced that the Leaky Cauldron will be part of Diagon Alley. While this isn't breaking news, it's still noteworthy, so we have included the announcement and a few more details as a News Update on our Diagon Alley page.
11/6 – With a new job posting, this week Universal has essentially confirmed that the old Arctic Express walk-up counter, located in IOA's Port of Entry, will become a full-service Starbucks. You can take a look at the location.
11/11 – Universal's Photo Connect Star Card Package, truly one of the best deals available in Orlando's theme parks, lost a little bit of luster this past week. Instead of offering guests five consecutive days to collect park and ride photos, the package is now only good for three consecutive days. (Annual Passholders, we still can get the same deal for a full year). To understand exactly what this means, and to learn so much more, please visit our Universal Photo Connect page.
11/12 – Debuting October 1, Loews Portofino Bay Hotel — one of the three deluxe hotels on-site at Universal Orlando — now offers guests the opportunity to stay in the world's only Despicable Me themed suites designed specifically for kids. While the rooms have been available for a while, Loews just published a fun time-lapse video showing the room renovation, complete with minion characters and bananas! To see the video and learn more, visit our Portofino Bay: Rooms page.
11/16 – The quick-service section of Pastamore is now officially Red Oven Pizza Bakery. This is an original concept for Universal (verses a franchise like many of the other CityWalk restaurants), and it is open as of November 16. You can take a 'first look' at the restaurant, menu, and Alla Benno pizza (prosciutto, pineapple). For those keeping score at home, construction on Red Oven began the week of August 5.
11/19 – Today the United States Post Office released a 20-stamp souvenir booklet featuring stills from the Harry Potter film series. To celebrate the new stamps, there was a First Day of Issuance Ceremony held at the Wizarding World of Harry Potter. To learn more about the stamp collection (or to order it online), visit this page at USPS.com.
11/26 – I've started using Google+ a little more, and I have to admit the service is growing on me. But one thing it's dearly missing is theme park photos! So I started a community for 'em. If you're on Google+, join our new group to share and view amazing photos from around Orlando. And of course, if you haven't already, be sure to add Orlando Informer to your circles.
12/12 – Today Universal announced the largest expansion in CityWalk history, which includes the addition of eight new venues. For full details and analysis, see this blog post. In addition to the CityWalk announcement, there is more excitement, as we caught a first look at the Grimmauld Place portion of the Diagon Alley facade without its scaffolding. To see the view, plus the 92 other photos we shot while touring Universal today, check out our Flickr page (December 12 photoset).
12/17 – Harry Potter fans, mark your calendars – on January 23 Universal will host an exclusive webcast about Diagon Alley. We anticipate this will be the full reveal for the new area at Universal Studios Florida, including details on the shops, attractions, and a grand opening date. Read a complete explanation of today's announcement, see the new video, and learn so much more on our Diagon Alley page.
What more is there to say…
Our growing community of readers, fans, and vacation planners have truly made 2013 a remarkable year for our site. With the opening of Diagon Alley and Cabana Bay Beach Resort in just a few months, it's very exciting — to a point that it's almost scary! — to think about what's in store for 2014. But we'll take it one day at a time, remembering that our top priority is to help you have the best possible vacation at Universal Orlando Resort.
I also want to include a special "thank you" to our contributors, who have helped us publish more than 1,000 blog posts covering everything in Central Florida. It is a pleasure to work with each of you, and I am indebted for the work you have contributed to our site.
Speaking of blog posts, are you curious to know more about what's coming to Orlando next year? Then please check out our definitive list provided by OI contributor Marc.
See ya in 2014!