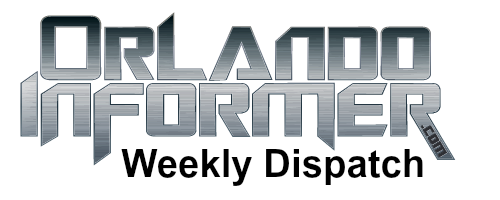 OI Universal Center updates
Greetings, vacation planners! Prepare to UPGRADE YOUR ADVENTURE to Universal Orlando with our Weekly Dispatch. This is a summary of all the latest Universal news and activity on our site. Please note that these updates are listed from newest to oldest:
10/6 – Sunday challenge – win a free OI t-shirt! Minion pumpkins are about the most adorable Halloween decoration we've ever seen, and they are a perfect tribute to the attraction at Universal Studios Florida. So we're giving away a free OI t-shirt to the first fan who creates one and shares it with us. Details, including a tutorial and concept pic, are posted on our Facebook page. Have fun!
10/5 – Yesterday afternoon we took our weekly tour of Universal Orlando with a few hours at HHN, and the 97 photos we shot during our visit can now be viewed on our Flickr page (October 4 photoset). When you're done with the photoset, we also were testing out a new video camera and uploaded a few fun videos to Facebook. You can see them here, here, and here.
10/4 – Two HHN updates today: First, Universal is still selling Rush of Fear passes for the "advance price" of $72.99. Even though Rush of Fear passes expire after this Sunday, for that price you can still get multiple nights of admission for less than the one-night general admission price of $91.99. Second, HHN Express Passes for October 12, 19 & 26 were originally $99.99; they are now $109.99. Visit our HHN 2013 admission page to learn more.
10/3 – Halloween Horror Nights 2013 is back for another weekend of terror, running Thursday through Sunday (and if you're going, let's hope you picked Thursday or Sunday for the smallest crowds and shortest wait times!). Also remember, on HHN event dates Universal Studios Florida opens at 8:00am, an hour earlier than usual. Visit our HHN 2013 guide to learn more.
Fun fact: Our insider's guide to HHN 2013 just passed 225,000 views — we're very proud to help so many guests plan the perfect visit to the ultimate Halloween event!
10/3 – Quick HHN update: It's official, on October 20 HHN will host Halloween Horror (K)nights for Universal of Central Florida students, who are able to purchase admission to USF & HHN starting at 2:00pm for the discount price of $40. UCF is a huge school, and that's a great price, so even though October 20 is a Sunday, we call it a HHN peak night for sure! By the way, if you're a UCF student, tickets must be purchased in advance — you can learn more here.
10/2 – We've got another fun giveaway to bring to your attention. This time it isn't hosted by us — it's brought to you by your friends at Margaritaville Orlando. They're giving away a free dinner for four at their Universal CityWalk restaurant each week in October. (If you win, you can redeem the free dinner anytime until the end of this year.) To enter, visit Margaritaville Orlando on Facebook.
10/1 – Since it's the beginning of a new month, we have now added September 2014 to our free 12-month Universal Orlando crowd calendar. As we've previously mentioned, any family planning a vacation to Universal in the second half of 2014 needs to be aware of Diagon Alley and how the Potter expansion project will affect crowd levels. Visit our crowd calendar to learn more.
10/1 – Friendly scheduling reminders: First, in October Universal Studios Florida is scheduled to open early (8:00am) and close early (5:00pm) for regular daytime guests many times, as the park hosts Halloween Horror Nights. Please note that when USF closes early, the Cinematic Spectacular nighttime lagoon show does not run. Second, Universal's holiday festivities have different dates this year. Instead of running December 1 through January 1, this year they run December 7 through January 4. Visit our crowd calendar to learn more.
10/1 – Congratulations to Bradley – your review of Halloween Horror Nights 2013 was randomly selected from all the submissions we've received so far, and you won a $50 Universal gift card. If you're Bradley, check your email inbox. If you're not Bradley, we wish you better luck in our $500 Universal gift card giveaway.
9/30 – I've been watching wait times for Despicable Me and Transformers closely since the later opened this summer at Universal Studios Florida. What I've found is that, despite being the older of the two attractions, Despicable Me virtually always has a higher wait time than Transformers — which really isn't that much of a surprise given its low ride capacity. As a result, I've now adjusted our free Universal touring plans and recommend guests visit Despicable Me first and then Transformers.
You can view all of our plans, and remember, we have one for Halloween Horror Nights too!
New on the Orlando Informer Blog
Along with our encyclopedia of Universal Orlando vacation planning information, our weekly blog posts also provide you with an entertaining and informative way to learn more about everything there is to do in Orlando. Here are our new posts:
SeaWorld's Spooktacular continues to be Orlando's best value for a family-friendly Halloween celebration, and here's why
HHN 2013 Behind the Screams Tours: Morning Menace & Afternoon Abominations – double your horror, double your fun
OI Share: Three decisions that made our anniversary trip to Universal Orlando truly "one in a minion"
Arabian Nights "Royal Celebration" – a classic dinner show gets an enchanting makeover
Tasting our way around the world: Photo tour of the 2013 Epcot International Food & Wine Festival
See some of the best stuff Disney has to offer (and get a great deal) at Mickey's Not-So-Scary Halloween Party
Rumor round-up for October 4, 2013: World of Warcraft coming to Universal, new infrared tech coming to Disney, construction projects around Orlando
This week's featured guest review on our site
Halloween Horror Nights 2013
5/5 stars | Annual visit on Rush of Fear
We spend part of our year in Indiana and the rest in Florida and HHN is part of our annual October visit. We are annual Preferred Pass holders at Universal and this year purchased the Rush of Fear. I would highly recommend it. We landed in Sanford Friday night at 8:00 and after a quick food/liquor stop were primed and ready to enter HHN23! We picked up our tickets at the Will call kiosks around 10 pm. The kiosks were great. No wait, walked right up, had the tickets in seconds. Entered the gate and immediately were surrounded by walkers! We are huge Walking Dead fans so the scare zones were fantastic! I do agree that the masks were a bit tacky at times and frankly the scare zones are never effective during daylight hours so do not expect to be scared by them until after dark. I was most frightened by the walkers when they blended in well with the park guests and then BAM!
Our first night we had hoped to hit two or three houses if we were lucky. We ended up hitting four and staying until the park closed! Being Dead Fans our first stop was Walking Dead No Safe Haven. We waited 60 minutes of the 70 minute posted wait time. This house was FANTASTIC for Dead Fans. It is much better, longer, and scarier than last year's Walking Dead house. For non Dead Fans it would not be as great as you would not get all of the scenes. And, yes, we DID pick up the ringing phone!!
Our next stop was the 3D Afterlife Death's Vengeance. I have loved the 3D houses in the past, but this one was just okay. I wasn't able to follow the story in the house and they just reused a lot of the 3D features from past houses. We only waited 30 minutes for this house.
Next stop was Urban Legends La Llorona. We waited 30 minutes. I did like this house. The story was frightening, the music was creepy, and the feel of the house seemed real. The creepy old ladies popping out everywhere got me every time! I would suggest going to this one twice to see the details better the second time when you are not as scared.
Our final stop of the night was American Werewolf in London. Had high hopes for this house. I was slightly disappointed. We went just as the park was getting ready to close and I felt like a lot of the scare actors were missing from the house. I will say we went earlier on our second night and it was much better. The werewolves were AMAZING and the detail of the house was great, especially in the Slaughtered Lamb and the subway.
Night two we finished up the rest of the houses and another visit to Werewolf. My favorite was Cabin in the Woods…super creepy and lots of scare actors coming at you. It followed the movie perfectly so I would recommend seeing the movie first if possible.
Evil Dead was fantastic as well. Followed the movie, so see it, if you can stomach it.
I was not a fan of Havoc. I do not play video games so I didn't love Resident Evil, but the gamers with me loved it.
As usual, we loved HHN. We made reservations at Finnegan's for 3:45 and got primed. Loved that they came in the restaurant to scan our tickets and give us wristbands for early entry. I hate to tell people about that option though as it should be a true "insider secret." We always do that, but this year there were SOOOO many others who found out about it that we didn't feel special. Also, the on,y house open early was Werewolf…..I was disappointed as I had seen that one already the night before. I wanted to do Cabin early. Oh well.
I would suggest either coming EARLY or LATE. if you show up at dark every line is pretty long. Early they are 30 minutes or so and same for after 10-11. Drink a lot as the more you drink the scarier things are and DO NOT miss the walkers and scare zones. They are great! The chainsaw guys at the end of La LLorona scared my 18 year so bad he went down to the ground! Hilarious! Well done guys! rush of Fear is a great option! Do it for more than one night for less than the price of a single night. Kudos HHN23 you did it again! Kudos to Orlando Informer as well…a GREAT source of information for Universal junkies.
– Dawn Bowers
If you've already attended Halloween Horror Nights this year, we invite you to share your review — what you have to say will help the thousands of readers that visit our Insider's guide to HHN 2013.
If you haven't gone to HNN yet this year, we invite you to read the more than 40 fan reviews already posted on our HHN 2013 real guest reviews page.
Other useful links
Get our Weekly Dispatch sent directly to your email inbox
Receive daily notifications of new OI Blog posts
View all of our Universal Orlando updates
Start planning the prefect vacation using our FREE online guide