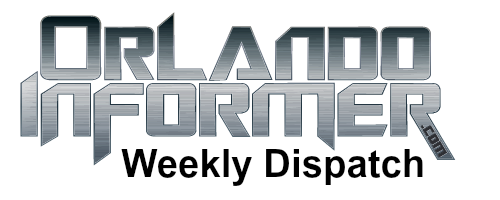 OI Universal Center updates
Greetings, vacation planners! Prepare to UPGRADE YOUR ADVENTURE to Universal Orlando with our Weekly Dispatch. This is a summary of all the latest Universal news and activity on our site. Please note that these updates are listed from newest to oldest:
11/9 – This weekend we passed 40,000 fans on our Facebook page (up from 7,000 at the beginning of the year), and we passed 12,000 followers on Twitter (up from 2,000 at the beginning of the year). I feel so honored to be able to share our passion for Universal Orlando — and our love for helping families plan amazing vacations — with so many friends, new and old. You can learn more about us and see other milestones you've helped us accomplish on our About page.
11/8 – It's a Review & Win Weekend! We haven't hosted one of these giveaways for a while, so we thought we'd make things a little more fun this weekend by giving our readers a chance to win a $50 Universal gift card by submitting attraction and restaurant reviews. Everything you need to know is on our Real guest reviews of Universal Orlando page. Have fun, and best of luck to everyone!
11/8 – On Friday we spent a beautiful afternoon at Universal Orlando for our weekly tour of the parks. You can see all of our live in-park photo updates on our Twitter feed. Or, if you prefer, you can view a few highlights on our Facebook page. We've also got two new YouTube videos: Red Oven private soft open (at Universal CityWalk) and Diagon Alley construction update.
UPDATE: All 146 of our photos from Friday can now be viewed on our Flickr page (November 8 photoset). Please note that the collection includes a lot of menu photos because we were researching Universal's Dining Plans.
11/7 – We are very proud to announce that our guide to the Holidays at Universal is now completely updated with this year's details covering the Macy's Holiday Parade, Grinchmas, and more. In our guide you'll find a full overview of all the holiday festivities planned for 2013 as well as insider tips and exclusive planning advice. An early "Merry Grinchmas" from Orlando Informer — now let's get started planning your holiday visit!
11/6 – Our Thanksgiving 2013 page has now been updated with details, menus, and pricing for all the special activities and holiday buffets Universal will be hosting on November 28. And now that I've been working on this page for two hours, oh man am I hungry. (By the way, don't forget that the exceptional Holiday Harbor Nights at Portofino Bay Hotel is on November 29 — tell me this doesn't look like fun!)
11/6 – With a new job posting, this week Universal has essentially confirmed that the old Arctic Express walk-up counter, located in IOA's Port of Entry, will become a full-service Starbucks. You can take a look at the location, or you can now apply to work there.
11/5 – Yesterday representatives from Universal Orlando held a press conference at the World Travel Market in London. As part of the meeting it was officially announced that the Leaky Cauldron will be part of Diagon Alley. While this isn't breaking news, it's still noteworthy, so we have included the announcement and a few more details as a News Update on our Diagon Alley page.
11/5 – It's the start of a new month, so we have added October 2014 to our Universal Orlando 12-month crowd calendar (including all of our estimated HHN dates and HHN Peak Nights for next year). In addition, after a little more research we have tweaked our crowd estimates for Spring Break 2014 — if you're traveling then, take another look at March and April. View our crowd calendar
Friendly calendar reminders: First, Universal's holiday festivities have different dates this year. Instead of running December 1 through January 1 as they have previously, this year they run December 7 through January 4. Second, for anyone planning a visit to Universal next summer, please heed our warnings about the Diagon Alley opening date and crowds.
11/5 – Upcoming on-site hotel events: Universal's hotels are offering guests three spirited opportunities to get out of the parks this month — the new Wine Rocks at Hard Rock Hotel, the popular Jake's Beer Dinner at Royal Pacific Resort, and the exception Holiday Harbor Nights at Portofino Bay Hotel. You can find details, menus, and links to purchase tickets in the Events section of our Universal Snapshot page. (Thanksgiving info coming soon!)
11/5 – After taking their show on the road in March, TNA IMPACT Wrestling returns to the soundstages at Universal Orlando for three tapings on November 21, 22 & 23. Each event starts at 7:00pm; the guest line opens at 6:00pm. TNA is also launching a IMPACT365: Where the Action Never Stops campaign, which you can learn more about in this blog post. The tapings at Universal are free, no theme park admission required (although you'll have to pay for parking if you drive). For guests wanting a more intense experience, TNA says they will be posting VIP packages on ShopTNA.com.
11/4 – More attraction refurbs: Fear Factor Live is currently scheduled to be closed through November 12. In addition, Disaster! will be closed for a one-day refurb on November 13, Revenge of the Mummy will be closed November 18, and Cinematic Spectacular will not run on November 12 & 19. Remember that these refurbs are in addition to the Seuss Landing and Dragon Challenge closures we posted last week. See everything on our Universal Snapshot page.
11/4 – Universal Orlando will celebrate Veterans Day with a parade through Universal Studios Florida on Friday, November 8, including a flag raising ceremony and band performance in Gramercy Park (across from Twister). The parade starts at 11:00am at the same place where the Superstar Parade begins (near Beetlejuice) and will feature the Universal Orlando Veterans Network Team Members as well as multi-branch color guards of Active Duty, Reserve Centers, and Local JROTC High School units, drill teams, a marching band, and more.
11/4 – Our "Universal Meal Deal" page is now our "Complete guide to Universal's Dining Plans" page, featuring details and analysis of the Universal Dining Plan first offered this summer and the new Universal Dining Plan – Quick Service, which replaced the classic Meal Deal as of this past weekend. View our rebooted page
11/3 – There are now signs up for Red Oven Pizza Bakery, which is replacing the Pastamore Marketplace at Universal CityWalk — take a look. In addition, we now have a few details about the the venue: it will serve artisan pizza made to order and should be open by the end of November — see a little more.
#HulkSmash @UniversalORL pic.twitter.com/XrAC83rlq6— Orlando Informer (@OrlandoInformer) November 8, 2013
New on the Orlando Informer Blog
Along with our encyclopedia of Universal Orlando vacation planning information, our weekly blog posts also provide you with an entertaining and informative way to learn more about everything there is to do in Orlando. Here are our new posts:
Reader poll: Should Fear Factor Live close and what should replace it?
OI Share: A guide to the rides at Universal for larger guests
THE BIG 5: Top five reasons why Aquatica is Orlando's #1 water park (and why you shouldn't miss it)
"Limited Time Magic" backstage tour at Disney's Animal Kingdom; "Show Your Disney Side" 2014 campaign kicks off
E.T. Adventure at Universal Studios Florida: The park's last opening-day attraction is still one of its best
Rumor round-up for November 9, 2013: Cowfish Sushi Burger Bar at Citywalk, extensive Avatar details revealed, end of HHN originality & more [UPDATED]
#TwitterBattle – which ride is better? RT for Transformers FAV for Spider-Man pic.twitter.com/tE0cXhM6cq— Orlando Informer (@OrlandoInformer) November 6, 2013
Other useful links
Get our Weekly Dispatch sent directly to your email inbox
Receive daily notifications of new OI Blog posts
View all of our Universal Orlando updates
Start planning the prefect vacation using our FREE online guide