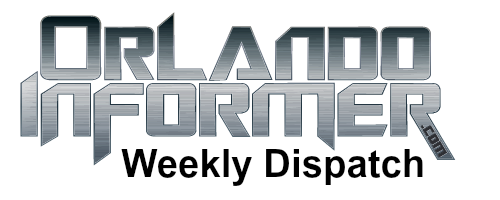 OI Universal Center updates
Greetings, vacation planners! Prepare to UPGRADE YOUR ADVENTURE to Universal Orlando with our Weekly Dispatch. This is a summary of all the latest Universal news and activity on our site. Please note that these updates are listed from newest to oldest:
We're switching things up on you this week! Universal made several significant changes to their park hours for Thanksgiving and in December. They also published Spring Break 2014 operating hours. So in an effort to keep things organized, we've posted our three calendar updates first. The rest of our Daily Updates are listed afterwards.
UPDATE 1 – Universal changed several of their operating hours for the month of December. Most notably, during the first week of December, Islands of Adventure is now closing at 6:00pm (previously it was 7:00pm). In addition, on December 4, 11 & 12, Universal Studios Florida is now closing at 6:00pm and will not likely run Cinematic Spectacular those evenings. Finally, Universal cut back on their New Year's Eve hours: USF now closes at 12:30am (previously it was 1:00am), and IOA closes at 11:00pm (previously it was 1:00am also). To see everything, visit our free 12-month Universal crowd calendar.
UPDATE 2 – Our friends at Universal have published their park operating hours for March & April 2014. The new hours line up very well with our Spring Break crowd predictions as well as our estimated dates for Mardi Gras. However, there is something peculiar about the new data that may be the best evidence yet we'll see HOGWARTS EXPRESS technical rehearsals open to the public starting in March. To see the new numbers and an explanation of what looks odd to me, visit our free 12-month Universal crowd calendar. (Thanks to our fan Simon H. for helping us out with this one!)
UPDATE 3 – Universal switched up their hours for the week of Thanksgiving, extending some of them earlier in the week and reducing some of them later in the week. In addition, Universal also switched tings up for the busy period at the end of December. If you are planning a visit during either of these times, be sure to see the new hours on our free 12-month crowd calendar.
Friendly reminder regarding park hours: Universal does not provide notifications when they change park hours after they are initially published, which can happen once, twice, or several times each month. While I do my best to catch changes as they happen, I just don't have the time to review three months worth of park hours every morning. Because of this I partially rely on our readers to help catch some of these changes (and I'm most appreciative when you do!).
My very earnest recommendation is that, regardless of what my calendar or Universal's website shows, please contact Guest Services directly a day or two before you travel to confirm park hours for your visit: 407-224-4233 or toll-free 1-877-801-9720.
Should you become aware of a discrepancy on our calendar, you know I'd love to have you contact me so I can investigate immediately. Thanks for your understanding and assistance.
11/16 – The quick-service section of Pastamore is now officially Red Oven Pizza Bakery. This is an original concept for Universal (verses a franchise like many of the other CityWalk restaurants), and it is open as of November 16. You can take a 'first look' at the restaurant, menu, and Alla Benno pizza (prosciutto, pineapple). Stay tuned — we'll be providing much more coverage in the very near future!
By the way, for those keeping score at home, construction on Red Oven began the week of August 5. Also, please note that, for now, the full-service portion of Pastamore is still open for business.
11/15 – Universal snuck out one more detail for their holiday festivities today: Happy the Hippo, a recreation of a 1940s Macy's Parade balloon, will make her debut in New York City this Thanksgiving before heading to Orlando to appear in the Macy's Holiday Parade at Universal Studios Florida. To learn more about the parade at Universal, visit our Macy's Holiday Parade page, or you can start on our Holidays 2013 overview page.
11/15 – We usually take our weekly tour of Universal Orlando on Thursday or Friday, but I'm afraid this week we'll be skipping it and trying very hard to get caught up on site work! But don't worry, there is plenty you can do: earlier this week we published full trip reports for Universal Studios Florida and Islands of Adventure. After that, you can view over 2,000 park photos we've already posted on our new Flickr page. Want more? Check out our Universal moments video collection on YouTube.
11/14 – Next Tuesday, November 19, the United States Post Office will release a 20-stamp souvenir booklet featuring stills from the Harry Potter film series. To celebrate the new stamps, there will be a First Day of Issuance Ceremony held at the Wizarding World of Harry Potter. Unfortunately, this will be a private event. However, the good news is that, starting on the 19th, you will be able to purchase these stamps at Universal Orlando. To learn more about the stamp collection (or to pre-order it), visit this page at USPS.com.
11/13 – Cabana Bay Beach Resort discount now available: For a limited time the new family suites can be booked at rates starting as low as $104 per night (for a 7-night stay) to $134 per night (for a 3-night stay). This introductory offer is available for booking now through January 31 for stays from March 31 to June 14. To check specific dates, call 888-273-1311 or visit the online reservations page. (By the way, we promise to have a Cabana Bay construction update posted in the next seven days!)
11/13 – This week we learned that you can get butterbeer at your local Starbucks… if you know how to order it. The short version: Caramel Creme Frappuccino with Toffee Nut, with our without whip. The long version is described in this Slashfilm.com article, which we really enjoyed because, at the end, they link to our butterbeer recipe post.
11/12 – Debuting October 1, Loews Portofino Bay Hotel — one of the three deluxe hotels on-site at Universal Orlando — now offers guests the opportunity to stay in the world's only Despicable Me themed suites designed specifically for kids. While the rooms have been available for a while, Loews just published a fun time-lapse video showing the room renovation, complete with minion characters and bananas! To see the video and learn more, visit our Portofino Bay: Rooms page.
On a related note: "Despicable Me 2 has become one of the most successful animated movies ever [and] should ultimately bank over $900 million worldwide, which will make this Universal's highest-grossing movie ever (during its initial run, at least)." BoxOfficeMojo.com
11/12 – Fan feedback: "I would like to thank you for your incredible site. I have a weakness for needing to spend endless hours planning my vacations. I had searched high and low for a thorough source of information about Universal Orlando and your site is above and beyond anything out there, either in print or online. When I found Orlando Informer, it was like I found a best friend to give me all the details I could hope for. I visit your site every day to guide my planning." – Matt W.
11/11 – Attraction alerts: First, Fear Factor Live, which has been closed for two months (the stage is used for HHN's Bill & Ted's show), is scheduled to return to regular operations this Wednesday. Second, Cinematic Spectacular will not be performed this Tuesday or next Tuesday (11/19). Third, Disaster! will be closed for a one-day refurb this Wednesday and Mummy will be closed for the same thing next Monday (11/18). All these details and more can always be found on our Universal Snapshot page.
11/11 – Universal's Photo Connect Star Card Package, truly one of the best deals available in Orlando's theme parks, lost a little bit of luster this past week. Instead of offering guests five consecutive days to collect park and ride photos, the package is now only good for three consecutive days. (Annual Passholders, we still can get the same deal for a full year). To understand exactly what this means, and to learn so much more, please visit our Universal Photo Connect page.
A closer look at #RedOven @UniversalORL and a made-to-order-in-90-seconds Alla Benno pizza (prosciutto, pineapple) pic.twitter.com/mg7uw7tYIJ— Orlando Informer (@OrlandoInformer) November 16, 2013
New on the Orlando Informer Blog
Along with our encyclopedia of Universal Orlando vacation planning information, our weekly blog posts also provide you with an entertaining and informative way to learn more about everything there is to do in Orlando. Here are our new posts:
Reader poll: How much do you spend on souvenirs at Universal Orlando?
Real guest reviews of Universal Orlando: More sensational reviews submitted by our fans – and last weekend's Review & Win contest winners are announced!
Busch Garden Tampa trip report – November 2013 (hands-on at the Animal Care Center, Falcon's Fury construction & more)
Universal Studios Florida trip report – November 2013 (Hogwarts Express in full view, holiday decorations & Chief Wiggum's Patrol Car)
Islands of Adventure trip report – November 2013 (Jurassic Park midway games open, Hogsmeade Station construction & more photos of the Hogwarts Express)
SeaWorld celebrates the 2013 Christmas season, launches new AnimalVision experience & reveals Aquatica's new thrill slide: Ihu's Breakaway Falls
Rumor SPOTLIGHT for November 15, 2013: The battle for 2017, when Disney strikes back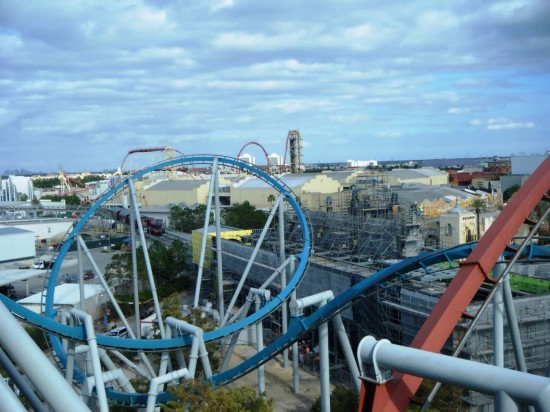 Other useful links
Get our Weekly Dispatch sent directly to your email inbox
Receive daily notifications of new OI Blog posts
View all of our Universal Orlando updates
Start planning the prefect vacation using our FREE online guide