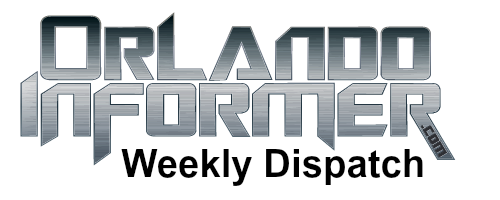 OI Universal Center updates: March 24 – 30, 2013
Greetings, vacation planners! Prepare to UPGRADE YOUR ADVENTURE to Universal Orlando with our Weekly Dispatch. This is a summary of all the latest Universal news and activity on our site. Please note that these updates are listed from newest to oldest:
3/29 – There is no doubt about it — the Wizarding World of Harry Potter return ticket & standby line system is hands down the most confusing experience guests will have at Universal Orlando. That's why we are proud to offer a totally up-to-date guide to this experience with information you cannot find from any other resource, including Universal itself. If you are going to Islands of Adventure when it is busy, you need to read this!
3/29 – Who's ready for more Mardi Gras at Universal Orlando?! Get ready for a crazy-fun party atmosphere, an electrifying parade, and this weekend's artists live in concert: Pat Benetar & Neil Giraldo. To view our insider's guide to Mardi Gras 2013 with complete information and expert advice, click here.
3/27 – This morning we weren't just visiting Universal Orlando to say hi to the Spring Break crowds. We also collected our best photos ever of the Harry Potter expansion project. Now we've published those photos, along with an new HD video and all new details, on our Harry Potter expansion at USF page. Enjoy!
3/27 – Sorry Spring Breakers, we continue to experience unseasonably cold temperatures here in Orlando. If you're visiting the parks, this weather presents the perfect opportunity to use Universal's pay-once-use-all-day lockers, so you can bundle up in the morning and shed layers once the sun comes out. To learn more, visit our Complete guide to rental & ride lockers at Universal Orlando — it even includes an interactive map.
3/26 – I'm happy to report that breakfast at Three Broomstick is now open to all guests. For the first two years of the Wizarding World of Harry Potter, reservations through a Universal vacation package were required for this meal. But now walk-ins are gladly accepted. Just keep in mind that package guests still can make reservations, so on very busy days there is a small chance the restaurant will be sold out for breakfast. To learn more, visit our Three Broomsticks page. Or, get a complete insider's look at Universal vacation packages.
3/26 – Universal has published their official park operating hours for July 2013, and you can now view these on our completely FREE 12-month Universal crowd calendar. Speaking of July, lots of folks have been asking me about when we'll see the band lineup for Universal's Summer Concert Series. Expect to get the first announcement early next month and the full lineup by early June.
3/25 – Hollywood Rip Ride Rockit's banner was damaged in yesterday's storm, but I'm very happy to say that Universal got the ride back in operation before the park even closed for the evening. However, I can't say the news is as good for Incredible Hulk. While it only lost its safety net for catching loose items, at this time I don't know when that net will get replaced. Until then Hulk will be closed. UPDATE: Hulk is up and running today!
3/25 – Not only was Sunday a crazy day at Universal, it was also a crazy day for our site. We recorded our busiest day ever with over 16,000 pageviews. What's more, yesterday capped off our site's busiest week ever, in which we recorded over 80,000 pageviews by more than 30,000 unique visitors. Thank you to every one of our fans for your support! Learn more about us
Checking in from @universalorl! The #sb2013 party is well under way at the Hard Rock Hotel pool… twitter.com/OrlandoInforme… — Orlando Informer (@OrlandoInformer) March 29, 2013
New on the Orlando Informer Blog
Along with our encyclopedia of Universal Orlando vacation planning information, our weekly blog posts also provide you with an entertaining and informative way to learn more about everything there is to do in Orlando. Here are our new posts:
This week at Universal's on-site hotels: Taylor Dayne to perform at Velvet Sessions & Easter Sunday buffets
Special Needs are Universal: Guests with food allergies visiting Universal Orlando
THE BIG 5: The top five roller coasters in Orlando
Twitter trip report: Spring Break 2013 at Universal Orlando
Universal ScreenPlay now available for download; first look with photos and video from the park!
King's Cross Station at Universal's Harry Potter expansion to open May 2014 – if you believe the writing on the wall
Rumor round-up for March 30, 2013: Harry Potter expansion details, Pixie Hollow in Adventureland, Disney's Hollywood Studios rebranding
FJ queue over two hours, extends all the way to Jurassic Park and back already. JP entrance to WWoHP closed. twitter.com/OrlandoInforme… — Orlando Informer (@OrlandoInformer) March 27, 2013
Useful links
Get our Weekly Dispatch sent directly to your email inbox
Start planning the prefect Universal Orlando vacation with us
Learn more about subscribing to our site