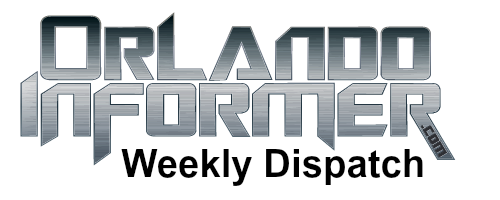 OI Universal Center updates: March 11 – 16, 2013
Greetings, vacation planners! Prepare to UPGRADE YOUR ADVENTURE to Universal Orlando with our Weekly Dispatch. This is a summary of all the latest Universal news and activity on our site. Please note that these updates are listed from newest to oldest:
3/15 – Every Friday in March we are giving away a $50 Universal Orlando gift card, and this week's winner is Nicole B. from Rochester, IN! If you are Nicole B., please check your email for a message from us. If you aren't Nicole, learn more about entering our weekly giveaway and see just how Orlando Informer can help you plan the perfect Universal Orlando vacation by clicking here.
3/15 – We spent an amazing morning at Universal (nothing like checking in at the Wizarding World of Harry Potter before 8:00am!), and I invite you to join us on our Facebook page for some of our best in-park photo updates. Or you can see ten times the action by following us on Twitter and viewing our feed. Hurray for Spring Break!
3/15 – This weekend we've got a Universal Mardi Gras double-header! Get ready for a crazy-fun party atmosphere, an electrifying parade with 12 incredible floats, and this weekend's artists live in concert: Sean Kingston Friday night and Matchbox Twenty Saturday night. To view our insider's guide to Mardi Gras 2013 with complete information, expert advice, and a huge photo gallery, click here.
3/14 – Why settle for being Irish only one night of the year? Pat O'Brien's at Universal CityWalk is throwing TWO St. Patty's Day parties so you can get your green on! Enjoy live music, food & drink specials, stilt walkers & bead girls on Saturday, March 16 and Sunday, March 17. Visit our Universal Snapshot page for more info and a look at all the current events scheduled.
3/13 – Another very cool update just got posted on our site, and this time it's for Cabana Bay Beach Resort. We've got 37 new, full-screen photos of the construction site, an HD video, and the first-ever aerial map of the area including the Cabana Bay complex. See it all right now
3/13 – "This site is the best! Thank you so much for all the great info and quick replies. I can't imagine going at a busy time of year (or any time of year for that matter) without the knowledge Orlando Informer provides!" – OI subscriber Debra. You're very welcome, Debra. Now let us help you plan the perfect vacation to Universal Orlando and you could win a $50 Universal gift card THIS FRIDAY. Learn more
3/12 – Universal's Superstar Parade will not run on Monday, March 18 and Tuesday, March 19. Seems like Universal decided to give the cast a little time off before we hit the peak Spring Break week of March 25. For more attraction closures and a complete overview of everything happening across the resort, check out our Universal Snapshot page.
3/12 – We just updated our Harry Potter expansion in Universal Studios Florida page with 29 beautiful photos shot over the weekend and a brand new HD video. A month ago must of the construction area was flat with the exception of King's Cross Station and Gringotts. But now there are new buildings galore!
RETWEET if you agree:Breakfast of (Triwizard) champions #butterbeer #HarryPotter @universalorl twitter.com/OrlandoInforme…

— Orlando Informer (@OrlandoInformer) March 15, 2013
New on the Orlando Informer Blog
Along with our encyclopedia of Universal Orlando vacation planning information, our weekly blog posts also provide you with an entertaining and informative way to learn more about everything there is to do in Orlando. Here are our new posts:
DoubleTree at Universal Orlando: Details, special discount & complete photo gallery with more than 100 images
2013 Epcot International Flower & Garden Festival trip report (includes over 100 images!)
Theme park shopping: The benefits of letting kids budget & spend their own money
Rainy day at Universal Orlando: The best ideas for staying dry and having fun
Bringing home the Wizarding World of Harry Potter: Butterbeer cookies
Life is sweet at the Florida Strawberry Festival: My review, tips & photo gallery
Rumor round-up for March 15, 2013: Halloween Horror Nights, Hogwarts Express, Grand Floridian DVC, Disney Springs
Moe's Tavern got some purple highlights #TheSimpsons @universalorl twitter.com/OrlandoInforme…

— Orlando Informer (@OrlandoInformer) March 13, 2013
Useful links
Get our Weekly Dispatch sent directly to your email inbox
Start planning the prefect Universal Orlando vacation with us
Learn more about subscribing to our site