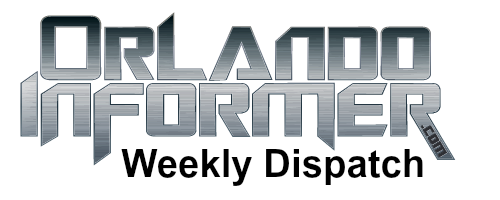 OI Universal Center updates
Greetings, vacation planners! Prepare to UPGRADE YOUR ADVENTURE to Universal Orlando with our Weekly Dispatch. This is a summary of all the latest Universal news and activity on our site. Please note that these updates are listed from newest to oldest:
SPECIAL ANNOUNCEMENT – Up to and including Sunday, June 16, Annual Passholders get "exclusive ride times", allowing AP holders early access to Transformers from 8:00 to 9:00am. While there are no guarantees because these are technical rehearsals, Universal has been and should continue to run Transformers throughout the day for all guests visiting Universal Studios Florida. To learn more, check out our Transformers page.
6/15 – Universal's Summer Concert Series returns this evening with Gavin DeGraw performing live. If the weather participates, it should be fine day to be at the parks. Visit our SCS 2013 page to learn more!
6/15 – Planning ahead for Father's Day tomorrow? If you're on-site at Universal and you'd like to share a special breakfast with Dad and your Universal pals, remember that Loews Royal Pacific Resort now hosts a character breakfast each Sunday this summer. Learn more and see the PDF menu
6/14 – We're proud to say that the world's largest guide to Transformers at Universal Orlando just got larger! We have now published a complete room by room photo tour of the Transformers queue. Our gallery also includes a full tour of the Express Pass & single rider queue, and a tour of the gift shop — over 200 full-screen images in all. Begin your exploration
6/14 – Today marks another milestone in our Transformers coverage. We have archived all of our construction coverage dating back to June 2012 and created a separate page to keep that information and media safe. If you'd like to see it, just click here.
6/13 – Thanks to OI contributor Maureen we have this month's Universal Orlando trip reports live on the site. To see what's new and exciting at the parks, follow these links to the OI Blog: Universal Studios Florida (Transformers, Fast Food Blvd) or Islands of Adventure (incredible photos of Hogsmeade Station). If you'd like to do more catching up, you can view all of our trip reports.
6/13 – We have published a full construction update for the Harry Potter expansion and Hogsmeade train station construction project at Islands of Adventure. The update includes some really brilliant full-screen photos (some of our best!). Check 'em out
6/13 – SWEEPSTAKES ALERT: As a cross promotion for the release of Despicable Me 2 this summer, NBCUniversal is giving away a family vacation to Universal Orlando Resort, including airfare, on-site accommodations, and more. You can enter every day between now and June 30 right here. As you might have expected, it's U.S. residents only. (But hey, anyone can enter the OI $300 gift card giveaway!)
6/12 – The Kang & Kodos Twirl 'n' Hurl attraction soon to open on the waterfront as part of The Simpsons expansion now has its alien head, and I couldn't help myself but publish a quick construction update with new full-screen images and a new video on our Springfield expansion page.
6/12 – We've uploaded several new videos on our YouTube Channel, including a full walkthrough of Moe's Tavern and The Simpsons Fast Food Blvd, creation of a Flaming Moe, the new Krusty the Clown character now appearing at Universal Studios Florida, and a Simpsons & Diagon Alley construction update. View our YouTube Channel to see it all, and then subscribe so you don't miss new videos!
6/12 – I gave this one away in the update above, but yes, Krusty the Clown is now making character meet-and-greet appearances at Universal Studios Florida. Unfortunately, like many of the characters at USF, like the Transformers, there is no published schedule. Learn more
6/11 – Universal has increased their self parking rates: General self-parking is now $16 (up $1) and Preferred is now $22 (up $2). You can learn more on our Parking & transportation page.
6/11 – Two promotion updates: First, the "buy two days get the third day free" deal Universal has been running for months finally ends next Monday, June 17, and promo tickets must be used in full by Sunday, June 30. Second, Universal just started offering Florida residents $10 off the full price of any annual pass with a participating Coke UPC code. Learn more about each promo
6/10 – A little more Transformers information: Transformers & Rockit exclusive ride times for Annual Passholders are scheduled June 9 through June 16, 8:00am to 9:00am. Also starting this week, Passholders can show their allegiance to the Autobots by purchasing an AP 2013 Transformers decal for $7.95. Find out more
6/10 – Heads up vacation planners: Universal's Cinematic Spectacular nighttime lagoon show will not run tonight, June 10 or Wednesday, June 26 because Universal Studios Florida closes at 6:00pm these days (presumably for private events). For more information about show closures, ride refurbs, and a complete look at everything happening right now at the resort, visit our Universal Snapshot page.
[youtube_video]uup7yLvn1Ds[/youtube_video]
New on the Orlando Informer Blog
Along with our encyclopedia of Universal Orlando vacation planning information, our weekly blog posts also provide you with an entertaining and informative way to learn more about everything there is to do in Orlando. Here are our new posts:
THE BIG 5: Top five reasons we loved Disney's Star Wars Weekends 2013
Transformers grand opening June 20: No event details yet, but rumors say Optimus & Bumblebee are on their way
OI Share: Take a Universal trip through time as one family recreates photo ops across a decade
Universal Dining Plan debuts July 1, 2013: first look at the pricing and details
SeaWorld to host 18-month celebration of its 50-year anniversary with 'Sea of Surprises'
OI Share: Understanding the Transformers legacy before you join the resistance at Universal Orlando
Social post: What's your favorite tip for saving money while planning your Orlando vacation or visiting the parks?
Fun Spot America celebrates grand re-opening; ride my new favorite Orlando coaster White Lightning!
Rumor round-up for June 14, 2013: Universal Dining Plan, The Simpsons, The Lorax, The Smurfs & Space Mountain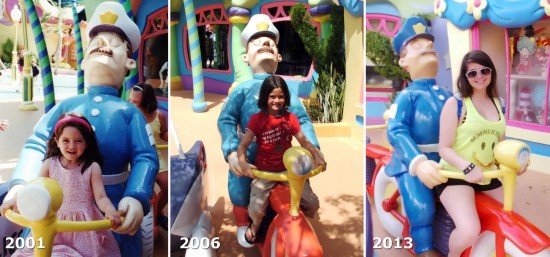 Useful links
Get our Weekly Dispatch sent directly to your email inbox
Receive daily notifications of new OI Blog posts
View all of our Universal Orlando updates
Start planning the prefect vacation using our FREE online guide