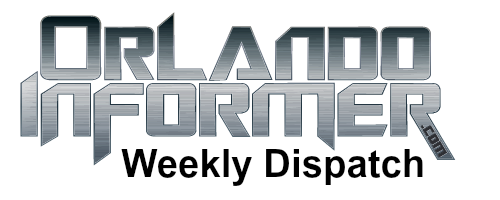 OI Universal Center updates
Greetings, vacation planners! Prepare to UPGRADE YOUR ADVENTURE to Universal Orlando with our Weekly Dispatch. This is a summary of all the latest Universal news and activity on our site. Please note that these updates are listed from newest to oldest:
REVIEW & WIN: Our giveaway is in its final week! We now invite you to write reviews of the dining experiences inside Universal's theme parks for your chance to win a $100 Universal gift card. Guest reviews help our site become an even stronger resource for everyone — and if your submission is selected as our Featured Review next week, you can win a $100 Universal gift card! Get all the details & get started
7/12 – Our construction update for The Simpsons Springfield expansion at Universal Studios Florida is now online. The update includes opening date info for Duff Gardens and Kang & Kodos Twirl 'n' Hurl, the latest news covering the project, 28 brand new full-screen photos, and two new HD videos. To see it all, visit our Simpsons Springfield expansion page.
7/12 – We've also posted a brand new construction update for Wizarding World of Harry Potter – Diagon Alley. Admittedly there isn't much news in this update. But we do have 20 brand new full-screen photos and a cool 'time lapse' photo series. If you've never visited our Diagon Alley page before, we strongly recommend that you read it from top to bottom. Visit Diagon Alley
7/11 – Earlier today we took our weekly tour of Universal Orlando, visiting Universal Studios Florida and Islands of Adventure. All 122 of our photos from the day have now been uploaded to our new Flickr page. (We recently started using Flickr so we have a place to share all our new photos that don't necessarily get uploaded here on the main site.)
7/10 – For vacation planners it is already Halloween Horror Nights season. In fact, with only one haunted house revealed, our HHN 2013 page has already been viewed over 67,000 times so far! This week we've taken a huge step forward in providing the largest unofficial guide to the award-winning event by publishing a complete overhaul of our main HHN 2013 page — we have also published our admission guide and our 13 best HHN tips, tricks & secrets. See it all
7/9 – Two of the most popular and helpful pages in the OI Universal Center have been updated! The first page, our Complete guide to Universal Express Passes, really is the definitive guide to one of the resort's best, yet often misunderstood, features. The second page, Secret to getting UNLIMITED Express Pass access, is one that all Universal vacation planners must read before finalizing their plans.
7/7 – Here's a quick checklist for you: Do the Universal Orlando touring plans you're using include advice for Early Park Admission with the actual rides open during EPA listed at the top? Do your touring plans include photo ops? Do your plans have suggestions for dining? Most importantly, are your plans free to view & print? If you answered "yes" to all of these, you must be using our expertly crafted touring plans!
New on the Orlando Informer Blog
Along with our encyclopedia of Universal Orlando vacation planning information, our weekly blog posts also provide you with an entertaining and informative way to learn more about everything there is to do in Orlando. Here are our new posts:
Reader poll: What's your favorite character at Universal Studios Florida?
The fall 2013 season is bursting with events at Walt Disney World: Food & Wine Festival, Mickey's Not-So-Scary Halloween Party, Princess Fairytale Hall debut
OI Share: Eating dairy & gluten free at Universal Orlando – one family's exquisite culinary adventure across the resort
Real guest reviews of Universal Orlando: Some of the best USF attraction reviews submitted by our fans
THE BIG 5: Top five Universal Orlando attraction queues for beating the heat
OI Share: Celebrating my 21st birthday at Universal Orlando was the best present I could have asked for
Rumor round-up for July 12, 2013: Universal gets Legendary, Disney World's Rapid Fill, more Star Wars Land news, HHN & Jurassic Park construction
Useful links
Get our Weekly Dispatch sent directly to your email inbox
Receive daily notifications of new OI Blog posts
View all of our Universal Orlando updates
Start planning the prefect vacation using our FREE online guide