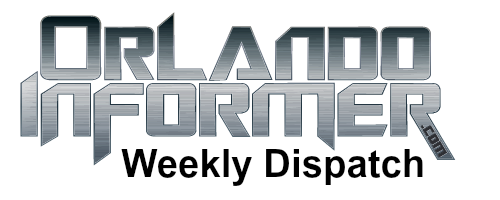 OI Universal Center updates
Greetings, vacation planners! Prepare to UPGRADE YOUR ADVENTURE to Universal Orlando with our Weekly Dispatch. This is a summary of all the latest Universal news and activity on our site. Please note that these updates are listed from newest to oldest:
8/4 – Park operating hours reminder: Throughout the summer Universal's theme parks have kept the same operating hours, making planning very easy (9:00am – 10:00pm for Universal Studios Florida, 8:00am – 9:00pm for Islands of Adventure). As of today that changes, with IOA returning to its regular opening time of 9:00am and the parks now varying their closing times depending on the day of the week, etc. Also, we should start to see the biggest of the summer crowds heading home to get ready for school. Visit our crowd calendar to learn more.
8/3 – The Simpsons waterfront — home to Lard Lad Donuts, Duff Gardens, and more — opened Friday, August 2. We'll need a few days to create new pages for the venues and experiences, so please bare with us. But don't think we don't have anything to show you! We're pleased to present 75 full resolution images of The Simpsons waterfront area on our new Flickr page. Once you've seen the images, learn more about the whole project on our Springfield page.
8/3 – Hollywood Rip Ride Rockit closed in the early afternoon on Thursday when a ride vehicle stopped unexpectedly, causing a "minor" injury to one rider. Many mechanics and other personal were working on the attraction during the closure, and as of this evening it has now resumed full operations. Visit our Rockit page to learn more, or review all of Universal's ride closures on our Snapshot page.
8/2 – Universal CityWalk's Latin Quarter, which featured entrees from Latin American nations and a Churrascaria Brazilian steakhouse, has closed as of August 1. Universal hasn't officially announced its replacement, but we have heard some rumors. Check out this rumor round-up blog post for details.
8/1 – It's the start of a new month, so July 2014 has been added to our Universal crowd calendar. Friendly reminders: In September USF will close early for daytime guests many evenings, as the park hosts Rock The Universe and Halloween Horror Nights. Also, if you're already looking ahead to next summer, take heed of our stern warning about the Diagon Alley grand opening included with the June & July 2014 calendars.
8/1 – I'm happy to say the 132 photos from yesterday's special trip to Walt Disney World have now been uploaded to our new Flickr page (July 31 photoset), including over a dozen of the Seven Dwarfs Mine Train construction in New Fantasyland.
7/30 – This is it! Our final Simpsons Springfield construction update has been published. View the latest news and 39 full-screen images of the waterfront area, rumored to open this Friday. Since this is our final construction update, we've also included a dozen "before and after" photos. We couldn't be more pleased with this results of this project — learn more and see it all.
7/30 – We haven't had any major announcements about HHN 2013 yet this week, but there is one item of note: the official HHN Twitter handle has changed from @UORHHN to @HorrorNightsORL. In addition, the HHN 2013 Creative Director Mike Aiello has taken over the account. Visit our HHN 2013 pages to learn more.
7/29 – New special events and concerts scheduled: On August 9, Velvet Unplugged at Hard Rock Hotel gets you up close and personal with featured artist Teddy Geiger. On August 10, celebrate Jamaican Independence Day with a special reggae festival at Bob Marley's: A Tribute to Freedom. On August 29, Velvet Sessions is back with special guest Modern English performing live. And don't forget, Central Florida's largest Christian music festival — Rock The Universe — hits Universal Studios Florida the weekend of September 6 & 7. All the details & links.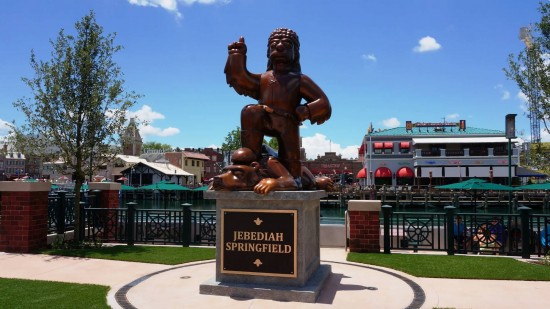 New on the Orlando Informer Blog
Along with our encyclopedia of Universal Orlando vacation planning information, our weekly blog posts also provide you with an entertaining and informative way to learn more about everything there is to do in Orlando. Here are our new posts:
Reader poll: Dragon Challenge's Chinese Fireball vs. Hungarian Horntail
SeaWorld & Busch Gardens introduce all-new $50 Weekday Ticket for single-day admission
The fall 2013 season is bursting with events at Walt Disney World: Food & Wine Festival, Mickey's Not-So-Scary Halloween Party, Princess Fairytale Hall debut
20th Century Fox announces new theme park in Asia, and what this means for Orlando
Real guest reviews of Universal Orlando: The water rides at Islands of Adventure
THE BIG 5: Top five "Hidden Mickeys" at Universal Orlando
Rumor round-up for August 3, 2013:  Soarin' gets randomized, Universal gets Silly & the Imagination pavilion and Jurassic Park get new construction possibilities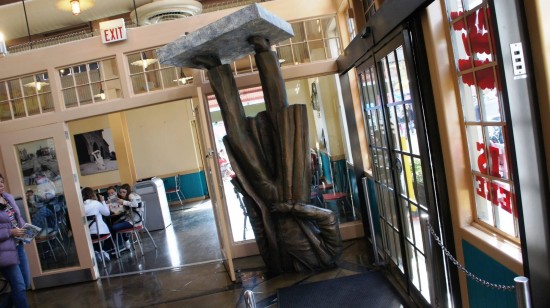 This week's featured guest review
Revenge of the Mummy
5 out of 5 stars | First Thrill Ride On First Visit
After a couple of days in Orlando to shake off the trans-Atlantic flight it was time for Universal Studios for this first timer! After walking around in awe at all the sights of the Universal Walk and entrance to the park, Shrek 4D was the first port of call, the the twister must of hit Twister… Ride It Out as it had technical difficulties before we went in so it was on to the first "big gun" in The Revenge of the Mummy!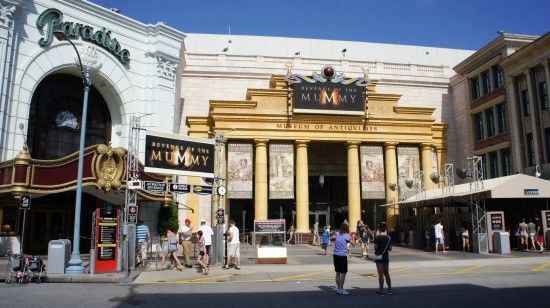 The limited-time free lockers while you are on the ride are very handy to use before you queue up. Not being a fan of the movies myself the queue and ride was surprisingly enjoyable for me with all the details gone from film props and the dark temple feel with the "grab the diamond" half way through. This made the 40 minute wait quite quick and then it was time for the ride itself!
The first thing that really hit me was the sure heat of the fireballs and then the mummys themselves warning you not to enter.
Without giving away the ride itself, you will be thrilled in more ways than one on this indoor coaster. Even on my second time of riding it I forgot about parts of it as it does so many things it will leave you always wanting more!
Overall, the ride delivers all the thrills you want from an attraction with the queue setting the tone.The gift shop at the end has all interesting twists on merchandise and again is spectacularly laid out.
The Mummy is a must on each visit and the experience will bring out that adventurer in you!
– Denis Teeling
We recently introduced a new site feature that allows our fans to share their experiences at Universal Orlando. We're very happy to say that we've already published over 400 real guest reviews covering the different attractions and restaurants at Universal Studios Florida and Islands of Adventure.
Read more reviews of Universal Orlando — or write your own!
Other useful links
Get our Weekly Dispatch sent directly to your email inbox
Receive daily notifications of new OI Blog posts
View all of our Universal Orlando updates
Start planning the prefect vacation using our FREE online guide