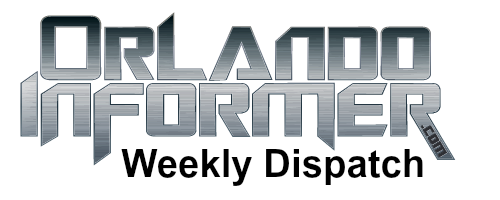 OI Universal Center updates
Greetings, vacation planners! Prepare to UPGRADE YOUR ADVENTURE to Universal Orlando with our Weekly Dispatch. This is a summary of all the latest Universal news and activity on our site. Please note that these updates are listed from newest to oldest:
12/13 – Calendar update: For guests visiting Universal during the first few days in January, we've got good news and bad news. The good news is that Universal has now extended the hours at Islands of Adventure, opening the park an hour earlier (at 8:00am instead of the usual 9:00am). The bad news is that this is the surest sign they're expecting huge crowds. If you're going to Universal primarily to see the Wizarding World of Harry Potter, please read this page about how to plan your trip. Otherwise, to view our crowd calendar, click here.
12/12 – Today Universal announced the largest expansion in CityWalk history, which includes the addition of eight new venues. For full details and analysis, see this blog post. In addition to the CityWalk announcement, there is more excitement, as we caught a first look at the Grimmauld Place portion of the Diagon Alley facade without its scaffolding. To see the view, plus the 92 other photos we shot while touring Universal today, check out our Flickr page (December 12 photoset).
12/11 – Thanks to OI contributor Maureen, we have this month's Universal Orlando trip reports live on our site. To see what's new and exciting at the parks, including full coverage of Universal's holiday activities, follow these links to the OI Blog: Universal Studios Florida or Islands of Adventure. A HUGE thanks to Maureen for her help with trip reports this year — including Universal and Disney World, she wrote 33 trip reports for us in 2013!
12/11 – It's not the sexiest subject, but it's one that will play a vital role in the success of your trip: Universal's rental & mandatory ride lockers. Whether it's because you plan on getting soaked on Ripsaw Falls, or you plan on bringing layers for the evening Mannheim Steamroller concert, we have everything you need to know in our Complete guide to Universal's lockers — including five new tips to make your experience even smoother!
12/10 – Chip Davis's Mannheim Steamroller Christmas albums are a holiday staple now, but did you know the music industry told him they would never sell? Meet the man behind the music at the Orange County Regional History Center on December 14, 11:00am to 1:00pm, and learn how he sold over 28 million Christmas albums to become the #1 bestselling Christmas artist in history. Free for members, $15 for non-members, registration recommended — call 407-836-7010. Or you can learn more about the Mannheim Steamroller concerts at Universal.
12/9 – The holidays are in full swing at Universal, including Grinchmas, the Macy's Holiday Parade, and Mannheim Steamroller. To plan your visit, check out our complete insider's guide. To get you in the mood, we have 180 photos from opening day on our Flickr page (Holidays 2013 photoset), and we also have a short video of the Grinch meet-and-greet and video highlights of the Macy's Holiday Parade on YouTube.
12/9 – Attraction closures this week: First, USF's Terminator 2 3D will be closed for a one-day refurbishment on December 9. Second, Cinematic Spectacular will not run at December 11 & 12 (when USF closes at 6:00pm — but Macy's Holiday Parade will still run). To see all scheduled ride closures, special events, construction projects, and a complete overview of everything happenings right now across the resort, visit our Universal Snapshot page.
[youtube_video]gfgRXUpFrX4[/youtube_video]
New on the Orlando Informer Blog
Along with our encyclopedia of Universal Orlando vacation planning information, our weekly blog posts also provide you with an entertaining and informative way to learn more about everything there is to do in Orlando. Here are our new posts:
Preparing your kids for their Universal Orlando adventure – a clever mom's guide
Epcot's Candlelight Processional: An enchanting holiday event that fills our spirit with classic Christmas cheer
THE BIG 5: Toast the end of CityWalk as we know it with our top five favorite drink deals
Universal Studios Florida trip report – December 2013 (construction updates, The Mummy, Macy's Holiday Parade & Mannheim Steamroller)
Islands of Adventure trip report – December 2013 (Grinchmas, Wholiday Spectacular, Seuss Trolley + CityWalk updates)
RRU Special Edition: Universal announces largest expansion in CityWalk history – we've got details and exclusive analysis
Other useful links
Get our Weekly Dispatch sent directly to your email inbox
Receive daily notifications of new OI Blog posts
View all of our Universal Orlando updates
Start planning the prefect vacation using our FREE online guide