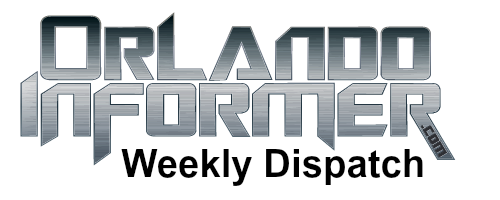 OI Universal Center updates
Greetings, vacation planners! Prepare to UPGRADE YOUR ADVENTURE to Universal Orlando with our Weekly Dispatch. This is a summary of all the latest Universal news and activity on our site. Please note that these updates are listed from newest to oldest:
What happened to the site last week? Fans visiting our site last week will have noticed that we weren't posting updates or new material between August 12 and August 20. The most important thing to know right now is that we're back to business as usual (and we welcomed a healthy newborn daughter to the Informer family!). For a complete explanation of everything that happened, see the 8/18 post below.
8/23 – Here's some good travel industry news for Orlando: "Cvent set out to find the most popular destinations for meeting planners in 2013. We evaluated over 5,700 cities, ranking them based on meeting and event booking activity as well as the number of meting venues in the area." Orlando was number one in 2012 and remains at number one for 2013 — see the full list. There's no doubt Universal Orlando is a big factor in attracting travelers to our town. In fact, the resort even had Penny Pritzker, the U.S. Secretary of Commerce, on-site recently.
8/23 – Universal has launched a new mini website for vacation planning. It barely scratches the surface of what we have in our encyclopedia of Universal Orlando vacation planning information, but a slick interface, colorful graphics, and the ability to share your plans make it worth checking out: planner.universalorlando.com. When you're ready to do real vacation planning, the OI Universal Center is ready and waiting!
8/22 – For those who like to work with visuals, I'm happy to say that Universal has updated their printable PDF map of Universal Studios Florida with Transformers and The Simpsons Fast Food Blvd. Unfortunately Transformers is still not listed on their Riders Guide for guests with disabilities. Visit our Universal Orlando maps page for more.
8/22 – This is a friendly reminder that vacation packages for Universal's 'A Celebration of Harry Potter' event go on sale at noon EST today. A package isn't required to experience *some* of the planned activities, but it is required to get into *all* the activities. To see the details and read our advice for Annual Passholders & locals, click here.
UPDATE: Vacation packages for 'A Celebration of Harry Potter' are sold out, but we do know a way you can try to win one of the packages. Visit our Celebration of Harry Potter page to learn more.
8/22 – Spreading the love on TripAdvisor: "Read the reviews on the Orlando Informer before you go and you will not be stuck in lines all day." Start planning your Universal vacation right now.
8/21 – Universal crowd calendar update: (1) August at Universal is proving to be busier than expected, driven by the mid-summer opening of Transformers, the late summer completion of The Simpsons Springfield USA expansion project, and the somewhat recent release of Despicable Me 2. As such, we've updated our August crowd predictions. (2) In September Universal has adjusted their operating hours for Universal Studios Florida on the 11th, 12th, and 18th. On those dates USF is now scheduled to close at 6pm. (3) We've bumped up anticipated crowd levels during the week leading into Thanksgiving from slow to moderate. (4) Universal has published the official dates for their 2013 holiday celebrations, and our December calendar has been updated accordingly. View our crowd calendar
8/21 – Thanks to OI contributor Maureen we have this month's Universal Orlando trip reports live on the site. To see what's new and exciting at the parks, follow these links to the OI Blog: Universal Studios Florida (first photos of the real Hogwarts Express??) or Islands of Adventure (construction updates). If you'd like to do more catching up, you can view all of our trip reports.
8/20 – Yesterday Rip Ride Rockit celebrated its 4-year anniversary, and I couldn't help but take the occasion to share one of my favorite photos. Rockit is also one of the best reviewed Universal attractions on our site. Read real guest reviews or share your own by clicking here. And remember, we return to our regular site updates tomorrow (new baby Isla and family are still doing great!).
8/18 – Most of our fans know that the daily updating and maintenance of our site is done by just one person, your humble host Dan Hatfield. That's why, when something big happens in my life, it can sometimes affect the site. Well, this week a lot of stuff has happened — it's been like my family's very own version of a theme park ride — so work on the site has had to wait.
First, starting on Monday, August 12, I was caught completely off guard by a terrible sinus infection. It turned out to be the worst illness I've had in two decades, taking me out of commission all week (I rarely get sick, and never for more than a day or two). The issue was compounded by the fact that my wife, Rosie, was due with our second daughter on Wednesday, August 14. As you might imagine, it was imperative that I return to health quickly so as to be ready for the birth of Isla.
On Saturday, August 17, I finally felt strong enough to return to some of my regular duties. But since I had been sick for a week, the first of those duties was to complete the last few tasks in preparation for Isla's arrival — setting up her bassinet, sorting clothes and diapers, etc.
That brings us to Sunday, August 18. The plan for Sunday was to spend about 12 hours bringing our site up-to-date after my week absence. But Isla had different plans. Contractions started in the early morning, and at 10:04am we met our newborn daughter Isla Bleu Hatfield (Isla is pronounced eye-la).
Having updated our site on a daily basis for well over two years — working at least an hour or two every day of the year — this past week has been surreal. I now ask for just a little more patience from our fans, as I won't likely have a chance to get back to work until Wednesday, August 21. I truly appreciate your support!
8/12 – Welcome home to Springfield USA at Universal Studios Florida. As of Sunday, August 11, the entire Simpsons expansion project is now open to guests, including the final addition: Kang & Kodos Twirl 'n' Hurl spinner ride. We've got hundreds of photos and new video to show you. Visit our Springfield USA page to get started!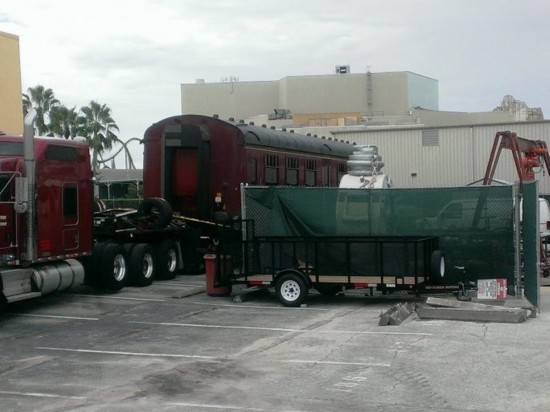 New on the Orlando Informer Blog
Along with our encyclopedia of Universal Orlando vacation planning information, our weekly blog posts also provide you with an entertaining and informative way to learn more about everything there is to do in Orlando. Here are our new posts:
Reader poll: Your favorite on-site hotel at Universal Orlando
OI Share: Take a Universal trip through time as one family recreates photo ops across a decade
Hooray for Hollywood: A fascinating exploration of the themes, facades & history of USF's Hollywood backlot
Real guest reviews of Universal Orlando: 10 more incredible reviews submitted by our fans
Flight of the hat… or, how Universal's Lost and Found returned a cherished item
Rumor round-up for August 22, 2013: Diagon Alley, HHN Reveal Week, D23 Expo park news, Disney's Polynesian Village & more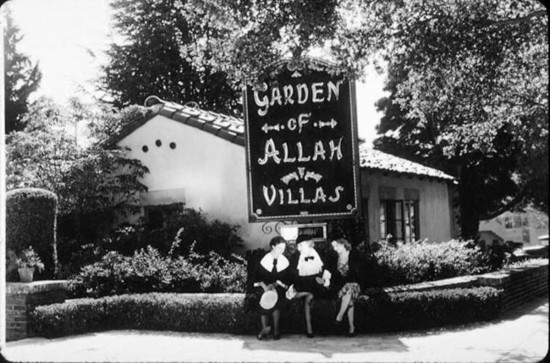 This week's featured guest review
Revenge of the Mummy
5 out of 5 stars | Are you INSANE? Get out of here! The curse is REAL!
Okay, I'll admit it.
I am a professional woman in my early 30's. I have been to Universal Studios every year since 2009. Even though I am a grown woman, with a job that requires me to be very professional and level-headed, I will throw an absolute HISSY fit if I cannot ride Revenge of the Mummy at least twice every time I go to Orlando with my husband.
Why? Because Revenge of the Mummy is probably the best roller coaster in Orlando. It combines the fun of a dark ride with the thrills of a modern roller-coaster. It uses the element of fire in a way that is unforgettable. As a roller-coaster, it accomplishes the impossible task of telling an actual story during the course of the ride.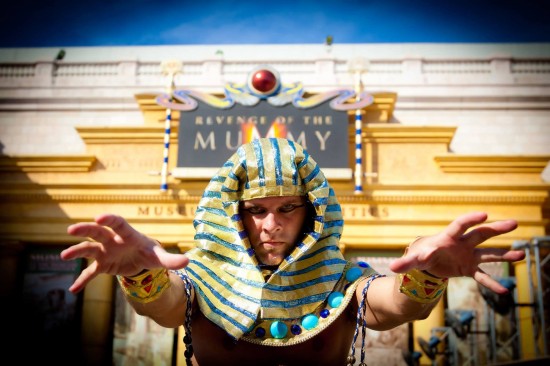 Best of all, it doesn't take itself too seriously. The use of Brendan Fraser and "Reggie," the missing crew member, is delightful. I also love the details found in the queue. Like most other attractions, Universal dresses Revenge of the Mummy with an artful eye, making sure there is not a prop out of place. While you are in line, there is no mistaking what you are waiting in line for. It's elements like this that set Universal a step above other theme parks.
Just don't forget to bring Brendan Fraser a cup of coffee. I'm sure he'll thank you for it.
– Ann
We recently introduced a new site feature that allows our fans to share their experiences at Universal Orlando. We're very happy to say that our fans have already submitted over 500 real guest reviews covering the different attractions and restaurants at Universal Studios Florida and Islands of Adventure!
Read more reviews of Universal Orlando — or write your own!
Other useful links
Get our Weekly Dispatch sent directly to your email inbox
Receive daily notifications of new OI Blog posts
View all of our Universal Orlando updates
Start planning the prefect vacation using our FREE online guide