OI Share: Experiencing Universal Orlando's theme parks has changed my life forever
Let me start by taking a little trip back in time.
For my 14th birthday, my parents took me and my brother to Orlando for a week. It was the best birthday present ever, and one that I will always treasure. During this vacation, we made a stop at Walt Disney World for three days: one day at Typhoon Lagoon, one day at Magic Kingdom, and the last day at Epcot.
I remember when I was a kid watching the Disney Channel and seeing all the cool things at the parks. I also remember how everyone said that Disney is the best and that no one can do the things they can do. When I went to the Magic Kingdom and Epcot those two days, I was expecting an amazing experience, something that would blow my mind and take me to another world. So when the parks closed on both days, I looked up at the icons, Cinderella's Castle and the Spaceship Earth Sphere, and thought, "These parks are nice, but they are not the best parks."
That title, in my opinion, belongs to Universal Studios Florida and Islands of Adventure.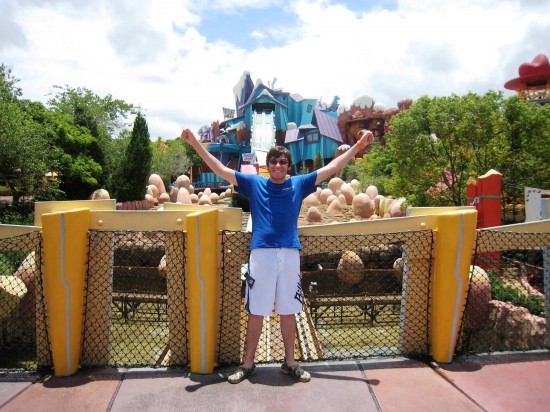 I was at both of the parks before my three days at Walt Disney World, and unlike Disney, Universal captured my imagination. Just walking along the Port of Entry, listening to the welcoming music, and seeing the majestic lighthouse gave me goosebumps that I haven't felt since the last Yankees game I went to. This Jersey boy truly felt as if he was in another world, and I sure was.
Islands of Adventure is a theme park with six themed lands acting as islands (seven if you count Port of Entry). When Universal Creative was conceiving this park, they understood that if they wanted to compete in a Disney superior market, they would need to create an immense theme park experience similar to Magic Kingdom. After not reaching an agreement with Warner Brothers to create what was originally supposed to be the second Universal Orlando theme park, Universal searched for properties far and wide. What they got is mostly what you see today in the park. There were originally six areas at Islands of Adventure when it opened on May 28, 1999. There is Port of Entry, an exotic version of Disney's main street U.S.A, which is the entrance to the park. Seuss Landing, a colorful area based on the popular children's author and the inspiration for the Wizarding World of Harry Potter. Lost Continent, an eye-catching area based on ancient Greek myths and legends. Jurassic Park, a jungle-like area based off the popular book series by Michael Crichton and the popular movies directed by the great Stephan Spielberg. Toon Lagoon, a water filled area based on the beloved cartoons by Jay Ward and other great cartoonists from the Sunday funnies. And Marvel Super Hero Island, an action-packed area that is based on the popular Marvel comic books. This theme park would be mostly unchanged for the next 11 years until June 18, 2010 when the Wizarding World of Harry Potter opened as the sixth island (seventh area) of this amazing theme park.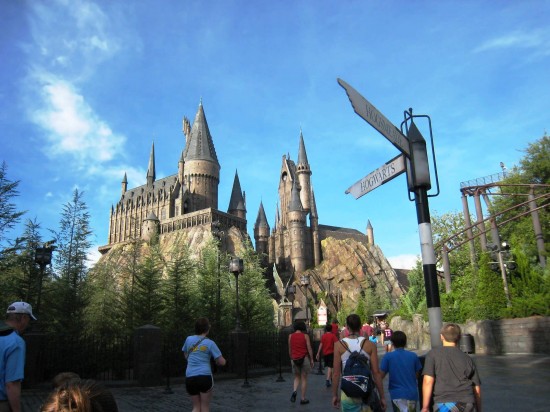 The very first time I entered Islands of Adventure on October 5, 2008, my life changed forever as I witnessed the most beautiful theme park in the world. From the roars of the Hulk to the laughter of children on the Caro-Seuss-sel, I could feel the atmosphere that each area offered. I felt like cartoons were real when I saw the façade for Dudley Do-Right's Ripsaw Falls. I remember the chills of almost being eaten by a T-Rex. I also remember looking at the Wizarding World of Harry Potter when it was dirt.
It was such an amazing day and left me memories that will last forever. That was something I didn't really get a lot at Disney. Yeah, I enjoyed Splash Mountain and Test Track, but nothing Disney offered gave me the excitement and intrigue as Universal did. I remember, after that trip, going home after school each day and catching up on all the construction photos of The Wizarding World and Hollywood Rip Ride Rock It. Watching both of these projects going up made me want to go back so badly. I tried to go in November of 2009, but we had other plans in Central Florida. However, we did go to CityWalk on this Orlando trip before we left back for home. I remember seeing Rockit glow at night when I went, and it was stunning!
As I watched Universal open Harry Potter from my computer, I was in amazement in what they did. The land was beautifully designed, and Hogwarts looked as iconic as Cinderella's Castle. I was desperate to go as the theme park fan in me was filled up with excitement, but there was no time. At least my parents said we would go one day.
That day came on June 18, 2012 when I landed in Orlando for the first time in three years, heading toward Loews Portofino Bay Hotel.
Finally, as we approached Universal's theme parks, I had goosebumps from head to toe, and my imagination went wild. It was a beautiful sight, simply beautiful. I finally entered the Wizarding World of Harry Potter, and was blown away by it all.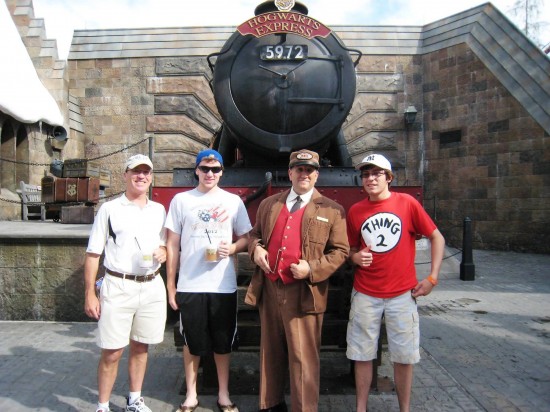 I will forever be amazed by Toon Lagoon, but Harry Potter was something special. I then took a spin on the newly upgraded Spider-Man ride, and then I did it again. It was so amazing — everyone should experience this at least once in their lives. I also lived the dream by going on my favorite roller coaster all by myself! I even got soaked on Dudley, Popeye, and on the Jurassic Park River Adventure back-to-back-to-back. It was a lot of fun, but it didn't stop there.
On this trip I also went to Universal Studios Florida, Universal's first theme park outside of Hollywood which opened on June 7, 1990. I got to go on Despicable Me Minion Mayhem during its soft opening, and it was a lot of fun. I really love the architecture in the first preshow room, when you get the glasses. The ride overall was great, and I love the idea of dancing after the ride. Then it was time to go on Hollywood Rip Ride Rockit, which blew my mind. It was a great roller coaster, even though the single rider's line was a pain in the butt. I also got the chance to see the area where the Wizarding World of Harry Potter expansion will be located. How many people can say they saw the Wizarding Worlds look as dirt? I closed my vacation with watching the Universal Cinematic Spectacular, and it was breathtaking. It truly was a show that showcased the very best of Universal.
It was an amazing trip I had last summer, and one that I will never forget. I still can't believe that at Universal transformed from something so little to something so grand! It was amazing what they had to offer this past year, and the future is looking really bright for Universal.
The Transformers ride alone will bring guests of all ages to Universal Studios Florida this summer, but there is more! The new Springfield area will transform a once dead area into a fun and energetic area where for the first time ever you can have a real Krusty burger. There is also the rumored Harry Potter expansion for sometime in the next two years, a new nighttime lagoon show inside Islands of Adventure that's rumored for this summer, and there is a rumor for a Jurassic Park expansion featuring new rides and attractions for all ages to tie into the release of Jurassic Park 4. Plus, there will be a brand new hotel opening in 2014 called Cabana Bay Beach Resort!
Right now the guys in Universal are red hot in creating brand new entertainment and making dreams come true to all of their guests, one of those guests being myself.
Here's to a future so bright, Doc Brown's gotta wear shades…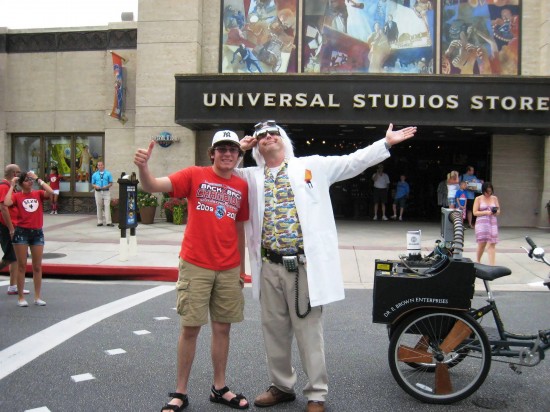 – Mack Clark
[sws_author_bio user="OI-Share-a-Story" size="105″ name_format="About this post"] [/sws_author_bio]