Universal Studios Florida formerly hosted Nickelodeon Studios when the theme park opened in 1990.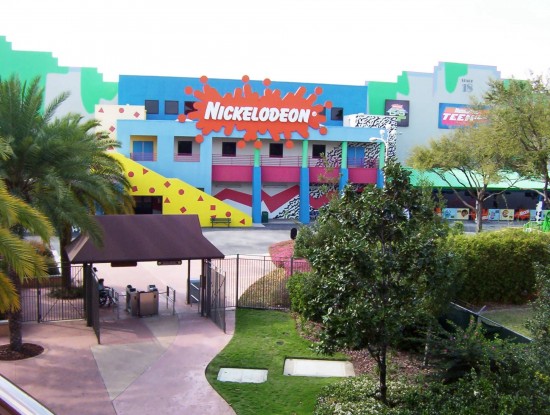 The studio was used for filming popular shows on the network such as Double Dare, Nickelodeon GAS, Guts, and Figure It Out. Other scripted shows were also filmed on the soundstages such as All That, Clarissa Explains It All, and the first two seasons of Kenan and Kel. Later the area was expanded where Slime Time Live was filmed on an almost daily basis.
For all that attended Nickelodeon Studios when it was opened, children and adults alike loved it. The tour of the studios was a favorite and the possibility of being slimed had all of the children excited and on their toes. I was lucky enough to be a contestant on Slime Time Live when I was eight years old, and it is a memory I will never forget.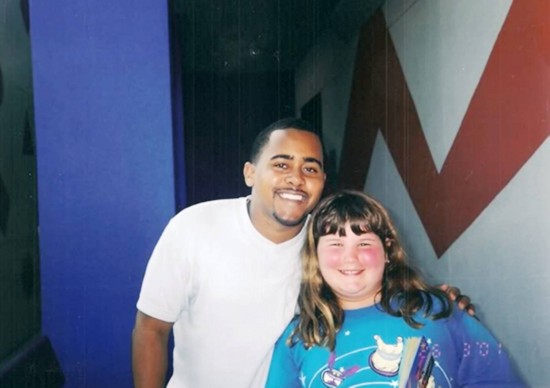 While I did not win the vote to be put in the chair to get slimed on national television, I was able to get slimed on the mini game show hosted inside the studio tour.
Nickelodeon Studios at Universal Orlando: A history
In November of 1988, Nickelodeon joined up with Universal Studios and they began to break ground for the building of the Nickelodeon Studios. The construction was completed in June of the following year and filming began on the infamous Stage 21 for their first program filmed in Orlando, Super Sloppy Double Dare. When Universal Studios Florida opened their doors officially in June of 1990, Nickelodeon Studios welcomed the public. In October of 1990, the famous Slime Geyser was unveiled and officially opened. Minimal changes were made between then and 1999 except for some exterior changes to the building and additional shows being taped at the Studios.
[youtube_video]vOrjxXIEjOA[/youtube_video]
By 1999, Universal was expanding to be more as a theme park than a film studio and no new shows were being taped in Orlando. New studios were being added in California and only a few shows were still being taped in Orlando. The studios had minimal finances at the time so many props had to be auctioned off and the studio tour went from a 45 minute long spectacle to a shorter version with less sets and interactivity. Slime Time Live was eventually cancelled in 2003 after a five year run and by 2004, only one show (U-Pick Live) was being filmed in Orlando. In the summer of 2004 they decided to add SPLAT!, which was the final show filmed at Nick Studios. In April of 2005, they did their last tour of the studios and Nickelodeon Studios officially closed. In September of 2006 it was announced that Blue Man Group would take over the former Nick Studios, and exactly 17 years after the Studios grand opening Blue Man Group held their first show.
Today, the Nickelodeon Suites Resort contains some of the last remnants of Nickelodeon in the Universal/Orlando area. The hotel hosts a Double Dare Live! show incorporating audience members described as, "Studio Nick's modernized LIVE Double Dare combines the exhilaration of the Original Double Dare television show with our new twists and turns, provided by state-of-the-art technology, plus updated content incorporating pop culture like only the Nick Hotel can."
The hotel also offers rooms decorated with Nickelodeon themes in the Suites. Character breakfasts are offered featuring SpongeBob SquarePants, Dora the Explorer, and other well-known Nickelodeon characters. A favorite at the Nickelodeon Suites Resort is the daily "Orlando Mass Sliming" in which 400 gallons of slime are dumped from their lagoon slide tower directly onto their guests.
Why I'd love to see Nickelodeon Studios come back
Nickelodeon was such a huge network in the early 1990's and 2000's, and it still is a large enterprise today. While many of the original shows are no longer filmed and the network has moved in a very different direction than their original programming, they're still a leader in the children's television industry. The memories of the original Nickelodeon mixed with the contemporary Nickelodeon of today would set up a scenario that would be perfect for Universal. Taking a step into one of the best television channel's background and learning about the television shows — and being part of them — is what Universal Studios Florida is all about! Bringing back Nickelodeon Studios would bring this happiness to a whole new generation of children.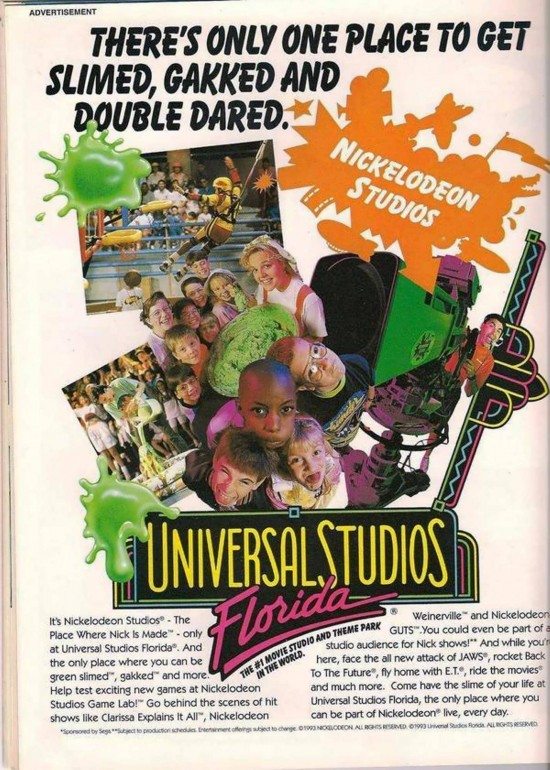 There are many movements to bring back Nick Studios including several Facebook pages and petitions. Rumors have circulated over the years of plans to bring the Studios back but nothing has been confirmed — and with the way things look (with Blue Men having taken over the Studios and a lack of interest in the original Nickelodeon), it is doubtful that an entire film studio will reopen. Possibilities for bringing back a retro Nickelodeon themed area or ride is a popular topic of conversation, but nothing has been confirmed by Nickelodeon or Universal Orlando.
Here is one more video. It shows the entrance to Nick Studios while it was open and after it was replaced:
[youtube_video]KOzMPq4pwIs[/youtube_video]
If you have memories you'd like to share, please leave a comment below! Or, read more blog posts about Universal Orlando's history.
[sws_author_bio user="AllyPfeiffer" size="105″ authorposts="More OI posts by Ally" name_format="About the author"] [/sws_author_bio]