Just thinking about the sheer volume of dining selections in Central Florida, including Orlando's food trucks, is enough to give you hunger pangs. I am fortunate enough to live in a neighborhood that hosts a monthly food truck gathering. Every second Friday of the month, Lake Concord Park in Casselberry hosts live music, local artists, and about a dozen food trucks. The evening is always lovely. Everyone gathers in the park with blankets and chairs. Some bring a bottle of wine — which is how we roll — while others make it a family night out.
Although I don't consider myself a foodie, these monthly visits and other food truck experiences have led to me to gaining some favorites. Without further ado, here are my picks for Orlando's best food trucks (in no particular order):
Melissa's Chicken & Waffles
La Empanada Food Truck
C&S Brisket Bus
The Pastrami Project
Ice Cream Social Club
The Yum Yum Cupcake Truck
5 Gastronomy
Fork in the Road
Local Yolk'l
Melissa's Chicken & Waffles
Let's be honest, the origin of food trucks came from late night cravings after a night of fun. That's exactly how fried chicken and waffles became a 'thing', the late night crowd often has a hard time deciding between breakfast and dinner.
The waffles at Melissa's Chicken and Waffles are always perfectly cooked. A beautiful golden brown, slightly crisp exterior gives way to a sweet fluffy cloud. Buttermilk fried chicken breast is diced in large chunks, perfectly tender with a slight black pepper kick.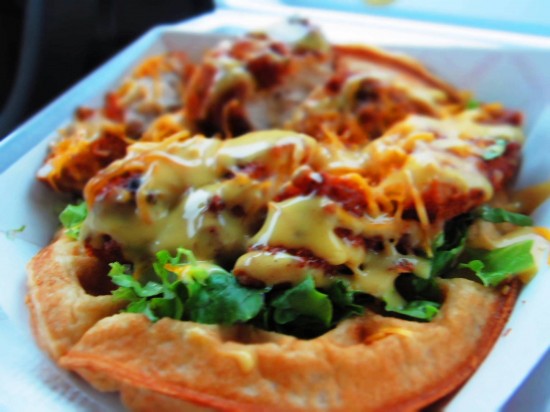 There are a variety of topping options from good ol' simple chicken and gravy or syrup to my husband's favorite: the buffalo chicken waffle. The chunks of chicken are rather large so it can be difficult to fold the waffle and its mountain of toppings. I recommend eating a few chunks of chicken first to make room then cut the remaining pieces in half, it makes it much easier to fold and eat sandwich style,… just have plenty of napkins ready.
Melissa's Chicken & Waffles on Facebook
La Empanada Food Truck
The high quality, gourmet empanadas that can only be found at the La Empanada food truck are gourmet and then some. Each time I find La Empanada, new flavors are offered.
I've tried the pesto chicken, picadillo beef, and French onion. All three were packed full of savory flavors and high quality ingredients. I love how quickly the food is ready and the overall value.
La Empanada Food Truck website
C&S Brisket Bus
This food truck is a meat lover's mecca.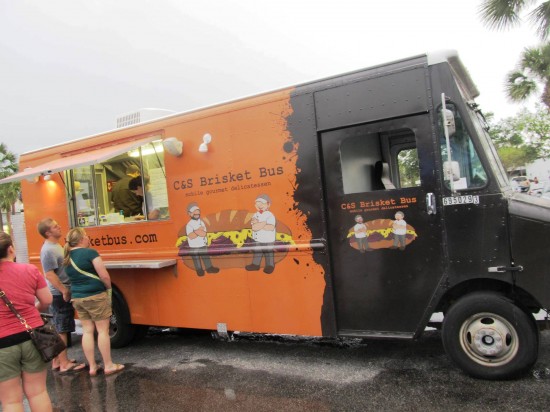 Slow cooked, smoked meat and brisket are the specialties. This is a man's man food truck, but as a girly girl I am somehow drawn to it. The tender meat in itself is crave worthy, but the C&S Brisket Bus takes it one step further by creating artisan sandwiches, including specials with unexpected yet perfectly chosen toppings.
The Pastrami Project
One of the many complaints I hear from New York City transplants is the lack of true blue NYC style delis in the Orlando area. Though I am not a New Yorker, I would imagine that The Pastrami Project is pretty darn close to bringing the NYC deli to Orlando in full force.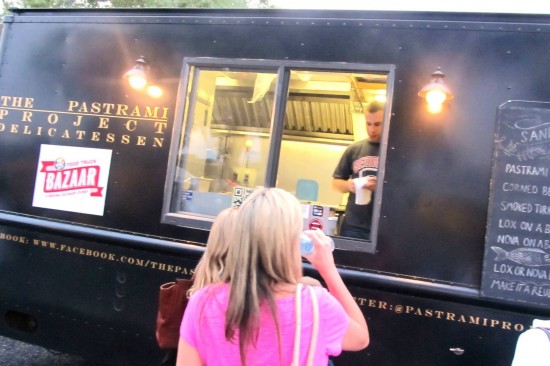 The menu is simple, nothing but deli staples like (you guessed it) pastrami, corned beef, and even lox on a bagel. Even the beverages like the egg cream will get you in a New York state of mind. When in doubt, this is one of my husband's go-to trucks.
Ice Cream Social Club

Now that's we've talked savory meats and such, let's take a moment to talk about the sweet stuff.
I've only had the pleasure of stopping at Ice Cream Social Club once. But, a month later, I still cannot stop craving the special flavor they offered that night: sweet cream praline which I topped off with sea salt roasted pecans. Their handcrafted, delicious rich ice cream flavors are unforgettable.
Ice Cream Social Club on Facebook
The Yum Yum Cupcake Truck
Ask any food truck follower which truck gets the most buzz and they will almost certainly answer "The Yum Yum Truck". Proving that a lot can come from a name, The Yum Yum Cupcake Truck is very popular. Although I do not dispute the goodness of their yum yummy cupcakes, I do not find their cupcakes to be as crave worthy as other foods and sweets. They certainly are very creative, especially with the names of their cupcake creations.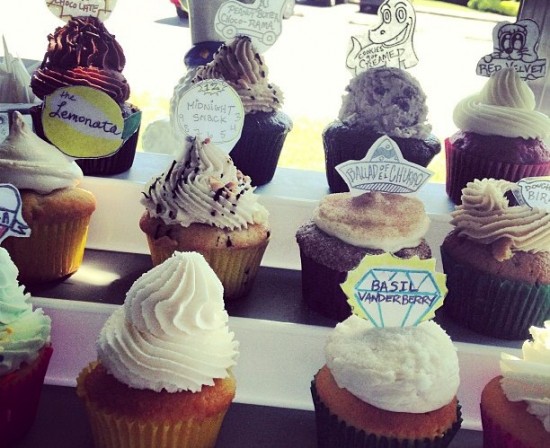 My favorite flavor is the "cookies got creamed" a dense, moist chocolate cake, frosted with cookies and cream frosting sits on top of an entire Oreo cookie. Yum yum, indeed.
The Yum Yum Cupcake Truck website
5 Gastronomy
This truck has gained semi-celebratory status over the years.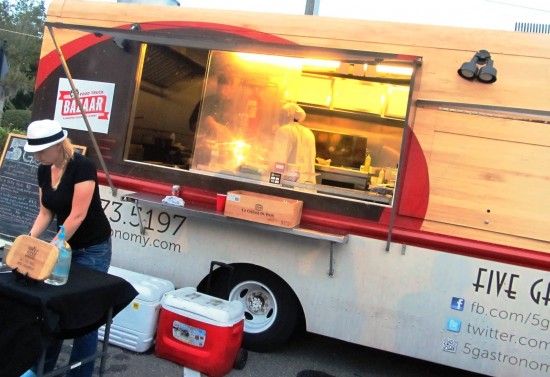 It has won multiple awards and is often chosen to cater for a multitude of events. I have only visited once, but the pork belly bbq sandwich I ordered had me grunting with pleasure like a cavewoman. The homemade sauce was tangy and sweet with a complex layer of flavors.
5 Gastronomy website
Fork In The Road
Anytime I see this truck at a gathering it is difficult for me to resist. Their menu is one of the most creative I have ever seen. Often times there is at least one or two items I have never seen offered by a food truck, like grilled grouper cheek or shark tacos.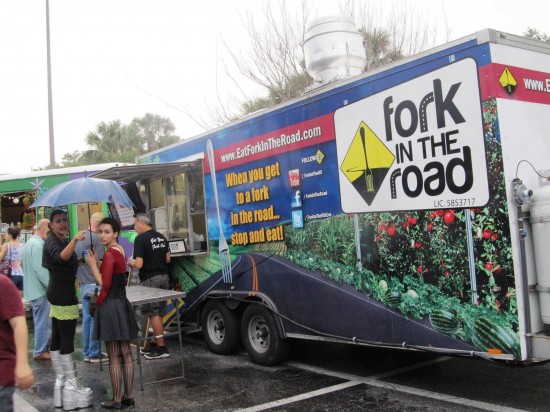 During my first visit, I giddily ordered the duck confit tostada. Just as I hoped it would, the duck melted in my mouth and provided a smoky, soft contrast to the bright flavors of the tostada. I absolutely loved every bite.
Local Yolk'l
Simply because of their name, I just had to try this truck. Specializing in "brinner"(breakfast for dinner), this truck makes the most important meal of the day the best meal of the day. This truck can often be found at local farmer's markets too. I found it very difficult to resist the red velvet pancakes. But I decided that since my order would be shared with my husband, it would be best to pander to his comfort food: chorizo con huevos. Thus, the "Dabber" burrito, with eggs, cheese, chorizo, and soft potatoes, made it into our hands.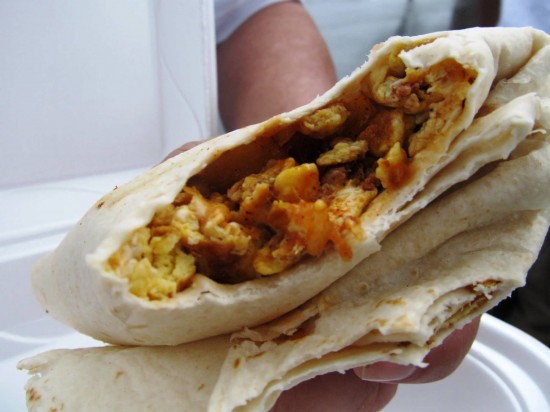 It reminded my husband of the traditional breakfast his mother used to make, and he has already asked about tracking this truck down for a repeat visit.
I hope by now I have whetted your appetite for Orlando's Food Trucks. The best way to learn where to find the food trucks you want to try is to follow them on Twitter (see each of the links provided above to connect with the trucks). There are a few food truck gatherings near the attractions area, such as in Celebration, Windermere, and near the Mall of Millennia. Check back soon for a follow up post about my experience at some of Orlando's best food truck events!
Need your fix right away? The next Food Truck Bazaar event is Sunday, May 19, 6-9pm, at Fashion Square Mall in front of Sears — 3201 E Colonial Drive, Orlando. Find out more
[sws_author_bio user="danidennison" size="105″ authorposts="More OI posts by Dani" name_format="About the author"] [/sws_author_bio]