Thanks to our Facebook fan Angelo, it has been brought to our attention that Universal is hiring for a "New Themed Restaurant" at their resort: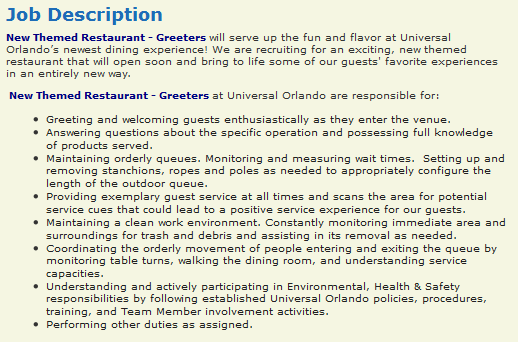 View the full job description and apply
Since there are no other restaurants currently being built at Universal that will open soon, we are left to assume that this is a job for Moe's Tavern, Krusty Burger, or one of the other venues to open with The Simpsons expansion this fall.
While this news is certainly interesting for anyone who has wanted to live out the fantasy of working in The Simpsons universe, there's another reason why this is exciting: On February 21 Universal posted a job for Transformers Stilt Walkers. That job was filled and those stilt walkers were working by March 10, less than a month later. Therefore, the idea that Universal is already hiring for The Simpsons expansion is a clear indication that the new area will be opening soon — or, at least, part of the area will be opening soon.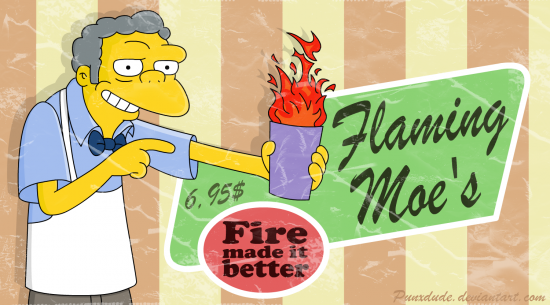 I'm not sure I'd expect anything before, let's say, June. But it wouldn't surprise me at all if the The Simspons restaurants opened before the rest of the expansion. After all, with the closing of International Food & Film Festival, once you go past Richter's Burgers in the San Francisco backlot you have to walk all the way through World Expo and back around to Mel's Drive-In in the Hollywood backlot to find another quick-service venue. That's lost revenue for Universal, as guests making the trek settle for a $4 snack when they could be buying a $12 entree. Also, the lack of dining options in World Expo puts more pressure on Louie's Italian Pizza and Mel's Drive-In, which already suffer from long lines as they are two of the park's three Meal Deal locations.
And let's not forget that, technically speak, the first part of The Simpsons expansion has already opened: Sledge Homer. This is another indication that Universal is moving fast with this project.
Sledge Homer at #NewSimpsonsland @universalorl officially debuting later this morning twitter.com/OrlandoInforme… — Orlando Informer (@OrlandoInformer) March 27, 2013
Food for thought! Or should I say, Duff for thought!
Learn so much more:
Dining options at Universal Studios Florida
Universal's Meal Deal – complete guide