Not everyone enjoys being scared out of their minds at Halloween Horror Nights. For those particular people, and especially families with younger children, Mickey's Not-So-Scary Halloween Party (MNSSHP for short) is certainly a better choice. On select nights now through November 1, you can experience one of Disney's most beloved events.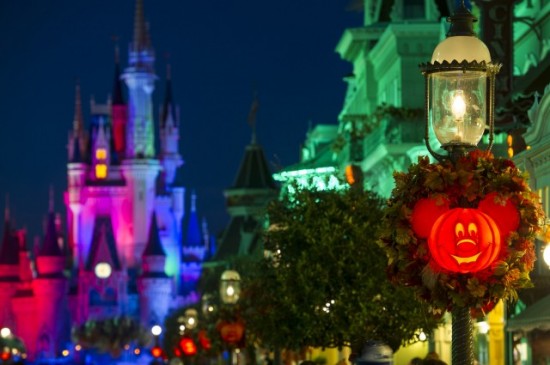 Though Disney tickets are on the higher end of the price range, you don't need one to get into Magic Kingdom on the day of Mickey's Not-So-Scary Halloween Party. For just about $50 per event ticket, you are able to get into the park around 4:00pm, three whole hours before the party starts. About half an hour before it begins, the Ghost Host announces that the festivities are nearly ready to commence, and cast members make sure that everyone remaining inside Magic Kingdom has a wristband for the party while daytime guests are ushered out.
Those looking for a long day at Disney and who do not possess a MNSSHP ticket will certainly be disappointed when they are asked to leave as early as 7:00pm. But those who come for the party get a sweet deal out of their ticket: access to the park hours before the event begins, which means they get to ride the rides that won't be running later, and of course MNSSHP guests get to stay when everyone else has to leave. This event makes enjoying Magic Kingdom much less expensive, and a lot of fun for those who love Halloween.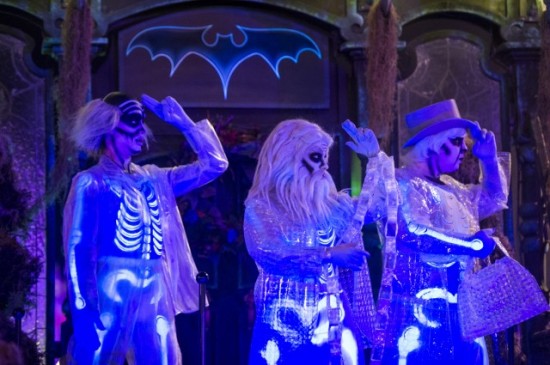 Those with wristbands receive trick-or-treating bags as they enter the front gates (if they haven't brought one of their own). Kids and adults alike can enjoy Magic Kingdom's multiple trick-or-treat stations, where they can fill up on candy to last them the rest of the night. This year, there are two trick-or-treat trails, with a cast member to give you candy at every bend, and nine candy stops. If you can't get enough of your candy, the cast members have been known to be very understanding about those going through the lines multiple times.
But what's trick-or-treat without costumes? Unlike daytime operations at Disney's theme parks, costumes are allowed and encouraged at Mickey's Not-So-Scary Halloween Party! Those in Disney-themed outfits are very well received — we saw a whole family wearing 'Incredibles' outfits leaving with large handfuls of candy from every candy stop they visited. And if you're looking to get recognized, dress like your favorite character and then visit him or her — Jack Sparrow blew my pirate friend a kiss, and she was the envy of every Princess in our vicinity.
If you forget your costume, there is always MNSSHP merchandise that can be bought and worn throughout the night. Every year means a different design for shirts and hats, and many Disney fanatics like to collect these every year they attend.
In addition to the candy stops, there are many other exciting activities that go on at Mickey's Not-S0-Scary Halloween Party. The most notable of these, in my opinion, is the Boo to You parade. Disney sure knows how to put on a parade, and this is their best. To get a good seat, I recommend staking out your spot about an hour before the parade begins. There will always be two different showings, usually one at 8:15pm and another at 10:30pm, so it's easy to figure out when to get off Thunder Mountain and head over to your preferred seat.
The Headless Horseman kicks off the parade, riding through the streets to let the crowd know it's about to begin. The whole parade is stunning, but the gravediggers with their shovels are one of the stand-out acts, as are the cowboys and undead dancers. Don't leave early! Cast members run along both sides near the end of the parade and hand out candy you can't get anywhere else in the park.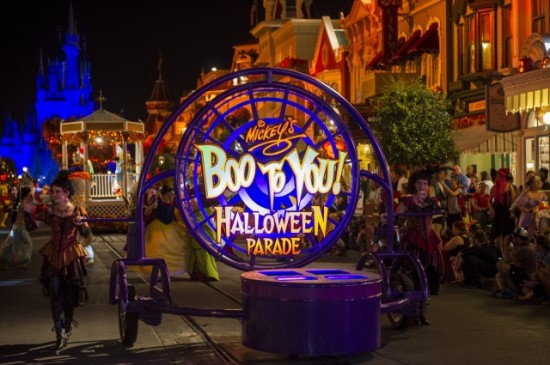 Up next is the loveable Stitch, who hosts a dance party near Space Mountain, complete with a DJ playing all his favorite music. He, along with Goofy and Pluto, come out periodically and dance with everyone in attendance. There is also an opportunity to have a photo op with both Mickey and Minnie, who always dress up in costumes for this special occasion.
Capping off the evening, the Happy Hallowishes Fireworks display is also a must see. There are a few different places where you can view it best, including Frontierland, near Space Mountain, on the bridge next to Cinderella's castle, and the best of all, anywhere down Main Street. (Try to stay away from the Monster's Inc. Laugh Floor during the fireworks, for Mike Wazowski's commentary will be incredibly distracting.)
The Ghost Host and Jack Skellington narrate the display, which not only consists of beautiful fireworks, but many different Disney-related images in striking colors moving against Cinderella's castle. As this is one of the more popular events during MNSSHP; I would recommend getting to your chosen spot thirty to forty minutes before the display, and an hour beforehand if you would like to watch from Main Street.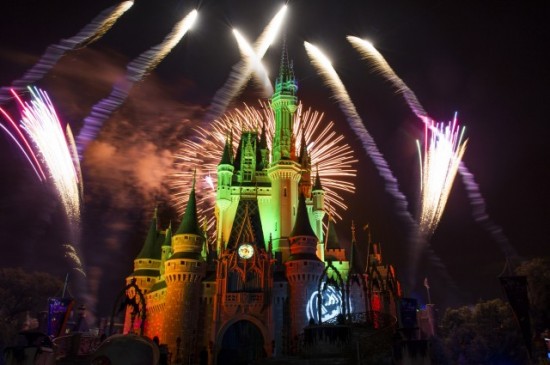 For those who prefer the more family-oriented parts of Halloween, as opposed to the gore that seems to be growing each year, Mickey's Not-So-Scary Halloween is for you. The parade is one of the best I've seen, the fireworks capture all the magic Disney is known for, and if you can get to Magic Kingdom by 4:00pm, the whole event can be an incredible value.
One more tip: If you are looking for a family-friendly Halloween event near Universal but don't want to trek all the way down to Disney, remember that SeaWorld's Halloween Spooktacular happens weekends in October and is included with regular admission (we'll have a full review coming soon).
[sws_author_bio user="alongworth" size="105″ authorposts="More OI posts by Alexandra" name_format="About the author"] [/sws_author_bio]