This past weekend was a fun one for my family. Even with a forecast of rain and my son wanting to stay home, my husband and I decided the whole family would go to the Magic Kingdom. On the drive down, we encountered spotty showers but no heavy rainfall. As we arrived at Magic Kingdom and boarded the Monorail, my son began to smile. By the time we got to the park's entry gates, my son was happy and anxiously pulling us toward the entrance.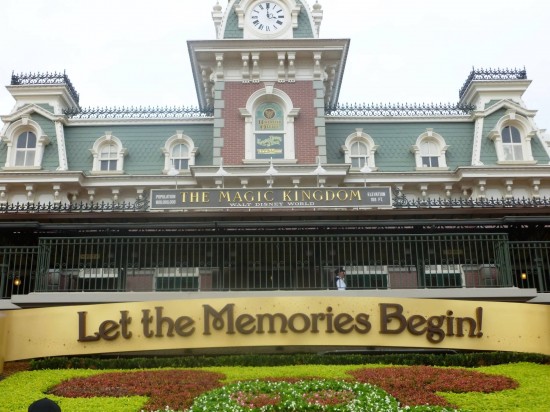 [wptouch target="non-mobile"]Remember, you can click any image to view it full-screen. And don't miss the complete photo gallery with over 50 images at the bottom of the post!
[/wptouch]
After entering the park, we reviewed the park map and show schedule and realized one of our favorite shows, the Move It Shake It Celebrate It street party, would start soon. As we walked down Main Street U.S.A., we noticed some refurbishment with the shop fronts and also the Main Street Bakery was closed. Disney is adding a Starbucks to this location. We headed to our favorite spot directly in front of and facing Cinderella's castle to view the Move It Shake It Celebrate It show. The castle serves as a great backdrop for our photos during the performance featuring Disney characters and dancers.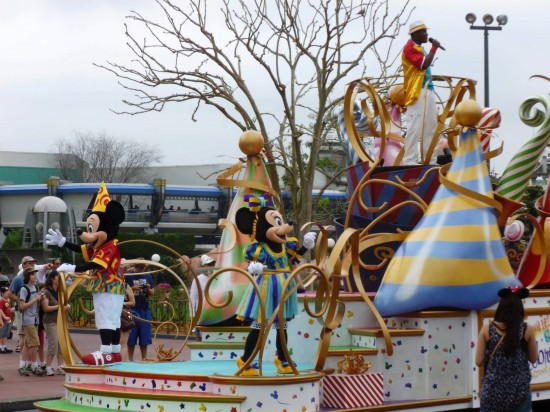 This street party is great fun for the entire family. There is upbeat music and dancing with many popular characters including Mickey, Minnie, Donald, Goofy and Chip & Dale. During the street party, park guests are encouraged to join the characters and dance in the street. It was an enjoyable experience for us and helped this visit to the Magic Kingdom get off to a great start.
As we walked into Adventureland, we noticed some additional building refurbishment next to Tinker Belle's Meet the Fairies location and the Aloha Isle refreshment stand.  We were also surprised that only two people were in line at the Aloha Isle, which is very unusual! We quickly got in line to purchase our Dole Whip floats: soft serve ice cream with pineapple juice.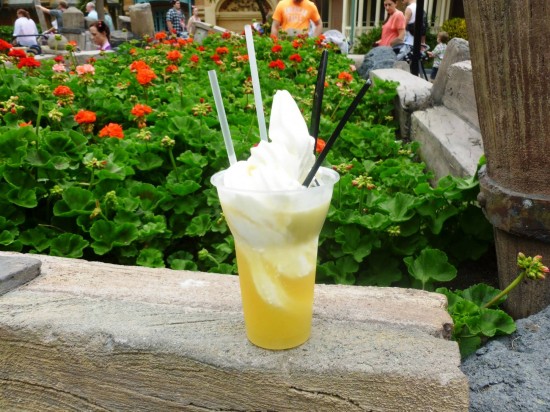 They were refreshingly delicious and something I highly recommend the next time you are at Magic Kingdom, even if you have to wait in line.
As we headed to Frontierland, we were somewhat disappointed that Splash Mountain was closed for refurbishment.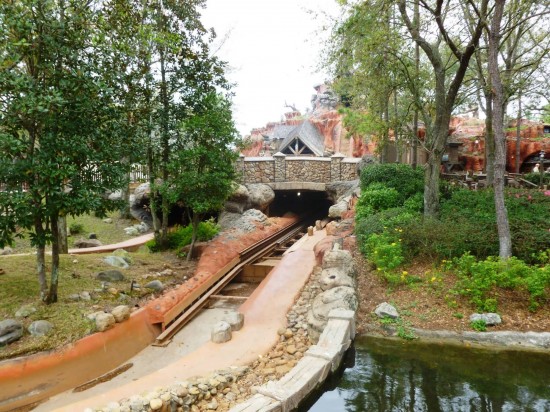 To make up for this disappointment, my husband and son rode Big Thunder Mountain Railroad several times and really enjoyed the "Wildest Ride In the Wilderness".
Afterwards, they went back to Adventureland and rode Pirates of the Caribbean while I picked up lunch from Pecos Bills. My husband noted he did not see any of the new mermaids that were recently added to the Pirates ride.
After lunch, my son did not want to ride Haunted Mansion in Liberty Square so we walked to Fantasyland. This area was the most crowded at Magic Kingdom that day. We walked by the new Rapunzel themed restrooms still under construction.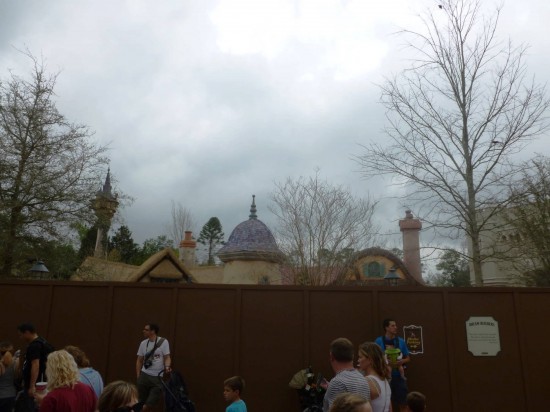 However, it is fun to have Rapunzel's tower visible from Liberty Square and Fantasyland.
In New Fantasyland, the Seven Dwarfs Mine Train construction has progressed significantly since our last trip. We were taken aback how prominent the Mine Train ride stood above the Fantasyland entry gates.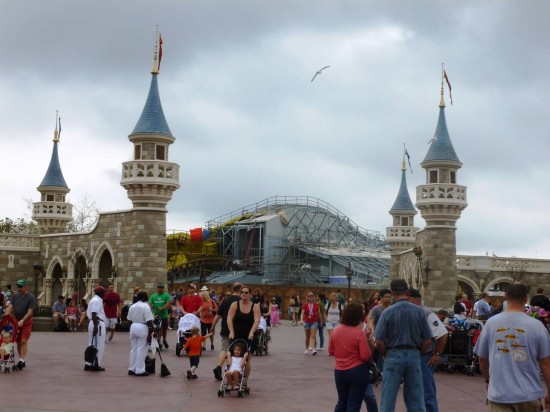 This new attraction will significantly impact the landscape and view of New Fantasyland. My husband and I were impressed with how visible the train track was. Unique artwork scenes with various dwarfs were featured on the construction walls. One excellent feature was the "sneak peek" openings where you could look through the construction walls and see the actual construction taking place. This was really a fun feature, one that I wish Universal Orlando would incorporate in their construction walls.
Peak through the construction walls at 7 dwarfs mine train #WDW #autism twitter.com/AutismAtThePar…

— Autism At The Parks (@AutismAtThePark) February 24, 2013
Also in New Fantasyland, we were able to ride Journey Under the Sea with The Little Mermaid. This clam-shell ride is entertaining for fans of the Little Mermaid movie. The line to the Be Our Guest Restaurant was very long and we were glad we had seen it last fall during soft openings. The Enchanted Tales with Belle attraction had a posted wait time of 50 minutes. In the Storybook Circus section of New Fantasyland, both Dumbo rides were running, even though it was sprinkling rain.
As we reached Tomorrowland, my son wanted to ride Space Mountain. While he and my husband rode several times, I enjoyed my favorite relaxing ride, the People Mover. This attraction is great if you need to take a rest from walking while your family enjoys the thrills of Space Mountain.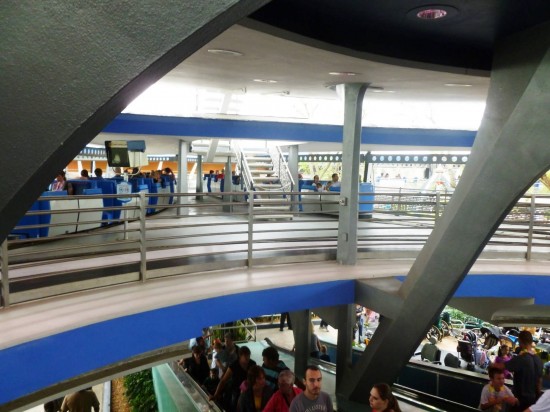 Afterwards, all three of us rode Buzz Lightyear's Space Ranger spin. This is always a fun ride for my family and I was pleased to know that my score was higher than my husband's since he always scores higher than me on MEN IN BLACK Alien Attack at Universal Studios.
Throughout the day we noticed several groups of guests dressed in vintage clothing. We asked one group and found out it was Dapper Day at Walt Disney World and Disneyland. For the celebration guests dress up like the park guests did the first years that Disneyland was open during the 1950's. Heading toward the front of the park, we walked down Main Street and noticed the Dapper Dans quartet were about to perform and a large gathering of Dapper Day participants were present to hear them.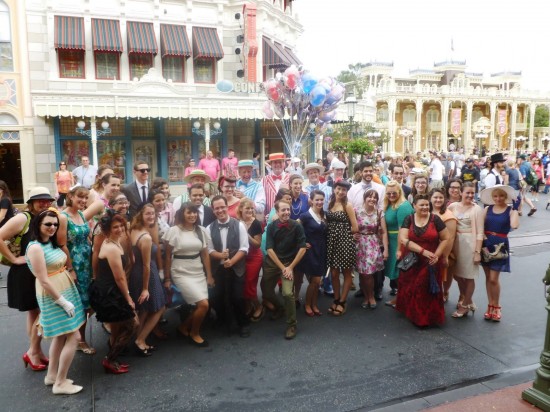 The Dapper Dans were very entertaining, and we really enjoyed their performance. The Magic Kingdom Times Guide outlines the Main Street scheduled performances of the Dapper Dans. In fact, this week, the Dapper Dans will be performing Boy Band songs, as part of Disney's Limited Time Magic celebration.
The temperature was comfortable, although it did rain off and on throughout the day. As most theme park enthusiasts know, a little rain doesn't slow you down. Be prepared with your ponchos or umbrellas and enjoy the park.  The crowds and wait times for most of the rides were moderate. However, the crowds were heavier in Fantasyland with wait times close to an hour for most of the popular attractions.
As we reluctantly headed for the park exit, we reflected on how glad we were that we spent the day at Magic Kingdom and were able to take home some great pictures and memories of our adventure.
I hope you enjoyed this trip report. If you'd like to catch up on all our trip reports, click here.
Magic Kingdom trip report – photo gallery
Click any image to view it full-screen. When the full-screen image is open, click to the right or use the right arrow on your keyboard to advance through the gallery.
[sws_author_bio user="MaureenDeal" size="105″ authorposts="More OI posts by Maureen" name_format="About the author"] [/sws_author_bio]