The Florida Strawberry Festival draws a crowd of thousands and seems to get bigger every year. It's good ol' Southern fun, filled with hundreds of rides, amusements, live concerts, the most extreme fair food you can find — and of course the world famous Plant City strawberries served in a variety of mouthwatering ways.
Although the festival has wrapped up for 2013, it has occurred every year at the beginning of March since 1930 so it's never too early to plan for next year!
Getting there is half the fun(?)
Driving down I-4, a gorgeous Florida Sunday stretched out in front of me. The open highway welcomed my beloved car, "Blue Jean Baby", and I felt a sense of excitement. Time to get back to my Florida roots! Along the way I stopped and picked up a friend in Davenport. Memories of family trips to Winter Haven, Plant City, Tampa, and Clearwater came flooding back. Suddenly, I was in the middle row of the family mini-van with my headphones on and my CD player going.
As we entered Polk County and traveled further and further away from Orlando's theme parks, the landscape changed to more rural terrain. More semi-trucks, RVs, and pick-up trucks claimed more space on the highway. About 45 minutes away from Disney property, we came upon Exit 19. All roads led to the Strawberry Festival it seemed. For miles traffic was backed up – although it moved along at a decent pace. We began to see parking lots and people walked along the streets a good mile or two from the festival. We took our chances. With a little patience, perseverance, and sweet talking a parking attendant or two we found a spot in one of the lots smack dab across the street of the massive festival.
All hail the strawberry
Let this be a note to you, as well as to me: don't go to the Strawberry Festival on the last day. So many people! Although it was not chaotic, there was less of a sense of organization and more of a sense of simply following the masses.
We grabbed our tickets at the front gate, $10 did the trick (credit cards are accepted). Each day the Strawberry Festival has a different theme or special. Our visit took place on "Mountain Dew Family Day". Bringing in a can of the supercharged caffeinated soda gave patrons $5 of the unlimited ride wristband, normally priced at $25. Never in my life have I seen more mass quantities of the neon green sugar beverage.
There are multiple entrances into the festival and one would think that upon entering the Florida Strawberry Festival you would be bombarded with all things berry, this was not the case. Although the focal point of the festival is the strawberry, there are tons of rides, midway games, and the most extreme fair food you could possibly find.
The most jaw-dropping of food selections include the doughnut burger (that's right, a burger with two doughnuts for buns), pot roast sundae ("a Sunday dinner in a bowl"), and fried everything from butter to moonpies. I gave in and had to go for a fried Twinkie especially given that they no longer exist and it is up to Little Debbie's version now. It was warm, gooey, and decadent for sure.
Admittedly, we really had to hunt to find food that celebrated the star of the show, the Plant City strawberry. There are plenty of food and farm stands serving up the little beauty, but you have to get past the crazy midways and go into the exhibit buildings. That's where you'll find churches, schools, and farms serving up their famous strawberry shortcake or in some case strawberry cheesecake. We went with the first stand we could find. Man, they had a great system in place and served us up quick.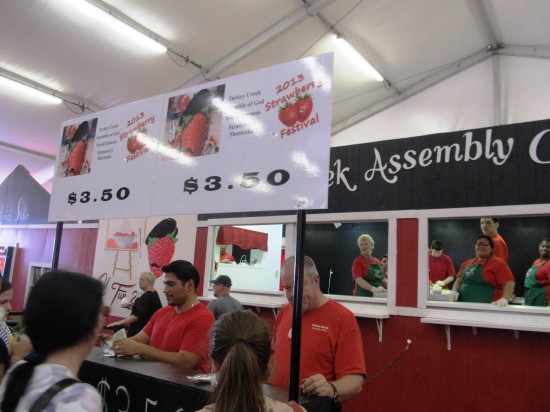 The strawberry shortcake is usually priced at $3.50, and it is a real value. A massive amount of sweet strawberries and sugary sauce are piled high and left to soak into the shortcake all topped with a mountain of whipped cream. It was definitely big enough for the two of us. We later came across a stand at which you build your own strawberry cheesecake. While this looked fun and entertaining we were thankful to have found the sweet treat quickly without having to work for it.
We spent the afternoon strolling what seemed like miles and miles of carnival rides, midway games, arts and craft vendors, and of course crazy fair food stands. There are shows and concerts including a couple of headliners throughout the duration of the festival, all pretty big names in country music including Martina McBride and Blake Shelton. The concerts are an extra ticket, but there are a small amount of free tickets available the day of at a designated tent.
Aside from the big name talent, there are also shows throughout the festival featuring more down-home entertainment. The trouble with these shows is most of them are scheduled at the same time. We did not plan accordingly and were only able to see the racing pigs. Yes, that's correct… racing pigs.
A very country show indeed, but it was fun to enjoy some simple, down home fun and the little piggies were adorable! We waited thirty minutes out in the sun, and now my forearms are paying the price – shame on me for not wearing sunscreen.
After the show, we hopped back into "Blue Jean Baby", blasted the air conditioning and headed back to our city slickin' ways in Orlando.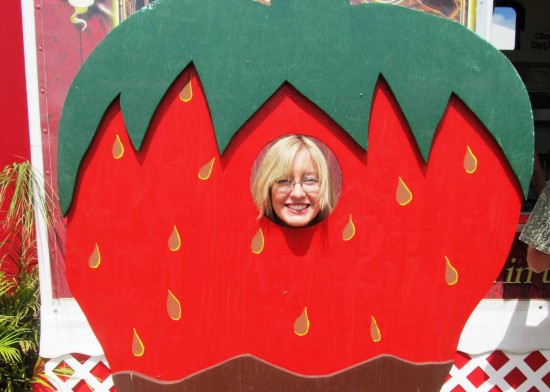 It felt good to be a country girl for a little while and I learned a few good lessons for next time...
The weekends are absolutely packed. Go during the week if you can.
Check the concert schedule way in advance in case there's a performer you really want to see. Just know the concert is outdoors and the sound systems aren't exactly state-of-the-art, though the ticket price is usually not too high.
Hydrate and wear sunscreen!
Grab a map the moment you come in – they are not right out in the open, you have to find an information booth. Be sure to open the map all the way so you can view the show schedule and plan ahead.
Bring cash. Practically all of the vendors only take cash. There are ATMs but they of course have fees attached to them.
If you are into carnival rides get yourself a wristband. After about 5 rides it pays for itself.
Last but not least, you will experience Southern culture, so if you are not from around these parts, get ready for some fun people watching!
Florida Strawberry Festival – map & links
Click any marker to display the attraction or venue name. To scroll or zoom, use the controls on the top-left of the map. You may also switch to different map views by using the buttons on the top-right of the map.
Official website: http://www.flstrawberryfestival.com/
Florida Strawberry Festival – photo gallery
Click any image to view it full-screen. When the full-screen image is open, click to the right or use the right arrow on your keyboard to advance through the gallery.
[sws_author_bio user="danidennison" size="105″ authorposts="More OI posts by Dani" name_format="About the author"] [/sws_author_bio]