Update – January 2014

Almost one year ago we published the blog post you'll find below. At the time, we scarcely knew that the construction project at Universal Studios Florida was indeed Diagon Alley (remember, Universal didn't official announce the project until May 2013), and we certainly weren't ready to estimate its opening date. Yet, based on some intriguing lettering on the new Transformers building, we speculated that May 2014 could be when the Hogwarts Express opened to the public.
Now one year later, in January 2014, that speculation is looking to be more accurate than we could have imagined. Read the blog post below to learn more about what we pieced together last year, then visit our Diagon Alley page to see what we're thinking right now about when the Hogwarts Express may open.
Original post – March 2013
There is something very interesting happening on the Transformers building. And if you believe Universal wants to give us clues to the opening of their Harry Potter expansion in lieu of announcing any actual details, then you will want to check this out. (Remember, Universal proudly gave us clues to the opening of Transformers before they made that announcement.)
Here are two shots the markings on one portion of the Transformers building: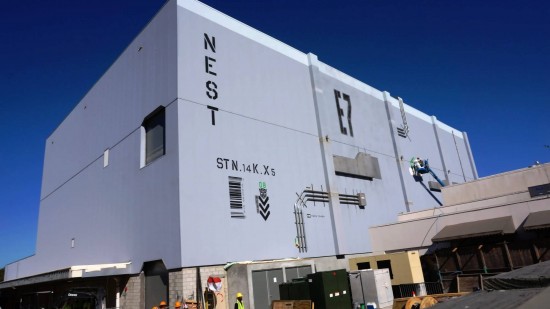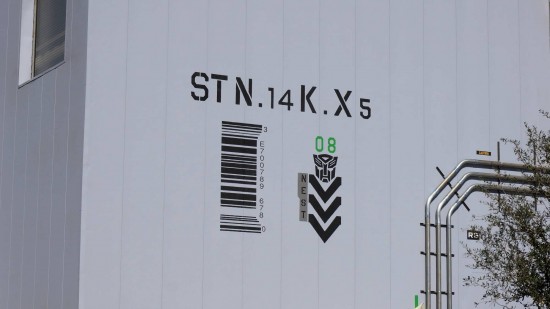 Now, consider this theory sent into us from one of our fans:
Kings Cross Station is commonly coded as KX and I know it has nothing to do with Transformers, but who says it has to be? So I believe STN is Station and 14/5 is May 2014 and by your recent photos of "WWOHP" buildings in USF it could be Kings cross Station opening May 2014. Please let me know your thoughts.
As far as I'm aware, no one has stepped forward suggesting a better explanation for these markings, so why not? After all, we heard recently that all of the Harry Potter expansion might open as early as July 2014, so could King's Cross Station — which will be home to a real Hogwarts Express that travels between Universal Studios Florida and Islands of Adventure — open a few months early to help the parks work out logistics? That makes perfect sense to me. After all, if you're familiar with how admission works at Universal, you know it is going to be a challenge for Universal and guests alike figure out exactly what it takes to enjoy all of Harry Potter once it spans two separate theme parks.
Also, as you can see by these images I posted earlier this week, construction is well underway on King's Cross Station: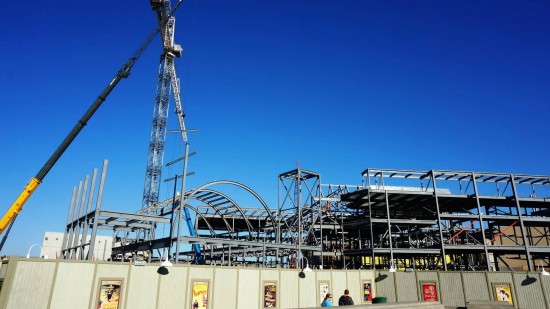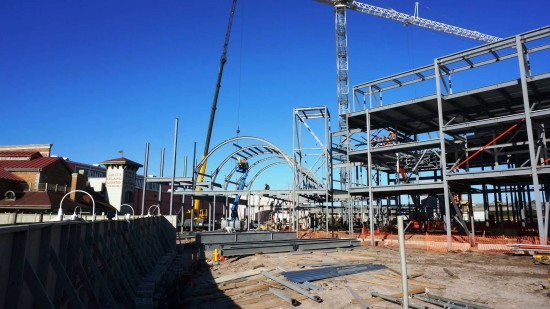 If you've been following the Harry Potter project at Universal Orlando, then you already know Universal still hasn't announced any details. So I am by no means guaranteeing that this theory is true, or suggesting that I have the information from someone familiar with the project. But again, if you consider how useful it would be for Universal to work out the 2-park Harry Potter logistics before the entirety of the new area opens, and if you consider that there really isn't much work to do over by the original Wizarding World to set up a station for Hogsmeade, this idea seems pretty believable — or at least pretty achievable.
Learn more:
Transformer at Universal Studios Florida
Harry Potter expansion (Diagon Alley)