The southernmost part of the continental U.S. is Key West, Florida. While many of us cannot take the trek to Key West — although we all should — SeaWorld Orlando does provide a facinating alternative. Today, I invite you to join me as I explore everything this area of the park has to offer!
A quick note before we get started: SeaWorld's lands/areas are not particularly well defined, so I group certain attractions and exhibits under the umbrella of Key West that are within close proximity.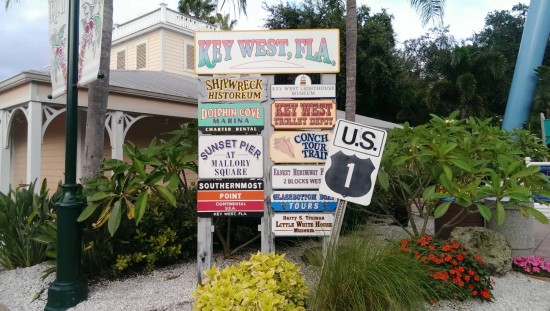 When I entered the Key West area, I was immediately immersed into the lush, tropical landscaping.
Taking a few more steps inward, I saw a building with a detailed backdrop for kids to meet Franklin and Friends, a group of characters that many youngsters have grown to love. This is a fairly new offering to the area, and I recommend this as a must-do for families with kids.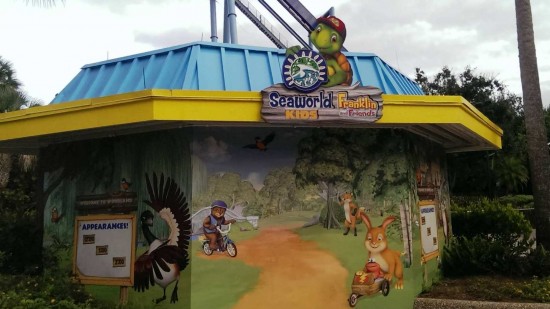 Tip: Guests should check their park map for specific character greeting times.
If you want to have close encounters with some of the animals of SeaWorld, Key West is the place to do it. Not too far from the Franklin meet-and-greet location, I discovered an animal exhibit that I had not noticed on my previous trips. There was a Pelican habitat with at least eight pelicans swimming and walking around. Some even seemed ready for a quick photo, which I was happy to take advantage of.
Not too far from the Pelicans I came across the Sting Ray Lagoon. This is one of the few areas of the park where you can actually touch the animals.
At first touch, guests often pull their hands out of the water right away because the string rays have a slightly slimy feel. However, after a few minutes, most people usually become accustomed to the feel — and eventually they find themselves not wanting to leave the Sting Ray Lagoon. (By the way, it is almost as must fun to watch the people trying to touch the sting rays here as it is to touch them yourself.)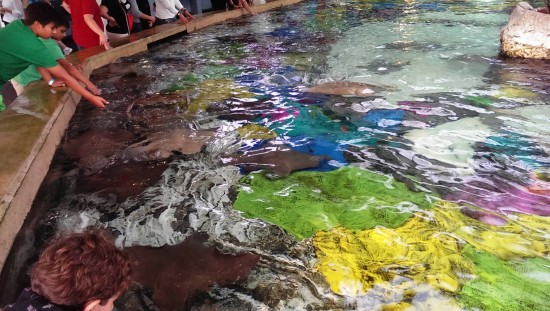 My favorite animal encounter in all of SeaWorld is Key West's Dolphin Cove. Everyone thinks that dolphins are very playful and friendly, and no place confirms that as fact more than this area.
It's one thing to train animals to perform in shows with trainers, it's another thing to have an animal actually interact with everyday guests. In this area I quickly learned that dolphins were a lot bigger than they appear on TV, or even in SeaWorld's dolphin show (more about that later). I will admit, seeing how quick and fast they are, I was a little cautious about putting my hand in the water. But once I saw other guests — some much younger than me — interacting with and touching the dolphins, I suddenly received the necessary desire to attempt the same feat!
Although it took some time for a dolphin to swim close enough for me to touch it, once it happened, it was a very fulfilling experience — and I was anxious to repeat the process again and again.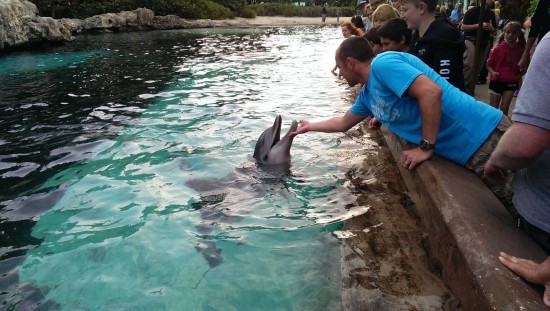 Tip: For added personal interactivity with the dolphins and sting rays, guests may purchase food to feed the animals during specific hours. Once again, guests should check their park map for information.
Right next to Dolphin Cove resides one of my all-time favorite SeaWorld shows, Blue Horizons. In one word: breathtaking!
This show is nearly a decade old, yet it still remains a must-see while in Key West. I enjoy Blue Horizons so much because it's filled with high jumping dolphins, talented acrobats, and plenty of birds big and small, all of whom are surrounded by an amazing set design and a vivid musical score. Guests young and old should definitely see this show!
Tip: Due to the popularity of Blue Horizons, try to arrive at least 30 minutes before showtime.
One of the newest attractions to the Key West area is Turtle Trek. I thoroughly enjoy this experience because every step of it is well thought out.
In the preshow area, I'm always delighted by the large glass displays showing different species of fish along with giant manatees and, of course, turtles.  Moving through the queue, we learn about the star of the 3D movie and the different dangers sea turtles face. During the show itself, I find myself overwhelmed (in a good way) by the 3D dome theater. It's huge, and I like that no matter where I turn my head in the theater, I'm surrounded by the film.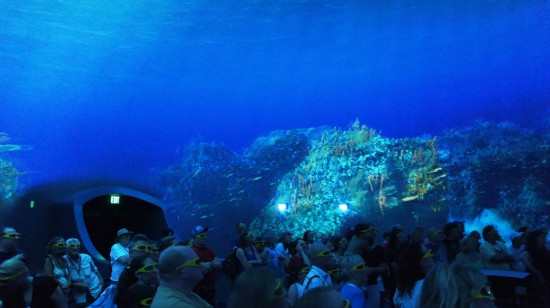 Even though it's clear that the movie is animated, there are still many close encounters with the different animals in the film that make guests feel like they are part of the journey.
In the post-show area, there is outdoor viewing of the manatees, and there is also a custom Turtle Trek video game for guests to play. I've given it a try and found it to be a very fun and competitive game to play with a group of people.
Throughout Key West I found several gift shops selling area-specific merchandise. This is a very positive move on the part of SeaWorld, as so many other stores throughout the park sell generic merchandise. Trek Treasures had many turtle-themed items for sale, while Coconut Bay Traders and Sandcastle Toys n Treats has more tropical-themed items, such as picture frames, cups, key rings, etc., that are based on many of the animal encounters found in Key West.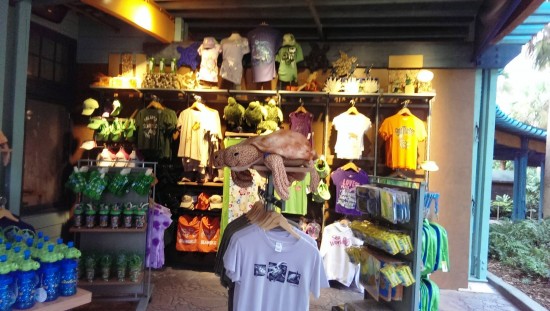 Now we have come to the main attraction in the Key West area. SeaWorld might just have a few thrill rides, but they are some of the very best rides in town!
Opened in 2009, I declare Manta as one of the best the park has ever created. The theming begins immediately inside the queue building, where I'm always in awe of the huge aquariums filled with different species of fish and several manta rays. It's so easy to forget that the line is continually moving as you marvel at the grace with which the manta rays swim.
The ride itself is a work of art. As I ride face down, soaring through the air, I imagine what it feels like to swim like a manta ray — this is reward enough for me, but when the twists and turns are added in, Manta becomes one of the most fulfilling and thrilling coasters in Central Florida.
Tip: To experience the lowest wait time, visit this attraction either at park opening or during the last two hours prior to park closing.
Did you know that Key West at SeaWorld Orlando held so many unique treasures? I think you must agree that every guest visiting the park should take a careful tour of this area — they will leave with many rich experiences and memories.
If you're interested in learning what SeaWorld is doing for the holidays this year, see this blog post. Otherwise, to learn more about the park, check out all of our blog posts filed under SeaWorld
[sws_author_bio user="ShaneClarke" size="105″ authorposts="More OI posts by Shane" name_format="About the author"] [/sws_author_bio]