My family and I visited Islands of Adventure last weekend on a sunny afternoon, and we greatly enjoyed our adventure.
Walking through the lively and entertaining CityWalk, I observed the ongoing construction for the new Starbucks location rumored to be replace the former Endangered Species store. For now, Starbucks continues to be fully operational on the second floor. Next, I saw the new Red Oven Pizza Bakery was having previews for select customers. The restaurant was expected to open Tuesday, but the opening has been delayed again (we've been told it was originally intended to open on November 1).
[youtube_video]xNZqwL1eo8o[/youtube_video]
Dan called Guest Services this morning to ask when Red Oven will open, and he was told "not today, possibly tomorrow, and certainly very, very soon."
In the former Latin Quarter, the multi-story front of the new Mexican-themed restaurant under construction draws attention and dominates the area.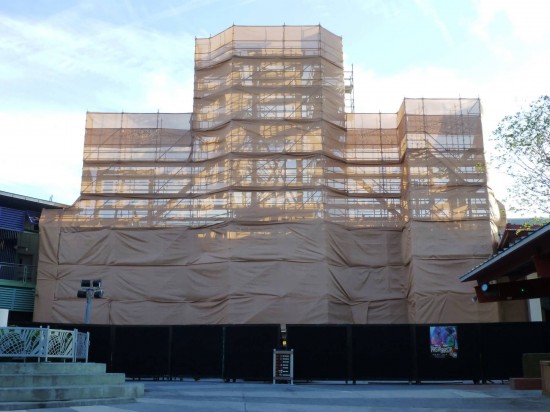 [wptouch target="non-mobile"]Remember, you can click any image to view it full-screen. And don't miss the complete photo gallery with 40 new full-screen images at the bottom of the post.
[/wptouch]
Crossing through the turnstiles of Islands of Adventure into the Port of Entry, we left the real world behind and began our adventure. Immediately I noticed holiday decorations throughout the park and especially in the shops in this area.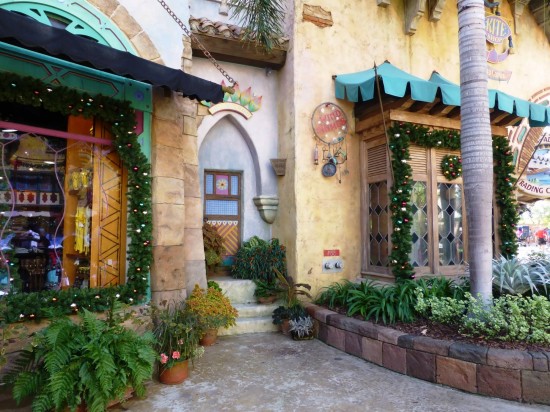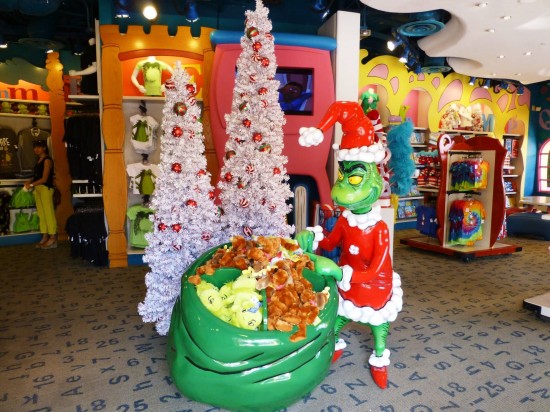 Construction and refurbishment efforts are increasing throughout IOA, resulting in some temporary ride and venue closures. The Old Arctic Express area at Port of Entry is still under construction and now essentially confirmed to be a Starbucks by this Universal job posting.
In Seuss Landing, construction walls block the Zax By-Pass shortcut between the Green Eggs and Ham restaurant and the bridge to Lost Continent. Also in Seuss Landing, the High In the Sky Trolley Train Ride is closed for refurbishment through November 23, 2013. In Toon Lagoon, a refurbishment construction wall surrounds the entrance to Photo Funnies.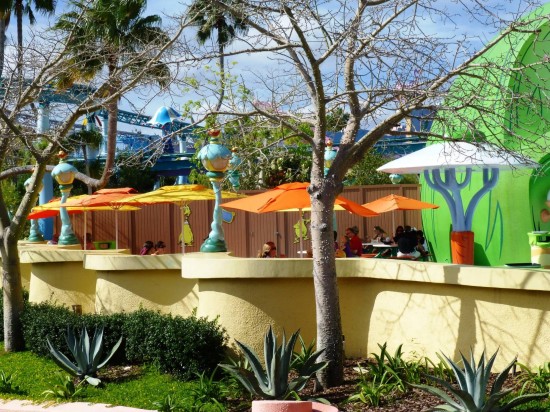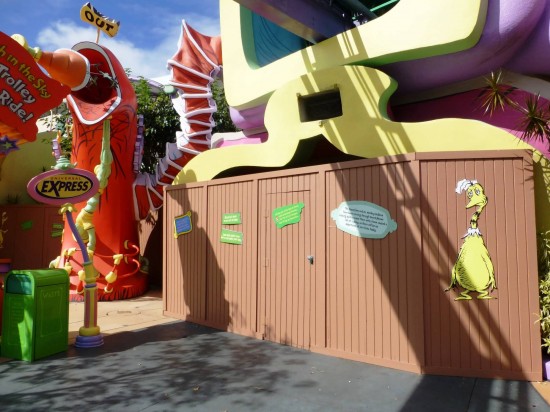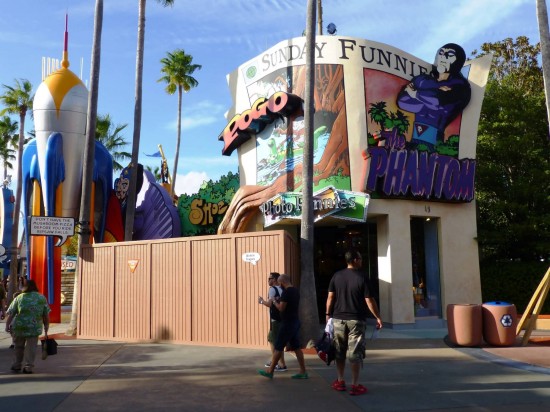 Despite these changes, by far the most anticipated construction area inside Islands of Adventure is at the Wizarding World of Harry Potter and Hogsmeade Station.
Dragon Challenge's Chinese Fireball coaster was closed for refurbishment during our visit (and will be until November 22). However, you can still experience the thrills of riding the Hungarian Horntail. The construction of the Hogsmeade station for the new Hogwarts Express attraction is rapidly moving forward. We were able to capture a few photos of the new Hogsmeade Station as well as the Hogwarts Express train parked on the tracks nearby.
In the group of photos below, the first three were shot this past weekend. The fourth photo in the set was shot in June, allowing you to see the construction progress.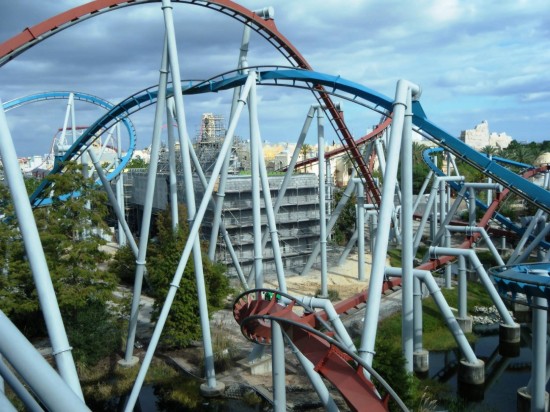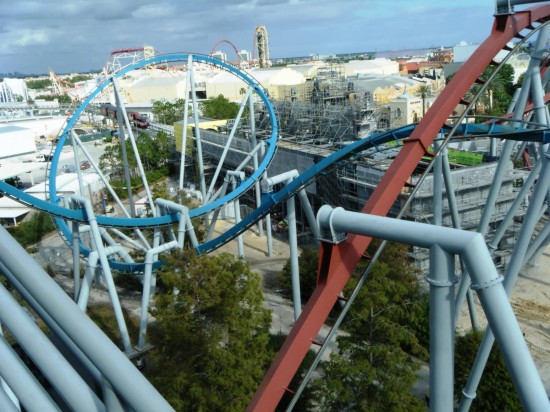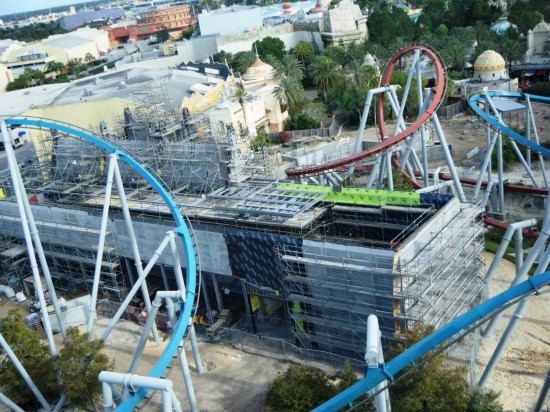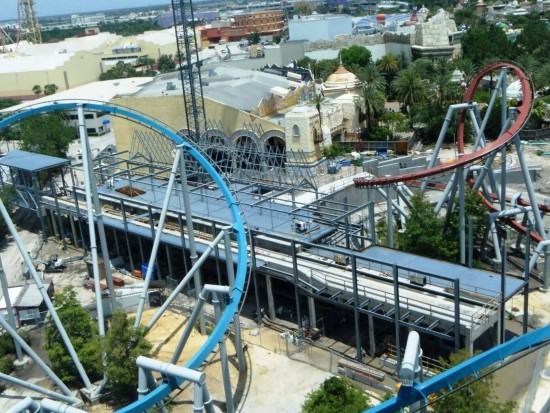 While I was amazed at the progress and how the building is really taking shape, I was most excited to see the second Hogwarts Express train on the tracks. Actually seeing the train cars on the track helps to make this highly anticipated attraction seem like more of a reality than just a fantastic idea.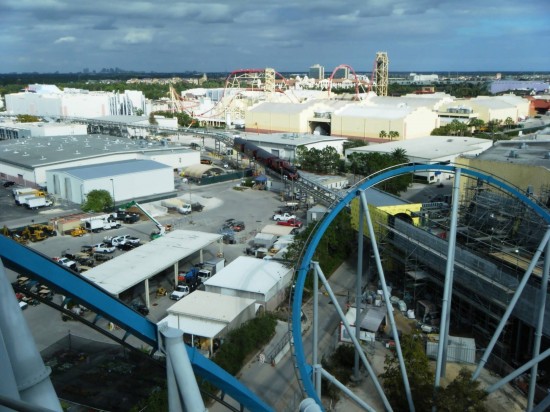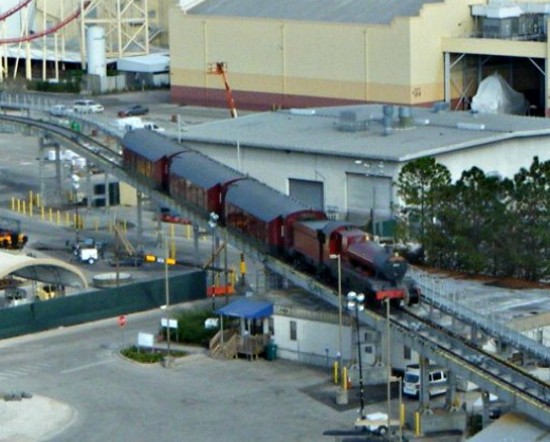 In Jurassic Park, the new midway games are now open. The different games of skill have a distinctive Jurassic Park theme and include Hammond's Hotshots, a basketball game; Jurassic Park Animal Control Training Zone, two target games; and Dinosaur Dash Up, a water gun game.
 [youtube_video]1JwvA_S_SoE[/youtube_video]
(The video above was posted on Orlando Informer's Facebook page when Dan originally shot it — and the resulting comments made it apparent that some theme park fans like these carnival games, many are indifferent, but some are strongly opposed. Which are you?)
In Jurassic Park's new set up, the Egg Nursery is a unique game that may appeal to younger guests. Kids use a net to "fish" a dinosaur egg out of water, and it is "x-rayed" by the team member. The guest wins a plush toy determined by the size of the dinosaur inside.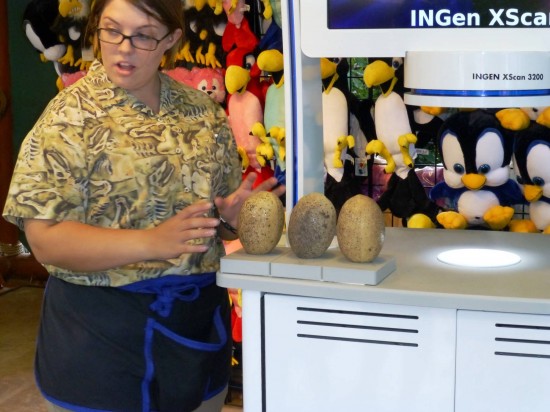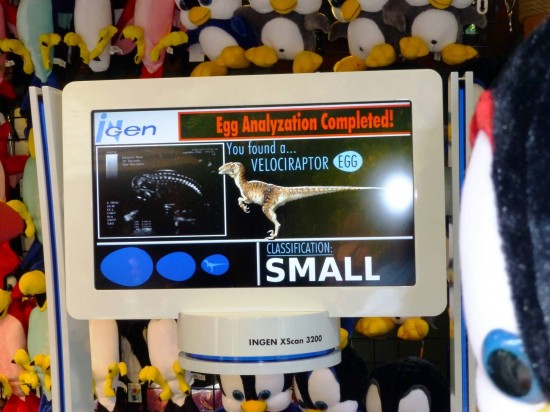 Posted wait times for the rides varied from 60 minutes for Flight of the Hippogriff, 30 minutes for Forbidden Journey and Spider-Man, and 15 minutes or less for most of the other attractions at Islands of Adventure. The weather was warm enough for riding the wet attractions in Jurassic Park and Toon Lagoon, and my husband and son rode Ripsaw Falls several times in a row. By the end of the day, my son was soaked from head to toe, but had a lot of fun in the process.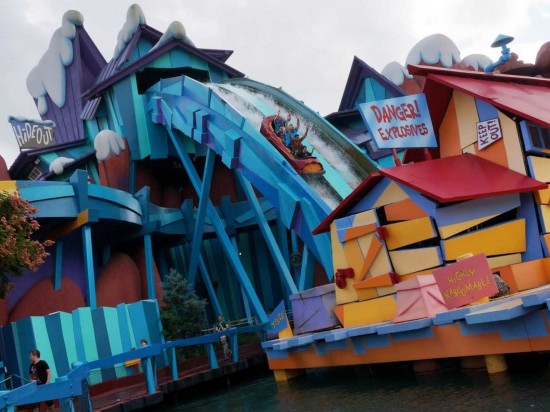 This trip I purchased a few "sweet" items for my family and my parents, who were visiting us from out of town. Sweet tooth fans who visit Islands of Adventure can find many shops throughout the park to satisfy their cravings. In the Port of Entry, Island Market Export shop sells cupcakes, cookies and other baked goods along with a wall of candy available for purchase by the pound. One of my favorite shops is in Seuss Landing at the Trolley Train Ride exit, Snookers and Snookers Sweet Candy Cookers. They sell delicious baked goods including seasonal cookies and cupcakes.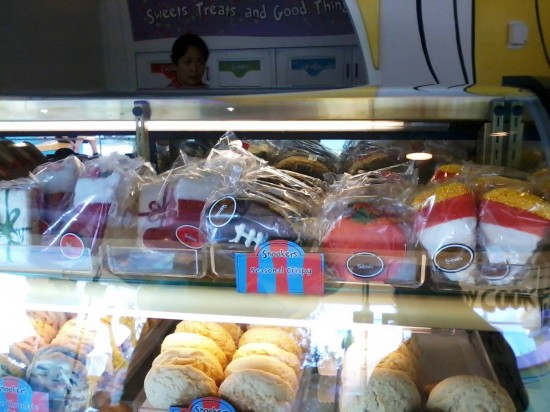 Another very popular and must-visit sweet shop is Honeydukes inside the Wizarding World of Harry Potter, where I purchased a Chocolate Frog, some Fudge Flies and Caramel Cobwebs as souvenirs for my parents.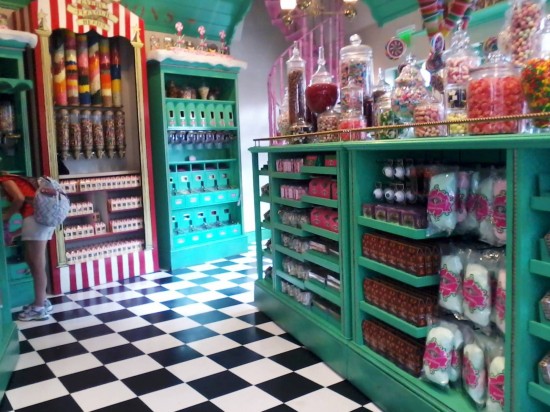 If you miss Honeydukes during your tour around the park, don't worry. Several WWoHP treats — including Chocolate Frogs — are also sold in the main Universal gift shops at the front of the parks and in CityWalk.
Our visit to Islands of Adventure was a great escape from our daily routines and responsibilities. I'm looking forward to my next visit to IOA during the upcoming holiday season so we can partake in the festive experiences and unique adventures that await park visitors!
News updates
If you've been tracking the Daily Updates on Orlando Informer, you may already know about these developments. But for those readers who might have missed them, here are a couple of news bits you'll want to know about:
> Did I just mention that the holidays at Universal Orlando are coming up? Oh yes I did! If you are planning on visiting for Thanksgiving, anytime in December, or on New Year's Eve (or if you just want to see what Universal is up to during the holidays), Orlando Informer has complete, up-to-date guests for these events. You can start on the main Holiday 2013 page, and you'll find links to everything else from there.
> If instead you're visiting next spring, and you want to be among the first to experience Universal's new Cabana Bay Beach Resort, then here's some good news: For a limited time the new family suites can be booked at rates starting as low as $104 per night (for a 7-night stay) to $134 per night (for a 3-night stay). This introductory offer is available for booking now through January 31 for stays from March 31 to June 14. To check specific dates, call 888-273-1311 or visit the online reservations page. (By the way, Dan has promised me he'll have a Cabana Bay construction update posted in the next seven days!)
Visit the OI Universal Center table of contents for more details about all the topics discussed in this trip report. Or you can catch up on all our trip reports.
Universal Studios Florida trip report – photo gallery
Click any image to view it full-screen. When the full-screen image is open, click to the right or use the right arrow on your keyboard to advance through the gallery.
[sws_author_bio user="MaureenDeal" size="105″ authorposts="More OI posts by Maureen" name_format="About the author"] [/sws_author_bio]