Islands of Adventure trip report – April 2013 (new experiences & beloved adventures)
Although I've visited this park many times, I went to Islands of Adventure last weekend and was able to experience some new adventures. The crowds were moderate to busy, especially in the Wizarding World of Harry Potter and Toon Lagoon. The weather was cloudy with a pleasant temperature.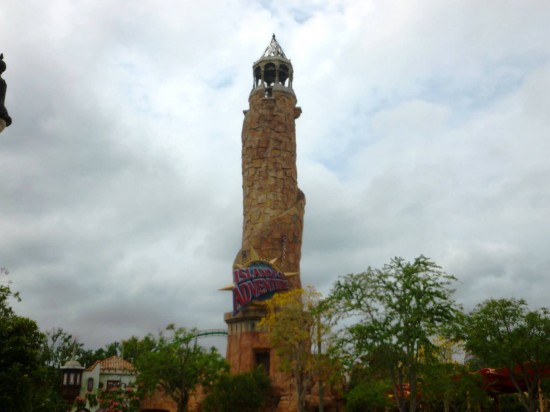 In Seuss Landing, a fun and whimsical section of IOA that the entire family can enjoy, the Green Eggs and Ham quick-service restaurant was open. The Cat in the Hat attraction had a posted wait time of only 10 minutes for the standby line. This ride is an entertaining immersion into famous book by Dr. Seuss. The One Fish, Two Fish, Red Fish, Blue Fish ride had a posted wait time of only five minutes. Another ride for the whole family is the High in the Sky Seuss Trolley Train Ride, which had a 25 minute posted wait time. The exit to the Trolley Train ride goes through Snookers and Snookers Sweet Candy Cookers shop. I always enjoy taking a peak at the mouth watering cupcakes and other treats for sale here.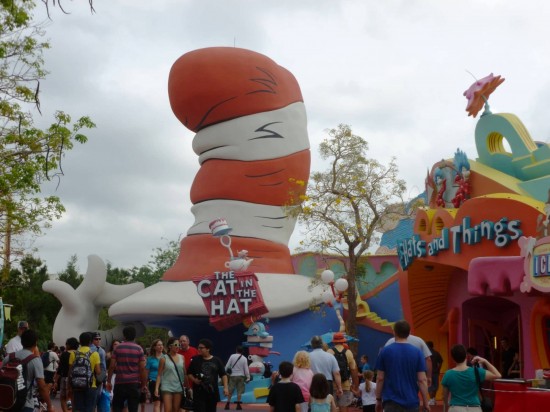 [wptouch target="non-mobile"]Remember, you can click any image to view it full-screen. And don't miss the complete photo gallery with 39 images at the bottom of the post!
[/wptouch]
Leaving Seuss Landing, I decided to try something new and eat lunch at Mythos, a full-service dining restaurant in the Lost Continent section of IOA. I've never eaten here before but had read many favorable reviews of this restaurant. The reviews were exactly right! Mythos had so many interesting choices on their menu that were not your typical theme park food offerings. I ordered blue crab and mushroom sliders, which were delicious. The service was also excellent, and I look forward to the next time I can eat here.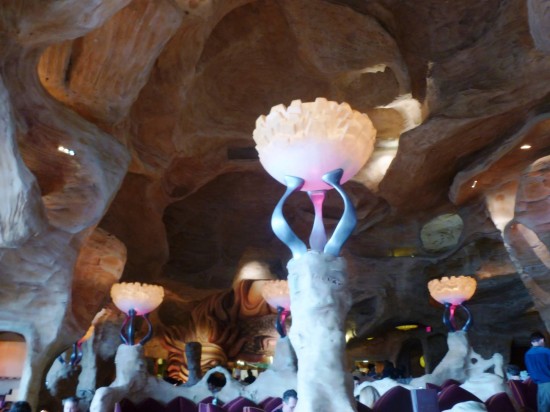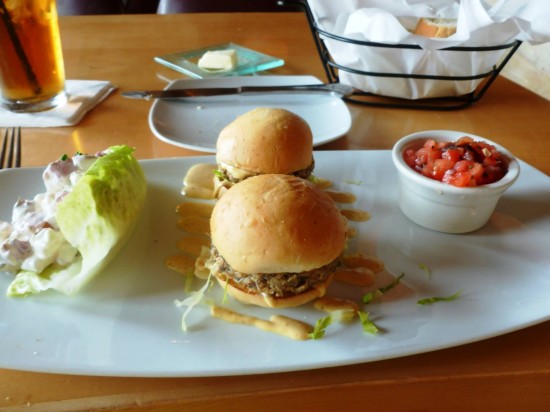 After lunch I watched the 8th Voyage of Sindbad Stunt Show. This show was another new adventure for me and seemed to have a lot of fast-paced action. During the story of Sindbad rescuing the Princess from an evil Witch, actors performed exciting and enthralling stunts. Loud pyrotechnics were used and there was a splash zone section where parts of the audience got soaked. If you like live action stunts and explosions, this show definitely has it all along with some family-friendly humor disbursed throughout the show.
From the 8th Voyage of Sindbad theater, I was able see some of the construction in the rumored WWoHP expansion. However, it was difficult for me to distinguish any new details.
Something I like to do in Lost Continent is watch the Mystic Fountain interact with guests, in particular with kids. It's always amusing when the fountain drenches them at unexpected times.
 [youtube_video]xYSUa_tHBP8[/youtube_video]
As I walked from Lost Continent to the Wizarding World of Harry Potter, I noticed a snack and beverage cart along the construction walls just before the entrance to WWoHP. It is a "last chance" for park guests to purchase sodas and potato chips not available in Hogsmeade and the Wizarding World.
In WWoHP the posted wait time for the thrilling Dragons Challenge was only five minutes for the standby line. Even though I am not ready to compete for the Triwizard Cup and won't ride this attraction, I walked through the queue because of the beguiling scenery and intriguing Triwizard Tournament memorabilia from the Harry Potter series of books and movies.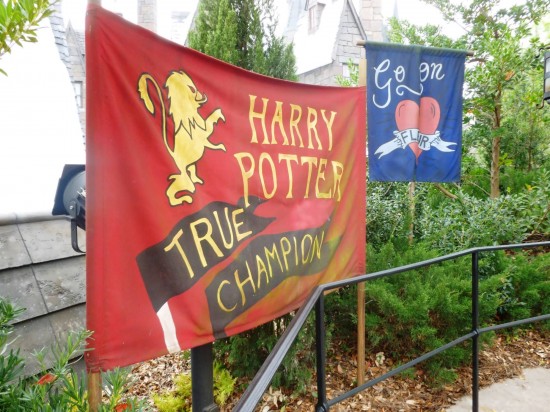 The most popular rides at Universal, Harry Potter and the Forbidden Journey, posted a wait time of 45 minutes for the standby line. This trip I took the walking tour through this queue as well. Although I didn't see every aspect of Hogwarts as seen in the regular standby line, it was mesmerizing to experience the talking portraits in the portrait gallery, visit with Dumbledoor in his office, observe the snow Ron conjures in the Dark Arts Classroom, and walk through the Gryffindor common room.
 [youtube_video]xF57_uZ33Io[/youtube_video]
After experiencing the crowds and strong sun in WWoHP, I liked strolling through the Jurassic Park section of IOA. The lush green vegetation, shade and scenery throughout this section was relaxing and calming. The Jurassic Park River Adventure, however, is an attraction that includes some elements of fear with an exhilarating finale. The posted wait time was only 15 minutes for the standby line at River Adventure.
Toon Lagoon seemed very busy and the posted wait time for Dudley Do-Right's Ripsaw Falls was 60 minutes. The laughter and ribbing from non-riding family members as their drenched loved ones walked off the ride is always enjoyable to observe. The play fountains throughout this section of IOA were popular with the kids since the day became warm with temperatures in the 80's.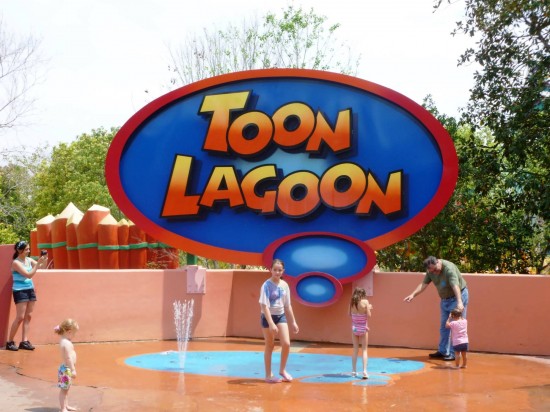 Popeye & Bluto's Bilge-Rat Barges, an adventurous and long raft ride, had a posted wait time of only 10 minutes. Beware — you are guaranteed to get soaked on this attraction.
In Marvel Super Hero Island the Amazing Adventures of Spider-Man ride was a 45 minute wait time for the standby line. This high-definition 3D experience is a highlight of any trip to IOA. Doctor Doom's Fearfall and The Incredible Hulk Coaster's posted wait times were both 10 minutes.  The Incredible Hulk coaster is one of the best coasters in Orlando and a favorite of many. I never get tired of feeling the coaster's rumble or hearing the coaster's roar as I walk through this section of IOA.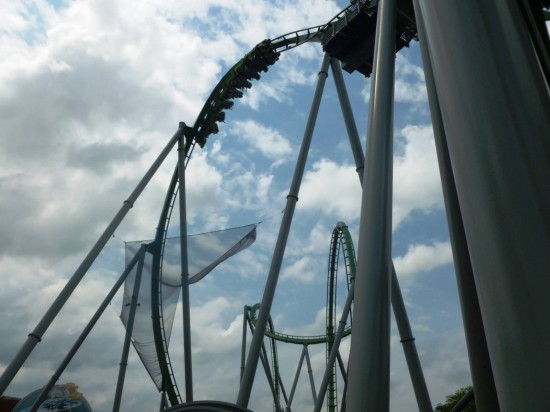 I enjoyed my trip to Islands of Adventure this month. It is great to experience attractions again that I always enjoy, but it's also exciting to try something new, particularly Mythos restaurant and the Eighth Voyage of Sindbad show. I hope the next time you are visiting Universal Orlando Resort you have new experiences at Islands of Adventure that generate lasting memories!
Thanks for reading this trip report. Please leave your questions and comments below! Or, if you'd like to catch up on all our trip reports, click here.
Islands of Adventure trip report – photo gallery
Click any image to view it full-screen. When the full-screen image is open, click to the right or use the right arrow on your keyboard to advance through the gallery.
[sws_author_bio user="MaureenDeal" size="105″ authorposts="More OI posts by Maureen" name_format="About the author"] [/sws_author_bio]