As a native of Orlando, I have had the pleasure of making memories year after year in one of the world's best holiday destinations. It is with these memories in mind that I have put together a full list of my absolute favorite seasonal festivities and traditions all around Orlando. Each is highly recommended, and my Christmas wish is that at least a few of these ideas make it on your list of must-do holiday fun while you visit Central Florida this December.
One quick note: Because Orlando Informer already covers Universal Orlando's holiday activities so thoroughly, I've not included any of their events here.
"Winter in the Park"
Winter Park, FL
If you visit Orlando and don't venture out to Orlando's most cultured suburb, Winter Park, you're doing it wrong. In my opinion, there is no other city in the Central Florida area with as much beauty and history as Winter Park. The keystone landmark, Park Avenue, has been dubbed the Rodeo Drive of Orlando.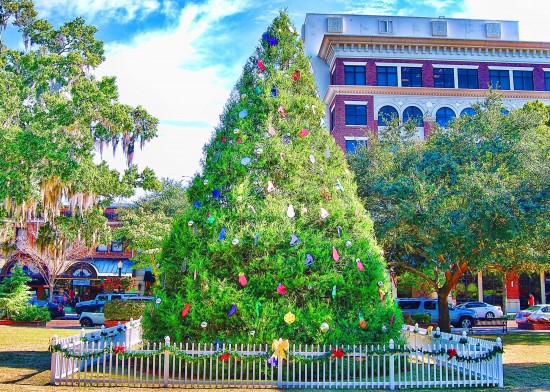 This main street, exquisite any time of year, is made even more spectacular during the holidays. Stroll the avenue and admire the window displays, pop in for some unique shopping, and grab lunch or dinner in some of Orlando's best restaurants. Don't miss the various wine bars, too! The ice skating rink overlooks the central park area of Park Avenue, right next to the historic train station — see the live cam! You will be hard pressed to resist the beauty and charm of Park Avenue all decked out for the holidays.
November 15 – January 5, 2014
New York Ave & Morse Ave
Winter Park, FL 32789
FREE – ice skating $10 all day including skates
ICE! Featuring Frosty the Snowman
Gaylord Palms Resort
"ICE!" Brings a much need breath of cold air to the Central Florida area. Each year this event seems to get a little bigger, and busier. As Native Floridians my family has always enjoyed feeling the brisk, cold air. You'll enjoy some fantastic photo ops. Be sure to admire the sheer artistry and skill it takes to create these ice beauties.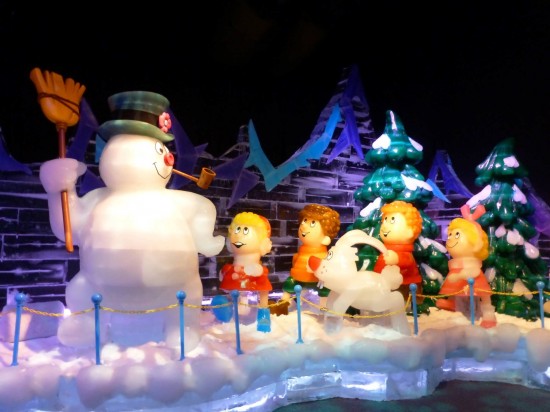 ICE can easily become a full afternoon & evening excursion if you include the complimentary entertainment offered in the Gaylord Palms atriums. I won't write much more here, because we've already published a full review — click here to see it (that link will open in a new window for your convenience).
November 23 – January 5, 2014
6000 W Osceola Pkwy
Kissimmee, FL 34746
Advance Online Adult $28.99
Advance Online Senior (ages 55+) $26.99
Advance Online Child (ages 4 – 12) $14.99
Light Up the Holidays at Cranes Roost Park
Altamonte Springs, FL
Located 45 minutes from the attractions area, right along Interstate 4, you will find the bustling suburb of Altamonte Springs. The centerpiece of this community is known as Uptown Altamonte, where you'll find multiple shopping plazas, including the Altamonte Mall (a great alternative to the uber-crowded Florida Mall and Mall of Millennia, and recently featured on OI's BIG 5 list of Orlando's best shopping centers). But the crown jewel of Uptown Altamonte is Cranes Roost Park.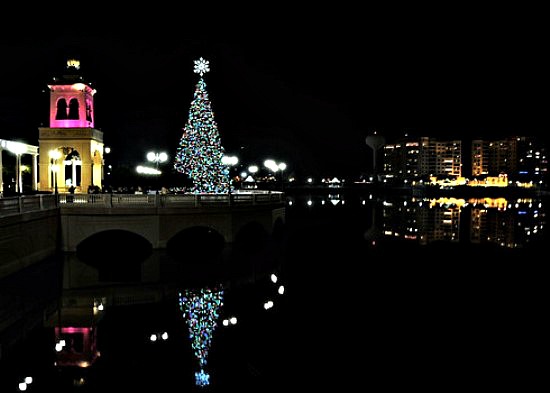 Take a stroll through a brilliant winter wonderland and enjoy over 200,000 lights on over 100 holiday displays. This is a must-do tradition for many Central Floridians, especially those in the Seminole County area. This pet-friendly park is fantastic for the whole family to visit and marvel at the incredible, towering light displays throughout the circular, lakeside park.
December 7, 2013 – January 1, 2014
274 Cranes Roost Blvd.
Altamonte Springs, FL 32701
FREE
Epcot: Holidays Around the World
Walt Disney World
It is hard for me to pick my favorite theme park holiday festivity – so many to choose from! However, when I think of the tradition that makes me feel the true meaning of the season, Epcot's Holidays Around the World is the shining star. Each year I make it a point to spend an entire day enjoying all that Epcot offers during this time of year. Storytellers share the traditions of each country represented in World Showcase amid the beautiful holiday decor of each pavilion. Then there's the gingerbread display at the American Adventure, guaranteed to make your eyes grow wide and a strong potential for drool.
But, the pinnacle of the holiday celebration is the Candlelight Processional.
Originating in Disneyland, this Christmas tradition is carried on nightly at Epcot. Local choirs from throughout the South come to sing and join the procession while a "singing Christmas tree" is comprised of Walt Disney World Cast Members. Each night a celebrity hosts the revelry reading excerpts of the original Christmas story from The Bible. It is simply awe-inspiring. Cap off your evening with a viewing of IllumiNations with a very special holiday finale.
November 29 – December 31, 2013
200 Epcot Center Dr
Lake Buena Vista, Florida
Ticket prices vary
Touring the Disney on-site hotels
Walt Disney World
There's no place like home for the holidays, and if you call one of Disney's on-site hotels home during your Orlando vacation, you're in for a treat! But, even if you're not a guest of one the Disney hotels, you can still pay them a visit and admire the beautiful decorations and delectable gingerbread or chocolate displays.
I recommend starting off at Wilderness Lodge. With its Pacific Northwest theme, it offers the best wintry feel and one of the tallest Christmas trees on Disney property. Then head over to the Magic Kingdom neighborhood to hop on the monorail and view the gingerbread tree at the Contemporary, then the terrific tiki tinsel of the Polynesian, and finally the magnificent life-size Victorian era gingerbread house at Disney's Grand Floridian.
My favorite collection of resorts is the Epcot Resorts area. Disney's Boardwalk offers a large, impressive gingerbread display, each year with a new theme. Plus, the resort's Christmas tree is outside in the courtyard with Crescent Lake as its backdrop, very unique.
Disney's Beach Club presents a carousel made of chocolate and gingerbread. Each year the horses are decorated differently, and there are always lots of fun details to enjoy. Disney's Yacht Club, connected to Beach Club, may not offer an "edible" holiday display, but for anyone who loves Christmas miniature villages, you won't miss the gingerbread one bit. This wintry village is one of the most beautiful, detailed Christmas villages you will ever lay eyes on.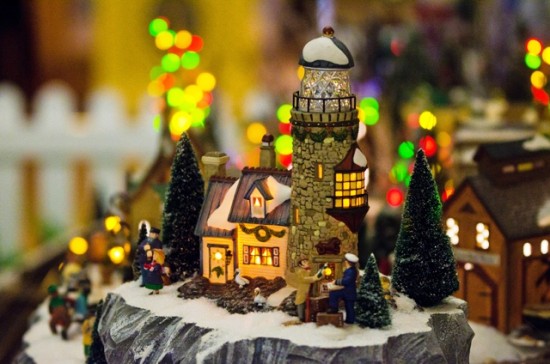 Walt Disney World Swan and Dolphin Resort is known as "Santa's Favorite Resort." Of all the Epcot Resorts, this one packs the most holiday fun. The Swan presents a fantastic Santa and nutcracker chocolate display that you have to see to believe, created by their World Champion Pastry Chef, Laurent Branlard. The Dolphin presents a towering four-story-tall white poinsettia Christmas tree that, on select evenings, is lit by Mrs. Claus during a fun tree-lighting ceremony. Plus, on select nights you can visit Santa and Mrs. Claus in their tropical tiki hut along the causeway that connects the two hotels. Also along the causeway are new specialty lights that dance to holiday music throughout each evening.
November 29 – January 1, 2014
Addresses vary by resort
FREE
Disney's hotels – official site
Swan & Dolphin – official site
Celebration Town Center – Now Snowing
Celebration, FL
It's the town that Disney built… and eventually sold. Celebration, FL is indeed a masterpiece, and the "Now Snowing" celebration is very impressive. The hourly snowfall begins at 6:00pm every night in December. Much better than the "snoap" you usually find in the theme parks, somehow this snowy substance is fluffy and less like being in an overflowing bubble bath.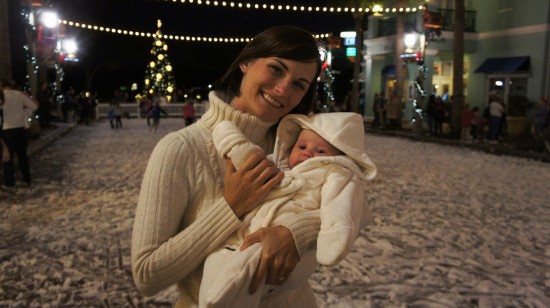 The horse-drawn carriage rides are enchanting, the Town Center is beautiful, and the surrounding neighborhoods are gorgeous — and with ample free parking, there is practically no reason not to visit!
November 30 –December 31, 2013
Front Street
Celebration, FL 34747
FREE – $10 ice skating
Leu Gardens Holiday House
Downtown Orlando
It is one of the most beautiful settings in all of Orlando. Something truly unexpected in the theme park capital of the world: a gorgeous botanical, sprawling garden. As the gateway to the charming Audubon Park community near downtown Orlando, Leu Gardens is lush and lovely. I have very fond memories of exploring these gardens many times throughout the year.
Yet the holidays are something even more special. Located on the grounds is the historic Harry P. Leu House, and during the Christmas season you just have to see this place: each room is lovingly decorated with ornaments and mementos from the 1930's (or inspired by the era). It's simply an incredible way to step back in time — think Dickens' A Christmas Carol.
PS. If you want to get married in Orlando during the month of December, and you're not interested in the theme parks, Leu Gardens is the perfect spot.
November 24 –January 5, 2014 (Closed December 25, 2013)
1920 North Forest Avenue
Orlando, FL
$10 adult / $3 children (K-12
Osborne Lights Spectacle of Dancing Lights
Hollywood Studios – Walt Disney World
Okay, yes, this holiday event runs for two entire months. Yes, it takes over the back portion of Disney's Hollywood Studios for nearly half the year as the preparations take place in early August. And yes, it can get insanely congested and crowded. But now that this year is showing signs of being the final year of the Osborne Family Spectacle of Dancing Lights (my goodness what a name!), I can't resist including this on my list.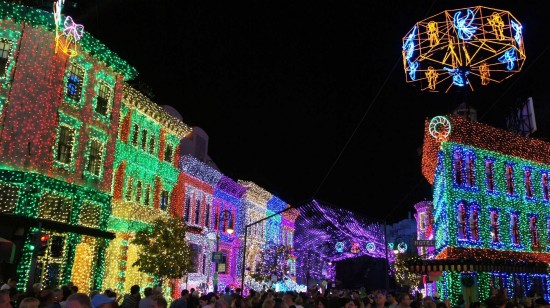 Year after year, my family and I gather together to marvel at the lights. It is overwhelming and stunning. I love the music, I love the bright colors, I love that darn black cat and finding hidden gems. So since this is most likely the last year of this spectacle, take a deep breath and take your time, don't rush through it, savor it.
November 8, 2013 – January 5, 2014
351 S. Studio Dr,
Lake Buena Vista, FL 32830
Ticket prices vary
I hope you enjoyed this list, and I can't wait for you to start making some of the same brilliant memories I've been lucky enough to share with my family!
Remember, because Orlando Informer already covers Universal's holiday festivities rather thoroughly, on this list I presented a host of events at other destinations around Orlando. But if you just want to plan your Universal visit, head over to the 2013 holiday guide in the OI Universal Center. Or, you can check out all our blog posts filed under holidays.
[sws_author_bio user="danidennison" size="105″ authorposts="More OI posts by Dani" name_format="About the author"] [/sws_author_bio]