If you've ever been to Universal Studios Florida theme park you've seen it, walked by it, wondered what it was, etc. I'm talking about the very cool, Hollywood studio-looking gate inside the park marked Esoteric Pictures. Last Saturday, Orlando Informer, along with a group of Orlando media, journalists and bloggers, was invited to Universal Studios for a media event that took us behind the scenes at Esoteric Pictures and on a fun backstage experience of the Mardi Gras festivities and parade.
The first things you see once inside the gates are just some storage containers and warehouse buildings, but as we walked down the lane that leads through Esoteric Pictures we began to come upon float after float, in position and ready for the parade later that evening. We got to meet cast members and take pictures of each float. The theme for the parade this year is "Colorful Cultures Around the World." In typical Universal Orlando style, they delivered! I got to see each float, boasting their beautiful artistry and master craftsmanship, up close and personal.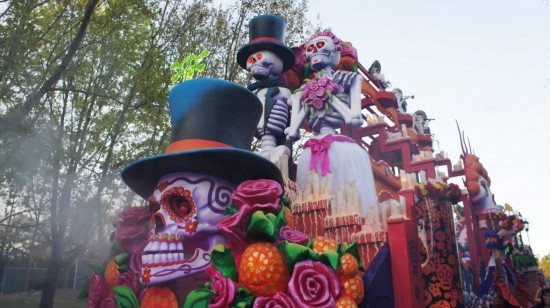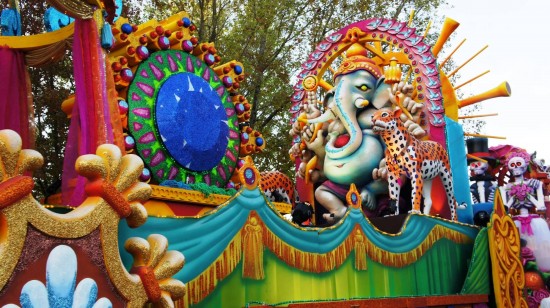 Our group had the great fortune of being able to meet and speak with Universal Orlando show director Lora Wallace. She was an absolute joy to talk to and had great information to share with us all. In a personal interview, Wallace told me that Mardi Gras is, in her opinion, one of the most fun times of the year at Universal Studios. She loves that park goers get to enjoy different cuisine in the park than what is normally offered, plus the festivities provided during Mardi Gras are included in the regular park admission price. Wallace is proud of the fact that the team at Universal Orlando works hard to create a Mardi Gras atmosphere and experience that is family friendly and can be enjoyed thoroughly by all ages. I would be proud, too! They put on an amazing show for us all. When asked about how much time and work goes into putting on Mardi Gras every year, Wallace disclosed that planning and organizing begins at least a year out from the start date. That means they've already been working on next year's Mardi Gras celebration! After being a part of it for just one day this year I already can't wait to see what they have in store for next year.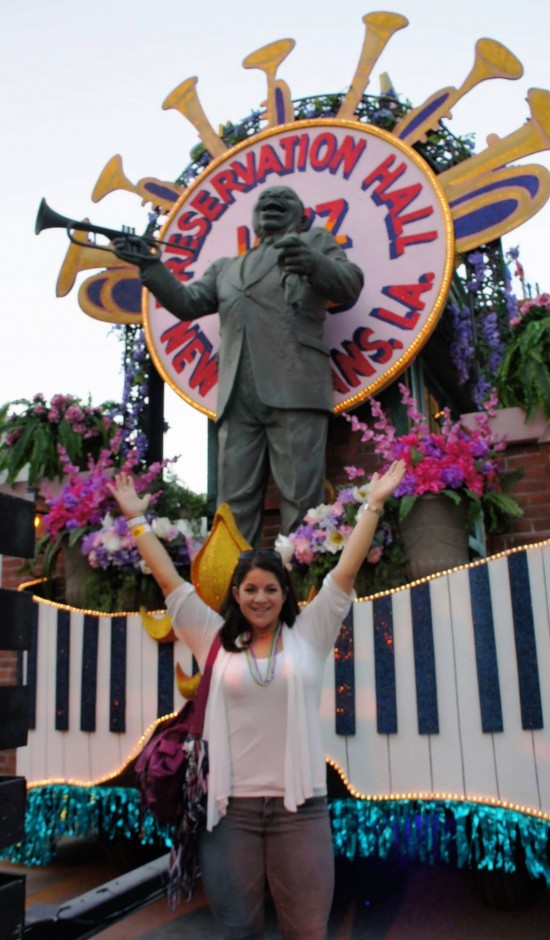 After running around like banshees to snap all of our pictures of the floats pre-parade we were ushered to Lombard's Seafood Grille. There we were able to sample freshly made, New Orleans inspired cuisine that definitely did not leave the palate wanting. We even had the pleasure of a meet and greet with one of Universal's head chefs, Steve Jayson. Just to get you even more excited about that, Chef Jayson is the man behind the creation of butterbeer at the Wizarding World of Harry Potter in Islands of Adventure.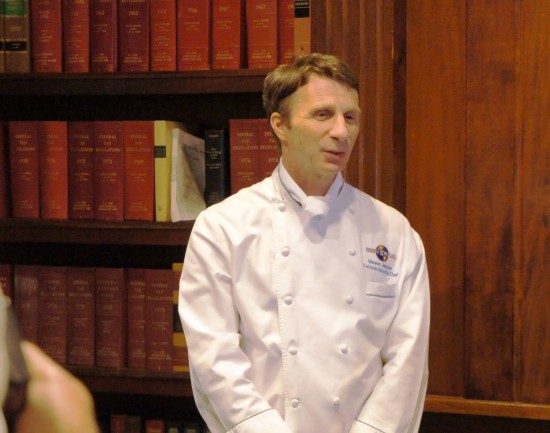 Chef Jayson spoke to us at length about the inspiration that went in to creating the cuisine for this year's Mardi Gras. He said the main concern was with making sure the dishes they offered would be as authentic as if the food had been brought in from the streets of New Orleans itself. My hat's off to you, Chef Jayson, and your team for a job very well done. I feasted on gumbo and etoufe and ate po' boys and jambalaya to my heart's content. Each dish was as delicious and creatively prepared as the last. The dessert table was a party in and of itself. With a delicious king cake, bread pudding, beignets and an array of smaller desserts I felt as though I was at a Mardi Gras smorgasbord. I kept waiting for jazz trumpets to start blowing… but that wouldn't come until later.
After the group finished talking with Chef Jayson and eating just about every bit of the delicious food offered, we left Lombard's and headed to our viewing spot for the parade. There was a large stage setup in the park where a live band had been playing jazz music earlier in the day. Our party was allowed to view the parade (and hear the jazz trumpets!) from the stage, which made for excellent viewing. This provided an awesome spot for taking pictures and, of course, catching beads!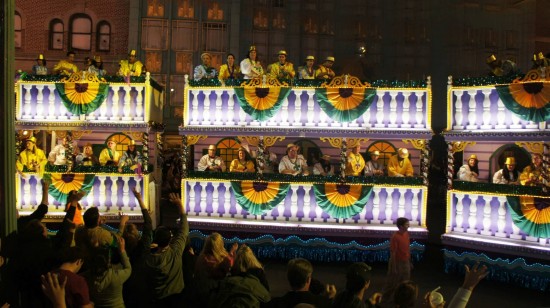 The parade was a burst of color, music and excitement as each float rounded the corner and Mardi Gras beads began to fly by the bunches. I caught quite a few strands with just one hand, so I was pretty pleased with myself. I snapped picture after picture. Even though we had already seen the floats backstage earlier in the day, it is such an amazing experience to watch them come to life and see the very talented actors and crew waving and dancing in their full costumes. This year's Mardi Gras is NOT something to miss!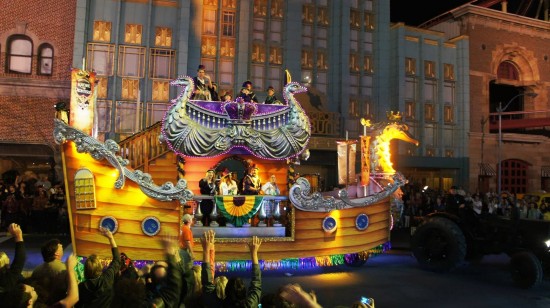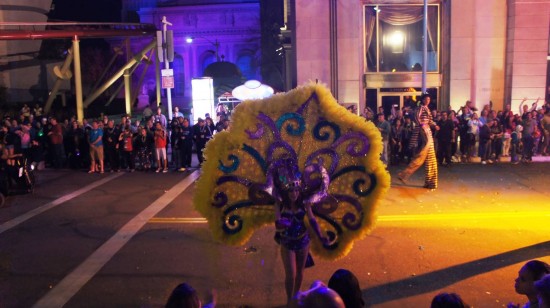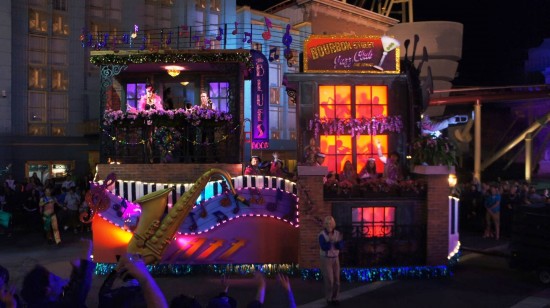 I thoroughly enjoyed my experience at this event and look forward to Orlando Informer being invited to more things like it! For more information on the 2013 Mardi Gras celebration and concert schedule, be sure to check out the complete insider's guide on this site.
Mardi Gras 2013 at Universal Orlando – photo gallery
Click any image to view it full-screen. When the full-screen image is open, click to the right or use the right arrow on your keyboard to advance through the gallery. If several thumbnails are missing, try reloading this page in your browser.
[sws_author_bio user="DinaFayeMagdovitz" size="105″ authorposts="More OI posts by Dina" name_format="About the author"] [/sws_author_bio]