International Drive, the gateway to Universal Orlando and SeaWorld, often gets a bit of a bad rep for being one of the most touristy areas in the City Beautiful. Whilst it's true that I-Drive is not the most scenic place in the world, what it lacks in scenery it more than makes up for by offering a variety of attractions, accommodations and restaurants. Today I'd like to share with you my favorite I-Drive restaurants that really shouldn't be missed while you're in the area. After a long day at the parks, the one thing you need — apart from a shower, sleep and maybe a beer — is a delicious dinner, and these three are my personal go-to venues:
I'm feeling fancy! Café Tu Tu Tango
If I'm up for ironing my button-down shirt in the hotel room and treating the other half to something special, my top choice is the exceptional Café Tu Tu Tango. One of the few independent restaurants on I-Drive, Tu Tu Tango is an upscale, tapas-style restaurant themed as a Spanish artists' loft more befitting Barcelona than Orlando. It features fabulous local art adorning the brightly coloured walls – and every piece is for sale, so you may end up leaving with a full stomach and a piece of one-of-a-kind art!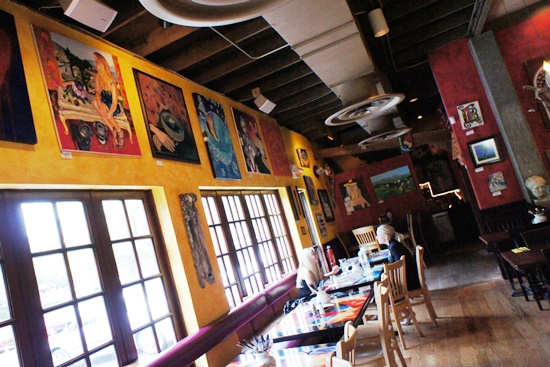 The atmosphere and surroundings are worthy enough of being number one on my "fancy" list before we even get to the centrepiece of Tu Tu Tango's appeal: the fantastic food. Since each dish is served tapas-style, everything comes as a small appetizer-sized portion; you buy multiple dishes for the table and share the locally sourced, freshly cooked and eclectic mix of delicious food between your party. It's the ultimate foodie night. The menu has a vast array of dishes from Alligator bites and guava glazed ribs, to fantastic brick oven baked flatbreads, seafood and meats – there's not an item on the menu which doesn't sound delicious, so the only problem is that there's just not room to try them all! Dishes range from $5 to $10 each but are well worth the pricetags (the sharing banana pizza dessert comes particularly highly recommended from myself and my Girlfriend). If you're looking for somewhere you can spend a few hours kicking back, relaxing and being in foodie heaven, Café Tu Tu Tango should be top of your list too.
Official website: cafetututango.com/
I want to keep it casual. Chili's
All things Tex-Mex is the order of the day at Chili's. While it's chain restaurant you've likely heard of, there's nothing wrong with enjoying a familiar place on vacation — especially it that place is a bright, vibrant restaurant serving colourful and utterly delicious food showcasing the best that Southwest has to offer.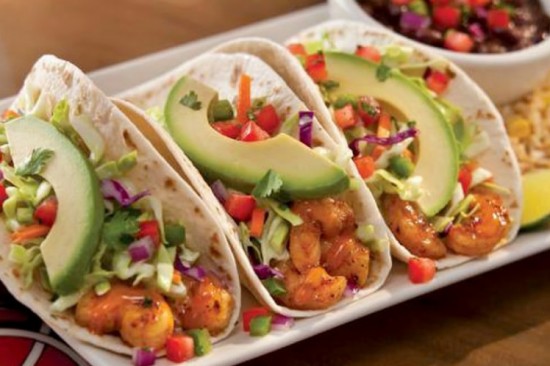 The menu is enormous and has a vast array of fajita's, ribs, burgers, chicken and seafood, and is also home to some of the freshest and tastiest twists on Tex-Mex, such as the delicious Mango-Chile Chicken, Cajun pasta and Chipotle Chicken Flatbread (my top tip for 'must eat'!), and a great variety of margaritas for the grown-ups. If you're on a budget, Chili's offers a quite brilliant $20 two-course dinner for two people, which is some of the best-value-for-money food on I-Drive, not to mention some of the most mouth-watering and filling. When casual and fun is the name of the game, Chili's is well worth a visit.
Official site: chilis.com
I just want to pig out… Buffalo Wild Wings
The award winning Buffalo Wild Wings is arguably the best sports bar on I-Drive, and as the name suggests, it serves out-of-this-world Buffalo Wings as its staple. Home to 21 varieties of wings from the mild flavours of Lemon Pepper, Barbeque and Parmesan Garlic, to the traditional Buffalo sauce, and all the way up to the inferno-in-your-mouth Blazin', there's a wing to suit all palates. This is a big reason why it won the award for Best Wings in Town from the Orlando Sentinel when it opened in 2008. The wings are amazingly tasty!
I'm a traditional buffalo wing kind of guy so these are my pick (with blue cheese sauce to dip), but don't ignore the burgers, overflowing, messy and not lacking in size: exactly what a burger should be! Buffalo Wild Wings is also a great place to watch live sport; Not too long ago I saw the NBA playoffs here and the atmosphere was great — every seat in the house gives a great view of one of the many flat screen TV's, and there's an extensive bar with an all-important happy hour.
If you're feeling brave (or some may say stupid), you can attempt the mind numbingly hot Blazin' wing challenge: eat 12 wings coated in their hottest sauce — each wing is 60 times hotter than a jalapeño! — in under six minutes and you get a t-shirt and your picture on the wall of fame, Man vs. Food style. The challenge is so serious it even comes with its own waiver to sign before you attempt it. Yeah, not for the faint of heart! B-Dubs, as it's affectionately referred to, it's a great place to relax, unwind, and eat yourself silly.  If you love wings, or if you're a connoisseur of all things hot, you'll love this place!
Official site: buffalowildwings.com
I bet you'd be surprised to learn that OI has over 100 restaurant reviews in it's blog — click here to view them.
[sws_author_bio user="danmay" size="105″ authorposts="More OI posts by Daniel" name_format="About the author"] [/sws_author_bio]