Spend your summer getaway at the newly renovated Hyatt Regency Grand Cypress and you won't regret it!
With the completion of many new and enhanced amenities, this luxury resort is looking fresh, swanky and ready for the summer travel season. Some of the new renovations vacationers can look forward to: the half acre pool area, expanded health club, newly refurbished rooms, and a renovated grand lobby complete with hip bar area.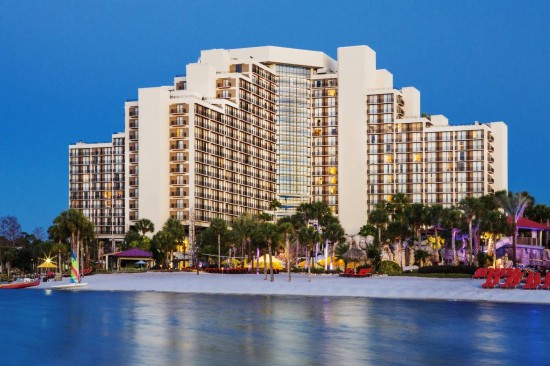 Orlando Informer was invited last Thursday to see the transformation first-hand. As I entered the lobby I noticed its grand, cavernous size, but also began to focus on the luxurious simplicity of its new design. Comfortable sitting areas surrounded by fountains and fresh plants made it the perfect place for hotel guests to gather. The elevated bar area is a great place to hang out as well. Just sitting there, listening to the live musical entertainment, made me feel like I was already on an exotic vacation. This is definitely the kind of hotel lobby you could really enjoy spending some time in.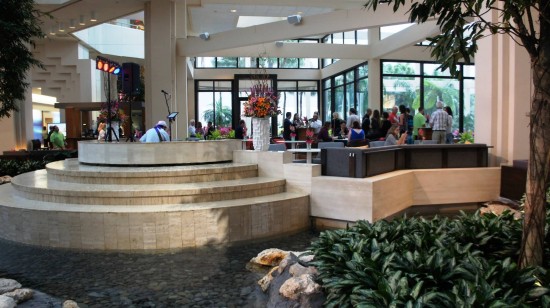 After moseying around the beautiful lobby my attention was caught by the lagoon pool. It stretches alongside the private resort beaches of Lake Windsong and feels exactly like a lagoon on an island paradise. The pool area boasts 12 different waterfalls, rock climbing stations and new water slides. It feels like a mini water park in and of itself. There are heated and non-heated pools as well as two whirlpools that stretch out over the area, winding through and under the beautifully crafted grotto. A full bar and various sun decks complete the lagoon pool making it the perfect spot for some fun, relaxing, partying or to spark a little romance.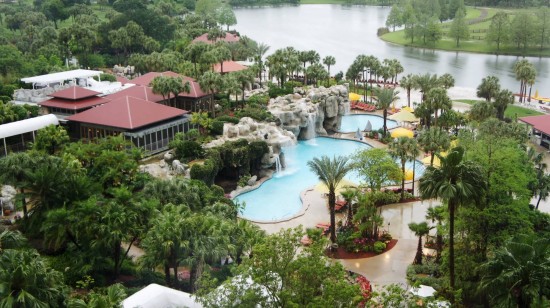 Located beside the pool and underneath the grotto is the newly renovated health club. With its original size almost tripled, the Hyatt StayFit Fitness Center features more space for exercise as well as new fitness machines and equipment. I'm not one to really stay committed to working out while on vacation, but after seeing this place I could definitely factor it into my stay just to be able to use the awesome new equipment and added fitness amenities.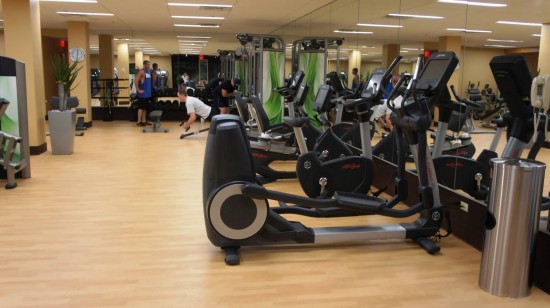 I've often heard a lot of people say that they're not too concerned with their hotel rooms as long as they are clean. After all, you're only sleeping there, right? Well, at Grand Cypress, even if all you use your guest room for is sleep, they want you sleeping stylishly in the lap of luxury. With modern décor, plush beds and renovated bathrooms I could definitely imagine myself cozying up for a full morning of sleeping in.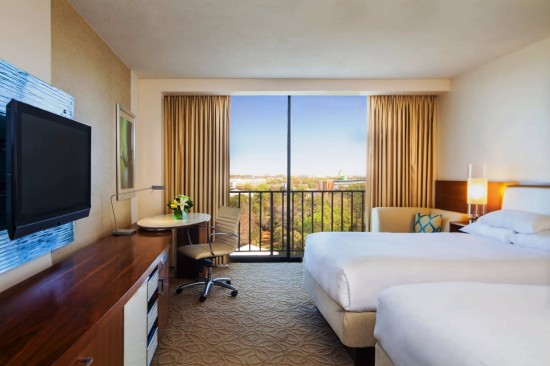 Staff members at the Grand Cypress explained the careful planning and attention to detail that went into the updates and renovations. The idea was to not only update the décor and design, but make the property feel like a true getaway resort. I say well done on that!
The place is beautiful, luxurious and relaxing no doubt, but here's what I loved most about it: You never have to leave the hotel property if you don't want to. They have so many amenities that come included in the hotel stay you'll never be bored. Plus, I really don't think their staff can be beat for hospitality and accommodation. It's the perfect place to tune out and really have a great vacation. They have set up an environment with an ambiance that caters to any and all. When you stay at Grand Cypress, get ready to enjoy a whole new kind of Orlando vacation.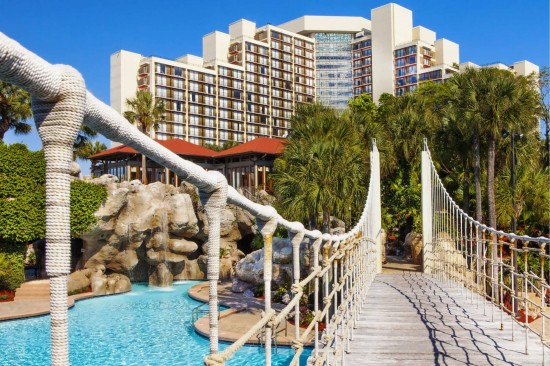 Hyatt Regency Grand Cypress is located on Grand Cypress Boulevard just one mile from famous Walt Disney World. If you decide you can venture out from your bubble of resort luxury all of your theme park fun is right there for you. Rooms start at $160 per night.
About Hyatt Regency Grand Cypress
Welcome to the Hyatt Regency Grand Cypress in Orlando, Florida
Experience world-class comfort and style at the Hyatt Regency Grand Cypress, a sprawling secluded oasis in beautiful Orlando, Florida. Surrounded by shimmering lakes and lush landscaping, our luxury vacation resort is an ideal destination for leisure and business travelers looking to unwind just minutes from all the thrilling theme parks and attractions in the Orlando area. Enjoy a night in one of our 815 well-appointed guest rooms and suites with sweeping views, designed as your private escape. All stays are enhanced with upscale services and amenities that are sure to create unforgettable vacation memories.
Services and Amenities
Our 1,500-acre luxury Orlando resort is the ideal destination for those seeking an upscale travel experience just minutes from the best theme park attractions in town. Leisure and business guests will enjoy access to our complimentary high-speed Internet access, high-tech fitness center, 24-hour business center, and world-class restaurants dishing up inspiring cuisine from around the globe. Our Orlando resort is renowned for its variety of onsite activities. Tee off at one of our Jack Nicklaus Signature Design golf courses, or enjoy tennis, rock climbing, jogging and biking. Don't forget to make a splash at our 800,000 gallon lagoon-style swimming pool with thrilling water slides. The 21-acre Lake Windsong is ideal for water sports activities, while Camp Hyatt is perfect for those who desire endless organized kids entertainment.
Hyatt Regency Grand Cypress – map & links
Click any marker to display the attraction or venue name. To scroll or zoom, use the controls on the top-left of the map. You may also switch to different map views by using the buttons on the top-right of the map.
Official website: http://www.hyattregencygrandcypress.com
Hyatt Regency Grand Cypress – photo gallery
Click any image to view it full-screen. When the full-screen image is open, click to the right or use the right arrow on your keyboard to advance through the gallery.
[sws_author_bio user="DinaFayeMagdovitz" size="105″ authorposts="More OI posts by Dina" name_format="About the author"] [/sws_author_bio]