Yesterday Hash House A Go Go, an brand new all-day dining spot, opened at 5350 International Drive – just a half mile North of Universal Boulevard. The award-winning dining spot serves "twisted farm food" for breakfast, brunch, lunch, and dinner at the restaurant group's first Southeast location. Conceived of Midwestern roots, the concept launched in San Diego in 2000 and now boasts seven additional outposts in Las Vegas, Reno, Chicago, and at the Mohegan Sun Casino in Connecticut.
Hash House A Go Go, a name fusing the ideas of "old-style food" and "something new," creates a fun, lighthearted dining experience offering traditional diner fare, spiced up with bold flavors and offbeat, over-the-top presentations.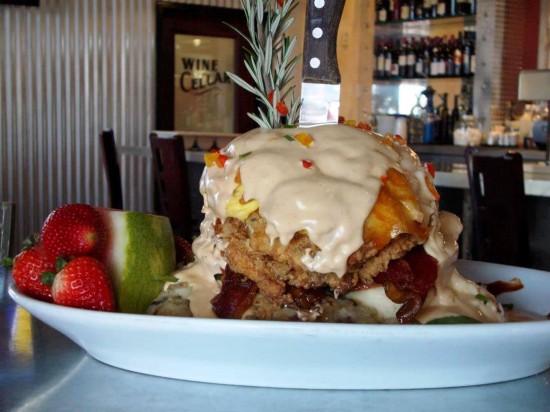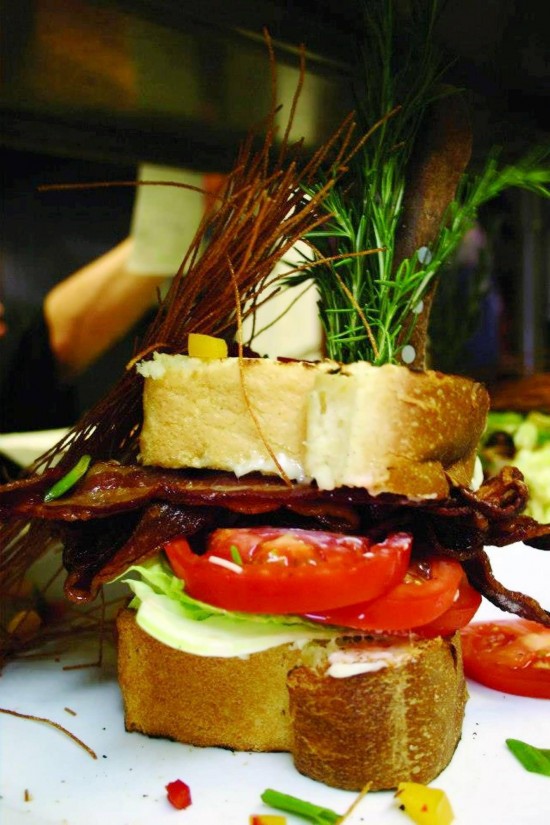 Founder Andy Beardslee developed the wide-ranging menus based on his Indiana upbringing, incorporating fresh ingredients and generous portions. Hash House A Go Go offers something for any guest, including these highlights:
Breakfast
Andy's Sage Fried Chicken Benedict – with maple reduction, eggs, bacon, mashed potatoes, and split biscuit
HH Famous Meatloaf Hash – with roasted red peppers, fresh spinach, and smoked mozzarella
Flapjacks – Blueberry Pecan, Brown Sugar Banana, Blackberry Granola, Snickers, Apple Cinnamon
House Favorite Scramble – with roasted chicken, fresh corn, roasted red peppers and mozzarella served with griddled mashed potatoes or crispy potatoes, fruit and fresh biscuit
Brunch
Crispy Hand-Hammered Pork Tenderloin Benedict – with market tomato, spinach, and barbecue cream, topped with scrambled eggs
Tractor Driver Combo – two eggs with bacon, sausage or potatoes with a buttermilk flapjack, vanilla waffle or griddled french toast
O'Hare of the Dog – 24 oz. Budweiser in a bag with a side of bacon
Lunch
Famous One Pound Hash House Stuffed Burgers – stuffing options include: fresh mushroom and Swiss cheese; apple wood-smoked bacon and mashed potato; crumbled blue cheese; hardwood-smoked bacon, avocado and cheddar
The Kokomo – griddled meatloaf, roasted tomato & smoked mozzarella on old fashioned milk bread
Andy's Sage Fried Chicken Salad – tossed mixed greens in mango vinaigrette with green apple, caramelized pecans, crumbled blue cheese, and fresh tomato, crowned with sage fried chicken breast
Dinner
Sage Fried Chicken & Waffles – two sage fried chicken breasts with a hardwood smoked bacon waffle tower, hot maple reduction and fried leaks
Stuffed HH Meatloaf – with fresh spinach, roasted red peppers, mozzarella cheese, marsala cream sauce & griddled mashed potatoes
HH Famous Roasted Chicken Pot Pie – upside down crust stuffed with house-roasted chicken, shaved sweet corn, mushrooms, broccoli, carrots, red potato, veggies and pan gravy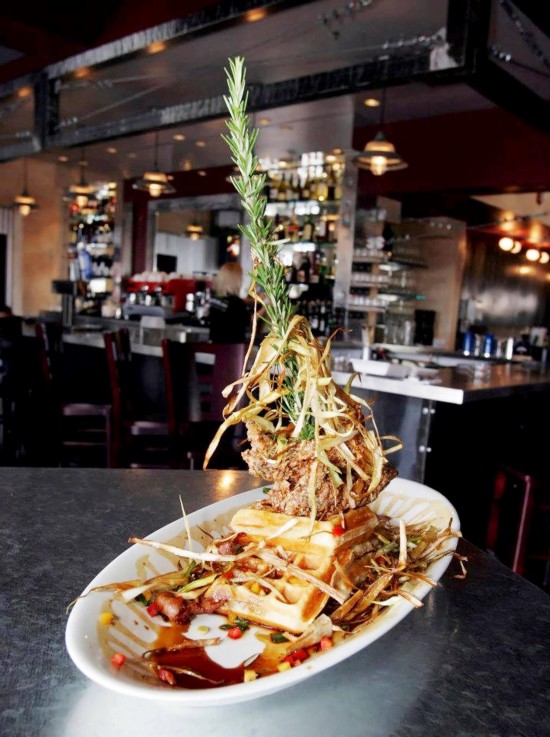 Fittingly, Hash House A Go Go's beverage program is full of colorful and spirited cocktails to go along with the lively fare. Favorites include Johnny's Famous BLT Mary trimmed with a fresh tomato wheel, smoked bacon slice, a rib of romaine lettuce, and toast. Or, sippers can imbibe with the Champagne Super Nova – a blend of mint and bubbly sure to make the Orlando brunch crowd very happy. An eclectic wine and beer list round out the spirited portion of the menu. On the non-alcoholic side, the drink list showcases an assortment of freshly squeezed juices and lemonades like the Hash House favorite, Kiwi Watermelon Lemonade. For the caffeine addicts, the restaurant offers a variety of specialties, including flavors like 'smores mocha, caramel all over, and banana latte.
The restaurant's décor, like the food, is country-style with an urban flair. From the barn-inspired exterior complete with a silver silo, to the welcoming interior with old-school black-and-white farm photos and relaxed booths, Hash House A Go Go is about having a good time—sophistication without pretention. The restaurant seats 260 guests, including 60 seats at the bar.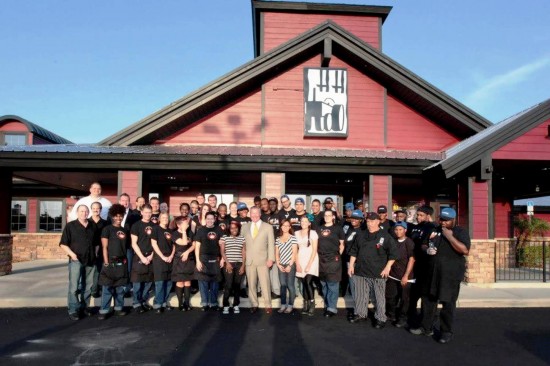 Hash House A Go Go has received national recognition from the likes of The Steve Harvey Show, Martha Stewart, Al Roker, and Adam Richman of the Travel Channel's "Man Vs. Food," and the team behind the wildly popular restaurant looks forward to opening in Orlando.
"We couldn't be more excited to bring our twisted Midwestern fare to this region of the country," said Jim Rees, Chief Operating Officer. "Hash House A Go Go will be a lively gathering place playing on the high energy and fun-loving style of Central Florida, while treating locals and visitors alike to inventive, farm-fresh food, presented in a style that's all our own."
Hash House A Go Go Orlando – map & links
Click any marker to display the attraction or venue name. To scroll or zoom, use the controls on the top-left of the map. You may also switch to different map views by using the buttons on the top-right of the map.
Official website: http://www.hashhouseagogo.com