Welcome to our next Special Needs Are Universal article. The purpose of this OI Blog series is to answer your theme park disability questions and give families the confidence to enjoy all of Orlando! This week we'll be discussing food allergies.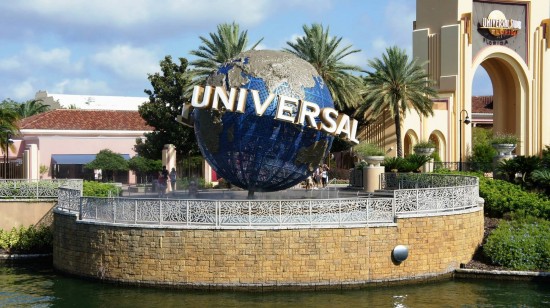 As of January 21, 2013, a new law classifies those severely allergic to shell fish, peanuts, wheat, corn, gluten (celiac disease) and some other allergens as able to fall under the Americans with Disabilities Act. It only stands to reason that theme park restaurants must now be equipped with ingredient information for guests with these allergies, as this new law leaves restaurants more vulnerable. This leads me to our question from AMJ:
We are planning our first visit to US/IOA in May. My children and I are vegetarians. Additionally, my DD (dear daughter) has a severe egg allergy. She is also allergic to mustard and tree nuts. Disney is fabulous with handling food allergies and having vegetarian options, but we have had some not so great experiences at other theme parks so I am a little concerned about how we are going to handle this.
At Disney, the counter service restaurants have ingredient binders with the cashiers. Does anyone know if US/IOA has anything similar? Are the table service restaurants helpful with special diets?
I'm nervous that we will show up to eat a restaurant at US/IOA and we won't have any choices. What is the policy of US/IOA of bringing food into the parks? 
AMJ, you need not be nervous about your family's dietary needs while visiting the Universal Orlando. I have personally worked with several Team Members over the years and have rounded up the information you need to make your vacation a success.
Regarding dietary binders, Universal does not have them, as such. However, chefs and restaurant managers DO have the information you need about their food offerings. A couple of years ago I worked with the manager of the International Food & Film Festival restaurant (currently under construction to become Simpson's themed) to see what she could do to help our daughter find food that could be easily swallowed, as our daughter cannot chew. She was a great help at the time and offered to make our daughter mac & cheese if we gave her 48 hours notice. She also was in charge of the Team Members' cafeteria, and although she couldn't make one serving, she could make a large batch to serve for the team, holding back a serving for our daughter. We didn't have to do that because shortly after Three Broomsticks opened, which does serve mac & cheese on their kids' menu. I can't stress enough how good the park Team Members are with helping you when you have special needs, and that includes dietary.
Contacting Universal Orlando
Last week when I called upon Cathrina, the café manager for her help, and she responded via email that managers and chefs have ingredient lists or can pull a product to look at the labels for what each item contains. She actually went above and beyond by contacting NBC/Universal's Quality Control Chef Bobby Burdick (who also goes by Chef Bob). One of his roles is to provide information to any guest who has allergies. He gave permission for me to make available his email and cell phone number for guests who are planning their vacations and can contact him directly, as it is easier if guests contact UOR in advance of their visit. Chef Burdick can be emailed at Bob.Burdick@universalorlando.com or call him at 321-388-2123. Since your family is sensitive to several ingredients, I would advise you to contact Chef Burdick. Please make sure you give him adequate time to research your request. Personally, I would question him about the quick-service restaurants and carts since you never know when you're going to want a quick bite and need no reservation. You can also request information at FoodServiceCUF@universalorlando.com. Although no specific time frame is given, if possible I'd allow at least a 48 hour window to make your reservation and inform the restaurant of your dietary requests.
UOR's website does address Food Allergies by providing the following information:
Research Dining Options Before You Arrive
As you're making plans to visit Universal Orlando Resort, browse through the online menus for our theme park restaurants. Acquainting yourself with the available options ahead of time can give you a head start later. If you have any further questions after viewing the menus, you can call 407-224-3463 and speak to a Guests Services Team Member.
Editor's note: Since Universal does not publish menus for all of their restaurants, we recommend that you browse the restaurants pages in the OI Universal Center, where we provide all menus by way of photos or PDF files.
Universal Studios Florida  |  Islands of Adventure  |  Universal CityWalk
Check With Restaurants Once You're Here
If you aren't able to research dining options ahead of time, don't worry. You can ask to speak to a chef or manager at any restaurant within Universal Orlando Resort, or at any of our on-site hotels once you're here. Let them know which guest in your party has a food allergy or intolerance, and what the allergy/intolerance is. Our culinary staff will make every effort to prevent that allergen from coming in contact with any part of that guest's meal.

It should be noted, however, that Universal Orlando does not have separate food preparation facilities in which to prepare allergen-free foods. There is occasionally the chance that allergens may have been introduced to one or more ingredients before they reached the kitchens at Universal Orlando—and, on other rare occasions—even inadvertently as the food was being prepared.

Bring Your Own Food
You're also welcome to bring your own food with you if you prefer. Simply notify a Security Team Member performing the security bag check at the front gate that you or a member of your party has a food allergy/intolerance. Please do not bring glass, and items should be contained in a soft-sided cooler.

Universal Orlando guests staying at one of our on-site hotels may keep their food refrigerated in their hotel room. During check-in, ask the Front Desk Clerk for a refrigerator to be placed in your room. Note: there will be a fee of for use of the refrigerator. Your hotel can give you details. The hotel is unable to accept or hold food in its kitchen on behalf of the guest.
The page recommends you research dining options before you arrive. Once you're at the resort, check with your chosen restaurants at the parks, hotels and CityWalk. Ask to speak with the chef or manager to explain any allergy or intolerance your party member may have. Culinary staff will do their best to make sure that your meal does not come in contact with your allergen, but they also want you to know that their kitchens do not have separate facilities in which to prepare food.
Full-service restaurants
Full-service restaurants are helpful without prior contact, depending upon your need, but be sure and tell your dining reservation team member about your allergies. When we ate at Finnegan's in Universal Studios Florida, the manager offered to send someone to another restaurant to obtain something our daughter could eat when we found their mashed potatoes included the skins, which causes her to choke. And we can't say enough about Confisco Grill in Islands of Adventure; they have always prepared their mac & cheese specifically for our daughter and even given her a larger portion since she can't chew the sides that accompany the dish.
Bring your own food
Yes, you can carry in your own food!  The website info says you should notify the Security team member that you or a member of your family has food allergies when they are checking your bags. We've been carrying in food for our daughter for years and have never been questioned. Be advised you can only carry SMALL soft-sided coolers, and it is requested that no containers be made of glass. We've also never been questioned about why a single serving can of baked beans or pudding cup is on the table in the restaurants. We used to heat her food and put it in a thermos, but since we've found restaurants that serve her favorite mac & cheese, we usually only carry pudding cups and Ensure. Most restaurants do not have microwaves in their kitchens, but after speaking with an assistant park manager a few years ago were given a letter to allow us to use the ovens available at Family Services located at First Aid.
Vegetarian or healthy options
All the restaurants at Universal Orlando offer at least a couple of vegetarian/healthy options, usually salads, chicken, and garden burgers. As you might expect, the quick-service restaurants will have a smaller selection of these options while the full-service restaurants will have a bigger selection. That being said, Universal does mark some of their venues as offering Vegetarian Meals/Healthy Choices, which you can see here (click the image to view a larger version and look for the red apples):
CityWalk is the same story. In terms of their menus, they all are going to offer a mix of healthy and not-so-healthy meals.
If you'd like to do more research, you can browse the restaurants pages in the OI Universal Center, where we provide all menus by way of photos or PDF files.
Universal Studios Florida | Islands of Adventure | Universal CityWalk
What are the best vegetarian options at Universal? Here are two more blog posts you'll enjoy:
Guide to vegetarian dining at Universal | Top 5 best vegan/vegetarian choices at Universal
Communication
I think the key is communication with park team members and making your special requests part of your vacation planning without fail. Finding the right information is always a huge bonus and time saver. Orlando Informer will always strive to give you the most up-to-date knowledge available!  Thanks for your question and have a great vacation in the Universal Orlando Resort.
Oh, and if you'd like to make dining reservations online, check out this helpful page.
DISCLAIMER: Please be advised that neither the author of this post nor any of us here at OrlandoInformer.com is an official representative of any theme park in Orlando. While we work diligently to provide you with the very best advice from our collective expertise and experience, it is still your responsibility to verify your plans with each theme park.
View all of our Special Needs Are Universal posts
Do you have a
Special Needs Are Universal
question for Debi? She is available to assist your family in the
SNAU section of the OI Forums
. Registration is free, and once you have an account, we invite you to join the conversation or ask a new question.
[sws_author_bio user="iamdollie" size="105″ authorposts="More OI posts by debi" name_format="About the author"] [/sws_author_bio]