Recently Orlando Informer introduced a new site feature that allows our readers to write reviews of the attractions at Universal Orlando. Right now I want to say how much I appreciate all the incredible reviews that have been submitted so far (nearly 300!).
Because the reviews are filled with so much expert advice and educated opinions, I thought it would be cool to have a way to share new reviews with everyone — without readers having to visit the individual attraction pages in the OI Universal Center. So then I thought, why not create a blog post that highlights some of the most helpful and entertaining reviews submitted by our fans?
That brings us to this new post. In no particular order, here are a few of the great reviews submitted last week for the attractions inside Islands of Adventure…
Two IMPORTANT notes: All the links will open in a new window for your convenience, and please remember that guest reviews may contain spoilers!
The Mystic Fountain
Not Your Average Geyser  |  Submitted by Melissa
Let's face it… Most people on a mission to the Wizarding World of Harry Potter breeze right past one of IOA's best-kept secrets — The Mystic Fountain. This is not your average geyser! Located in the Lost Continent, this inanimate entertainer comes to life through the magical power of snark (and, of course, a fair amount of water).
While waiting for my husband to return from the restroom, I ventured over to a relatively small crowd gathering near the fountain, comfortably perched myself atop a nearby stone wall for optimum viewing, and waited… It didn't take long. This geyser didn't disappoint. The Mystic Fountain spoke to nearby guests, both young and old, but he especially targeted unsuspecting children.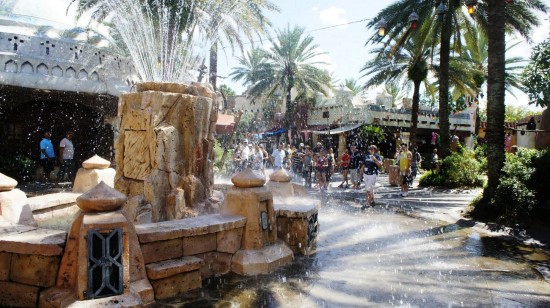 At first, the fountain engaged in casual conversations of small talk and pleasantries, offering the occasional water squirt while keeping the kids on their toes if response time lagged, but the real fun ensued when the Mystic Fountain engrossed his human subjects in a battle of wits. The kids remained amused, mainly because a simple threat of splashing and spraying was entertainment enough for the children; however, the adults in the crowd were certainly humored by The Mystic Fountain's quick jests, jokes, and wisecracks.
As the quips continued, the master of snark unleashed his grand finale… Jets of water poured out of the fountain's mouth, pelting any children in its path with a constant, soaking stream of water! Beyond that, water spouted from the fountain's head in high arches, soaking anyone within a six-foot radius.
If you're waiting on a friend or family member or simply taking a rest from the hot Orlando sun, then be sure to visit The Mystic Fountain! It's a fantastic way to cool off while having a good laugh, usually at someone else's expense.
Read more reviews of this attraction or write your own
Flight of the Hippogriff
One Special Moment  |  Submitted by Gloria S.
I'll admit that the Flight of the Hippogriff is a little short for my tastes but its worth taking a ride (or two) just for the money shot. What money shot you may ask, the most spectacular view at night. If you have the opportunity to take a ride after the sun has set you will not regret it.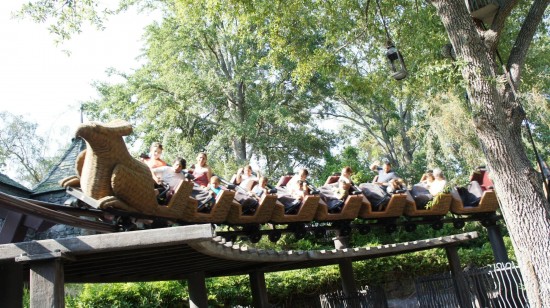 As soon as you start the ascension to begin the flight you start to see the park at in a different light. As you reach the very top of the climb, you look to the right and see the Hogwarts castle. The view last only a second or two before you plummet down, but for the die hard Harry Potter fan, seeing the the twinkling lights of the castle and the starry night background, the magic becomes real, if only for that second.
I strongly recommend that everyone gives this ride a try even though it does not contain the high speed thrills or drops you expect in a coaster ride. This ride gives you something else, it gives you one special moment in thinking that perhaps magic is real and that you're living in it.
Read more review of this attraction or write your own
Harry Potter and the Forbidden Journey
Best Ride EVER for EVERYONE!  |  Submitted by Lisa
As someone who has grown up going to the Jersey shore riding roller coaster after roller coaster and ride after ride, I can say that I'm pretty experienced in this department.  I have been on wooden roller coasters, upside down roller coasters, 3D simulated rides, 3D simulated roller coasters over and over again. THIS IS THE BEST ROLLER COASTER EVER!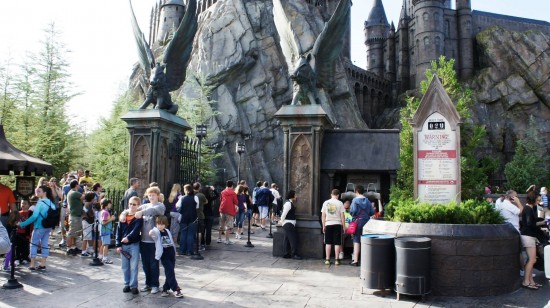 It felt so real. It really feels like you are flying! The images and the 3D affects are perfectly placed and perfectly timed!  I was screaming (in a good way) like a kid again! I had the world's biggest smile coming off of this ride! I was really excited b/c 3D simulated rides where you sit in a seat and just the screen moves, makes me extremely nauseous. But this is a Roller Coaster with 3D affects. So you are actually moving and it was just so fun, so amazing! Even waiting in line was awesome b/c you walk through the castle which is a dream come true for every Potter fan. Even if you are not a Potter fan, you can still be pretty entertained by the display.
My husband is resistant to going on roller coasters since heights are not his favorite thing. (i.e. He was a little weary of the Flight of the Hippogriff but I was able to get him on that). He LOVED this ride. We went in November so the park closed early and we were heartbroken that we only were able to go on this ride once.  Therefore, we booked another trip to Universal this July so that we could have more time to do this roller coaster over and over again!
Read more reviews of this attraction or write your own
Dudley Do-Right's Ripsaw Falls
Highlight of the water rides  |  Submitted by Kim
This is by far my family's favourite water ride. We all love the story as you're making your way up to the big drop, always getting wide eyes and giggles! The queue is very entertaining, so there's never any moaning, even with a large queue time. The drop itself is really fun, and the way everyone is seated one behind the other, everyone gets a share of the splash!!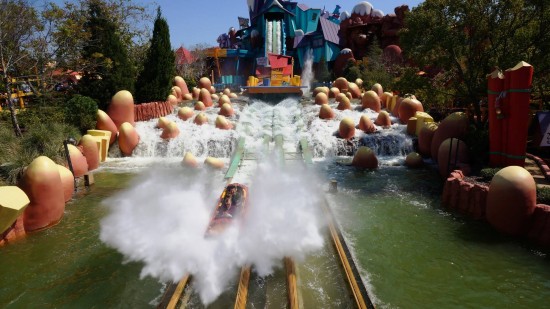 The only complaints we have about the ride is that its not long enough, and unfortunately we've had quite a few times we've been in line, but they've had technical difficulties, so its added to queue time – but since the queue is so fun we don't mind.
INSIDER TIP : Look out for water cannons, and, if you don't want to get soaked, invest in a rain mac!
Read more reviews of this attraction or write your own
High in the Sky Seuss Trolley Train Ride!
Up in the Sky, a Missed Opportunity (Sigh)  |  Submitted by Kyle T 
Originally intended to open with the park under a different, (somehow) more convoluted name, the High in the Sky Seuss Trolley Train Ride finally opened to high expectations. Sadly, the ride fails to live up to them or even its premise – an ariel tour of Seuss Landing.
The ride actually has two separate tracks that make for significantly different ride experiences. If you have the choice, choose the left track as you approach the station. (Often, if you have ask the loading team member nicely, they'll seat you in your requested track.) The right track travels through the Circus McGurkus Restaurant, which takes up a good third of its running time. While initially this might seem like a fun gimmick, the bottom line isn't there much to see inside besides hungry guests below. It also means you spend significantly less time outside with the beautiful views of Seuss Landing and the rest of the park, which is probably the best part of this attraction.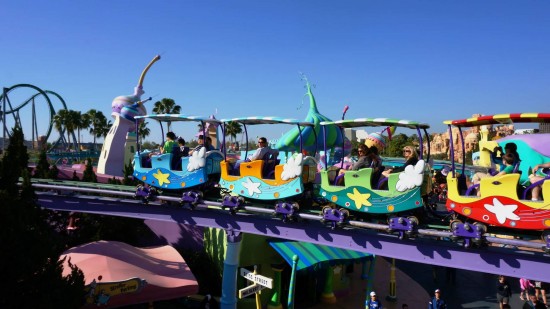 Both tracks travel through a brief show scene (more like a tunnel) before heading "outside" based on the Stars In/Stars Out machine from Dr. Seuss's story, "The Sneetches." The Sneetches story is explained in the queue on posters on the walls, but it has very little impact or relevance to the actual ride experience. You do encounter Sylvester McMonkey McBean on his truck on a roof towards the end of the ride, and finally encounter two Sneetches (one with a star on its belly, one without) making peace, but no larger story is attempted to be told once on-ride. These scenes provide visual interest and something unique to the ride that can't be seen from the ground, but the visuals are of low and hokey quality and make very little sense in the greater context of the experience.
The ride has four different narration tracks, one limited to each train – in my opinion, the Sneetches story and Mulberry Street narrations are far more enjoyable than the ABCs or Sounds options. The former two offer amusing, inventive Seussian commentary on what you're seeing as you ride, while the latter two are more juvenile and borderline obnoxious in their writing and vocal delivery.
The ride experience itself (once you're outdoors) is gentle, breezy, and great fun – but it's over all too quickly. The ride lasts less than two minutes on either track, making it an all too-short experience when compared to its counterpart at Disney's Magic Kingdom, the People Mover, which lasts more than five minutes. To add insult to injury, the capacity for this ride is woefully low, leading to excessively long lines (sometimes upwards of 45 minutes) when everything else in the park is below 30. The queue isn't particularly visually interesting and isn't indoors, either, so the lengthy, slow-moving line can be brutal.
The Trolley adds some kinetic flair to the Island and is fun to watch – but it isn't worth the hassle to ride. More popular attractions like Spider-Man, Hulk, and even Forbidden Journey can handle far more people at once than this attraction can and will take longer to build significant lines, so if you have a burning itch to go high in the sky, it's best to ride at the very beginning or very end of the day.
Read more reviews of this attraction or write your own
The Incredible Hulk Coaster
The Best Two Minutes and Fifteen Seconds of Your Life  |  Submitted by Chuck Fox
The Incredible Hulk Coaster my favorite roller coaster of all time. Maybe it isn't a groundbreaking achievement in roller coaster technology, but it definitely puts the "adventure" in "Islands of Adventure." While anticipating the launch out of the tube at 40 mph, you wonder so many things. "What will happen when we launch", "Will something go wrong?", or just a simple, "I cant wait till we launch!" For a first-timer on the ride, one may not know what will happen in the tube, asking themselves, "Why is that man screa- ahhh" They manage to say as they are unexpectedly launched out the tube.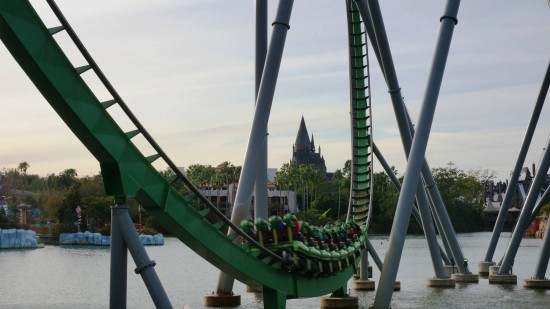 The Incredible Hulk Coaster presents question, excitement, and fear for all people, coaster experts, or not. The Incredible Hulk coaster is the pinnacle of Islands of Adventure, boasting its soaring heights, roaring speeds, and exciting turns and flips. I look forward to my approaching trip to Universal, as I will once again be able to ride the "Incredible" experience at the Islands, known as The Incredible Hulk Coaster.
Read more reviews of this attraction or write your own
Thanks to everyone who has submitted ride and restaurant reviews on our site! They help Orlando Informer become an even strong vacation planning resource, and reviews are a fun way for all of us to experience the parks from a new perspective.
To read more reviews of the attractions and restaurants inside Universal's theme parks, or to submit your own reviews, click here.