Recently Orlando Informer introduced a new site feature that allows our readers to write reviews of the attractions and restaurants inside Universal Orlando's theme parks. I want to say how much I appreciate all the incredible reviews that have been submitted so far (nearly 400!).
Since I enjoy reading your reviews so much, I thought it would be cool to have a way to share new submissions with everyone — without readers having to visit the individual venue pages in the OI Universal Center. So I've created this blog post series to highlight some of the most helpful and most entertaining reviews submitted by our fans.
In no particular order, here are a few of the great restaurant reviews submitted on our site last week…
Two IMPORTANT notes: All the links will open in a new window for your convenience, and please remember that guest reviews may contain spoilers!
Three Broomsticks & Hogs Head
Hogsmeade Heaven… | Submitted by Ann
If you're looking for typical theme-park fare of burgers, fries and soda, this is not the stop for you. If quirky, creative food is what you've been craving, then look no further than the Three Broomsticks & Hogs Head.
Located in the heart of Hogsmeade, the Three Broomsticks is technically a "quick-serve" restaurant. I say "technically" because the wait to get into Three Broomsticks can sometimes be quite overwhelming. However, the wait is absolutely worth it. Again, the restaurant has been designed with an impeccable eye and everywhere you turn, there's not a stone that seems out of place here. While you're waiting, you can look at display plates of the food you can sample, all of which look both delicious and deliciously English.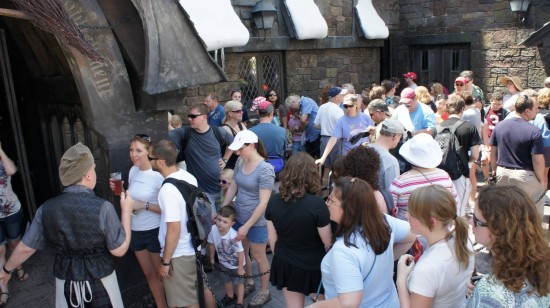 As far as quality of food, Three Broomsticks offers the best "fast" food of IOA. Hands down. For those folks looking for a lighter alternative to the standard theme park food, Three Broomsticks is probably your best bet, as you can get wonderful looking salads in addition to meat that is not fried. Your waist will surely thank you for it later! My personal favorite is the Rotisserie Chicken with roast potatoes and corn-on-the-cob. However, the fish and chips are also a solid choice, as is the Shepherd's Pie.
Make sure to check out the roof! The ghost's shadow on the roof of the Three Broomsticks is one of the most clever "easter eggs" to be found in Hogsmeade, second only to Moaning Myrtle in the bathroom. (If you didn't know Moaning Myrtle was in the bathroom, seriously. You need to go. Like, RIGHT NOW.)
Truly a "can't miss" for any Harry Potter fan, the Three Broomsticks doesn't disappoint. Remember, nothing tops off a nice lunch at Three Broomsticks quite like a Butterbeer! Don't forget to order yours!
Learn more about this venue or write your own review
Green Eggs and Ham Cafe
LOVE LOVE LOVE | Submitted by Natalie
Five days at IOA, and on our LAST day, Green Eggs and Ham Cafe was FINALLY OPEN!! Hooray!!!
I talked to the super nice cashier and she told me this restaurant is only open during busy times, so take advantage if you find it open!
Of course, what other reason to go than to try the Green Eggs and Ham Sandwich Platter? Ordering Green Eggs and Ham from a restaurant shaped like Green Eggs and Ham!?!? This Seuss geek was in HEAVEN!!! The sandwich itself was tasty. Warning: it looks disgusting, but really- green… it's to be expected. Don't be afraid- just take a bite.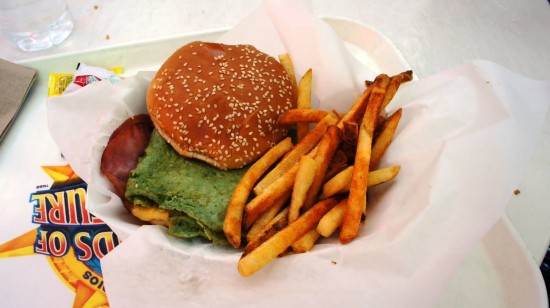 Sitting outdoors, eating Green Eggs and Ham in the middle of Seuss Landing, next to a Green Ham shaped restuarant… it just doesn't get any better for Seuss fans.
Learn more about this venue or write your own review
Captain America Diner
Not just another place to eat | Submitted by Michael Conda
One of my favorite things about visiting Universal Orlando is that nothing is just 'ordinary' and The Captain America Diner is no exception. One of the standout features of this location is the absolutely stunning comic strip character and scenes all over this place, it is truly beautiful.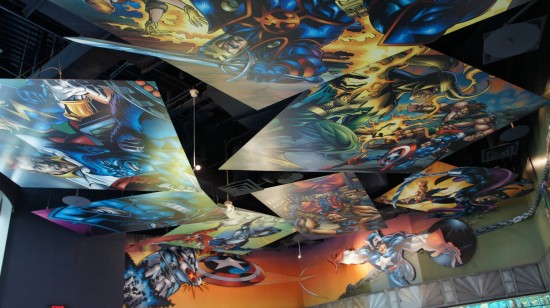 Burgers, Chicken, Salads and more…the standard Universal Orlando quick service fare but it's all more better by your surroundings. Speaking of surroundings, there is an outside dining area that provides one of the most incredible view of The Incredible Hulk coaster in action.
I strongly recommend this location to families and comic/coaster fans alike.
Learn more about this venue or write your own review
Mel's Drive-In
50's!!! | Submitted by Sandra Cuss
We had a mini reunion at Universal Studios with my sister Karen and my nephew Luke, back in October of 2012. As the designated tour guide, it was up to me to make all the arrangements. Of course, that had to include where to eat! I chose Mel's Drive In for our lunch meal and I am glad I did. The atmosphere is just what you expect if you ever watched American Graffiti or Happy Days! We had a wonderful meal complete with chocolate milkshakes. Mel's has the best fries I've ever had!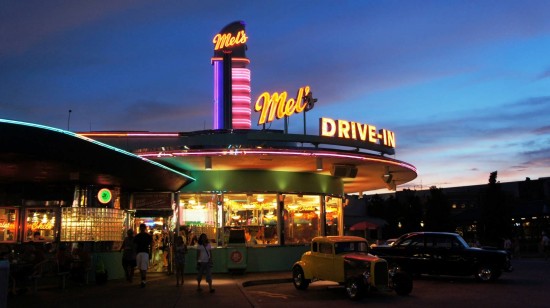 The staff really gets into the feel of the period but it is what happened while we were eating that elevates my opinion of the staff.
As we sat down to eat, we noticed that someone had left behind a large photograph in the booth we chose. I gave the photo (one of those professional Universal photos that aren't exactly cheap) and watched as the employee sprinted out of the restaurant saying "I just saw them!" He didn't come back for more than 5 minutes but when he did, he said that he had located the people and they were very appreciative of his returning the picture, they hadn't even noticed it was missing!
That is the kind of people you want working here!
Learn more about this venue or write your own review
Confisco Grille & Backwater Bar
Lunch at Confisco Grille | Submitted by Krystal Tabay
I visited IOA last year on a surprise birthday trip with my husband, brother and cousin. We got to the park early and around 2PM we found ourselves waning in the early afternoon heat and humidity. Deciding that a short break was in order we stopped into The Confisco Grille for a late lunch. We had never been to Confisco before but upon entering the air conditioning was very welcoming as was the hostess who joked around with my brother because he was sporting a Pittsburgh Steelers t-shirt.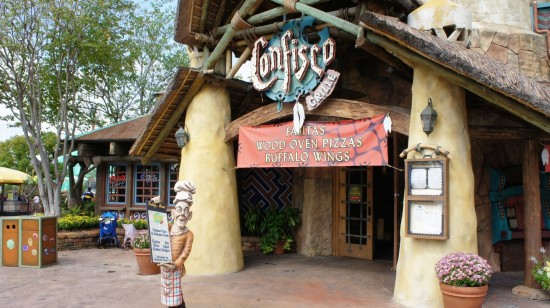 We were seated right away and checked out the menu. Our waitress was very friendly and we decided to split two of the pepperoni wood oven pizzas, my cousin also ordered a milkshake. The food came out very quickly, the pizzas were plenty big enough for us each to enjoy half. The crust had such good flavor and the sauce had just enough spice. We had asked for lemons for our waters and the waitress brought out a small bowl for us, it was more than enough for our drinks.
After eating my cousin foolishly stated how much he loved lemons which lead to a bet with my brother for him to finish the lemon wedges in the bowl (2) for five dollars. Our waitress joined in the fun saying that was not enough lemons for a challenge and she brought out another bowl with 4 more wedges! He completed the task and we all had a good laugh including our waitress.
We had a very enjoyable lunch at Confisco Grille the good food, awesome environment and friendly wait staff were exactly what we needed to recharge our batteries for the rest of the afternoon and we will be returning this fall when we visit again for Halloween Horror Nights.
Learn more about this venue or write your own review
Circus McGurkus Cafe Stoo-pendous
Under the Big Top | Submitted by Melissa
Looking for a whimsical dining experience? Then search no further! Escape the Orlando heat or torrential rain by heading under the big top at the Circus McGurkus Café Stoo-pendous! As a prominent fixture in Seuss Landing, this counter-service café may not exactly tantalize your taste buds, but it promises to amaze and entertain while you dine under its colorful circus tent.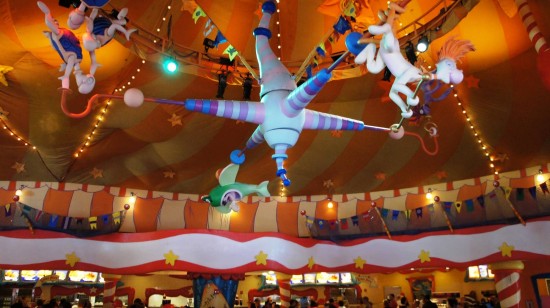 The typical "circus" fare is featured, such as chicken sandwiches, pre-made salads, burgers, fries, pizza, and various dessert items, and Universal's Meal Deal is also available here. Since these food selections are quite comparable with other counter services throughout the park, they are not the main attraction. My husband and I always venture under this big top to enjoy the atmosphere.
Trapeze caricatures swing high above while glowing lights, colorful flags, and fanciful decorations soar overhead. Themed booths located around the café's perimeter give the illusion of patrons sitting in individual circus train cars – many booths even feature windows to the outside, enabling you and your party to act as the carnival attraction for onlookers nearby while you dine!
In addition to these stupendous surroundings, "The High in the Sky Seuss Trolly Train Ride" takes a whirl through the café on its track high above, providing further eye candy or a chance to wave at guests as the food coma sets in. Also, periodic live shows featuring the Seussical friends performing to music occur on the floor stage. Led by the ring master himself, children in the crowd are invited to join in on the fun.
Satisfy your appetite with whimsy and spend some time under the big top!
Learn more about this venue or write your own review
Thanks to everyone who has submitted Universal attraction and restaurant reviews on our site! They help Orlando Informer become an even strong vacation planning resource, and reviews are a fun way for all of us to experience the parks from a new perspective.
To read more reviews of the attractions and restaurants inside Universal's theme parks, or to submit your own reviews, click here.