Guest Assistance Pass at Orlando's theme parks: Sharing my thoughts & announcing a new OI project
The most hotly commented blog post on Orlando Informer right now is Disney Controversies: The Guest Assistance Card as a Front-of-the-Line Pass, which continues to garner several hundred pageviews a week despite the fact that it was published nearly a year ago. Recently a person made some comments on the post that literally blew me away. Even though the comments have since been removed, as someone on OI who writes about disabled issues, I feel compelled to share my thoughts. In fact, this experience also inspired me to start a new OI project — more on that a little later.
For now you may want to review the original blog post before you continue with my commentary: Disney Controversies: The Guest Assistance Card as a Front-of-the-Line Pass. (That link will open in a new window for your convenience.)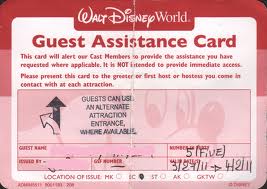 The post is one of instruction: what is the pass, what disability do you need to have before you can use it, etc. I have written a similar article for the Orlando Informer about the passes available for the disabled at Universal Orlando. It's NOT an article to tell you how to play the game of getting one when you don't need it. Same as the writer of the article, I have a lot of experience using these passes – almost 15 years at Universal Studios Florida and Islands of Adventure, and five years at Walt Disney World. The passes have allowed special needs families, like mine, to enjoy all the experiences that the so-called "normal" population enjoys, to a point. I reiterate that these passes are not necessarily front-of-the-line; this usually occurs only when parks are not busy. We've waited for Toy Story almost an hour, watching car after car load non-disabled guests while waiting for one of the only two ADA vehicles available for disabled riders.
The discussion on the Disney Controversies blog post so far has been relatively civil. Comments have been made by those who have disabled family members who have been using these so-called Golden Tickets for years, others who are new to the challenge of taking a family member to the parks for the first time and are requesting information, and of course, those who just seem to think it's not fair that this population receives the extra attention and benefits given. Some of the conversation has also been about those people who have abused this special privilege. But a new commenter started calling many of us who have written posts unkind names, and using phrases that, to me, show an entire lack of understanding of those with handicapped family members. When I read her posts in my email (I receive notifications from OI when someone writes leave a comment on the post) I cried, not only for her insensitive words but for her.
I wrote the following but stopped short of posting it under the article, because I decided more of our readership needed to see what occurred.
To the poster: I suggest you calm down and understand what this entire thread is about — education. I'm sorry the comments made by myself, as well as other parents/family/individuals with disabilities make you sick, but some of your remarks are downright hurtful; we are not "sick," as you so called us. Your statements that we are a "bunch of corrupted fools," and that "sometimes this is why I dislike families with a "disabled" child," show your lack of understanding for those sharing our stories. We are concerned and loving parents/family and I suggest you volunteer in a school for children with special needs because you, dear, need to learn compassion.
It makes me wonder how this person learned to speak in this manner, especially to those she does not even personally know. It's obvious she has never had to walk in our shoes, let alone change poopie diapers on an adult. The theme parks can be our haven, a place of rescue and respite, of peace and of calm for those of us with special needs family. The fact that both Walt Disney World and Universal Orlando offer Guest Assistance Passes and Attraction Assistance Passes to help us work through the maze of paths, restaurants, rides and attractions, is one benefit that I, for one, am truly grateful. And it's a real shame that this soul has no idea how much it means to those of us who have a real reason to use them.
Whoever the poster, our community of readers deserves the respect of all to share our stories and experiences without personal attacks.
Thank you to Orlando Informer for your existence. You are, by far, "the world's largest and most up-to-date Universal Orlando vacation planning resource." Even those with disabled family deserve the best sources available to help with their preparations and OI has offered more for those individuals than many sites. I'm honored to be a part of those resources and hope you'll come back and read even more of our informative articles.
Starting a new chapter on Orlando Informer
I am proud to announce a new project I will be handling on behalf of Orlando Informer. Starting today, we will collect questions/concerns/comments that our readers have regarding disability issues at Orlando's theme parks. Then, a few times each month, I'll write a dedicated blog post to answering those questions.
My goal
I can't tell you how many stories I have of things that have happened to us over the years, some positive, some negative. But I feel dealing with the these issues, good or bad, HELPS people know ahead of time how to handle certain situations at the parks. My goal here is to have guests communicate their concerns that either (1) keep them from going to them parks in the first place or (2) prevent them from returning. Together we can address issues the disabled community has and do our very best to open the pleasures of the parks to all families.
More about me
I'm debi dame, and I'm the mom of a 30-year-old daughter with non-verbal Downs Syndrome. Most people look at her and think she's maybe 13; mentally, she's perpetually a toddler. She is in a wheelchair, able to transfer to the rides and CAN ride just about anything if she meets the height requirements, as she is just 51 inches tall. I was also diagnosed with muscle conditions which now classifies me as disabled, but I don't let this label keep me from enjoying a full life.
With my husband, we have been Annual Passholders at Universal Orlando for almost 15 years and added Walt Disney World to the mix five years ago. Our focus has always been: how we can give our daughter the BEST experience each and every time we enter one of the parks. Over the years, due to all the experiences we have had on our visits, I've developed many of my own tips and tricks for navigating the parks.
After I started answering disabled questions on the OI Forum, Dan asked me if I'd like to be a contributor to the site, and I happily said yes — you can see my contributor archive.  I truly believe that disabled guests and their families deserve the same fun that capable guests are able to enjoy, only with some needed accommodations. My mission is to help families who may feel there are just too many hurdles involved be able to delight in the theme park experience, and to open a dialog with the questions you may have to help you jump those hurdles.
With planning, and the experience both Dan and I have, there are ways that even the most severely mentally/physically handicapped person — including those with hidden disabilities — and their families can have a great vacation!
How to submit your question/concern/story
We're hoping you reach out to us and share your questions, concerns, and stories, so we can continue to be a strong resource for guests visiting Universal Orlando and Central Florida's other theme parks. Please visit our new forum to get started.
Thank you for giving me this opportunity to assist your family!
Do you have a
Special Needs Are Universal
question for Debi? She is available to assist your family in the
SNAU section of the OI Forums
. Registration is free, and once you have an account, we invite you to join the conversation or ask a new question.
[sws_author_bio user="iamdollie" size="105″ authorposts="More OI posts by debi" name_format="About the author"] [/sws_author_bio]