When I was on my first trip to Orlando, I recall begging my mother for pizza. We did the traditional asking around, and we happily got the same answer from multiple people: Giordano's. After checking out a few quick reviews, we discovered that Giordano's was mainly based out of the Chicago area and was named "Chicago's Best Pizza". We decided to give it a try — if that many people liked it we would have to too right?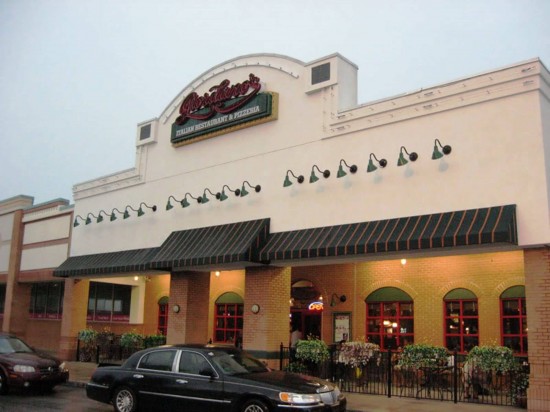 Upon stepping foot into Giordano's, I felt as though I was in an authentic Italian restaurant. The menu comes and then the decisions begin. Are you looking for a thin pizza or their famous Chicago style deep dish pizza? For us, we went with the deep dish option and never looked back. While it may take 30 – 40 minutes for the pizza to cook, the wait is entirely worth it.
To the table was delivered what looked to be a small pizza, but the pizza was legitimately at least two and half to three inches thick. The sauce is on the top of the pie instead of the cheese and you're left wondering what the chef did wrong and where your toppings may be. Cut into triangles and the ooey gooey cheese stretches for what seems like miles and there you are, left looking at this delicious slice of pizza with the sauce on top, thick cheese, and crunchy crust. Your mouth begins to water as you take your first bite of Giordano's pizza, and you'll never want to return home.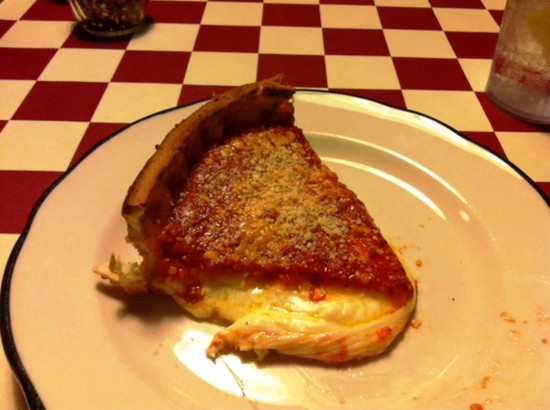 Giordano's offers an array of toppings for their pizza (which are more of a filling, with the sauce on top, they put the toppings beneath the cheese) including traditional pepperoni, sausage, and veggies, to more unique options such as balsamic onions and pesto chicken. They also have special pizzas with predetermined topping combinations for the less creative including 'super veggie' and 'meat and more meat'. While I cannot personally comment on their thin crust pizza (if you can, I say you shouldn't have gone to Giordano's!), many of my travel companions have enjoyed it saying the crust is deliciously thin and crispy.
After a long day at the parks and a very hungry stomach, you may be considering what size to order. Is their small (which the menu states will feed two people) enough? Even with big eaters, the small pie comes with six slices of their thick cheesy pizza, and let me tell you, it's enough. I cannot eat more than two slices of the pie, but always consider that the leftover slices are delicious the next morning in your hotel room microwave!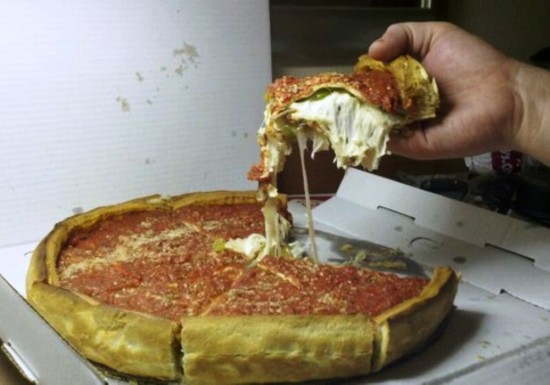 On top of just pizza, Giordano's has an extensive menu of appetizers, salads, sandwiches, full meals and their newest addition to their menu, hand stretched flatbreads. Favorites from each of these sections include the cheesy garlic bread (boy is it cheesy!), the classic Caesar salad, tomato and mozzarella sandwich, Giordano's chicken parmesan, and their chicken pesto flatbread. I honestly have never had anything bad from Giordano's. The food arrives in a timely fashion, presented beautifully, and always warm. Giordano's also offers a nice selection of wines and beers to relax after a long day in the parks. For the little ones, they also have a kids menu with pizza, noodles with butter, and spaghetti options, drink included.
Once you return home from your trip, you may be jonesing for a slice of that delicious thick pizza and may be fretting that you won't be able to have it again until you return back to the Orlando area or make the trip to Chicago. Not to fear! Giordano's ships their deep dish pizzas nationwide. The prices are a little steep since they send it overnight in dry ice to keep freshness, but the result is entirely worth it. Giordano's recently just decreased their overnight shipping prices where you can get one deep dish for $44.99 (including shipping), two for $57.99, or a four pack for $82.99. If you've never been to Giordano's you may think these prices are crazy, but once you've sunk your teeth into a slice, you'll be ordering up right when you get home. They also do special occasion pizzas such as their heart shaped pizza for Valentine's Day which can also be shipped.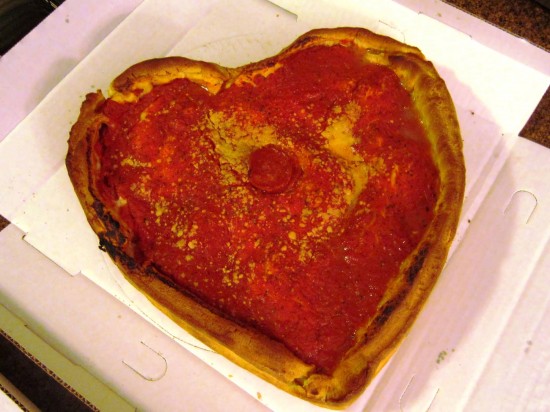 Giordano's has three locations in the Orlando area, one near Disney on S. Apopka Vineland Road in Lake Buena Vista, one near Universal on W. Sand Lake Road in Orlando, and another on Irlo Bronson Highway in Kissimmee. I have proudly been to all three locations and have never had a complaint.
Giordano's Pizza (near Universal) – map & links
Click any marker to display the attraction or venue name. To scroll or zoom, use the controls on the top-left of the map. You may also switch to different map views by using the buttons on the top-right of the map.
Official website: http://giordanos.com
Ship a pizza: http://giordanos.com/shop/
[sws_author_bio user="AllyPfeiffer" size="105″ authorposts="More OI posts by Ally" name_format="About the author"] [/sws_author_bio]