Gasparilla Pirate Fest: Thar' be pirates taking over our shores an hour from Orlando!
If you're looking for an adventurous day of fun, frivolity, collecting beads and people watching, even dressing like a pirate if you dare, then a trip to Tampa should be penciled in for the last Saturday in January. That's when the Gasparilla Pirate Invasion & Parade (the third largest parade in the country) storms the town, a tradition dating back to 1904.
The invitation from Gasparillapiratefest.com sets the tone for the event.
So set a course for Tampa Florida, and be prepared for great fun and high adventure! And bring yer friends, because there's plenty of booty to share! ARRRRRGH!
For this year's event, which happened last weekend, I had a front row seat by the bay to watch the pirate boat invasion led by the fully rigged pirate ship Jose Gasparilla, escorted by a flotilla of boats of all shapes and sizes and crewed by pirate minded area residents joining in on the fun. I caught some beads from boaters passing by in their pirate garb, their boats fully decorated and loaded with beaded treasure.
The Jose Gasparilla itself, with masts full of ragged white flags and bright colorful ones, is full to the crow's nests with pirate crew. It passes by Seddon channel (channel between Davis Islands and Harbour Island) and docks at the Tampa Convention Center, where Tampa's mayor is forced to hand over the keys to the city making the invasion official. You can buy tickets to an "invasion brunch" and await the pirates as they come off their ship and head to the parade. If you like to have your day pre-planned there is a combination ticket that offers you the brunch at the convention center and a bleacher seat to view the parade. This is a worry free way to experience both.
If you just like to go where the day takes you, there is free viewing for both events along the route. But with approximately 250,000 revelers attending this year's event, it's probably best to plan ahead.
I found that I prefer to watch the boats coming in from Davis Islands, which allowed me to get a full view of the flotilla and pirate ship coming in with canons blazing. The area around the convention center is the best for viewing both events, as you can watch the flotilla coming in and then walk to the parade.
Gasparilla events have expanded through the years. There is a children's parade along Bayshore Boulevard the Saturday before the main "invasion" — this is a wonderful family event where children get to dress up in their best pirate gear and catch as many beads as they want. It is capped off with a fireworks display to complete the festivities.
There is also a night time event, the "Knights of Sant'Yago Knight Parade" in Ybor city, held this year on February 9 at 7:00pm. You can buy a bleacher seat or just enjoy the event anywhere along the route for free. This is great if you prefer to catch your beads in the dark from colorfully lit floats, and maybe enjoy dinner, drinks or dancing at any of the many restaurants or clubs in Ybor city.
Finally, if you missed all of these activities, you can catch a farewell party at Channelside Bay Plaza on March 2, 2013 with live music and revelry as the pirates prepare to leave the city after handing the key back to the mayor.
If you're a fan of  pirates, boats, beads, or parades- the Gasparilla Pirate Fest is for you.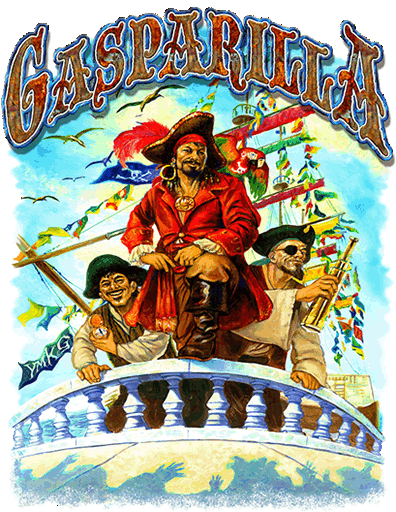 For more information, visit Gasparillapiratefest.com and Knightparade.com.
Gasparilla Pirate Fest – photo gallery
Click any image to view it full-screen. When the full-screen image is open, click to the right or use the right arrow on your keyboard to advance through the gallery. If several thumbnails are missing, try reloading this page in your browser.
[sws_author_bio user="Carla.G" size="105″ authorposts="More OI posts by Carla" name_format="About the author"] [/sws_author_bio]