On Wednesday our Facebook fan Allen alerted us to the fact that there was a new public wifi source available at Universal Orlando.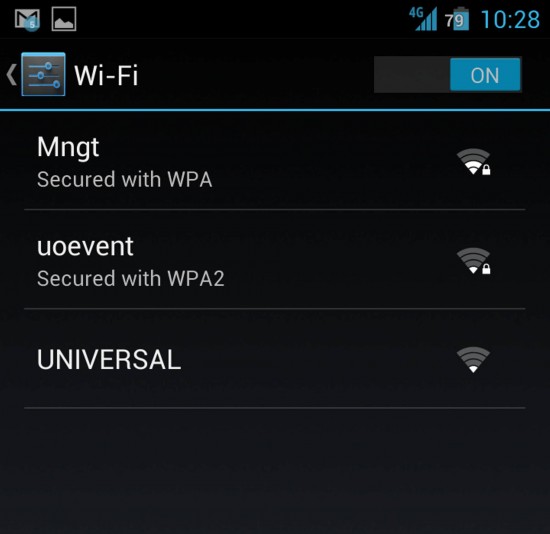 For those of us who visit Orlando's theme parks, this is an exciting development. We have been anticipating this move ever since Disney rolled out free public wifi across their theme parks and resorts last year. So yesterday I went to Universal to investigate, and unfortunately I don't have much good news to report.
There is indeed free public wifi now available at Universal Studios Florida, but it is only available near Fear Factor and the Harry Potter expansion area in it what used to be Amity.
During my visit I was able to pick up a weak signal starting at Richter's Burgers in San Francisco, but the service really only produced decent speeds when I got closer to Fear Factor. Here are those speeds: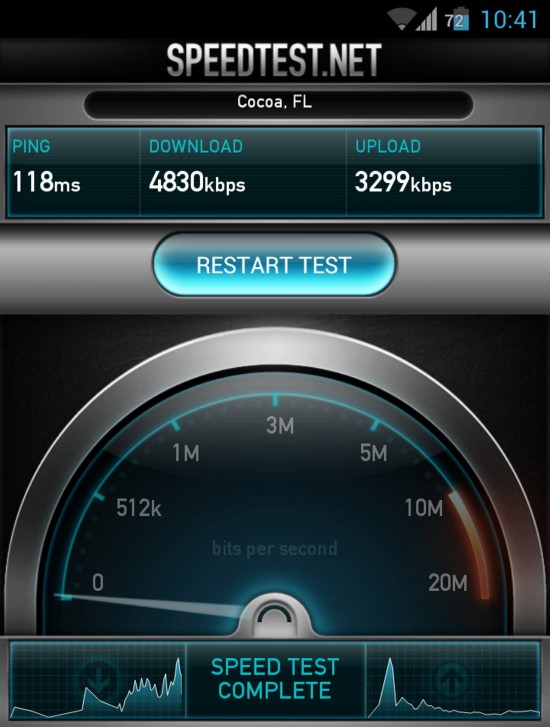 Once I took the turn around MEN IN BLACK and passed The Simpsons Ride, I lost the signal.
Even though we don't have official confirmation from Universal, it is pretty clear that the new public wifi service has been introduced to support the Universal ScreenPlay app, which we gave you a first look at last month. The app itself is a 42mb download, which can be a bit of a struggle over slower mobile phone connections and a lot of data to pay for depending on your contract. Since one of the app's primary features is allowing guests to interact with the movie posters on the Harry Potter construction walls, I suppose Universal decided to make it easier for folks to download the app by providing free wifi.
The unfortunate news is that, for now, the public wifi service does not appear to be the beginnings of a wider roll out. I certainly hope I'm wrong, but we haven't been given any indication that this is the first phase of a new resort-wide service.
From a smartphone user standpoint, this is actually the second recent disappointment. The first was the Universal ScreenPlay app itself, which is entertaining enough if you have time to kill at the parks, but provides zero functionality in terms of navigating Universal Orlando (by providing wait times, park info, etc.). Still the very best source of mobile information while you're at the parks is our site, which you can easily view by heading to OrlandoInformer.com on any smartphone web browser — shameless plug!
If you are in the park and would like to try Universal's new wifi service, just get yourself over near Fear Factor at Universal Studios Florida, enable wifi, and look for the UNIVERSAL service. As with most public wifi sources, you'll first need to agree to a set of terms, but after that you're free to go.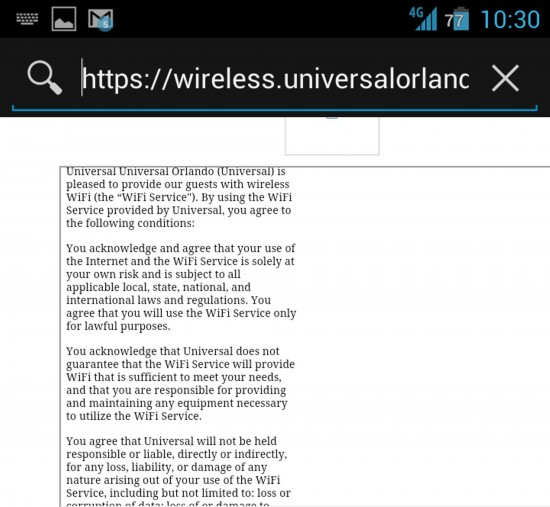 Keep in mind that this is the only free wifi service available at Universal Studios Florida and Islands of Adventure until things change. If you'd like to pay for service, visit Wossamotta U at Islands of Adventure.
Learn more on our Internet access at Universal Orlando Resort page in the OI Universal Center.