Fall 2013 is a grand celebration at Walt Disney World, marked by festivals, special events and other nonstop fun leading up to the holidays. On land – and sea – Disney guests will find unrivaled excitement. As temperatures cool, the fun heats up.
Here's a look around the Florida Vacation Kingdom and beyond:
Fresh flavors and Scottish influence debut at 2013 Epcot Food & Wine Festival
Disney guests can sip and savor fresh flavors from six continents during the 18th Epcot International Food & Wine Festival Sept. 27 – Nov. 11, 2013 at Walt Disney World.
Beers, meads and Scotch pair with authentic new menu items at the first Scotland Marketplace, one of more than 25 ethnic and specialized food-and-beverage stops located around the World Showcase Promenade. Brazil, Ireland, Greece, South Korea and other countries will feature traditional tapas-sized foods to be paired with wines, cocktails and beers. Terra Marketplace, with creative, flavorful vegan dishes, returns following its 2012 debut. More than 270 Disney chefs and culinary stars from across the country will participate in the 46-day tasting extravaganza.
Festival planners also will present an impressive menu of premium programming, such as the grand tasting Party for the Senses events, plus daily wine tastings and mixology seminars. Celebrity chefs like Jamie Deen, Gale Gand and Rock Harper will stir up plenty of Festival Center fun with culinary demonstrations. Music stars of past decades will rock the party with nightly Eat to the Beat concerts at the outdoor America Gardens Theatre. New festival acts will include the Go-Go's and Manhattan Transfer.
In Future World, the iconic, colorful Ocean Spray Cranberry Bog will return for a third year to introduce families to the cranberry's rich agricultural heritage.
Authentic Taste seminars, Ocean Spray Cranberry Bog, special book signings, Eat to the Beat concerts, cultural adventures, Marketplace Discovery Passport and all attractions and park entertainment are included with regular Epcot admission.
The Party for the Senses grand tasting events and other special wine and culinary programs require reservations and separate event admission. Guests will be able to call 407/WDW-FEST (939-3378) to make reservations after an August date is announced.  Information and reservations for select events and programs will be at www.epcotfoodfestival.com.
Mickey's Not-So-Scary Halloween Party offers happy haunts for 23 nights
This fall, Magic Kingdom plays host to the ultimate trick-or-treating neighborhood as Mickey's Not-So-Scary Halloween Party returns for 23 special nights from Sept. 10 – Nov. 1.
Entertainment features the twice nightly "Mickey's Boo-To-You Halloween Parade", led by the infamous Headless Horseman, followed by "HalloWishes", a green and orange fireworks display complete with Disney villains. Also, guests won't want to miss their Disney characters dressed in their Halloween best. Not to be left out, guests are invited to dress up in favorite Halloween costumes for trick or treating and more from 7:00pm to 12:00am for 23 select nights.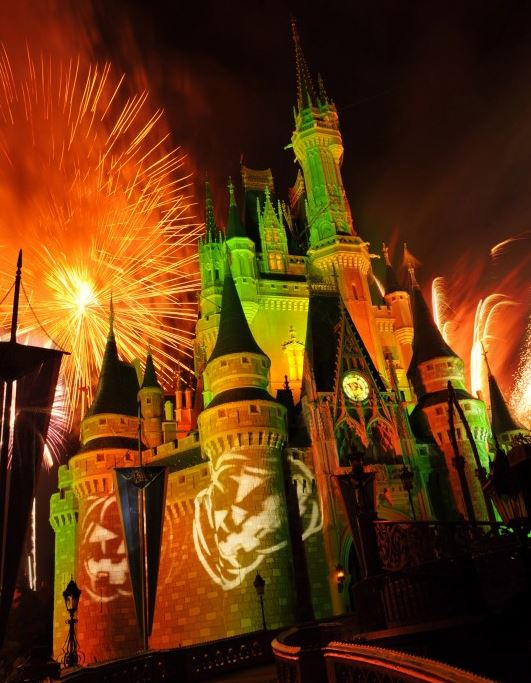 In addition to trick-or-treating, meet and greets with Disney characters donning Halloween costumes, and entertainment unique to Mickey's Not-So-Scary Halloween Party, many of the popular Magic Kingdom attractions – including, of course, The Haunted Mansion – are available to experience (but beware of hitchhiking ghosts).
Party dates in 2013 are:
September: 10, 13, 17, 20, 24, 27 & 29
October: 3, 4, 6, 10, 11, 14, 17, 18, 20, 22, 24, 25, 27, 29, & 31
November: 1
Get your royal On! Fall opening planned for Princess Fairytale Hall
A fall 2013 opening is slated for Princess Fairytale Hall as New Fantasyland, largest expansion project in the history of Magic Kingdom, continues. Princess Fairytale Hall will be the new home for Disney princesses to meet their loyal subjects in Magic Kingdom.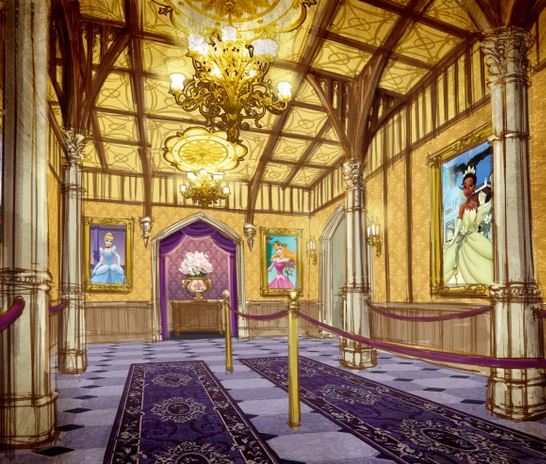 The castle-like entrance will feature walls of stone and stained glass windows opening up into a large gallery – an airy space with a high ceiling – where portraits of the Disney princesses adorn the walls. When it's time for their royal audience, guests will proceed to one of four elegantly finished chambers to meet their favorite Disney princess. Each chamber accommodates up to two Disney princesses. The Seven Dwarfs Mine Train will join the New Fantasyland lineup of fun in 2014.
Christian music legends Steven Curtis Chapman, Michael W. Smith co-star at 31st Night of Joy
Two legends of Contemporary Christian music – Steven Curtis Chapman and Michael W. Smith – will team up during the 31st Night of Joy at Walt Disney World, September 6 – 7, 2013. It's an evening of enlightening proportions — experience the sound, the spectacle and the magic of their individual ministries as these two icons of Christian music perform their own solo sets. Then, watch as they make Night of Joy history and share the spotlight together in service of a much more powerful purpose!
The pair, who have played stages individually at Magic Kingdom in past events will play together at the 2013 event for the first time. They have played Night of Joy a combined 18 times, amassed more than 90 Gospel Music Association Dove Awards, and garnered eight Grammy Awards and countless other accolades.
Night of Joy stalwarts MercyMe also are back for their sixth consecutive Night of Joy (eight Night of Joy performances total); and 2012 Grammy Nominee TobyMac, Central Florida's own Francesca Battistelli and rockers Skillet and Newsboys return this year to fill out headliners.
The line-up features six new artists to the event: Moriah Peters, We As Human, City Harbor, For King and Country and Jamie Grace. And recently added is Christian Alt-Pop queen Plumb (aka Tiffany Arbuckle Lee), whose haunting soprano and heart-clenching lyrics have led to simultaneous hits on the Christian Music and Dance/Club charts.
The complete line-up includes:
Friday, September 6: Mercy Me, Steven Curtis Chapman & Michael W. Smith, Skillet, Mandisa, Audio Adrenaline, For King and Country, Moriah Peters, We As Human and City Harbor
Saturday, September 7: TobyMac, Francesca Batistelli, Newsboys, Matthew West, Group 1 Crew, Building 429, Plumb and Jamie Grace
2013 marks the 31st year for Disney's Night of Joy, two nights where the best in Contemporary Christian music meets the fun and fantasy of Magic Kingdom. In addition to their favorite Christian artists, guests can enjoy beloved Magic Kingdom attractions like Space Mountain, Splash Mountain and Big Thunder Mountain – along with New Fantasyland, the largest expansion in Magic Kingdom history.
One-day tickets to Disney's Night of Joy are $55 plus tax in advance and $65 plus tax the night of the show (if available). Two-night tickets are $99 plus tax (advance purchase only) and group discounts are also available. To purchase tickets or for more information about the event, visit www.nightofjoy.com.
Disney's first cruise ship offers guests brand new experiences
There's an extra dose of magic aboard Disney Magic when the Disney Cruise Line vessel re-launches in October with new spaces, re-imagined areas and exciting additions for the whole family. From a new grand atrium lobby and children's area of "super hero" proportions to a three-story water thrill ride and a space to stimulate the "Senses," there are plenty of new and magical surprises in store for cruise guests. The ship features fun new experiences with Marvel characters – the first time Super Hero icons from the Marvel Universe have been introduced on a Disney Cruise Line ship.
Following the "re-imagining" transformation of the ship that takes place during dry dock Sept. 7 – Oct. 10 in Cadiz, Spain, the Disney Magic will depart Oct. 20 from Miami on a special five-night voyage including two stops at Disney's private island, Castaway Cay, and a stop at Nassau. This first cruise after dry dock sets the stage for a schedule of two-, three-, four- and five-night cruises from Miami to the Bahamas and Western Caribbean. Beginning Jan. 2, 2014 the Disney Magic will sail from Port Canaveral on alternating three- and four-night cruises including a stop at Disney's private island, Castaway Cay, and Nassau.
To learn more about Disney Cruise Line or to book a vacation, guests can visit www.disneycuise.com, call Disney Cruise Line at 888-325-2500 or contact a travel agent.
The Twilight Zone Tower of Terror is haunting backdrop for 10m-Miler Weekend
Disney villains take center stage for TheTwilight Zone Tower of Terror 10-Miler Weekend, Oct. 4 – 5. The weekend features a haunting nighttime 10-mile race starting at Disney's Hollywood Studios, running through ESPN Wide World of Sports Complex and finishing, appropriately enough, near The Twilight Zone Tower of Terror. Runners and guests who purchase a special ticket can enjoy the Disney Villains Hollywood Bash post-race party. Partygoers will enjoy live music, Disney characters and access to attractions such as The Twilight Zone Tower of Terror, Rock "n" Roller Coaster Starring Aerosmith and Toy Story Mania until 4:00am.
Families can enjoy the Disney Happy Haunted 5K Trail Run and runDisney Kids' Races at ESPN Wide World of Sports Complex on Saturday, Nov. 5. A two-day Health and Fitness Expo featuring several vendors and a speaker series takes place on Friday and Saturday, Nov. 4 – 5 at ESPN Wide World of Sports Complex. For more: http://www.rundisney.com/tower-of-terror-10-miler.
Disney's Wine and Dine Half Marathon Weekend set for Nov. 8 – 9
runDisney serves up Disney's Wine and Dine Half Marathon Weekend, Nov. 8 – 9. More than 14,000 registered runners will take on this unique nighttime 13.1-mile course starting at ESPN Wide World of Sports Complex, running through Disney's Animal Kingdom, Disney's Hollywood Studios and finishing at Epcot.
After crossing the finish line, runners can join family and friends for a special ticketed post-race party inside Epcot until 4:00am. The Finish Line Party features more than 25 kiosks offering fine cuisine and wine from the Epcot International Food & Wine Festival, plus Disney characters, music and the opportunity to ride various attractions such as the newly reimagined Test Track Presented by Chevrolet and Soarin'. New this year is the Disney Wine & Dine Pre-Race Taste on Friday, Nov. 8, at Disney's Hollywood Studios. This special ticketed event offers runners and fans a private reception on the set of Lights, Motor, Action! Extreme Stunt Show, featuring food and beverages from the Epcot International Food & Wine Festival, music and Disney characters.
In addition to the half marathon, Disney's Wine and Dine Half Marathon Weekend features Mickey's Jingle Jangle 5K at Disney's Animal Kingdom and runDisney Kids' Races at ESPN Wide World of Sports Complex.  There's also Disney's Health and Fitness Expo on Friday and Saturday, Nov. 8 – 9, at ESPN Wide World of Sports Complex. For more: http://www.rundisney.com/wine-and-dine-half-marathon.