Epcot trip report – July 2013 (new construction walls, FastPass+ entrances & lots of Disney characters)
Last weekend we visited Epcot and enjoyed many attractions I hadn't experienced in quite a while. I also took note of additions and changes that have happened at the park since my last trip report in March.
Entering Epcot, construction continues in the turnstiles area. Those guests with RFID admission tickets and passes are directed to enter the park via the right-hand side turnstiles. Those guests with paper tickets are directed to enter through the turnstiles on the left-hand side.
Inside the turnstiles Goofy was greeting guests at the Leave a Legacy area.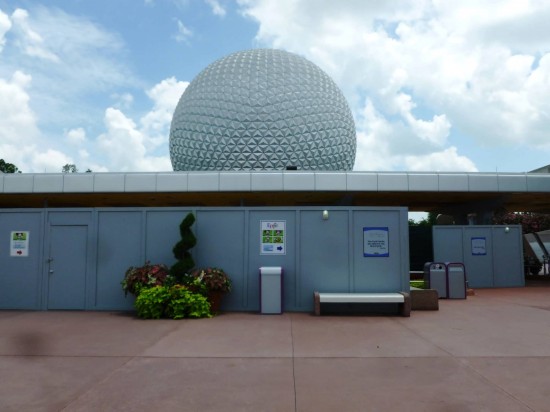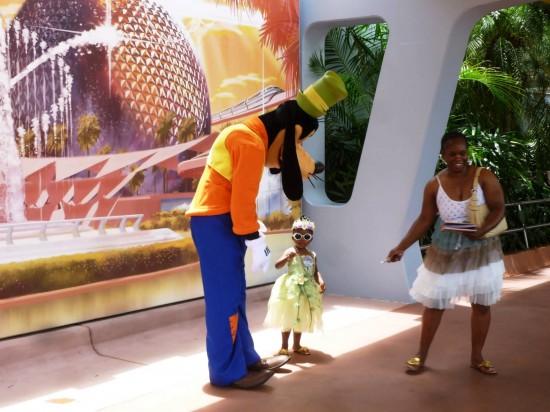 [wptouch target="non-mobile"]Remember, you can click any image to view it full-screen. And don't miss the complete photo gallery with 70 new full-screen images at the bottom of the post!
[/wptouch]
In Future World, Spaceship Earth had a posted wait time of just 10 minutes. This was an attraction I had not experienced in a long time, and I enjoyed the journey through the history of communication and the interactive guide to the future based on my personal preferences. The exit of the attraction feeds into Project Tomorrow, where guests can interact with large screens and play games based on the latest information about medicine, transportation, and energy efficiency.
In Future World East, I was able to catch part of the entertaining Jammitors, trash can drum performers. Walking by Ellen's Energy Adventure, I headed to Mission: Space where the posted wait time was 5 minutes for the green intensity level and 30 minutes for the orange intensity level standby lines. The newly imagined Test Track's posted wait times were single rider line 40 minutes and standby line 60 minutes. Since it was mid-afternoon, all the FastPasses for Test Track had been distributed for the day.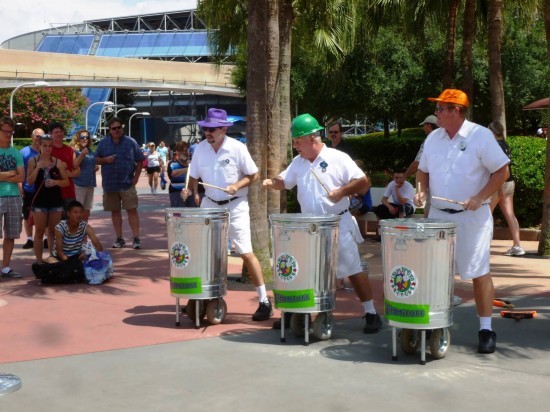 During this visit I decided to tour Innoventions East and West. In Innoventions East the entertaining yet informative attractions of Storm Struck, Habit Heroes, Test the Limits Lab and Vision House had little to no wait. Meanwhile, The Sum of All Thrills, a guest-designed thrill ride simulator, had a posted wait time of 30 minutes.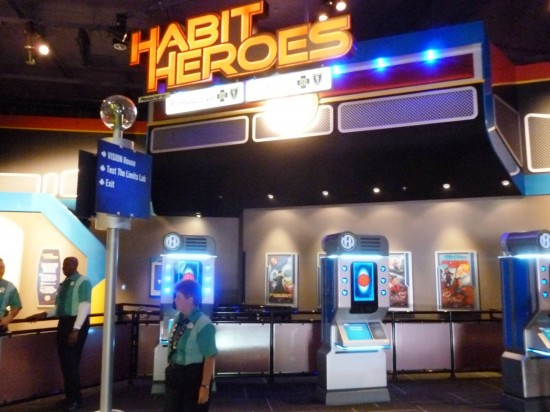 In Innoventions West several exhibit areas were empty and showed no indication of future exhibits. However, the impressive new THINK exhibit, Where's the Fire, Video Playground, and The Great Piggy Bank Adventure were open and readily available for guest's entertainment. The Disney Visa Card meet-and-greet area was also open with no wait.
If you're not familiar with IBM's THINK experience at Epcot, here's a quick promo video:
[youtube_video]8eu6DHBQyGs[/youtube_video]
Epcot Character Spot is in its new location across from the Innoventions West building, and it has a FastPass+ entrance. The posted wait time for the standby line was 15 minutes.
Fountain View dining featuring Starbucks coffee is under construction, and the venue is indicated on the park map as opening soon. Next door, the Club Cool provides unique Coca-Cola merchandise along with drinks from around the world and was a very popular stop for guests on this hot afternoon.
Walking toward Future World West, I noticed Chip and Dale were greeting guests and posing for photos.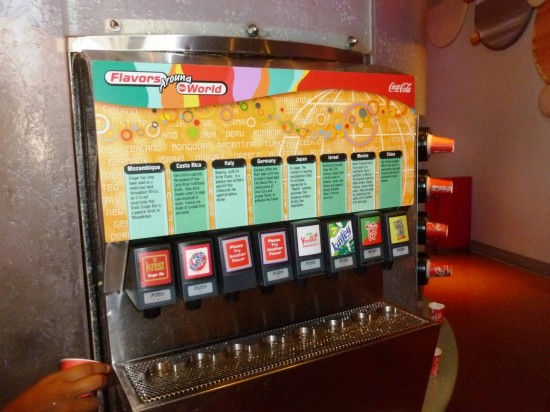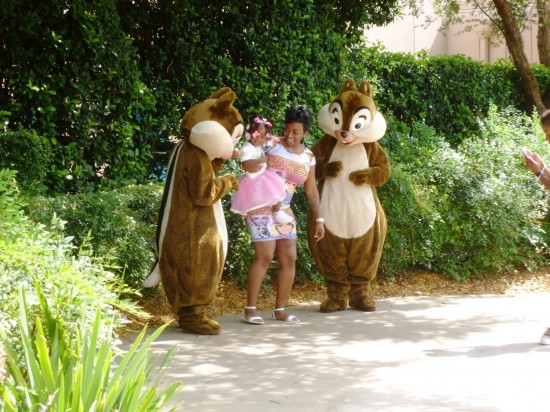 My next stop was The Seas with Nemo & Friends. This attraction was another I had not experienced in a while, and I thoroughly enjoyed it. The entry area indicated the new FastPass+ system was in place. I walked through the queue at my own pace, and I stepped onto the ride without any wait. This clam ride, bringing guests through different aquarium scenes, incorporates animated characters from the Finding Nemo movie with real fish and marine life. In addition, seeing the impressive two-storied aquariums and the kid-friendly Turtle Talk with Crush are all must do's when visiting Epcot. The Turtle Talk with Crush entry had new RFID kiosks but they were covered with tarps.
Inside the Land Pavilion, the escalators on one side were under construction, which seemed to inhibit the flow of guests between the entry level of the pavilion and the bottom level. Soarin' had a posted wait time of 110 minutes for the standby line, and there were no FastPasses available by this time.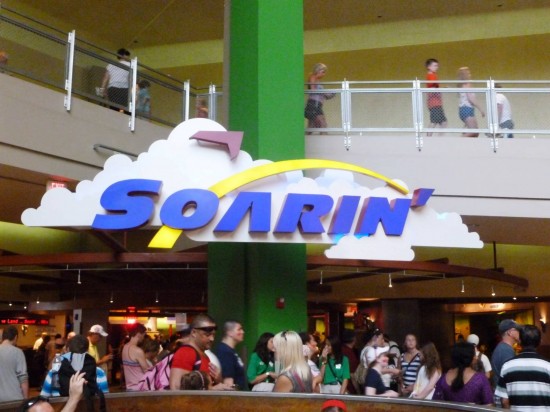 Living with the Land and the Circle of Life had little to no wait for guests. I took a break and had a snack at Sunshine Seasons, which offers a wide variety of café food and desserts.
I walked from The Land pavilion over to the Imagination! building, and Journey Into Imagination With Figment had a posted wait time of only 15 minutes. The entry to this attraction also had an entry for the new FastPass+ system.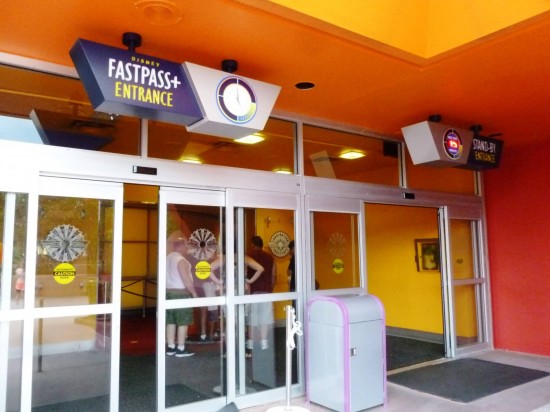 I don't remember experiencing this attraction in the last several years, and I enjoyed it. As I was leaving the interactive area of Journey into Imagination, a strong thunderstorm appeared, so I waited at the exit for it to pass.
During a lull in the storm, I walked a few steps to the Captain EO attraction. A cast member explained that the next showing of Captain EO was delayed until the storm passed due to the building's function as a storm shelter — who knew? The storm lasted for 30 minutes, so I gave up waiting to see Captain EO and headed to meet my family, ending my tour of Future World.
While I was touring Future World, my husband and son toured World Showcase, took photos and made note of attraction updates and changes.
Entering World Showcase, construction walls surround the garden area in front of Showcase Plaza, between Duffy the Disney Bear and Promenade Refreshments. Disney Traders also had construction walls along with signs indicating they were open.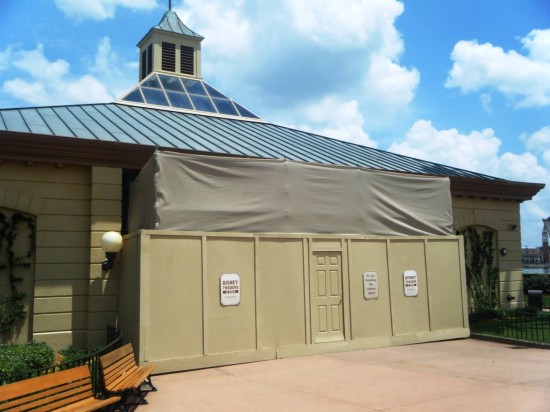 At the Mexico pavilion, The Gran Fiesta Tour attraction had no wait and is an enjoyable ride for the entire family. The attraction combines film footage of Mexican landmarks with the Three Caballeros and animatronic characters similar to It's A Small World.
In Norway, the Maelstrom boat ride attraction had less than a 10 minute wait.
Heading toward China, the Jeweled Dragon Acrobats performed amazing acrobatic stunts near Reflections of China. While entertaining, some of the daring stunts were nerve racking for guests to watch.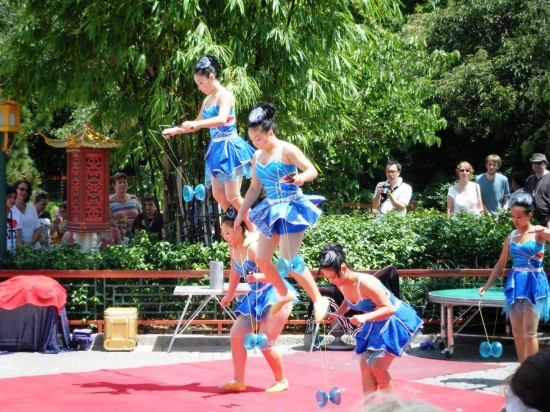 Walking past the Outpost toward Germany, we noticed Snow White posing for photos and greeting guests.
Heading toward Italy, we passed the miniature trains that always attract guests in their journey around World Showcase. We were able to catch some of Sergio's, the Italian mime/clown and juggler as he interacted with and entertained the crowd.
At The American Adventure construction on the new restrooms continues. Rumors say they should be completed this fall.
Strolling through Japan, one can't help but notice the beautiful garden areas especially near Katsura Grill that are peaceful, shaded, and a nice getaway from the crowds.
Spice Road Table, the new restaurant and indoor/outdoor dining area along the World Showcase lagoon in Morocco, is currently under construction and scheduled to open by the end of this year.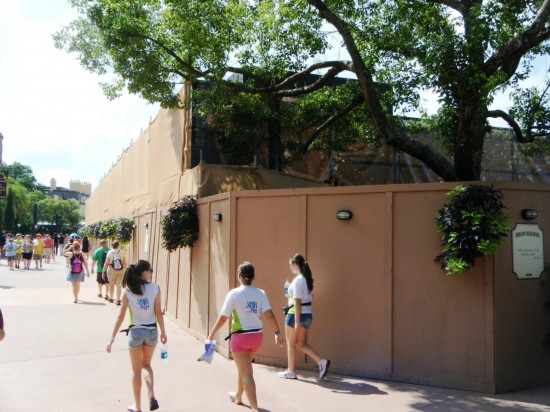 Another new and tempting eating location is now open in France: the Artisan ice cream and sorbet shop, L'Artisan des Glaces. It's located in the former location of the french bakery.
Crossing the bridge and passing the International Gateway into the United Kingdom, Mary Poppins and Alice in Wonderland were greeting guests.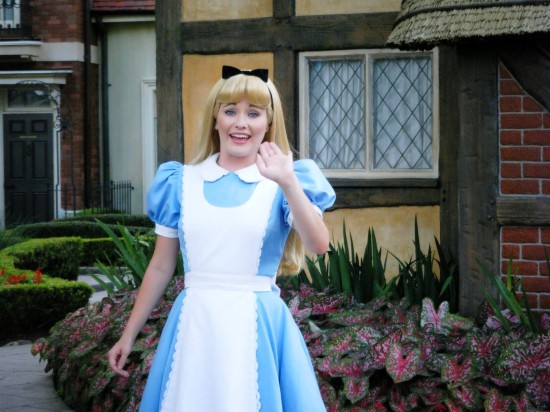 Our final World Showcase country, Canada, featured an informative film, O Canada, hosted by Martin Short. Also found in Canada are the beautiful Victoria Gardens and the fabulous Le Cellier Steakhouse.
I enjoyed seeing some attractions I haven't experienced in a long time in addition to the familiar attractions, rides and features of Epcot during this trip. This park has a lot to offer families, and I hope that you will be able to visit this unique Walt Disney World destination soon!
Oh, and a friendly reminder that the 18th Epcot International Food & Wine festival starts September 27, so it is time to start dieting 🙂
Thanks for reading this trip report. Please leave your questions and comments below. Or, if you'd like to catch up on all our trip reports, click here.
Epcot trip report – photo gallery
Click any image to view it full-screen. When the full-screen image is open, click to the right or use the right arrow on your keyboard to advance through the gallery.
[sws_author_bio user="MaureenDeal" size="105″ authorposts="More OI posts by Maureen" name_format="About the author"] [/sws_author_bio]