The 2013 Epcot International Food & Wine Festival kicked off this past weekend at Epcot, and a friend and I stopped by to check out this year's event!
When you first walk in the gates of Epcot, there's no mistaking that the festival is underway.
Once inside the park, I went straight to the Festival Information Center to pick up a guide, which contains information on culinary and beverage demonstrations, the Eat to the Beat concert series, and festival offerings for the week you are attending. I also needed a Marketplace Discovery Passport, which includes the menus for the various marketplaces as well as a place to have your "passport" stamped as you visit each marketplace.
My last inquiry was about where I could pick up the festival gift cards guests can carry on their wrists. I like to use the wristlet gift cards because they make it so much easier to pay for everything. Just load the card with what you think you'll spend (and reload at some point if you run out), and you're on your way; no digging through your purse or wallet for cash or credit cards at each booth.
Festival guide, passport, and gift card in hand, I was ready and on my way to Epcot's World Showcase. On my way to World Showcase, I noticed that the Ocean Spray cranberry bog is back. If you're a fan of Craisins, you can get a pack or two free at a booth across from the bog.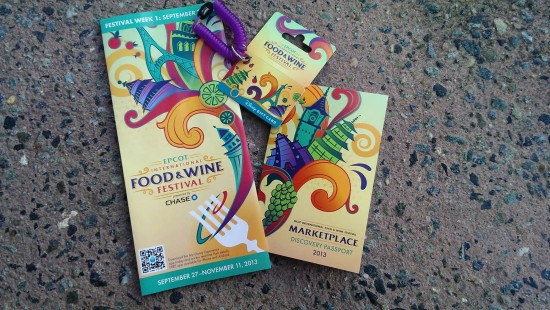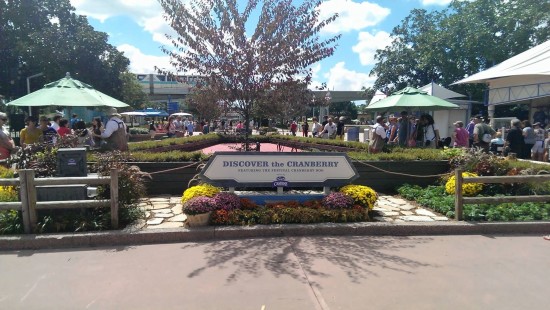 When I arrived at the entrance to World Showcase, I had a decision to make: head to the left and follow the booths in order of the way they are listed in the passport, or head to the right and go backwards through the list. Perusing the marketplace menus ahead of time may give you an idea of where you'd like to get started, which you can do on Disney's site.
On this visit I decided I would head to the left. I passed up the Terra and Brazil marketplaces, and I made my first stop at Argentina for a Beef Empanada ($4.25).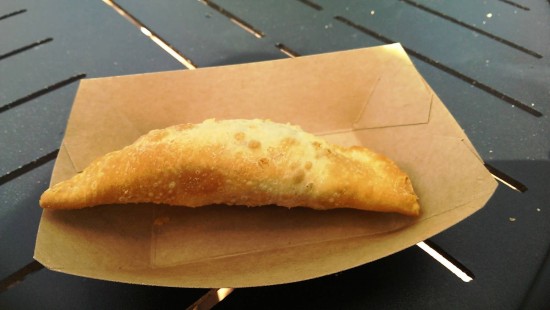 The empanada was hot (thermal) with some good spice to the beef, with a dash of onions and olives. I'll certainly have another on a future visit. Sadly,  I was planning on starting my passport stamps here but totally forgot.
Next, we made our way to China. I had planned to try the Silk Ice Cream Ribbon here, but the only flavor available at the time was coconut; they are also advertising mango and strawberry, but it wasn't available the day I was there. Instead I decided to try the Chicken Potstickers ($4.00). Unfortunately, my order was quite bland, lukewarm, and the texture seemed a little off to me. I don't think I'll have these again. But this time I did remember to get my passport stamped, and my friend tried the coconut version of the Silk Ice Cream Ribbon ($3.95), which she said tasted good.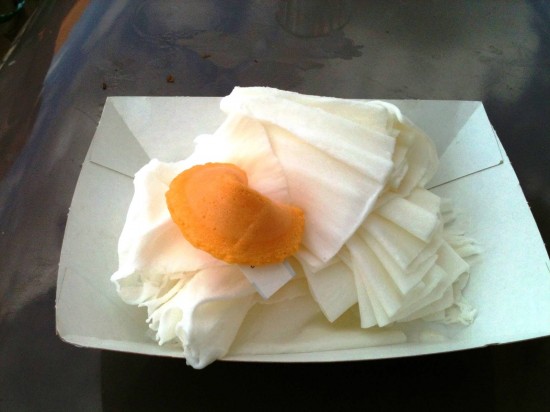 It definitely looks like ribbons, no?
Next we hit Australia for the Garlic Shrimp with Roasted Tomatoes, Lemon Myrtle and Rapini ($4.50), then Singapore for the Seared Mahi Mahi with Jasmine Rice and "Singo" Sauce ($3.75).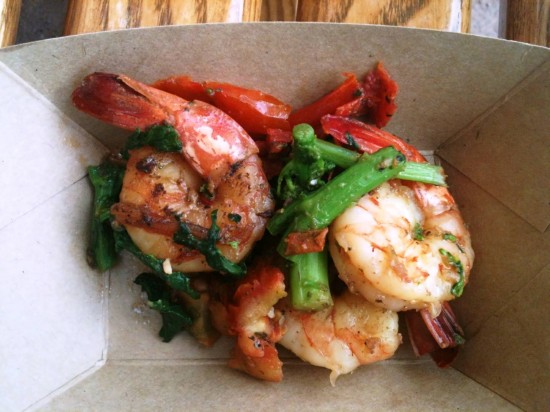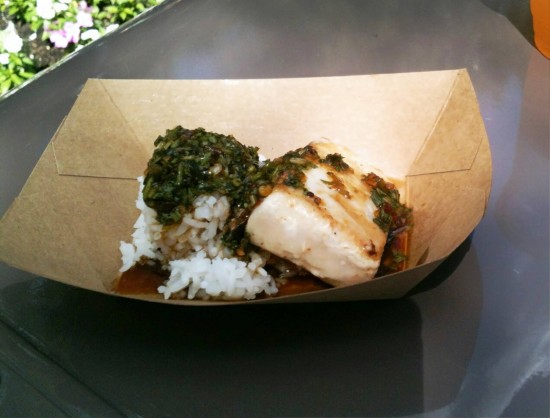 The map would have brought us to South Korea and Africa next, but their culinary offerings didn't really interest me.
So we went straight for the country with no name — it was just called "Cheese."  There I tried an Artisan Cheese Selection ($4.25), which included a trio of selections (a brie, cheddar, and gouda) and was really quite good. The serving also came with a crisp Craisin bread, which went well with the cheese.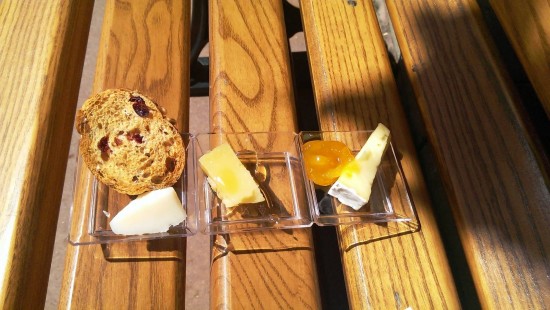 I took a long walk past marketplaces for the Brewer's Collection, Germany, Poland, and Italy, as I decided to save a few of those for my next visit. The next marketplace, American Adventure Coffee Cart, was an odd one as it was only serving one thing: Shakin' Jamaican Coffee. You could get it hot or frozen, so maybe that technically counts as two. In any event, not a coffee drinker so I passed this one up.
Hops and Barley had a lot of seafood items and beer. My friend got a (bit blurry) shot of the beer flight there, which includes Samuel Adams Boston Lager, Samuel Adams Cherry Wheat, Samuel Adams Octoberfest, and Rogue Chocolate Stout ($11.00).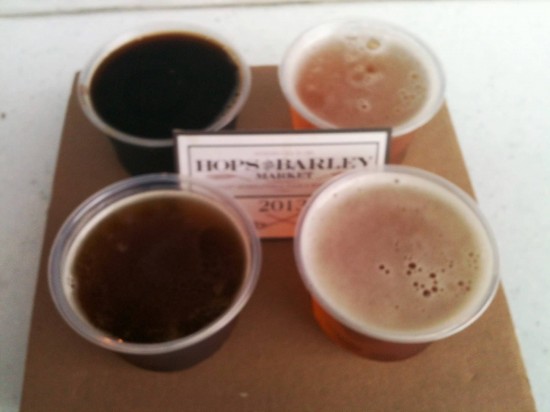 Next up was Florida Local.
I selected the Florida Grass Fed Beef Slider with Monterey Jack Cheese and Sweet and Hot Pickles ($3.75).  I also picked up a 6 oz sample ($3.25) of a Florida beer, Florida Cracker, which is made by Cigar City Brewery in Tampa. Both items were great!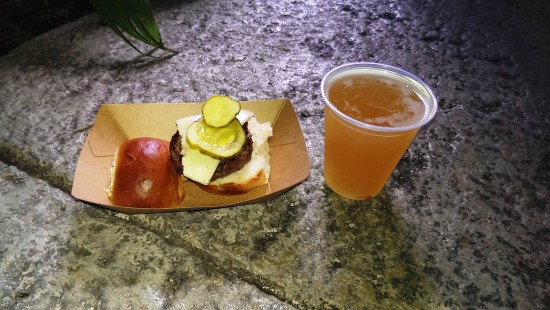 Japan, Morocco and New Zealand were all passed by on a quest to get to Belgium for one simple reason: I was in the mood to try a dessert.
Here they were serving a Belgian Waffle with Warm Chocolate Ganache and Whipped Cream ($3.25.) I doubt I really need to explain how delicious this was, as you can probably tell just by looking at it below. My friend tried the Potato and Leak Waffle with Braised Beef ($4.00).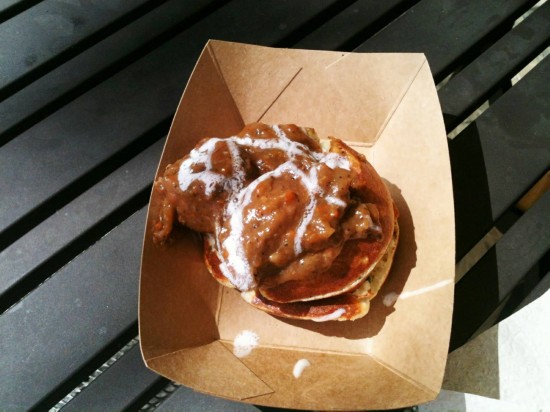 Next up: Canada for the cheese soup ($4.25). But before that I also hit the Canada Pavilion's beer and popcorn stand.
During the festival they bring some of the Unibroue beers out from the confines of Le Cellier and sell them at the cart. This year they were serving La Fin Du Monde, Trois Pistoles, and Ephemere Cherry ($9.25), which is actually something they don't normally serve at Le Cellier either. But Ephemere Apple is one of my favorite beers, so I decided I had to try the cherry version. It was pretty good, and it was nice to have a chance to try it, as the beer isn't easily found in the U.S. — but I still prefer the apple version.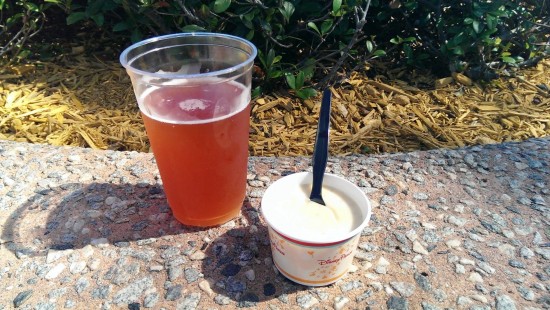 One of my favorite festival marketplaces, Greece, was right next to Canada. I feared I might be headed for a cheese coma since I had the cheese plate earlier, and had just had the soup, but there was no way I was going to leave Epcot without having the Griddled Greek Cheese with Pistachios and Honey ($3.50).
I'm not sure if they were using a different type of cheese this year, or they just heated it more, but it looked different. However, it still tasted delicious and really is one of the highlights of the event — the first photo below doesn't do it justice! My friend tried the Taste of Greece: Grilled and Marinated Calimari, Hitpiti, Eggplant Dip, Olives and Pita Bread ($4.00).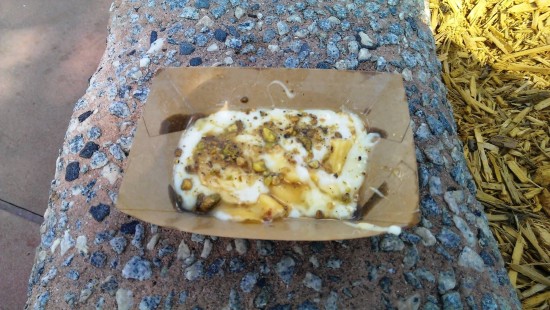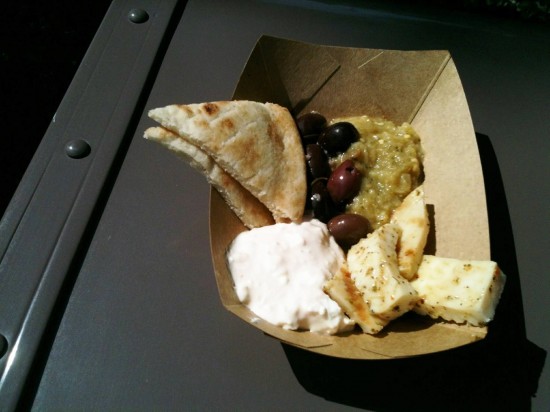 I didn't even make it to the Refreshment Port, Desserts & Champagne, Hawai'i, Scotland, or Craft Beers (that last one hurt), as I had to head out to Universal for Halloween Horror Nights.
After I left, my friend made it to Hawai'i for the Tuna Poke with Seaweed Salad and Lotus Root Chips ($4.00) and to Scotland for the Vegetarian Haggis with Neeps and Tatties – griddled vegetable cake with rutabaga and mashed potatoes ($3.25).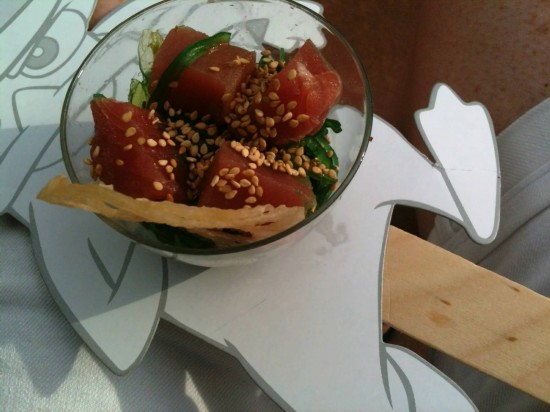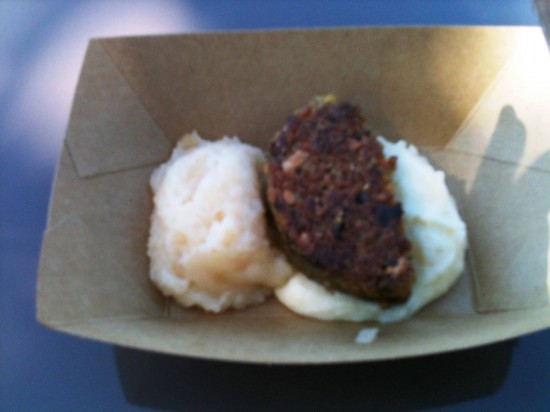 While I can't personally review the items my friend tried, I did ask if she enjoyed them all and was told yes. After everything we tried, for me the only item I probably would not order again was the potstickers from China.
Food & Wine Festival planning tips
Most of the food items are under $5.00, and many are Disney Dining Plan snack credit eligible. Also, if you're interested in trying out several of the  different beers but are worried about either drinking too much or the cost of it, most locations were offering 6 ounce servings, and there were also several options for beer flights.
Finally, here are a few suggestions for some spots off the beaten path to enjoy your marketplace items. That is, if you're not in the mood for the "dine and stroll" or standing out in the sun at the tables they have set up:
Mexico Pavilion – If there is no seating outside near the cantina, head inside the pyramid to the fountain area. You can sit on the edge of the fountain and get out of the sun for a bit.
Italy Pavilion –  There are a few tables set up in the courtyard of Italy you might be able to find a spot at. The edge of the fountain also offers a place to get off your feet for a few minutes.
American Adventure Pavilion – There is lots of seating in the courtyard area and inside the building for the Liberty Inn. The fountain ledge here is also a good option.
Japan Pavilion – Right outside of the doors to Mitsukoshi (the main store) are several ledges that you can sit down on which are out of the direct sunlight.
Morocco Pavilion – The fountain area here offers an opportunity to sit down. There are also some benches hidden in the area behind the big archway.
France Pavilion – France actually has a good number of benches, but if they are full, try the edge of the fountain.
United Kingdom Pavilion – There is also a fountain here, though it is located near the bathrooms. You may also want to check back by where the British Revolution plays as there are several benches hidden from the main path's view in that area.
Canada Pavilion – There are some benches set back from the main path near the DVC sales booth that aren't that noticeable from the main path. You can also go down the path to Le Cellier and there is a cove down there with some benches out of the sun.
I'll be headed back to Food and Wine once or twice before it ends, and I look forward to trying some more of the options available. If you have a chance to check out this year's festival, I highly recommend it!
Keep learning about this year's Food & Wine Festival: More details, Festival fun facts, and complete Eat to the Best concert lineup — click here.
[sws_author_bio user="KatSRQ" size="105″ authorposts="More OI posts by Kat" name_format="About the author"] [/sws_author_bio]